Crypto markets offer traders several trading types, one of them being margin trading. Today in this article, we will give you a comprehensive overview of OKX margin trading and how to use leverage on the OKX exchange.
Summary (TL; DR)
OKX provides a crypto margin trading platform with over 30 cryptocurrencies and multiple trading pairs at competitive interest rates.
Margin trading has few essential elements- leverage trading, interest, liquidation price, cross/ isolated, and long/ short.
Furthermore, OKX allows leverage up to 10X and has a maximum borrow limit.
The exchange provides three order types- Stop, Trigger, Advance Limit.
Advanced limit further categorizes into a post only, FOK, and immediate or cancel.
What is OKX Exchange?
OKX is a customizable crypto exchange operational in over 200 countries. The platform offers Spot, Margin, DEX, Perpetual, Futures, and Options trading with various order types and advanced tools. Furthermore, OKX offers staking, lending, pool, etc. to provide you with passive income on your crypto assets.
To learn more, read OKX Review.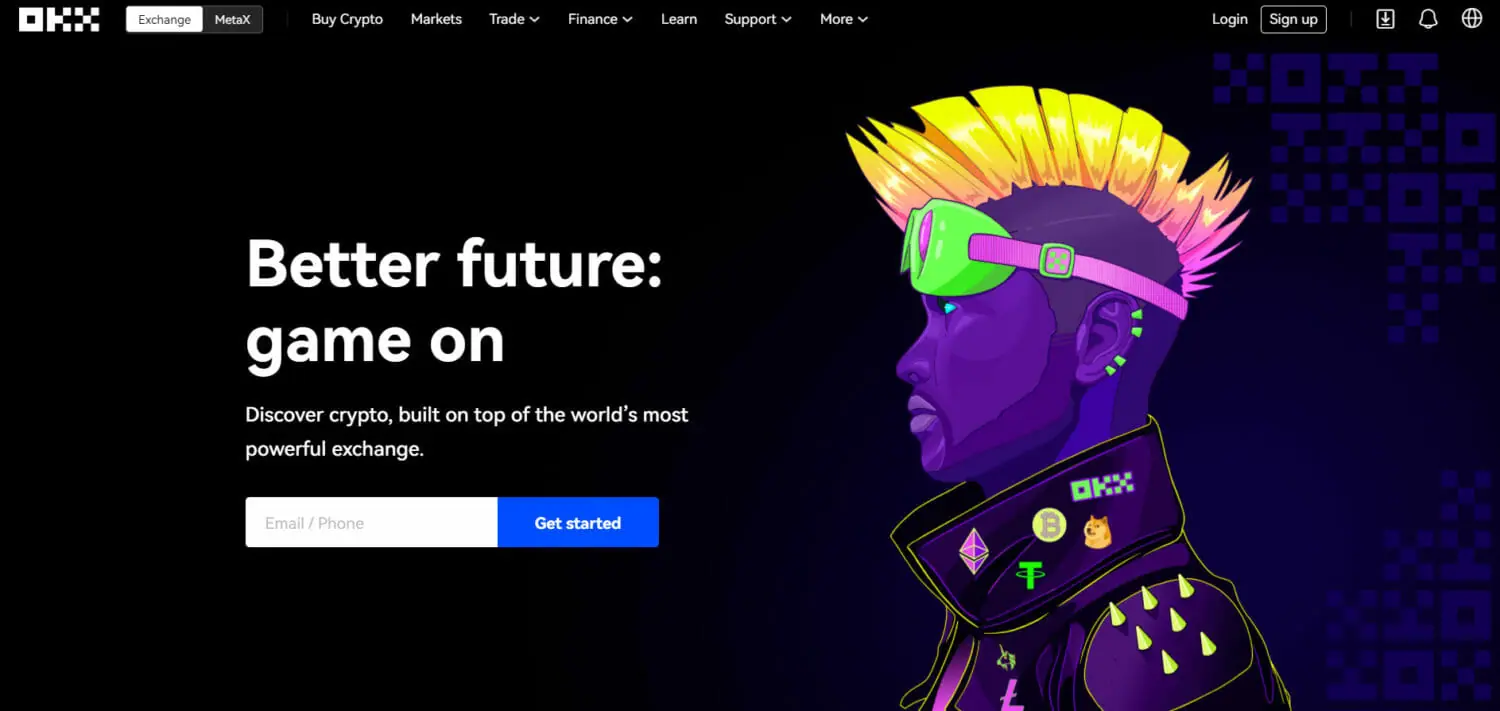 What is Margin Trading?
Margin trading allows you to borrow funds using your capital as collateral. Furthermore, you can choose the amount you wish to borrow using leverage. However, the higher the leverage higher are the risks involved.
Margin trading is highly speculative and if the market does not go with your prediction, then you might lose all of your collateral. Furthermore, on not using proper stop-loss your collateral might liquidate on sudden market fluctuations.
Also, read 5 Best Bitcoin Margin Trading Exchange
OKX Margin Trading: Glossary
Leverage
Leverage is the percentage of the original amount that a trader decides to borrow from the lender to increase the invested capital. OKX provides a leverage of up to 125x. For instance, if you apply 2X leverage, you get an amount twice the actual collateral. Like, $300 turns to $600 with 2X leverage, and overall capital becomes $900.
Interest
Like any other loan, the lender also charges interest. However, in the crypto market and margin trading, the interest imposed is on an hourly basis. This interest percentage varies among different crypto exchanges. However, this hourly rate is as low as 0.003%, for instance. So, traders can earn a lot of profit in a few hours with appropriate strategies. To learn more, visit the OKX Margin rates section.
Liquidation Price
We mentioned above the loss situation in which your collateral liquidates permanently. So, when you start losing a position and OKX starts taking a loss, then it partially or completely automatically sells your assets to prevent its losses.
Cross/ Isolated
In cross margin mode, you can use the collateral to take multiple loans. Furthermore, opening a cross-margin position can prevent you from liquidating as your winning position can support your losing positions.
In isolated form, the collateral for a particular position is confined to that position itself. Furthermore, an isolated position is recommended for beginners as it prevents you from losing everything, and in case of liquidations, you only lose the capital of a particular position.
To learn more, read What is Margin Trading? How does Margin Trading Work?
Long/ Short
Long in the margin trading means purchasing an asset with an expected increase in its value. Short in the margin trading means selling an asset with expected depreciation in the future. It means that the price falls in the future, and you buy back the crypto asset to make a profit.
OKX Margin Trading
OKX provides a margin trading platform with various crypto assets and trading types. Currently, OKX supports over 30+ crypto assets with a maximum leverage of up to 10X.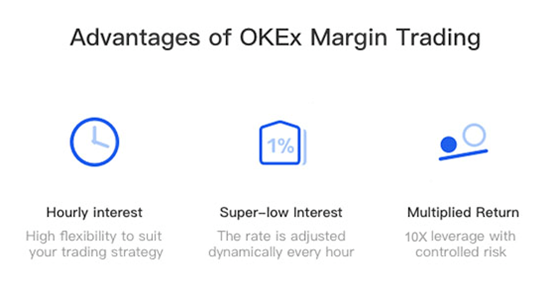 Moreover, the OKX Account comprises ten accounts for different trading types for margin trading. Further, the maximum amount that a trader can borrow depends on three factors:
Margin account balance,
Primary account, and
Position margin ratio
Additionally, these borrowing limits for an individual vary by trading pair. For instance, if a trader borrows 1,000,000 USDT for BTC/ USDT trading, he can still borrow extra 500,000 USDT for XRP/ USDT trading. These limits vary upon several factors, and an exact amount is available on the margin trading page.
OKX Margin Interest Rates
The interest rates imposable vary upon the crypto asset and account level. Interest rates vary upon a tier-based structure. Here is a table of interest of a few crypto assets. You can check the detailed table from the Margin interest rate page.
The table above is concerning the borrowing limit of Unified Account. For the Classic account, the borrowing limit is 100% of that of the Unified Account (The proportion of USDT is 60%).
How to Margin Trade on OKX?
Here is a step-by-step tutorial for beginners and veteran traders for trading cryptocurrency with leverage on OKX. Furthermore, OKX provides a few advanced trading features for experienced users to facilitate sophisticated trading strategies.
Navigation and Activation of Margin Trading Section
Move to the OKX homepage and go to Trade on the top menu to simultaneously select the Margin Trading label. As mentioned above, margin trading is highly risky. Hence, OKX has an additional activation step to beware traders.
Choose the Margin Trading Pair
At this point, traders can choose the desired trading pair from the left bar on the margin trading window at OKX. In addition, the screen displays maximum leverage multiple next to each margin trading pair.
Choose Leverage Amount
Now, traders can choose the leverage amount from the blue box labeled Leverage located on the top right side of the margin trading platform. OKX also provides the borrowing limit at the selected leverage amount and the required maintenance margin. In case the leverage amount chosen crosses the recommended margin, a warning message displays. Finally, Click Submit after selecting the desired leverage ratio.
Now to increase your margin position, Click on Borrow to borrow additional funds from the right side of the asset bar. Then, again, click on Submit to confirm the borrowing.
Margin Transaction Details
For instance, you chose ETH/ BTC. Now click on the buy/ sell tab to buy/ sell ETH. Simultaneously, Enter Order Type, Price in BTC, and Amount of crypto asset. Moreover, there is a different minimum purchase/ sale limit for each cryptocurrency. It displays on the screen while entering these details at OKX.
OKX Margin Trading: Review Transaction
After successful trade submission and execution, review transaction status via the Orders History tab. This section shows information like Filled and Order Amount, Avg. Filled Price and Order Price, Status, and many more. In case of an unexecuted order, check the status in Open Orders.
Repay Borrowed Amount
Click on Repay on the right-hand side of the trading platform. Next, choose a cryptocurrency unit and the amount of repayment. Finally, click Submit to repay the amount borrowed.
In case the margin account does not match the maintenance margin, it triggers a margin call. Here, either traders add additional funds or collateral liquidates partially or wholly.
Automate your trades with the 5 Best OKX Trading Bots in the Market
OKX Margin Trading: Pros and Cons
| Pros | Cons |
| --- | --- |
| Hourly interest, which gives high flexibility to suit your trading strategy. | You could lose your initial investment. |
| It provides 10x leverage with controlled risk. | Increased profit potential, also brings greater risk. |
| You can use stop-loss to minimize your losses. | |
OKX Margin Trading: Conclusion
OKX offers traders a margin trading platform with over 30+ crypto assets and 125X leverage. The portal is safe and takes essential steps to reduce risk and exposure. It has multiple warnings and triggers to ensure trader safety. The exchange is customizable with various market types at competitive interest rates. The process is lengthy but easy for any trader to start trading on OKX. Overall, margin trading is risky but can yield profits with precise trading strategies.
Frequently Asked Questions
Does OKX support margin trading?
OKX is a comprehensive crypto exchange with many services at traders' disposal. It allows margin trading on the platform. Here, the unified accounts support margin trading.
What is the borrowing limit on OKX for margin trading?
OKX has a borrowing limit for margin trading which varies upon multiple factors. The maximum amount that a trader can borrow depends on three factors:
– Margin account balance,
– Primary account, and
– Position margin ratio
What are the cryptocurrencies supported in OKX for margin trading?
OKX supports over 35+ cryptocurrencies on the exchange. Here are a few of the cryptocurrencies that OKX accepts on the platform.
BTC, LTC, ETH, ETC, BCH, USDT, BSV, DASH, EOS, NEO, QTUM, TRX, XRP, ADA, ALGO, ATOM, BTM, BTT, ELF, HC, IOST, IOTA, LINK, OKB, OMG, ONT, VSYS, XLM, XMR, XTZ, ZEC, ZIL, HBAR and RVN.