Whether you are an utter beginner or a prodigal trader, Binance is the perfect spot for you to kickstart your staking journey. And in this article, we are going to understand the nitty-gritty of ETH 2.0 staking at Binance.
Summary (TL;DR)
ETH 2.0 is an upgraded version of Ethereum and will be available in the third phase, out of which one is already out.
Ethereum 2.0 will bring sustainability, security, scalability, reduce gas fees, and increase the transaction speed compared with the Ethereum network.
Proof of Stake allows a user to validate on-chain transactions by staking the capital instead of using complex instruments as required in crypto mining.
Binance allows you to stake in ETH 2.0 with a minimum staking amount of 0.1 ETH rather than 32 ETH.
The platform rewards you using BETH, which is a version of already staked ETH.
You can convert BETH to ETH in a 1:1 ratio from the BETH/ ETH spot market.
ETH 2.0 staking locks your funds until all the three phases are out, so stake if you are planning to HODL ETH for a long time.
What is Ethereum 2.0?
Well, if you are already dealing with staking, then you must have heard about ETH staking. However, ETH 2.0 staking exists for delivering extra security, scalability, and sustainability to the users. Its upgrades are to release in three phases, of which one phase is already out from the fall of 2020.
However, making a blockchain more secure and multiplying its efficiency is not an easy task. Let's understand how some of the features significantly impact creating a difference between Ethereum and Ethereum 2.0.

What is Proof of Stake (POS)?
Proof of Stake(PoS) revolves around the stake. In general, Proof of Stake, the nodes stake the native cryptocurrency of a blockchain network. In return, the staker would get a chance to form the next block in the blockchain.
The proposed block is then verified by other nodes(known as an endorser). If the proposed block is correct in all respect, the staker(known as validator) receives the reward, and if it fails, a portion of the stake amount is deducted(this process is known as slashing).
In PoS, if a node willing to become a validator, he/she has to stake a certain amount of tokens (as per the protocol), which will be locked in the blockchain.
The validator create a block of transactions and proposes it to the network for the block validation process. Other nodes will vote for the validity of the block. If the block is approved, it is added to the blockchain.
In return, they will receive the mining fee associated with the transactions present in the block. The PoS may or may not mint any new token (as in PoW) as a reward for block formation.
What is Sharding?
Shard chains help in increasing the overall efficiency of Ethereum in the long term. In sharding, specific subsets of the entire blockchain are sustained. Now the node's workload is decreased as it only has to manage a shard or a slice on the network of Ethereum. This helps in multiplying the overall capacity of Ethereum and also the transactions on the network. Read our article on Etheruem Sharding.
What is the Beacon Chain?
When the shards are at work, the beacon chain keeps everything synced with all the other pieces or shards. The beacon chain delivers consensus on all the shard chains that are functioning in parallel.
So the beacon chain is a blockchain that functions in the center of Ethereum 2.0. It is responsible for sharing information between shards. The scalability we are talking about would not have existed without it.
As we already know that the Ethereum 2.0 is going to enter the market in three phases. The first phase is already in the market since 2020, which brought a beacon chain with it. By releasing the last phase in the coming future, users will hustle with smart contracts and work with immersible integration.
What is Binance ETH 2.0 staking?
If you're personally staking, you need to stake at least 32 ETH into Ethereum 2.0 staking. Apart from this, you need to have hardware equipment, minimum stake, and additional assets for the surplus node operation expenses. You must also keep in mind that staking will lock your ETH until phase 2 is out. Locking ethereum for an extended period has its downfalls as the prices might fall or you get published if your node went offline. This is why business now provides staking as a service.
You can kickstart your staking journey at Binance with just 0.1 ETH in your account. Above all, Binance will give you a cover for all the risks on-chain penalties and validator operating expenses. You can learn more about Binance from our article on Binance review. Binance rewards you using BETH, and let's understand how it does so.
What is BETH, and how it works?
BETH is a token, or you can say a version of already staked ETH on Binance. So each BETH is equal to 1 staked ETH on Binance. BETH exists to provide the flexibility which the locked ETH 2.0 fails to provide until ETH 2.0 is entirely functioning.
Using BETH, you are eligible to receive your staking rewards earned from the staking node. Also, you can use BETH to participate in ETH staking without the restrictions of withdrawals. It is straightforward to convert ETH to BETH in the ratio of 1:1. Not only this, if you still want to convert your BETH back into ETH, precisely you can do it through the BETH/ ETH spot market on Binance.
How to use BETH?
The easiest way of using BETH is to keep it and indulge yourself in the ample staking rewards. Apart from this, you have the option to withdraw your BETH in the Binance Smart Chain (BSC) and deploy it in Defi applications. For more information on BETH and various ways to use it, you can click here.
ETH 2.0 staking at Binance: Step by step guide
Now when you know what ETH 2.0 is, here is the step-by-step guide to help you through the staking process of ETH 2.0 on Binance. You can follow the below steps to proceed at Binance:
Go to the official website of Binance.
Create an account or log in if you already have one.
Now hover on the Finance tab in the navigation bar.
Here various options will appear. You have to click on "Binance earn."
Now, on the next screen, scroll down until you find the ETH 2.0 staking option. Click on learn more to be redirected to the official page of Binance ETH 2.0 staking.
Hit the Stake now button located at the top corner of the screen.
Now an amount window will appear on your screen. Enter the amount of ETH you want to stake, and then press the confirm button.
So now, a second window will pop up on your screen. Here you have to read and check all the conditions. Once you understand and agree with all the requirements, hit the confirm button.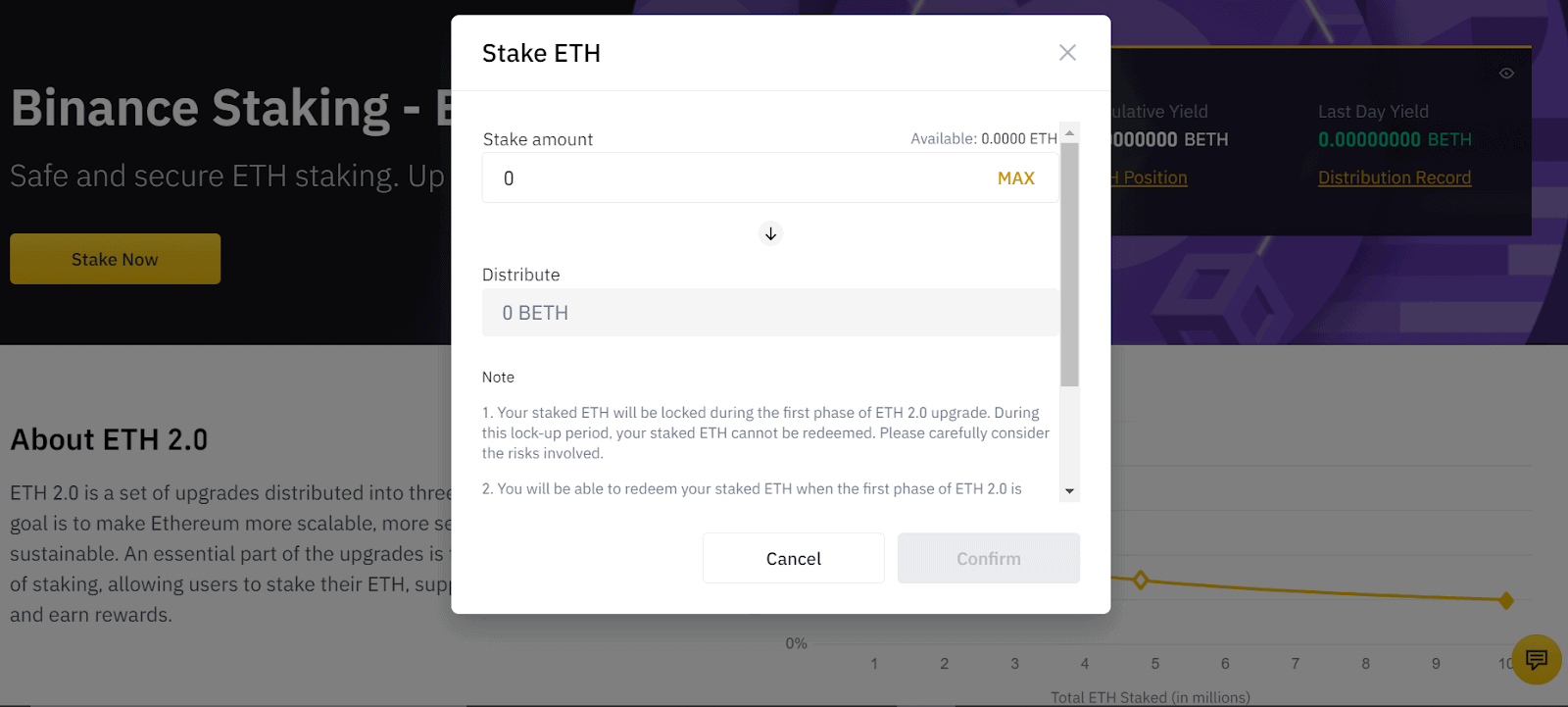 Staking Rewards
You already know that you won't receive any rewards or unlock your ETH until the last phase of the shard chain is out. However, you can receive rewards based on your BETH holdings. Binance regularly distributes rewards to its users based on their BETH holdings.
You will be receiving the staking rewards in your spot or fiat account. Binance provides you the staking interest on your BETH holdings in your spot account. However, the interest does not depend on the BETH present in Launchpools or other similar products.
Staking Balance
You can always view your staking balance through your Binance Spot wallet. Just log into your account and go to the wallet section. There you'll be able to observe your balance in the earn section.
How to withdraw staking rewards?
Binance rewards you with BETH in your Spot and FIAT wallet. You can convert the rewards into ETH in a 1:1 ratio anytime using the BETH/ ETH spot market. However, the staked funds will be locked for an undetermined period, so it is advisable to be entirely sure before staking your ETH.
Risks while ETH 2.0 Staking at Binance
No investment comes without risk. Similarly, staking Ethereum 2.0 has its pool of risks associated with it. However, the risk on Binance is far less than staking the Ethereum directly.
So the main risk while staking ETH 2.0 is that prices of ETH vs. BETH are volatile and change frequently.
If you are ready to go for long-term investments, then staking ETH 2.0 on Binance is perhaps the best alternative. However, you can also convert the on-chain rewards from BETH/ ETH market.
Binance ETH 2.0 Staking: Pros and cons
| Pros | Cons |
| --- | --- |
| You can receive rewards from BETH holdings, even in the lock period of ETH 2.0. | The volatile prices and price difference of BETH vs. ETH is a downfall of staking ETH 2.0 at Binance. |
| You can use BETH in various launch pools. | You cannot withdraw your staked assets until the final phase of ETH 2.0 is out. |
| Binance covers all the validator expenses and on-chain expenses. | |
| You can exchange the earned BETH with ETH in a 1:1 ratio from the BETH/ ETH spot market. | |
Binance ETH 2.0 Staking: Conclusion
Staking is a prominent and convenient way to create a passive income source for you and earn high returns. However, you must not blindly lock up your crypto without gaining adequate knowledge about the assets, the platform, and the way you are staking. Taking Binance into consideration, it is instead an appreciated and highly used platform for trading.
ETH 2.0 staking is an exciting way to become the validator. Also, Binance has made the process of staking with ETH 2.0 a lot easier for its users. So if you are a long-term and taker and confident in ETH 2.0, you can go ahead with ETH staking.
Frequently Asked Questions
How much ETH do you need to stake?
Suppose you're staking directly at the official platform of Ethereum. In that case, you need at least 32 Ethereum along with many complex types of equipment. However, Binance allows you to stake ETH with a minimum amount of 0.1 ETH.
What will Ethereum 2.0 do to Ethereum?
Serenity or ETH 2.0 is an upgrade to the ethereum network. It will provide efficiency, speed, and scalability on the network. Because it uses POS instead of the traditional POW, it will be more energy efficient. It will increase the potential of Ethereum as it will reduce the gas fees significantly and alleviate the number of transactions and congestion.
Does ETH 2.0 kill mining?
Ethereum 2.0 uses Proof of Stake rather than the traditional Proof of Work, which, if implemented entirely, will eliminate the need of miners if wholly implemented. They will save a lot of energy consumed by ethereum mining and promote staking, which does not involve complex equipment.
Can I un-stake my ETH?
Direct Ethereum staking does not allow you to withdraw your staked assets. Hence if a couple of ETH is a significant amount for you, it is advisable to stay away from ETH staking, as your funds will be locked for an undetermined period. BETH is another way to hold staked ETH.