Choosing the best exchange platform can be a little hectic sometimes? In this Binance vs Bitstamp article, we compared features, fees, cryptocurrencies, interest rates, and what not so that you can make an informed decision.
Summary
What is Bitstamp?
Bitstamp is a renowned cryptocurrency exchange founded in 2011 in Slovenia. It supports 28 cryptocurrencies. In addition to business, users can enjoy other services like buy, sell, send, and receive crypto assets from this platform. Furthermore, the platform allows you to buy crypto assets using credit/ debit cards. To know more, read the Bitstamp review.
What is Binance?
Founded in 2017, Binance is the most trusted cryptocurrency exchange as it is also the platform that ranks on the top for trading volume, hence provides high liquidity. This platform is available in more than 15 languages globally. Moreover, it is best for both beginners and advanced traders. To know more about Binance, read the Binance review.
Bitstamp vs Binance: Features
Although both platforms are responsible for trading cryptocurrencies, several features like fees, user interface, safety features, and so on set them apart from each other.
Features of Bitstamp
Bitstamp provides many unique application programming interfaces for custom business applications.
In addition to this, it presents advanced trading options for experienced traders like market, instant, stop, limit, trailing stop, withdraw, and fill-or-kill orders.
Traders can also earn significant returns on holdings by staking Ethereum on this platform.
Users can add funds without any hassle. Add money from a credit or debit card and start trading immediately.
Instant update facility is available on Bitstamp trade bot. For instance, the trader is immediately alerted through a push notification after the complete transaction process.
Bitstamp employs robust security methods like data encryption to protect the digital assets of every user.
It also enables the users to create a list of authentic recipients. This way, the transfer process of assets becomes more secure and impenetrable.
In the end, Bitstamp exchange strives to offer a great user experience to every one of its customers.
Features of Binance
Binance crypto exchange platform offers several trade orders like limit, stop limit, market, stop market, trailing stop, post only, and limit TP/ SL orders.
Users can purchase cryptocurrencies directly by credit, debit card, or by using SEPA and bank transfers.
Binance exchange offers an innovative feature that supports borrowing crypto assets by using their crypto assets as collateral.
It also showcases a leaderboard that lists the best traders according to their positions.
Users can take part in a unique battle on Binance that allegedly shows who will gain more profit in future trades over a certain period.
Furthermore, the platform offers users to earn passive income through Binance staking.
Traders can earn extra interest on the Binance Earn platform by depositing cryptocurrencies. Furthermore, the interest rates vary with the coins used.
BNB is the native currency of Binance. What's more, it bagged the third position in the list of most valuable blockchain-based tokens at a rough estimate of $3.6 billion by market cap.
Binance Futures is divided in two main categories: USD-Margined Futures Contracts and Coin-Margined Futures Contracts.
To learn more, read A Guide to Binance Futures Trading.
Bitstamp vs Binance: Interest rates
The annual interest rate in the case of Binance is 18.25% for BTC. The interest rates depend on the crypto asset borrowed. This is an acceptable way to earn some interest on crypto assets deposited in the account.
Bitstamp, however, offers no such interest in holding cryptocurrencies in the accounts.
You can earn more on your ETH HODLings with Binance ETH 2.0 staking.
Binance vs Bitstamp: Credit Card
Binance also offers Binance Visa Card, a credit card used to convert cryptocurrencies into fiat currencies. Thus, the traders can spend it on products and services of their choice.
It charges no monthly fee but a small fee of 0.9% transaction fee. Moreover, it also offers the highest cashback of 8%. Still, users must have 6000 BNB in their accounts to be eligible for this cashback.
To learn more, read Binance Card Review: Is This the Best Crypto Card?
As for Bitstamp, users can use their credit or debit cards to buy crypto assets. However, the platform does not offer its crypto card as of August 2021.
Bitstamp vs Binance: Cryptocurrencies
Bitstamp supports USD, EUR, GBP, BTC, XRP, ETH, and LTC deposits and withdrawals. In addition, users can also access 55 trading pairs and 23 cryptocurrencies on Bitstamp.
Binance offers to trade in more than 500 cryptocurrencies like BTC, LTC, ETH, BNB and supports more than 12 fiat currencies for making deposits.
Binance vs Bitstamp: Fees
Bitstamp fees
Bitstamp charges a low fee of 0.5% for trades under 10,000 USD. It lowers the price when the transaction is more significant.
There is no Bitstamp deposit fee and bitstamp withdrawal fee if the user trades using cryptocurrencies.
However, it charges a minimum of 10 USD if the user withdraws using debit cards.
Similarly, for every transaction by credit card, it charges a 5% fee.
The trading fees is shown in the below table:
Binance fees
Binance trading fee is 0.1%, but if the user uses Binance Coins for trade, they can get a whopping 50% discount.
There is no Binance deposit fee.
However, the user has to pay a Binance withdrawal fee which is different for each cryptocurrency.
The trading fees at Binance is shown in the below table: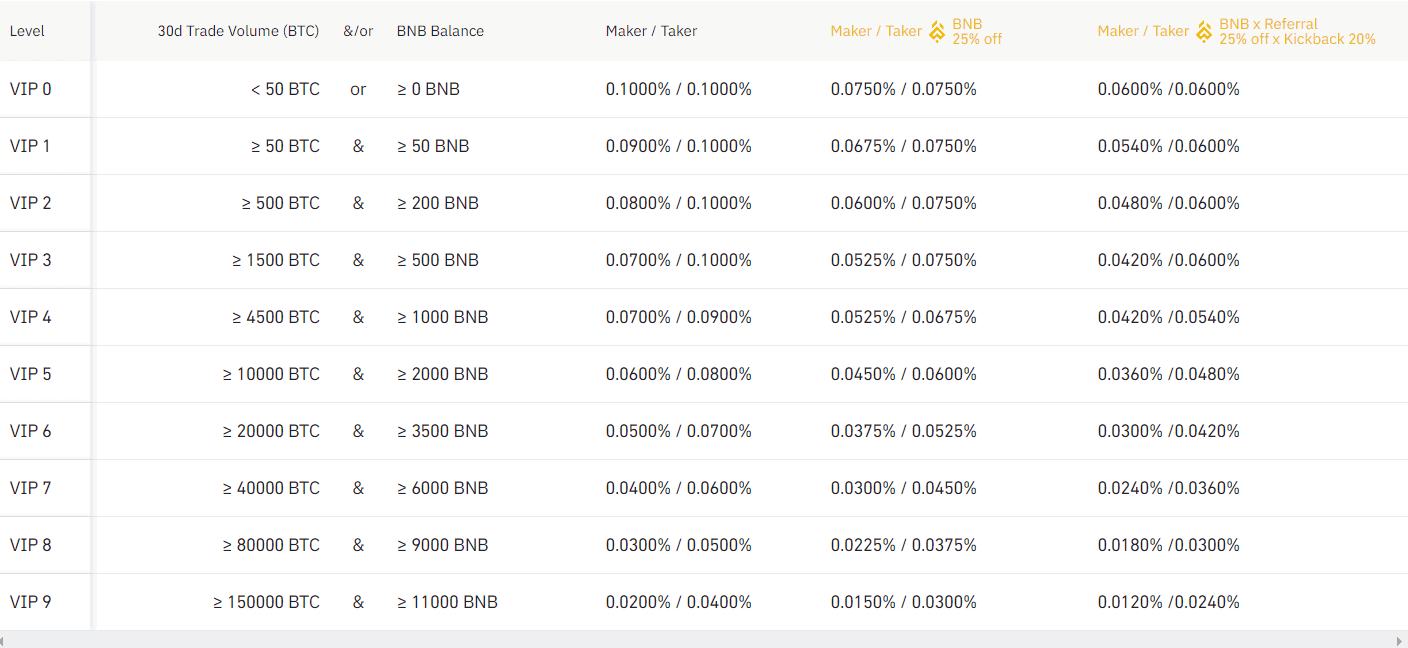 Bitstamp vs Binance: Mobile App
In this fast-paced world, everything is available in a compact form and within our reach.
Bitstamp App
Bitstamp mobile app is available on both Android and iOS devices. It contains all the trading functionalities and the four order types. In addition, the users can also access the analytical tools, trade view charts, order book, and mobile wallet with an advanced crypto storage system.
Binance App
Binance mobile app is terrific and includes all the trading necessary features such as spot trading, margin trading, futures trading, deposits or withdrawals, premium charting experience, liquid swap, earn, staking, BNB vault, P2P transactions, multiple payment options, etc. It is also available on both Android and iOS devices.
You can also automate your trades using the Binance trading bots.
Binance vs Bitstamp: Security
Is Bitstamp Safe?
Yes, Bitstamp is safe to use as it takes security very seriously and has taken up many extra measures to ensure the safety of funds of every user.
It uses a cold wallet to store 98% of the users' crypto assets and a hot wallet to ensure constant liquidity. In addition, both wallets include multiple signature protection to reduce fraud.
Users have to complete KYC verification and set up two-factor authentication to give additional security to their accounts.
Bitstamp uses PGP (Pretty Good Privacy) to keep the information private.
It also requires email confirmations.
Despite these stringent security measures, someone hacked Bitstamp in 2015, which resulted in the theft of USD 5 million. However, the platform since then has not faced any type of security issues.
Is Binance Safe?
Yes, Binance is safe to use as it is a leading cryptocurrency exchange platform and puts the user's security of accounts and funds above everything else.
Users have to set up 2-factor authentication for double security. First, Binance sends a code to the registered email and phone number to ensure the login is authentic.
Additionally, it uses CryptoCurrency Security Standard (CCSS) to protect the user's accounts.
However, the platform has been facing regulatory crackdown across the globe recently, hence you must be on the lookout for the best Binance alternatives.
Bitstamp vs Binance: Referral Program
Referrals allow a user to invite other traders on a particular exchange. Both the parties receive rewards after the user starts trading.
Bitstamp Referral Program
The user can get started with the referral program after they log in to their Bitstamp account. After 30 days of using the platform, they will be eligible to refer and earn via the referral page of the website.
What's more, the invited person has to make a trade of $100 or more to receive rewards. The user can invite as many people as they like but can earn up to $500 in a single year. Currently, Bitstamp Referral Program is valid in 48 countries.
Binance Referral Program
Binance offers a significant 40% commission every time a new referred user completes a Binance's Spot or Future markets trade. The latest user has to create an account first, and then only they will be eligible for the program. All the user needs to do is share his Binance referral code with his friends.
Bitstamp vs Binance: Customer Support
Users can avail themselves of the Bitstamp customer service in two ways.
Traders can opt for email support at any time to resolve their queries.
They can also use phone support that is available 24 x 7.
In Binance, users can connect with customer support via the email contact form present on the website. The users have to wait to get a reply.
Binance vs Bitstamp: Pros and Cons
Bitstamp
Binance
Pros
– Best trading platform for experienced traders.
– It supports fiat currencies.
– Competitive fees.Several funding options.
– It supports a wide range of cryptocurrencies.
– The website is available in multiple languages.
– It offers high liquidity.
– Excellent customer service.
– Multiple trading and payment options are available.
– The platform also offers latest updates on Binance Twitter account.
Cons
– Not suitable for beginners.
– Bitstamp offers fewer rewards and staking.
– It supports a smaller number of cryptocurrencies.
– Verification takes a lot of time.
– Customer support is weak.
– No regulated trading.
– Binance recently imposed leveraged token limitations.
Bitstamp vs Binance: Conclusion
After comparing both platforms, it is clear that Binance offers a more extraordinary user experience to every customer. The website supports multiple payment options, low trading fees, multiple exciting features, and a wide range of cryptocurrencies to trade, exchange, buy and sell.
Bitstamp is well suited for an experienced trader and presents several funding options to make it more user-friendly and transparent. Moreover, it also supports fiat currencies. The bottom line is, both platforms have unique features and services, but the user has to choose whatever works best for them.
Frequently Asked Questions
How to get started with Bitstamp?
First, users have to register an account on the website. Then, they have to complete the registration by filling in their credentials and setting up passwords. After this, they can complete Bitstamp login by filing the registration details and start trading! To learn more, read Bitstamp review.
How to withdraw on Binance?
Go to the wallet section of the account and select the fiat and spot option. Now, choose the wallet option on the site. Next, select the cryptocurrency or fiat currency and enter the wallet address or additional information. The verification of the credentials will complete the withdrawal. You can also easily transfer funds from Binance to Coinbase.
What is Binance margin trading?
Binance supports trading through borrowed crypto assets from the third party. Consequently, traders can get access to large sums of crypto assets and leverage their positions. Thus, it results in significant profits. To learn more, read Binance margin trading.
Is verification necessary on Bitstamp?
Bitstamp requires identity verification for trading, selling, and buying cryptocurrencies. Users can upload any government-issued identity for the confirmation of their identity.