Affiliate Programs will help you get some by just referring people and successfully enrolling them to the platform. Hence, there are different affiliate programs available, and you'd surely want to pick up the one best suited for you. 
Summary (TL;DR)
An affiliate program is where an affiliate promotes another person's company through their affiliate links.  
CoinCodeCap lets you become an affiliate and earn 20% commissions without any sign-ups. [Click here to know more]
Bybit offers users a 30% commission which is two times higher than the industry standard. 
Cryptohopper makes all the payments of its affiliates through Cryptohopper Balances.  
After ten invitees, you earn up to a 20% commission rebate on Pionex. 
PrimeXBT provides its traders with various offers to earn passive income. 
BOXTradEx pays the highest commission in affiliate programs. 
1st Affiliate Program: CoinCodeCap
What is CoinCodeCap?
We provide crypto educational content and also provide crypto trading signals to our members. Further, we offer technical and fundamental analysis of crypto signals. We provide signals exclusive to our subscribers, and none of your personal data is required to follow the signals. We are the people behind Coinmonks publication, a non-profit educational platform running since 2018. Here the content is based on reviews, crypto assets, different platforms, etc. Additionally, our best crypto signals group provides you with an opportunity to interact with our professional trading team.
How does the CoinCodeCap affiliate program work?
We offer an affiliate program through which users can use their influence to get more traders to sign-up to our platform and earn a part of their subscription fees. You can make a passive income by sharing your affiliate link with your audience and waiting for them to join. There are no sign-ups needed to become an affiliate and it comes with the below benefits:
You can earn commissions from friends or your audience and start making a passive income.
The commissions on your referrals are up to 20%.
Users will gain access to the best crypto signals.
Bybit: Best Crypto Exchange Affiliate Program
What is Bybit?
Bybit is a cryptocurrency exchange that allows you to trade different types of crypto markets. Moreover, Bybit also allows you to leverage your investments, increasing your profits but amplifying your risks; it is not suitable for beginners. The crypto trading platform was founded in 2018. The crypto trading platform was founded in March 2018, and till now, it has over three million+ registered users.

Also Read: Best Crypto Exchange
How does Bybit Affiliate Program work?
You can sign up for Bybit's affiliate program if you want to connect with a rapidly-growing cryptocurrency trading platform to maximize influence and profits. Lifetime commissions are provided to their partners if they join the affiliate program. In addition, users who sign up through their partner's link and actively trade on Bybit will get calculated in real-time. To learn more, also read out Bybit review.
Also Read: How to use Bybit in the USA?
Benefits
The commission rate is more than two times higher than industry standards.
You will receive a monthly recurring revenue share for every client you refer to Bybit.
There's a 30% commission in Bybit's profits from your client's trades. Additionally, you will also get 10% of what your sub-affiliates earn.
Users will be able to partner with the most reliable crypto exchange in the world.
It has transparent campaign tracking and reporting.
Compensation in the cryptocurrency of your choice.
Cryptohopper: Trading Bot Affiliate Program
What is Cryptohopper?
Cryptohopper is an easy way to trade Crypto 24/7 and was established in the year 2017 by two Dutch Brothers, Ruud and Pim Feltkamp. It is an AI-driven bot that makes crypto trading fun, accessible, and worthwhile for everyone. It provides portfolio management and fast, automated trading for Bitcoin(BTC), Litecoin(LTC), Ethereum(ETH), and over 100+ cryptocurrencies. Moreover, the platform also offers you access to an expert suite of tools like their trailing feature that helps you purchase and sell better than before.
Read our Cryptohopper review to know more.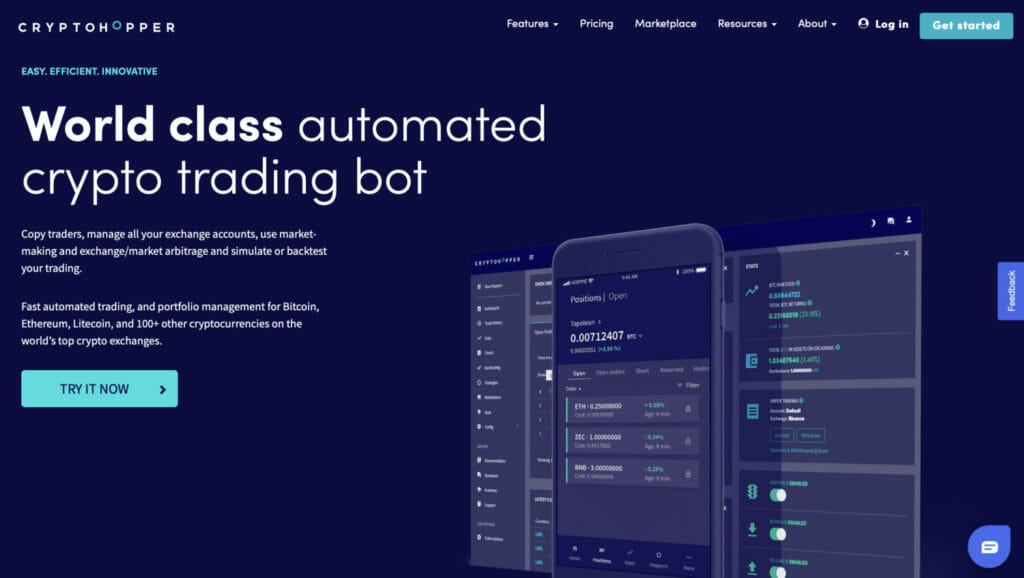 Also Read: Best Paid And FREE Crypto Trading Bots
How does the Cryptohopper Affiliate program work?
Cryptohopper is committed to the success of its affiliates. Their Cryptohopper affiliate program offers industry-leading commission, support, and resources and is free to join with no monthly charges and minimum sales requirements.
Users receive an affiliate link when they have been accepted as an affiliate. Every affiliate request is processed as soon as possible. All the payments to affiliates are done through Cryptohopper Balances and are made every Monday. Also, you can request them twice a month.
Also Read: Top 5 CryptoHopper Alternatives
Benefits
There is a chance to earn up to 15% for every payment your referred users make. You can recruit new affiliates and earn up to 50% of what they make.
Free content is available for users who want to learn content creation as they can link to blogs, video tutorials, free banners, tools etc.
You will be the first person to hear about news and updates that will hit Cryptohopper.
Priority Cryptohopper support will be provided via email, phone or live chat.
Pionex: Best Trading Bot Affiliate Program
What is Pionex?
Pionex is a crypto exchange with free built-in trading bots. The bot can help you to auto-buy low and sell high in a price range. Even when you are working or having a holiday, sleeping, the bot never stops. They are regulated in the United States and Singapore. Moreover, they are also backed by some of the big names in the crypto industry, such as Shunwei Capital, Zhen Fund, and Banyan Capital.
Read our Pionex review to know more.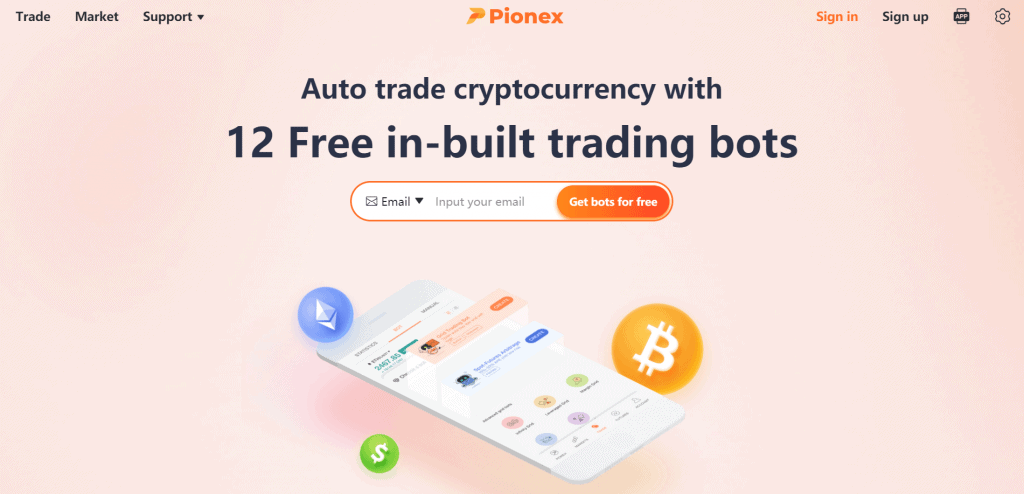 How does the Pionex Affiliate program work?
Pionex affiliate program needs some requirements to be followed; only then you can apply for it. Friends can be invited directly with your link if you are regular users. You will be able to find this link under your account page.
Benefits
For every friend you refer to Pionex, you will get the commission. 
You can earn a 20% commission rebate once you have 10 invites all running bots on Pionex.
5th Top Affiliate Programs: PrimeXBT
What is PrimeXBT?
PrimeXBT offers a robust trading system for beginners and professional traders who demand highly reliable market data and performance. The exchange was founded in 2018 and serves clients in more than 150 countries. They provide their clients with access to top-tier liquidity and a wide range of trading tools while enabling an efficient and safe trading environment for everyone and maintaining security and liquidity. Moreover, PrimeXBT is an award-winning platform that allows you to trade the global financial market using USD Tether, Bitcoin, USDC, etc.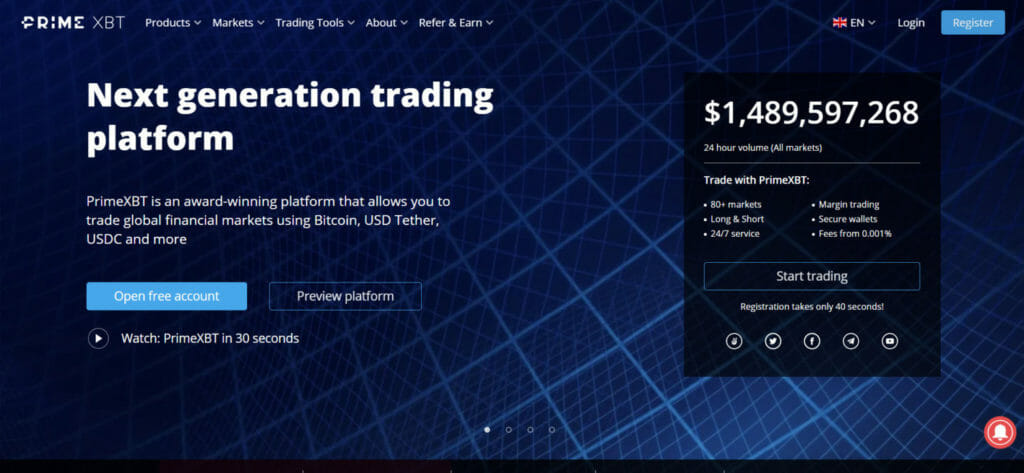 How does the PrimeXBT affiliate program work?
The working of the PrimeXBT affiliate program is simple as you need to share your personal partner link on a blog, website, or social media.
Users get paid according to the offer they have selected for every client who signs up at PrimeXBT.
There are three offers introduced for affiliates:
There is a classic offer with a revenue share of 70%. In this, affiliates receive up to 70% of all trading fees their referred users pay and a stable income with this revenue-sharing offer. 
Then, there is an offer where affiliates can earn up to $1250 CPA, which is one of the most popular and profitable CPA offers. Every qualified trader you introduce to the PrimeXBT platform will get paid between $40-$1250. 
The last is the hybrid offer in which you will receive a fixed payment for every qualified lead, and after, you will get a revenue share every time your referrals trade.
Also Read: eToro vs PrimeXBT vs Capital.com vs AvaTrade
Benefits
One of the most profitable affiliate programs globally with a chance to earn up to $1250.
The platform gives their affiliates fast payouts as they understand the importance of quick payouts for them.
There is transparent reporting, i.e., you have access to complete statistics.
In order to maximize your earnings, they offer media and promo materials.
6th Top Affiliate Programs: BlockFi
What is BlockFi?
Founded in late 2017, BlockFi is a US-based centralized crypto-finance company. BlockFi provides financial services to businesses and individuals worldwide and in all 50 U.S. states. Their offerings include low-cost USD loans secured with crypto, interest-earning accounts, and fee-free trading. Moreover, with BlockFi, you can earn up to 3.5% back in Bitcoin on every purchase with its BlockFi Rewards Visa Signature Credit Card.
How does the BlockFi affiliate program work?
To get started with the BlockFi affiliate program, you need to become a partner. After that, you'll get access to their promotional resources and your custom success-tracking dashboard once your application is approved. After that, you need to promote BlockFi and wait for passive income.
Benefits
Earn up to $1000 in commission for every referral.
There is 0.5% of earnings in cash on transfers for the first 30 days.
They individually review each partner to ensure they meet their standards.
They provide comprehensive training and ongoing support from a dedicated Partner Success Manager.
There are various access partner-only offers and promotions.
You can track earnings and access marketing materials with their comprehensive partner dashboard.
Also Read: 10 Best Crypto Lending Platforms
7th Top Affiliate Programs: BOXTradEx
What is BOXTradEx?
BOXTradEx comes with a combination of many tactical trading bots and is an automated trading platform. It mainly focuses on developing automated trading strategy tools for investors, also a great place to store and trade crypto assets. So, traders can treat BOXTradEx like a one-stop platform to users who desire an efficient method to accumulate their wealth and buy cryptocurrency in a more accessible and time-saving way. BOXTradEx aims to build a crypto-platform with a forward-looking concept firstly based on security and legal compliance.
Read our BOXTradEx Review to know more.
How does the BOXTradEx affiliate program work?
BOXTradEx does not have an affiliate program like others on the list, but it does have a referral program. With this referral program, traders can earn rewards by sharing their referral code with friends, family, or colleagues. The commission is credited to the settlement 31 days after the registration of the invitee, based on the time zone.
Rebate calculation rules:
The total transaction amount of grid and DCA within 30 days after registration * Handling fee * rebate ratio
Benefits
The inviter gets a 30% rebate rate for a valid invitation, the highest in the crypto market.
This BOXTradEx referral program helps traders to get a rebate on their fees.
8rth Best Affiliate Programs: Bitkan
What is Bitkan?
BitKan, a crypto exchange platform, offers community platform services to traders. Some of the offerings of the trading platforms are Automated Robot Grid, Futures Trading, and Smart Trade advantage. BitKan came into the picture in the year 2013. The platform is well known among android traders of China. Moreover, you can trade from Top 7 exchanges and over 1000+ coin pairs with one account. Furthermore, the BitKan group has been awarded Crypto Exchange License from Japan Financial Services Agency. 
Read our BitKan Review to know more.
How does the BitKan affiliate program work?
Likewise, the BOXTradEx platform, BitKan also provides the referral program to their traders. They allow you to refer your friends through the referral link and earn crypto together. Also, there is a rebate from all trading fees when you invite your friends. All the settlements are done by 10 A.M . and rebates generated later than 10 A.M. gets settled the next day. 
Benefits
There is a 15% rebate on trading fees.
The inviter referral rebate will be increased to 30% for all users holding 1 million KAN and above.
After a successful invitation, the referral rebate will be active for three months.
Rebate is sent to the inviters account directly.
You can invite as many friends as you want to, no such limitation.
The time for daily settlement is 10 A.M.
Conclusion: Top Affiliate Programs
Affiliate Programs help people earn a passive income and various rewards by sharing their links to their friends and colleagues. The above is the list of Top affiliate programs that will help you go through some best offers available in the crypto market. Crypto Exchanges provide the best affiliate commission and they are the best way to earn passive income for a long time. While promoting an affiliate make sure that the affiliate program provides benefits for a lifetime.
Frequently Asked Questions
What is an affiliate program?
An affiliate program is a strategy for marketing where the affiliates refer products or companies to a particular niche. Referring people makes affiliates earn commission/passive income. 
How to become an affiliate at CoinCodeCap?
There is no need for sign-ups to become an affiliate at CoinCodeCap. Instead, you need to head over to the Telegram channel and type COINCODECAP_BOT in the search bar and get a chance to earn up to 20% commission.
Are affiliate networks free to join?
Most affiliate programs/networks are free to join, and if a network demands a fee, you should run the other way. 
Is affiliate marketing a scam?
No, affiliate marketing is not a scam. It is a legit advertising model that commissions affiliates for successfully referring people and increasing traffic on the platform. 
Also Read,