Crypto trading bots have become an essential part of traders' life and allow them to trade with less hassle. Millions of traders from around the globe use the trading bot provided by BitKan. Trading bots help you to strategize and also outgrow your performance.
Summary (TL;DR)
BitKan shapes the future as it provides a brokerage platform for its traders.
Crypto trading bots help us trade quicker and work 24*7.
These trading bots are made to automate cryptocurrency trading on your behalf.
It does all the work itself and never gets tired. Thus, further making it possible for us to work any time.
Download the BitKan pro app and experience the cryptocurrency exchange platform.
It provides us with AI-recommended strategies. Furthermore, we can also completely customize the bot.
What is BitKan?
BitKan is a cryptocurrency exchange platform that offers smart trade advantages, futures trading, automated crypto Grid bots, etc. BitKan was established back in 2013 and is a well-known platform within China. Furthermore, it lets you trade from 7 Top exchanges over 1000+ coin pairs with one account. Furthermore, Bitkan ows a crypto exchange license from Japan Financial Services Agency.
What are Crypto Trading Bots?
A cryptocurrency trading bot creates buy and sell orders on exchanges based on some predefined rules. The bot offers a degree of speed and accuracy unmatched by humans.
What is a Grid trading bot?
One of the numerous trading methods is Grid trading. It allows you to buy cheap and sell high in a set price range automatically. Furthermore, the Grid trading bot will also continue to trade as long as the coin price does not break beyond the defined range. Grid trading will be halted if the price falls below a certain level. The bot will continue to run till the coin returns to its range price.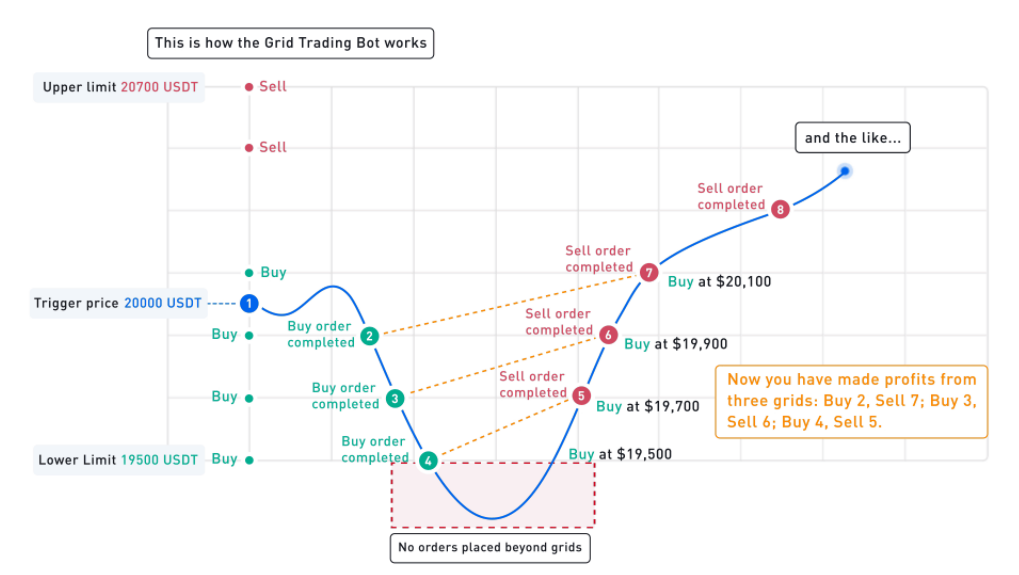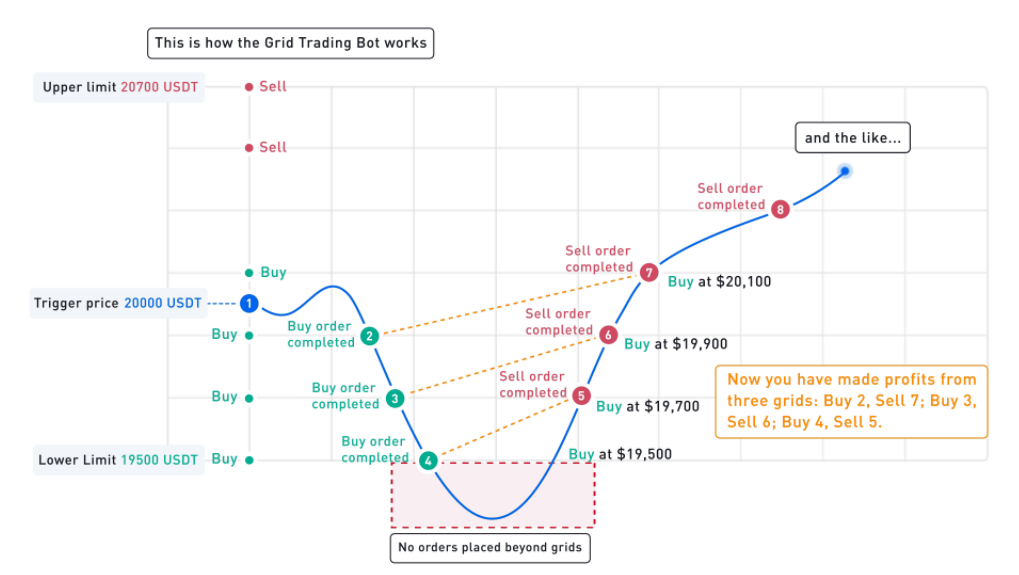 Also, read Best Crypto Grid Trading Bots.
BitKan Trading Bot: Available Strategies
BitKan trading app provides AI recommendations when starting to trade via bots. These AI recommended strategies are already backtested. Traders can also create custom strategies manually from these four pre-set algorithms to begin trading.

Interval Grid
The Interval Grid is used to set a range. Buy low and sell high will be executed when the market price fluctuates within intervals, enabling smart arbitrage. Therefore, this algorithm is suitable for a volatile market where the medium and long-term trend is not apparent. It is available 24*7 to buy and sell within a specific range.
Infinite Grid
The Infinite Grid is improved based on the interval grid. It allows no upper and lower limits. Moreover, the Grid automatically moves within the market trend and intelligently plans to buy low and sell high according to the scale of your invested assets.
Two-way Grid
Two-way Grid automatically plans to open positions based on the funds you have invested. It is suitable for automatically buying low and selling high under sideways market conditions. Therefore, traders can profit in both the volatile rise and fall and the income is stable, without the need to watch the market.
Bitkan Rebalancing Trading Bot
The Rebalancing strategy is based on Shanon's Daemon theory, which benefits patient investors the most. This strategy is used to keep a fixed ratio of cash and position in the box oscillation arbitrage, that is, hold half of the money and half of the coins. Therefore, the proportion of position and cash is always 50%: 50%. Thus, always have money to buy coins and have BitKan coins to sell. It is suitable for medium to long-term upward or oscillating markets.
Benefits of Using BitKan Trading Bot
It removes the emotions out of your trading. For example, when it comes to sell and buy assets, your decisions might sway you away. However, if you have a trading bot system with predefined rules, it will consistently execute those rules.
Trading bots allows us to scale a lot better than you trading yourself as a discretionary trader. For example, if you want to deploy 10 or 20 trading systems over five markets, that becomes very easy to do with automated trading systems.
It gives us the ability to trade 24*7 without a break. As a result, you will have more opportunities to change. This high-frequency trading system is available with trading bots. Moreover, it helps execute buy and sell trades quickly in a tiny time frame.
How to use the BitKan Trading Bot?
Download the BitKan trading app and open it.
Select the "Trade" option mentioned in the below right corner.
From the three options, you see on the top navigation bar, select "Bot."
There will be four options available in the Library from which you will have to choose the AI recommended strategies.
You'll now see many tokens and trading pairs from which you can choose any.
After done with the trade selection, you'll have to choose the strategy type for your trade.
Enter the total investment amount for your trade.
In the end, Backtest your strategy, or you can directly click Launch to start the BitKan trading bot.
Things to consider before choosing trading bots
Before using any bot to trade and giving your account access, determine that the trading bot is secure. Look for the reviews available online to know your bot.
Gather all the insights from other traders or the community about the bot. This will help you know how satisfied they are by using that bot. Moreover, it will you to figure out how reliable it is.
Always look for the transparent bot whose processing is known to all. Additionally, opt for reputed developers so that there is less risk for unethical behavior, most significantly, none.
The interface should be user-friendly and straightforward to use. Since, if not, it would be difficult for the beginners.
Research well on the cryptocurrency's history.
Also, read Dollar-Cost Averaging Trading Bot.
BitKan Trading Bot: Pros and Cons
| Pros | Cons |
| --- | --- |
| Reduces much of the emotional factor while trading. | Some supervision is still required even though it does a lot of tasks itself. |
| Bots can perform multitasking as they can run analyses of multiple currencies and trade at the same time. | Too much faith in automated trading systems can be a downside. |
| It gives us faster response and processing. | The Bitkan app is not available on the play store or apple store. |
| Provides us with round-the-clock operations. | Furthermore, the app comes with bugs. |
| Even beginners can make use of it efficiently. | |
BitKan Trading Bot: Conclusion
This BitKan trading bot guide is mainly about what and how you can use the bot. Furthermore, trading bots can be used more optimally when we know how they can be configured to suit your preference. Traders should always go through all the reviews and verify that their chosen option is secure. Additionally, with four unique bots and more bots in progress, investors can lay down with genuine feelings of serenity, realizing that their crypto is working for them to earn more crypto.
Frequently Asked Questions
What is bot trading?
Bot trading is when traders make use of different platform bots to take advantage of the cryptocurrency market. It provides us a great way to learn about investing and trading in the market.
How to convert fiat currency into cryptocurrency?
First of all, you'll have to deposit FIAT into one of the popular crypto trading exchanges. These exchanges could be Binance, OKEx, FTX, Huobi, or Coinbase. Thereafter, you can proceed with buying any crypto asset you want.