With the launch of the new Proshares Bitcoin Strategy ETF and an increase in the adoption of digital assets as evidenced by firms such as Stripe, it is no secret that cryptocurrency has been steadily gaining traction. While investing in digital currency is already a form of investment, there are other ways crypto users can earn more on their funds.
One such way is by depositing them into interest-earning accounts. This way, investors are able to generate interest in their crypto funds without having to actively manage their accounts. Moreover, there are numerous platforms that allow users to earn interest while being equipped with other functions to help individuals do more with their crypto assets.
If you are looking for platforms that allow you to do just that, we take a closer look at 3 you might want to consider. These include Hodlnaut, CakeDefi, and Celsius.
To get a better understanding of these platforms, we discuss some of the features, rates and fees, security, and ease of use for all 3 platforms.
Hodlnaut
Founded in 2019, Hodlnaut is a Singapore-based fintech firm that provides financial services to individual investors where they earn interest in their cryptocurrencies. The company aims to help hodlers do more with their crypto assets by earning interest on them. At the time of writing, the platform has over 10,000 active users and an AUM of $500 million. Hodlnaut is also recognized by the Singapore Fintech Association, which is a recognized credential of the Monetary Authority of Singapore (MAS).
Read our Hodlnaut Review to know more.
Hodlnaut Features
The platform's main product is its Hodlnaut Interest Account. Users can earn up to 12.73% on six of the supported assets: BTC, ETH, USDC, USDT, DAI, and WBTC. Interest is calculated daily and paid out weekly on Mondays in-kind or in the preferred asset. There are also no minimum deposit or lock-in periods for the interest account. The signup process is relatively quick and easy. Once users have gone through the mandatory KYC (Know-Your-Customer) verification process, they can then begin earning interest immediately.
Moreover, Hodlnaut has a Token Swap and Preferred Interest Payout function to offer users more flexibility and control over their crypto assets. With the Token Swap function, users can simply swap their tokens seamlessly on the platform without leaving it. Thus, they would not need to pay any additional fees too. The Preferred Interest Payout feature enables users to choose the currency in which they prefer earning in. This means that users can deposit in BTC and earn stable coins such as USDC and USDT.
Also Read: YouHodler vs CoinLoan vs Hodlnaut
Hodlnaut Rates and Fees
Hodlnaut offers some of the highest interest rates in the market of up to 12.73% on stablecoins like USDC and USDT, and up to 7.46% on BTC and ETH. The firm is able to offer attractive interest rates to users by lending the assets to vigorously vetted margin traders in the form of crypto loans.
Though there are no depositing fees, Hodlnaut does charge a small amount for withdrawals. The current withdrawal fees are as follows.
Hodlnaut Security and Risks
Hodlnaut has also taken various measures to ensure that the deposited funds are secured through two-factor authentication, as well as Fireblocks integration. Moreover, users can only withdraw funds to whitelisted addresses to prevent any potential risks.
The best part about Hodlnaut is that it offers its users an optional insurance cover known as the Nexus Mutual Custody Cover. This means that users are able to purchase insurance on their crypto assets to safeguard their funds. Though it is not mandatory, Hodlnaut has put in place such an option to allow users to have peace of mind.
Hodlnaut is also certified by the Singapore Fintech Association, a credential recognized by the Monetary Authority of Singapore (MAS). At the moment, it is actively pursuing a license application with the MAS to become the first regulated entity in Singapore in the crypto lending and borrowing space.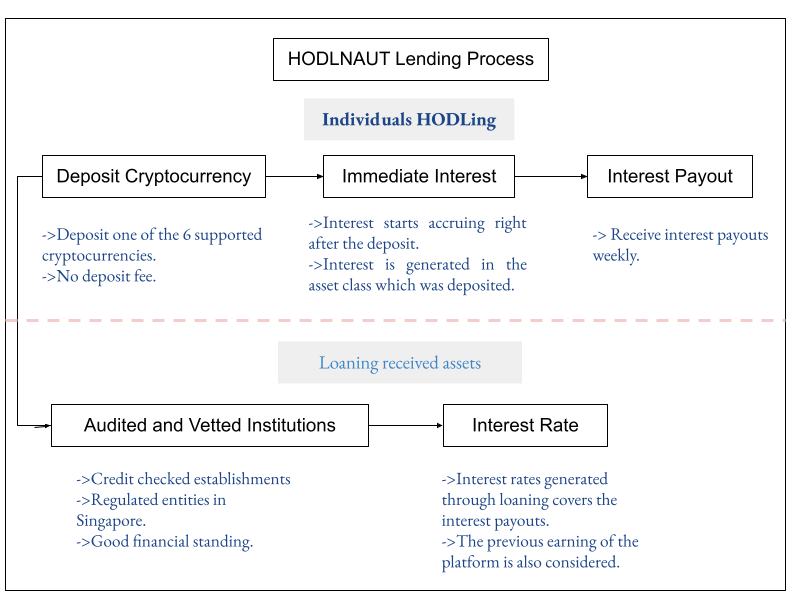 Celsius
Celsius was launched in 2017 with the aim to replace the current traditional financial and banking system. It does so by utilizing blockchain technology to offer a range of products and services similar to that of traditional financial systems but catered for digital assets.
With Celsius, crypto users are able to access a variety of functions such as an interest-earning account known as Celsius Wallet or borrow fiat currency using their crypto as collateral at lower interest rates. There are no withdrawal fees, lock-ups, and minimums required too. The platform is also known to be working on a credit card that allows individuals to earn weekly rewards on crypto collateral.
Celsius Features
One of its main features is its interest-earning account. Users can deposit their crypto assets into the Celsius Wallet where they are able to earn up to 17.78% APY. At present, Celsius supports over 40 assets including BTC, ETH, and LTC. Users can earn up to 6.20% APY on BTC and up to 5.35% APY on ETH. On top of the usual crypto offerings, Celsius offers users the opportunity to earn interest on gold. The platform utilizes XAUt and ERC20 tokens with gold backing.
However, it is important to note that the earnings from Celsius differ based on the type of cryptocurrency, the loyalty tier, and where users are located (ie: if they reside in the US or not). International users that are based outside of the US can qualify for one of the platform's four loyalty tiers. The tiers pay bonuses based on the percentage of users' crypto portfolio that is in CEL tokens, the platform's native currency.
The tiers and the corresponding requirements are as follows.
Bronze Tier: <5% of users' portfolio is in CEL tokens
Silver Tier: 5%-10% of users' portfolio is in CEL tokens
Gold Tier: 10%-15% of users' portfolio is in CEL tokens
Platinum Tier: >15% of users' portfolio is in CEL tokens
Each tier comes with additional bonuses, which are noted below.
Bronze: No additional bonuses. Users can earn standard interest and get standard loan interest rates
Silver: 10% bonus on earnings and 10% discount on loan interest rates
Gold: 20% bonus on earnings and 10% discount on loan interest rates
Platinum: 35% bonus on earnings and 30% discount on loan interest rates
Celsius also has a payment feature known as CelPay. All users would be able to receive a 2% cashback bonus if they send CEL tokens with the CelPay feature in the app.
Another feature to note is that users can borrow in cash or CEL. There are over 40 coins that can be used as collateral, which are then lent out to institutional investors. Loan approvals are reportedly instant with no credit checks. Plus, there are no additional fees too.
The best part about this is that users can choose the amount of crypto they would like to put up as collateral. Celsius offers three LTV (loan-to-value) options: 25%, 33%, and 50%.
Also Read: Top 5 Celsius Alternatives
Celsius Rates and Fees
The effective rates for Celsius are as follows. You can also view the rates in detail here.
In terms of fees, Celsius does not charge any additional fees related to withdrawal, origination, transfer, or deposit and users can withdraw their assets at any time. Do note that withdrawals above $150,000 may take up to 48 hours to be released and the platform has a $600,000 withdrawal limit per 24 hours.
Celsius Security and Risks
Celsius has put in place several security features to ensure that its platform is safe from hacks. These include pin requirements, 2FA, biometric security, and additional opt-in features like email verification when changing the wallet address, and address whitelisting feature, and manual verification when attempting to withdraw assets worth over $150,000.
All funds that are deposited with Celsius are held with its partner custodian Fireblocks. Fire blocks also provide custody insurance against the loss or theft of users' private keys.
CakeDefi
Based in Singapore, CakeDefi was founded in 2019 and offers services such as lending, staking, and liquidity mining to allow users to do more with their crypto assets. As such, the platform aims to make decentralized financial services and cryptocurrencies accessible and usable by everybody. The platform is also said to be part of the Singapore Fintech Association (SFA) and the Association of Cryptocurrency and Blockchain Enterprises and Start-ups Singapore (ACCESS).
Read our CakeDefi Review to know more.
CakeDefi Features
CakeDefi has 3 main features: Liquidity mining, lending, and staking.
Liquidity Mining
At the time of writing, there are 7 liquidity mining pools where users can mine from. This includes Bitcoin, Ether, USDT, LiteCoin, Bitcoin Cash, and Dogecoin. Users can then lend out the mentioned crypto to a liquidity mining pool to receive rewards in the form of the platform's native DFI token. Users can then earn swap fees in the chosen cryptocurrency.
2. Staking
The currencies supported for staking are DASH and DFI. When users stake these currencies, they are issued shares in a master-node pool. These shares act as receipts of the deposit into the staking pool. There is a maximum number of shares that each master-node pool can accommodate. This would mean that once that maximum amount is hit, users are no longer able to make any other deposits though they can withdraw. The staking rewards are paid out every 12 hours and the system also allows users to automatically reinvest the rewards to earn a greater, compounded yield.
3. Lending
CakeDefi also allows users to lend out their crypto assets to earn interest of up to 7% on them. The platform supports 4 currencies, namely BTC, ETH, USDC, and USDT. Lending is executed in 4-week batches. A new batch begins every Friday, lasting for 28 days. In this period, users will not be able to withdraw their funds. After 4 weeks, users can choose to continue to store their assets into the next batch or withdraw either their capital investment, interest earned, or both.
Also Read: Crypto Lending vs Crypto Staking
CakeDefi Rates and Fees
CakeDefi's effective interest rates for its lending feature are as follows.
There are no fees for lending since the borrowers pay a commission. However, do note that for staking, there is a 15% fee on all rewards plus a $10 fee for each node users are involved with.
CakeDefi Security and Risks
With CakeDefi, the majority of users' funds are stored completely offline and securely in cold storage facilities. Only a small fraction is stored in a so-called hot wallet, which is mainly used at exchanges. Plus, the platform also requires users to enable 2FA for an additional layer of protection.
Conclusion: Hodlnaut vs CakeDefi vs Celsius
The crypto lending space is quickly expanding with the emergence of credible platforms that offer a variety of services with attractive rates.
Hodlnaut is ideal for users looking to earn high-interest rates on BTC and ETH while offering the flexibility to diversify portfolios. Celsius, on the other hand, is great for users who prefer a wider variety of available currencies and a more holistic approach as evidenced by its payment service known as CelPay. Lastly, CakeDefi is suitable for those who are keen on exploring different methods of earning through staking, liquidity mining, and lending.
As a general practice, it is always integral to do your own research (DYOR) prior to investing and signing up for any of these accounts. Each platform is equipped with different functions and features so it is important to find one that suits your needs and requirements.
Also Read,