eToro and Coinbase both are massive hubs for crypto traders. However, they offer different features and experiences to traders. This eToro vs Coinbase guide will show you a glimpse of how these exchanges work and what are their main characteristics.
eToro
Coinbase
Registered Year
2007
2012
Cryptocurrencies
100+ cryptocurrencies
60+ cryptocurrencies
Fiat Currencies
Over 35
Over 20
Fees
Withdrawal fees – $5
Inactivity fees- $10 after a year of inactivity.
Deposit fee- 1.49% to 3.99%
Overall spread- 0.50%
Supported Countries
Over 140 countries
Over 100 countries
Beginners Friendly
Suitable for Active Traders with some experience.
Suitable for beginners
Security
2FA, FDIC insured USD balances, Cold storage, Multi-signature, private keys and KYC.
2FA, FDIC insured, Cold storage, Platform insurance against theft, Bug Bounty Program, biometric fingerprint logins and KYC.
Mobile App
Available
Available
Payment Gateways
Bank transfer, Credit/Debit cards, Crypto Transfer
Bank Transfer, Coinbase USD wallet, Debit/credit cards, ACH Transfer, Wire Transfer, Crypto Conversion.
Referral Program
Available with a 25% revenue share of the person who joins via your affiliate marketing.
Not Available, instead there's an Affiliate Program with 50% of the joiner's fee for the first three months.
Customer Support
Good
Decent
What is eToro?
Launched in 2007, eToro is a trading company that emphasizes cryptocurrency, and to date, boasts over 7 million users worldwide. Further, the platform lets you trade and invest in top financial instruments, including a wide selection of stocks. Furthermore, you can join the eToro social trading revolution, connect with other traders, discuss trading strategies, and use their CopyTrader technology. This technology helps you to copy their trading portfolio performance automatically.
What is Coinbase?
Coinbase exchange is one of the biggest cryptocurrency companies with over 540 million dollars in funding, supporting 100+ countries, and serving over 30 million customers. Founded in 2012, Coinbase is a fully regulated, licensed Bitcoin exchange. The cryptocurrency exchange platform allows you to buy and sell Bitcoin and over many other cryptocurrencies. Its buying process is considered one of the easiest and fastest available.
In addition to this, the platform can be accessed through your iOS and Android devices and is most suitable for novice traders. Your cryptocurrencies are kept secured in the platform and even if someone manages to hack the website. To know more, read our Coinbase review.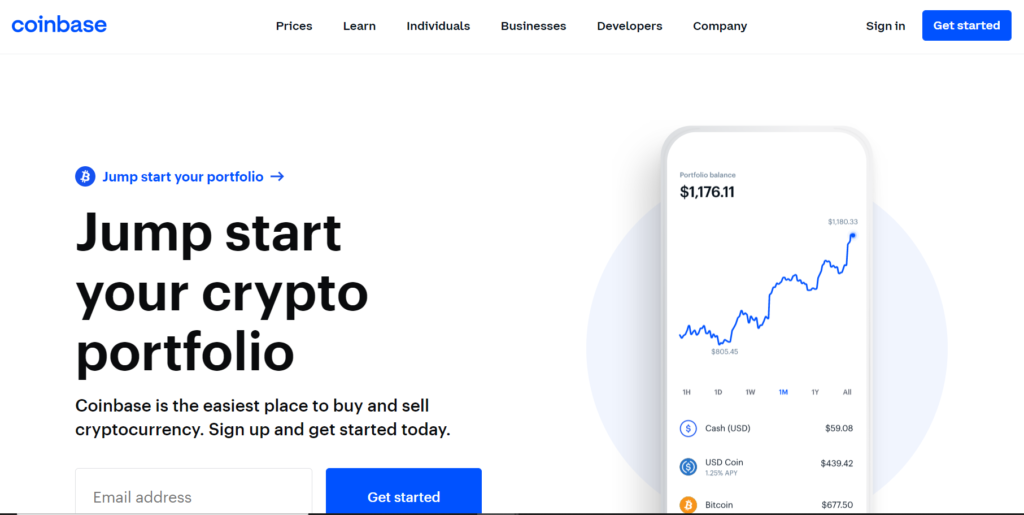 eToro vs Coinbase: Features
eToro
The exchange platform is easy to use.
They offer many cryptocurrencies like Ethereum, Bitcoin, Bitcoin Cash, etc.
eToro has an intuitive trading platform that enables anyone, anywhere, to trade financial assets online.
WebTrader included professional tools for both novice and advanced traders.
The social trading feature allows people worldwide to copy other successful traders using the innovative CopyTrader feature.
Clients can perform any action on the go via a handy mobile app.
A wide selection of stocks is added for traders to diversify their portfolios further and invest in the global stock market.
Coinbase
Coinbase provides an easy to use intuitive platform. It makes checking balances, executing buy-sell orders, comparing prices just a few clicks away.
Traders can hold their cryptos safely by making use of the Coinbase mobile wallet.
The platform provides you with vault protection to store funds in the vault with time delayed withdrawals for added security.
You can invest in cryptos slowly over time by scheduling buys daily, weekly, or monthly.
You can also get Coinbase Card to directly spend your crypto without converting it into FIAT.
99% of the trader's assets are stored in offline cold storage, which further ensures safety from hackers.
In addition, you can also earn free crypto with Coinbase Staking.
Further, the developer platform of Coinbase gives a chance to developers to build APIs that records real-time data of Coinbase supported cryptos and historical price information.
We're also soon goinf to see the Coinbase NFT platform up and running.
Also, read 5 Best Coinbase Bots to Automate your Trading
eToro vs Coinbase: Mobile App
Placing a trade order on a mobile application or the web order entry both are very similar. Mobile applications let you trade at your convenience, be at any time or anyplace. It makes trading go handy and makes everyone's work a bit easy. Both the exchange platforms here provide their traders with mobile applications that they can make use of.
The eToro app has been designed as a fully responsive web application that runs across all mobile devices, iOS or Android, including mobile phones and tablets. The mobile trading platform is highly intuitive and user-friendly. The exchange platform tried and delivered a top-quality user experience for their traders.
The coinbase app is also user-friendly and supports everything from buying, selling, withdrawing crypto assets, etc. The mobile application they provide will need a bank account or debit card to purchase cryptos there. These smart tools will keep you updated on all the market opportunities, and here you can also see all the assets you have invested in at any time of the day.
eToro vs Coinbase: Supported Cryptocurrencies
eToro expanded its cryptocurrency offerings in 2017, enabling clients to trade and invest in Etherum, XRP, Litecoin, and other popular cryptocurrencies. Now, over 100 crypto trading pairs are provided by eToro to their traders. Some of the popular cryptocurrencies offered by the exchange platform are ETH, BTC, XRP, LTC, DASH, NEO, ADA etc.
On the other hand, Coinbase supports over 60+ cryptocurrencies at present and is coming up with more altcoins. The platform also accepts fiat currencies like EUR, GBP and USD. In addition, both platforms offer many similar cryptocurrencies like BTC, ETH, LTC, etc. Coinbase is expanding its cryptocurrency collection with each passing day.
eToro vs Coinbase: Ease of Use
eToro expects their traders to have basic knowledge of investing in crypto, although both the exchange platforms are accessible for beginners to use. In eToro, some of the available options and transaction types can be unfamiliar to users who are new to crypto. However, Coinbase has a straightforward interface and keeps it simple that allows you to buy and sell.
Coinbase offers an online support portal and a comprehensive knowledge base as an exchange for casual investors. Traders can earn cryptos even by watching video snippets. In comparison, eToro provides a simple help centre and fewer educational opportunities. The mobile application of both platforms will further make crypto trading easy and convenient for you.
Also Read: eToro vs Shrimpy
eToro Vs. Coinbase: Fee Structure
The eToro fee struct is relatively straightforward. There are no commission and management fees while opening an account with eToro. The platform has a spread chart for buying cryptocurrency. A difference between buying and selling of the asset is known as the spread. There is no deposit fee and charges a low fixed price for withdrawal. The lowest withdrawal amount is $30, and the eToro withdrawal fee is $5. Moreover, the platform also charges traders an inactivity fee, i.e. $10 monthly after 12 months. After that, the price will be charged on any remaining available balance.
Coinbase is relatively high in comparison with eToro. However, there is genuine beginner-friendly content on the platform. Furthermore, Coinbase prime version has separate charges, which is an improved and better approach for traders. Coinbase fee spread is about 0.50%, and the deposit fee ranges from 1.49% to 3.99%, and it also depends on the trader's payment method. Furthermore, depending on the completed transactions, the fiat fee ranges from $0.99 to $2.99.
eToro vs Coinbase: Security
You must have heard about the third-party crypto exchanges getting hacked. Therefore, your primary concern is the safety of your funds while opting for a cryptocurrency exchange. Considering the security issues, eToro and Coinbase provide one of the highest security levels in the market.
The exchange platforms are regulated and operate under the Financial Conduct Authority. But eToro also follows the strict regulations of several authorities like ASIC, CySec, GFSC, FinCen and FINRA. On cash balances up to $250,000, the exchange also offers U.S. based customers Federal Deposit Insurance Corporation insurance. Moreover, multi-signature security is also provided by both exchanges.
Following are some more security measures that they follow:
Is eToro Safe?
Yes, eToro is safe as the exchange platform generally offers a mix of hot and cold, i.e. online and offline storage, to protect your crypto assets.
Traders can open an eToro wallet in addition to keeping their cryptos.
Every penny that belongs to the traders is held in a separate, segregated account.
The eToro exchange employs the highest standards for protecting their trader's funds and personal information.
For eligible traders, it provides free insurance of up to 1 million GBP/AUD/Euro.
Is Coinbase Safe?
Yes, Coinbase is safe to use as the platform acts as a significant safeguard, with 98% of customer funds held in cold storage.
The 2% of the remaining are usually used to facilitate Coinbase's core services. These are purchasing and selling of coins and withdrawals.
The account is enabled with IP and Device whitelisting, where the trader will only be able to access their Coinbase account after passing an additional security step.
Two-factor authentication via your mobile devices should be installed to mitigate the risk of unauthorized access.
Coinbase Vault is where all the large balances are placed. Moreover, traders funds can also be kept in Coinbase wallet for security reasons.
eToro vs Coinbase: Support Service
Customer support is a one-stop shop to track the opened ticket progress, search for answers to your questions, retain records of closed issues, and submit feedback and questions directly to the team.
eToro recommends that their traders first check out their help page to find answers to most of the frequently asked questions easily. Then, traders can open a ticket for their query related to the website. Moreover, there is a link available down there on the help page that you can use to contact the eToro customer support team.
Also Read: Top 5 Coinbase Alternatives
eToro Vs. Coinbase: Affiliate Program
eToro
eToro's affiliate program is for everyone out there. Here you can build a successful campaign using converting promo tools, intuitive tracking systems, and the ongoing support of our professional affiliate managers. Every day their team of professional affiliate managers helps affiliates channel their marketing activities and take full advantage of the eToro Partners program. 25% is the revenue share that the eToro program pays for affiliate marketing. The program also includes other ways to earn through income generation as a 'Popular Investor' and second-tier referral program.
Coinbase
The Coinbase affiliate program is where you can promote the Coinbase exchange platform and can earn through it. You will end up getting a commission whenever a person signs up for an account on Coinbase. For the starting three months, you will earn 50% of their fees.
Also Read: Top Crypto Affiliate Programs
eToro Vs. Coinbase: Pros and Cons
eToro
Coinbase
Pros:
There are a variety of cryptocurrencies.
Easy to use the website.
A diversified portfolio can be made from the seventeen most popular coins that the platform provides.
It's now a social trading arena due to its vast number of users.
Features like copyright trading features are also offered.
Pros:
The Coinbase platform is a beginner-friendly exchange platform.
They offer high liquidity.
Coinbase Earn will help you earn free cryptos.
It is a well-regulated and insured platform.
Excellent mobile app.
Cons:
There is a withdrawal fee of $5.
Spreads are reasonably comprehensive.
For serious cryptocurrency traders, the limited list of 17 currencies may not be sufficient.
The eToro withdrawal process is a little slow.
Cons:
Coinbase prices are a bit high than other exchanges.
The currencies range is small.
The customer support is not that great.
eToro vs Coinbase: Conclusion
Both the platforms mentioned above are equally good. However, Coinbase, on one side, is better for beginners and their onboarding, whereas eToro is known for its CopyTrade feature. eToro is the only choice for market access if you are trading securities. Further, Coinbase offers many other features such as a Crypto card, staking, Coinbase Wallet, etc. Therefore, according to us, Coinbase can be your perfect choice to go for as a regulated crypto exchange in the USA.
Frequently Asked Questions
How to sell a position on eToro?
* Firstly, to see all the instruments you are currently trading, click on "Portfolio."
* Then to see the breakdown into individual positions, click on the relevant instrument.
* Lastly, to close a position, click on the red cross next to it and then click "Close Trade."
Is Coinbase wallet free?
Yes, the Coinbase wallet service is free of cost for all traders. Moreover, the platform does not cost any charge while transferring cryptos from one Coinbase wallet to another.
Who should use eToro or Coinbase?
Coinbase is a perfect match for people who are unfamiliar with cryptocurrency concepts or with investing. The platform also offers its traders crypto education. However, eToro does not provide much education. eToro offers social trading and copy trading features; therefore, the platform fits active traders with some experience. 
Also read,