Coinbase is the first prominent and easy-to-use US-based cryptocurrency exchange. Hence, today we will discuss the five best Coinbase bots that will help you automate your trading journey.
Summary
Crypto trading bots are computer programs that implement a trading strategy automatically.
Coinbase is the first and one of the biggest US-based regulatory trading platforms.
The best five bitcoin bots for Coinbase are Bitsgap, Quadency, 3Commas, Aluna.Social, and TradeSanta.
Bitsgap is one of the most popular trading bots as it supports more than 25 exchanges and goes well with Coinbase Pro.
Quadency is another Coinbase bot preferable for its advanced charting, expert review, and many more fascinating features.
3Commas is the best option with Coinbase bot for beginners. It is safe, legit, and easy to configure.
On the other hand, Aluna.Social has some unique features like multiple exchanges connect, social network, etc.
TradeSanta is a decent Coinbase trading bot with reasonable prices that suits beginners as well as professionals.
Almost all trading bot providers charge their customers for their services. Pionex, a crypto trading bots supplier and crypto exchange, on the other hand, offers free bots.

Get yourself Pionex! Only pay a trading fee for your orders, and you'll have access to FREE trading bots for the rest of your life.
What are Crypto Trading Bots?
In simple words, crypto trading bots are software meant to automate your trade. If you want to create your trading bot, you have to write a code of your trading strategy. Then you can use that code/ programmed strategy to place orders. However, many companies provide these services after purchasing their paid subscription. So if you do not want to spare time for coding and other things, you can use these services to automate your Trade.
How does the Trading Bot Work?
A team of professional coders and traders combine their wisdom to code down a trading strategy. So the final result is a trading bot capable of opening and closing positions based on the process. The purpose of using these bots is they are free of human emotions and thus trade with an unbiased strategy. So they are worth the money you invest most of the time.
What is Coinbase?
Coinbase is a regulated cryptocurrency exchange and supports ample digital assets. Furthermore, Coinbase is safe to use and also provides insurance on the funds of its customers.
Apart from this, the business charges high fees, and sometimes it is too hectic to operate on it. You can also go for Coinbase Pro or Coinbase prime for finding some advanced trading options.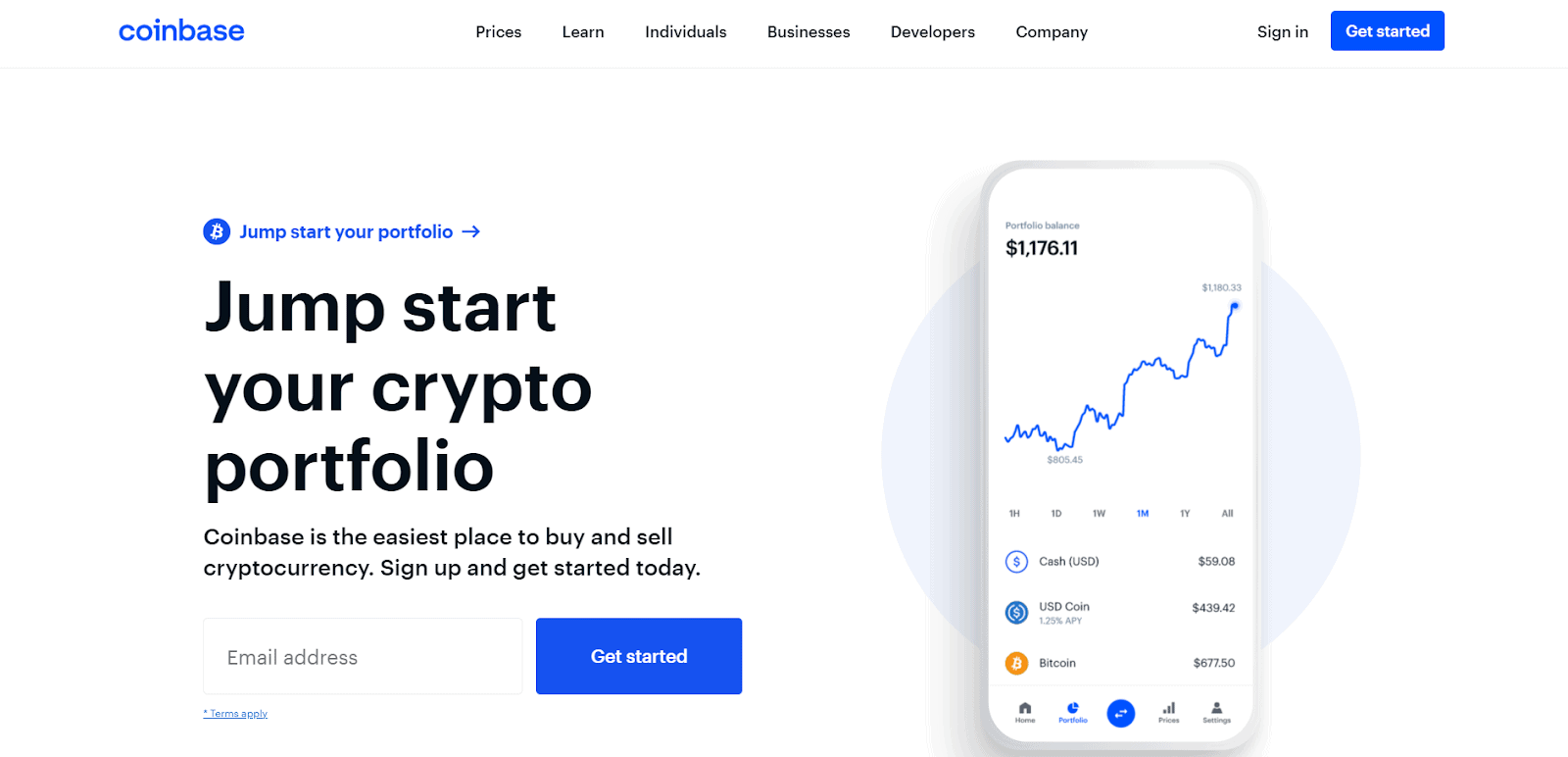 To learn more, head over to our Coinbase review. If you wish to own a crypto card, then try reading about the Coinbase card. Furthermore, you can earn a passive income from Coinbase Staking.
5 Best Coinbase Bots
Well, there is no harm in considering yourself as the best trader in the crypto industry. However, sometimes you can't track the market 24×7.
Therefore, trading bots help produce profits for you even when you are sleeping. Also, they help in mitigating the losses to some extent. So, let us explore the five best Coinbase trading bots.
1. 3Commas
3Commas is a Miami-based trading bot provider and one of the best bitcoin bot for Coinbase. It is especially preferable for beginners or folks not having prior experience in finance.
The bot has plenty of trading strategies and holds a good reputation in the industry. Apart from this, it offers brilliant speed and security. Furthermore, you can easily connect this Coinbase trading bot using API keys.
To learn more, read the 3Commas review.
3Commas features
The bots by 3Commas are also unbeatable regarding speed, security, and numerous trading strategies, starting from just $14.5 per month with an annual subscription. However, the rate is faster and more suitable for a retail platform.
All over, the trading bot is good to go from the beginning. The bot also supports some advanced features like DCA bot, grid bot, optional bots, etc.
3Commas Pricing
The 3Commas trading bots come in four main plans, and you can even use the free version until you find a need to get a subscription. The details of each plan are in the image below: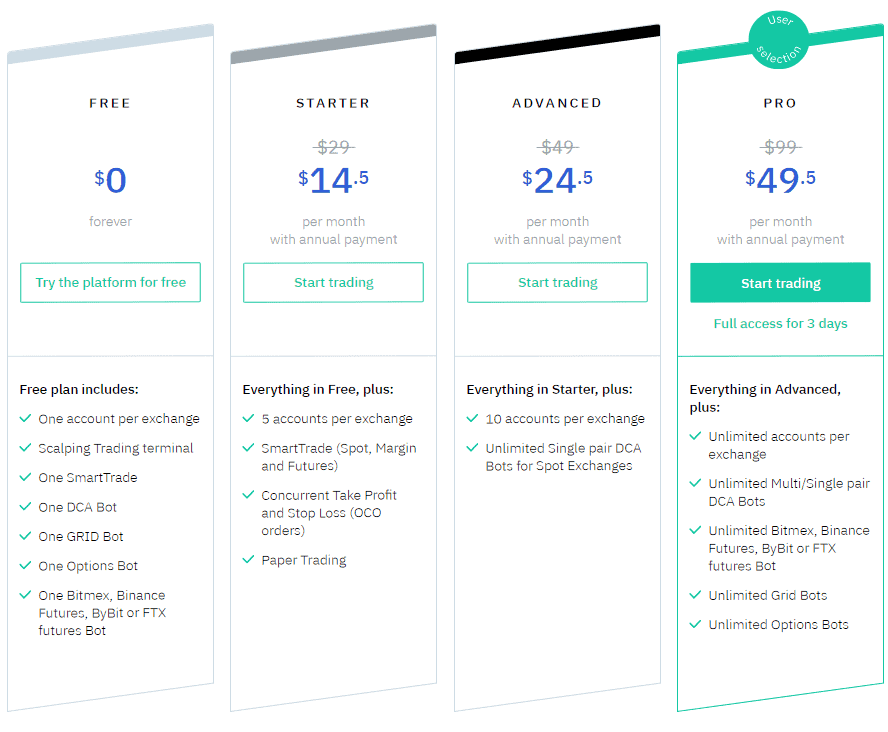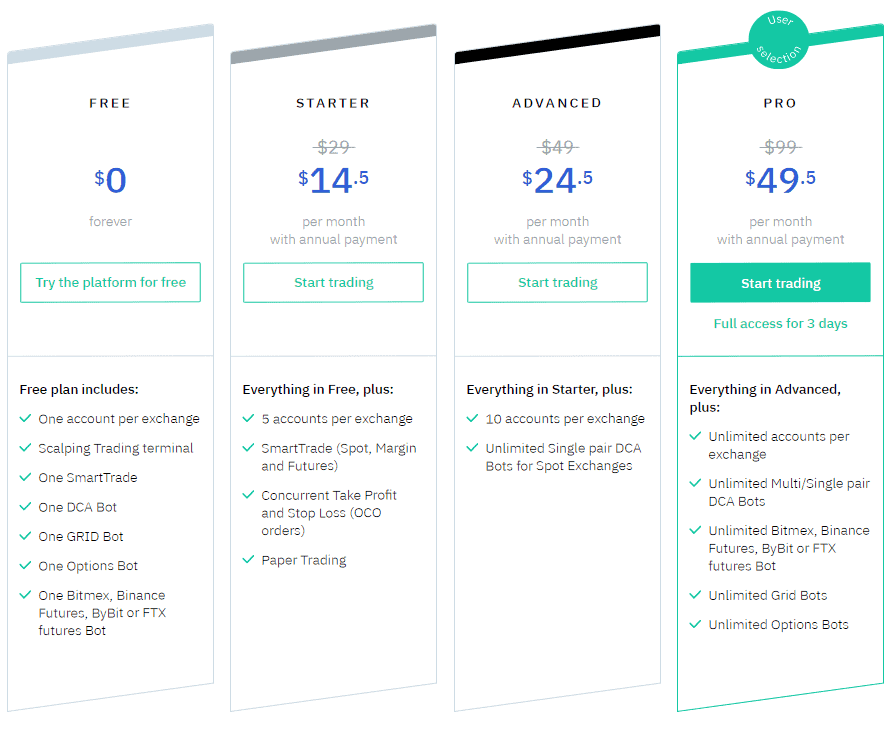 Is 3Commas legit?
3Commas is a legit trading bot. However, there is ambiguity regarding the data personalization on the bot. However, the Coinbase bot works using API keys that provide restricted access to the user's account. It collects data on strategies that all professional/ leading traders use and the profits that a user earns. Moreover, it uses the collected data to enhance its trading bots and pre-configured strategies.
3Commas: Pros and Cons
| Pros | Cons |
| --- | --- |
| 3Commas has a user-friendly dashboard with all relevant features | Mobile applications are lagging, and they lack speed. |
| Decent learning and education tools are available. | The process of onboarding is quite long and often overwhelming for absolute beginners. |
| Affordable and boosting plans for traders at every stage. | |
| It supports a library of bots you can deploy or copy. | |
3Commas Pros and Cons
2. Bitsgap
Bitsgap is a popular trading bot that provides integrated solutions for making the trades smooth for you. By using Bitsgap, you can use all your trading accounts inside the same room. Furthermore, it supports more than 25 platforms to automate your trading journey.
The fascinating thing is you can take a demo trial to check the actual functioning of this bot. In this way, you can decide whether the bot will suit your financial goals or not priorly. To learn more, read the Bitsgap review.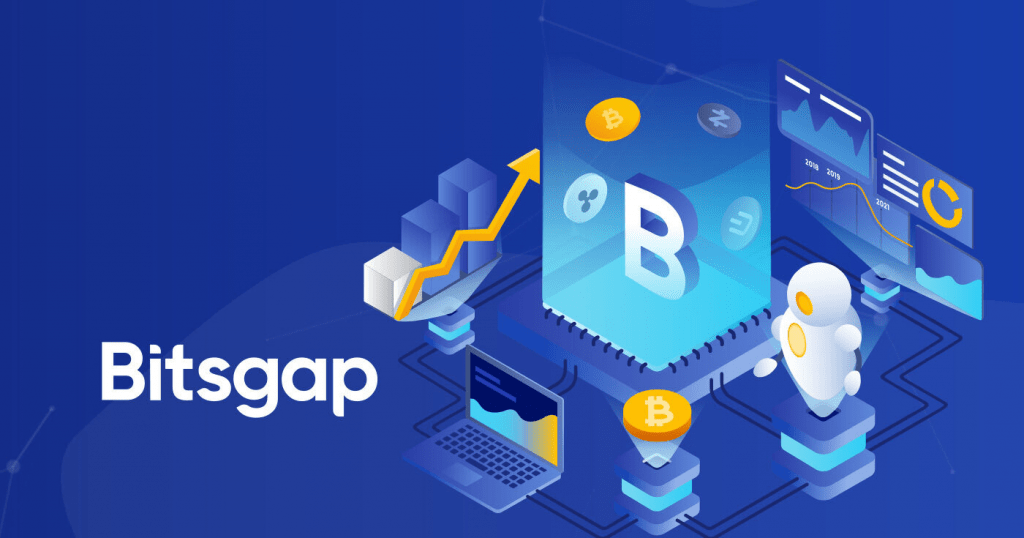 Bitsgap Features
The platform Bitsgap is proficient with features like portfolio tracking, top-notch tools to be used on multiple exchanges, arbitrage (to get a price difference from top exchanges), etc. The platform also has pre-configured trading bots and a Bitsgap demo trade feature for testing the bot beforehand.
Furthermore, Bitsgap signals provide you opportunities to get returns from potential market opportunities. In addition, Bitsgap recently came out with its Bitsgap Futures bots, which will soon be available on most exchanges.
Bitsgap Pricing
The platform broadly comes in three different monthly subscription plans, details of which are shown below: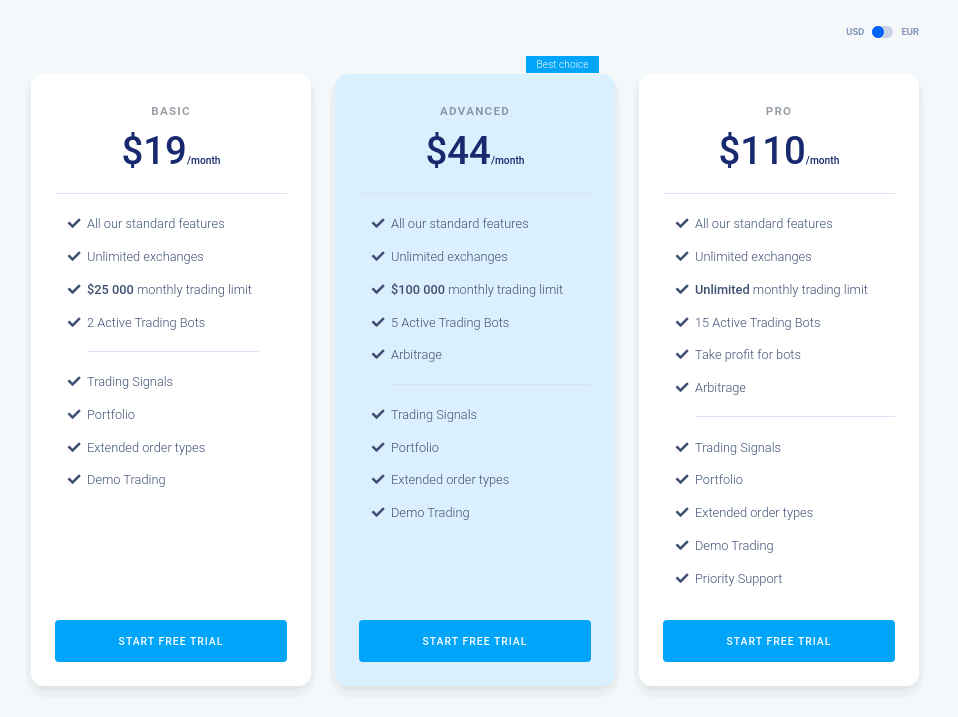 Is Bitsgap legit?
So far, the Bitsgap Coinbase Pro bot is legit and safe as it does not own a right to make withdrawals. All your funds are kept secure in your Coinbase wallet as API keys connect the bot and crypto exchange. Furthermore, it is advisable to deploy the 2FA, and if it tracks frequent wrong login attempts, then your account is blocked.
Bitsgap: Pros and Cons
| Pros | Cons |
| --- | --- |
| Decent customer support and a built-in portfolio management system is the best part of it. | The trading bots have limited functionality as compared to other similar bots. |
| Grid and DCA strategies are among the best to earn high returns. | No mobile apps are available. So have to stick to the website for all the purposes. |
| Deploy pre-configured trading bots. | |
| Moreover, Bitsgap supports more than 25 exchanges under one roof. | |
Bitsgap Pros and Cons
3. Quadency
Quadency is another trading bot provider that will assist you in automating your trading journey on Coinbase. It has about 15 market strategies from professional traders, and it supports more than 35 crypto exchanges. Moreover, you can access the Pro version of Quadency for free, and for that, you have to trade with its official trading partner.
To learn more, read the Quadency review.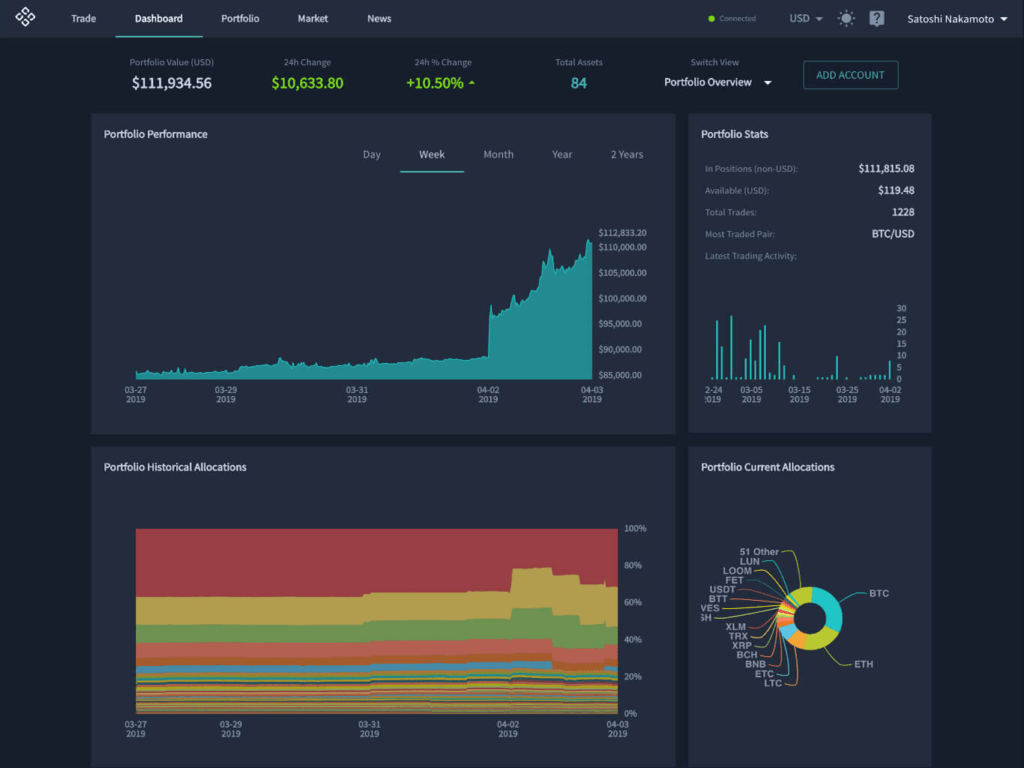 Quadency features
The trading bot provider Quadency has some unique features like dashboard management (for portfolio management), trading (filled with sophisticated charts and tools for trading), options trading bot, and automation (11 trading bots for pro users). Furthermore, the bot is easy to use, safe and secure.
Quadency Pricing
The bots provider Quadency primarily comes in three monthly subscription plans. Furthermore, it comes with a free version that lets you use almost all the basic features. However, you'll have to pay $99 per month to get the unlimited pack. For more details, refer to the image below: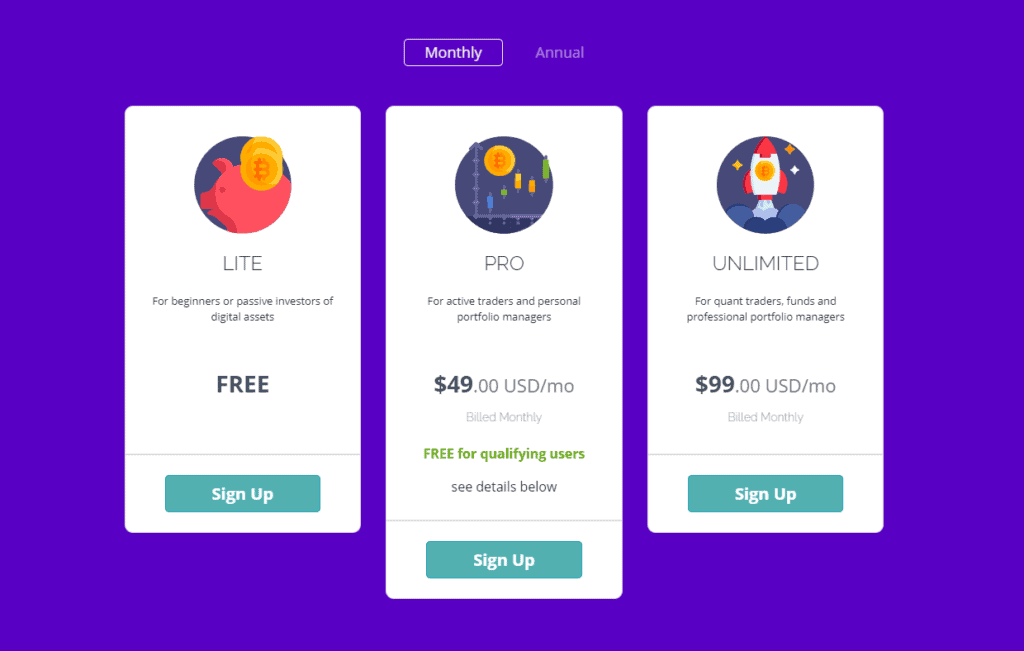 Is Quadency legit?
Quadency is a safe and legit crypto trading bot. It uses API keys and 2FA to connect to the bot and for extra security. So you can go for Quadency if you're searching for a Coinbase Pro trading bot.
Quadency: Pros and Cons
| Pros | Cons |
| --- | --- |
| Quadency has professional trading bots. | You can not deploy the trading bots of Quadency for leverage trading. |
| Above all, the platform has one of the best user interfaces in the market. | The exchange still does not have a mobile application. However, the apps are under active development. |
| It offers 15 trading strategies and supports more than 35 exchanges. | |
Quadency Pros and Cons
4. TradeSanta
TradeSanta is cloud-based cryptocurrency trading software that suits best professional as well as beginner traders. Another prominent Coinbase bot in the market goes well with Coinbase Pro and many other exchanges like Huobi, Binance, etc.
So if you do not want to spend some extra time trading and want to earn profits, TradeSanta will do it for you. To learn more, read the TradeSanta review.
TradeSanta Features
TradeSanta's most prominent feature is its long and short trading bot that implements central trading strategies in the market. The platform also provides various technical indicators, bot templates, real-time tracking, take-profit targets, and a mobile app for API Android and iOS.
TradeSanta Pricing
The pricing at TradeSanta comes in three different monthly subscription packs, details of which are shown below.
Is TradeSanta legit?
TradeSanta is entirely safe and legit. It also takes regular security audits to maintain and update the security standards of the Coinbase Pro bot. Besides, it deploys API keys and 2FA for extra security.
TradeSanta: Pros and Cons
| Pros | Cons |
| --- | --- |
| The free trial period for checking the functionality of the bot is up to mark. | However, you can not access all the features during the trial period. |
| Prices of plans are cheaper when compared to other similar bots. | |
| TradeSanta comes with amazing video tutorials. | |
TradeSanta Pros and Cons
6. Altrady
Altrady's unique automated crypto trading tools have thousands of traders using it every day to maximize returns by automating their trades. The company offers several types of bots, including GRID and SIGNAL Bots that provide experienced traders with an easy way for them to take advantage in fast-paced markets without having any knowledge or skill set on hand.
Altrady Features
Altrady offers the complete toolset for every style of crypto trading:
Trade on multiple exchanges and exchange accounts
More than one account on a single exchange
Real time break-even calculation
Offline price and order alerts
Visual trade feedback on the chart
Unique integrated market scanners
Trade automation with take profit and stop loss
Signal bots with Tradingview webhook or Crypto Base Scanner signals
Grid bots with trailing up and down
Portfolio management with subaccounts
Trading analytics
Worth mentioning that they are continuously improving their set of features, and on their short roadmap Q3-Q4 of 2022, they will add:
New mobile app
Portfolio with external wallet support
Dex integration
Paper trading
Leverage your knowledge and skills with the most advanced trading platform there is: Altrady 14 DAYS FOR FREE.
Altrady Pricing
How to make a trading bot on Coinbase?
So the first thing you need is to connect the trading bot to your Coinbase account. Now when you have chosen the trading bot, you need to have the API keys of your Coinbase account. After that, you can head over to the API management and create a new API key after completing authentication. Just copy and paste these API keys into your trading bot. Here you have programmed your trading bot, and you are all set to go.
Coinbase support bot
Coinbase provides extensive customer support using its FAQ section. However, if you face any issues in automation or any other thing with the crypto trading bot, first check the issue with the bot provider. However, if everything is going fine from their end, you head over to the Coinbase support team. For this, you can either go to the help center or contact the Coinbase team to describe your issue. They will connect with you as soon as possible.
Coinbase Bots: Conclusion
Coinbase is one of the most popular regulated crypto exchanges, and hence learning about the best crypto trading bot is important. Bitsgap provides integrated trading opportunities where you can use all your trading accounts under one roof. After that, Quadency has many benefits like market research from trading professionals, advanced trading charts, etc. 3Commas also has a set of proven and profitable strategies for all beginners and professionals.
Aluna.Social has its social trading network, prediction games, and so on. TradeSanta has good subscription plans at affordable prices. Moreover, the platform offers YT videos with beautiful illustrations.
Frequently asked questions