The Crypto market has a lot of crypto exchanges to offer. Today, we will compare two of them, KuCoin and OKX. Both the platforms have one of the highest trading volumes as per CoinMarketCap. So today, we will elaborate on these to help you make a clear choice between the two of them.
Detailed Summary (TL;DR)
KuCoin and OKX are competitive crypto exchanges with comparable features.
In addition, both the exchanges provide many cryptocurrencies and trading pairs. However, KuCoin has higher leverage opportunities.
Both of them have many payment options, with OKX having an edge by accepting Wire Transfer.
Again, both the exchanges have various order types with lending and borrowing facilities.
Additionally, KuCoin offers trading bots and OKX recently launched its own blockchain, OKXChain.
With fees in concern, KuCoin and OKX are comparable. However, KuCoin takes the edge over OKX, with a minute difference.
Both the exchanges have mobile applications compatible with iOS and Android devices.
Both the platforms are secure to trade on the exchange. In addition, both exchanges have multiple security strategies for a safe environment for crypto trading.
The customer support base of both the exchanges is responsive and quick. However, OKX aims at a comprehensive FAQs section. Contrarily, KuCoin aims at the live chat section.
OKX vs KuCoin: Overview
Both platforms have a lot of services and products to offer. Hence, we will give you a brief overview of both crypto exchanges.
What is OKX Exchange?
OKX exchange aims to cover all the traders, from beginners to veterans, with possible customization. It operates in over 200 countries and offers 400+ trading pairs, multiple fiat currencies. Here, traders can convert many local currencies into BTC, ETH, USDT, or desired crypto assets with VISA, Mastercard, and many more payment options. Further, the exchange offers to trade-in Spot, Margin, DEX, Perpetual, Futures, and Options.
Moreover, traders can trade with various order types- limit, market, stop, and iceberg. Additionally, OKX enables crypto borrowing & lending and advanced tools for mining and wallet management.
For more in-depth information, check out the OKX review.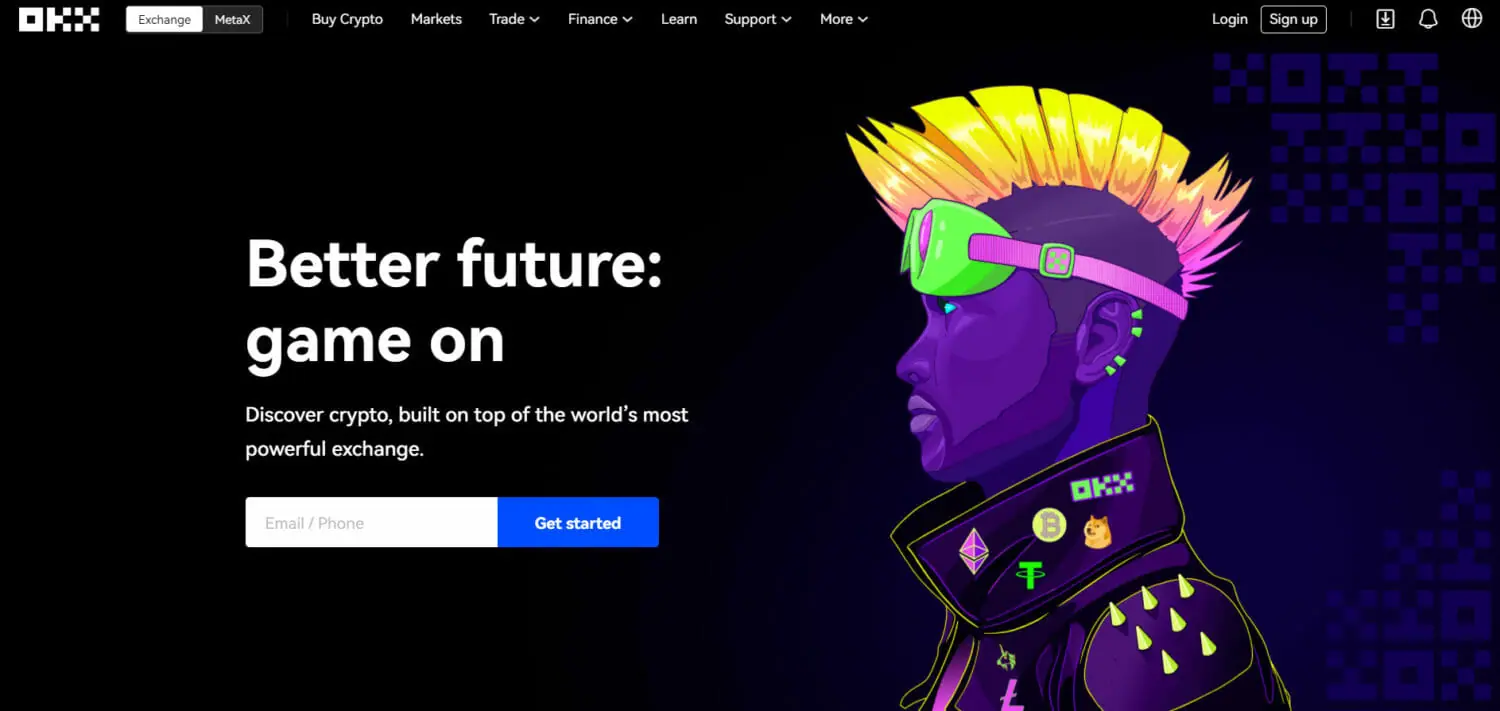 What is KuCoin Exchange?
KuCoin is a cryptocurrency exchange platform based in Seychelles, supporting over 200 cryptocurrencies. The exchange aims to provide a safe and easy-to-use platform for the global audience to trade digital coins. In addition, it offers many trading pairs and crypto-related services.
Moreover, it has a native utility token- KuCoin Shares (KSC) with additional discounts and passive income. Thus, the portal gives high liquidity to 6 million+ users in a simple, efficient, and transparent UI.
For more in-depth information about KuCoin Exchange, check out the KuCoin review.
KuCoin vs OKX: Products
The primary function of a crypto exchange is the trading options offered. Hence, we will discuss trading options and a variety of KuCoin and OKX.
KuCoin Products
Margin Trading
KuCoin provides margin trading with leverage positions with over 15 cryptocurrencies like KCS, ETH, and BTC are available. In addition, KuCoin supports 35 trade pairs with up to 10X leverage.
Futures Trading
KuCoin also provides futures trading where users can buy and sell crypto futures standardized contracts. On KuCoin, traders can trade coins margined contracts with up to 100X leverage. Furthermore, KuCoin has two different versions, one for beginners and the other for experienced traders.
OTC Trading Desk
KuCoin provides traders with OTC Desk- Over-The-Counter trading desk. This allows traders to buy a large number of crypto assets at specific prices. Furthermore, users can directly purchase USDT, BTC, and other cryptocurrencies with CAD, IDR, VND, and CNY.
KuCoin Trading Bot
KuCoin offers its in-house crypto trading bots. Moreover, the KuCoin trading bot comes with free trading strategies that allow traders to take returns without constant monitoring. Furthermore, traders need not connect to third-party bots service providers with API keys to KuCoin. Traders can start using the KuCoin trading bot by depositing funds, selecting a specified strategy, and enabling the bot. To learn more read, How to Use the KuCoin Bot?
Lending Platform
KuCoin Lending Platform allows traders to lend cryptocurrencies to other users and earn interest. The lender fills in details regarding the Loan Amount and the daily interest rate. Interest rates range from 0 to 0.2%. The lend duration period varies from 7 to 28 days. However, the default period is 28 days.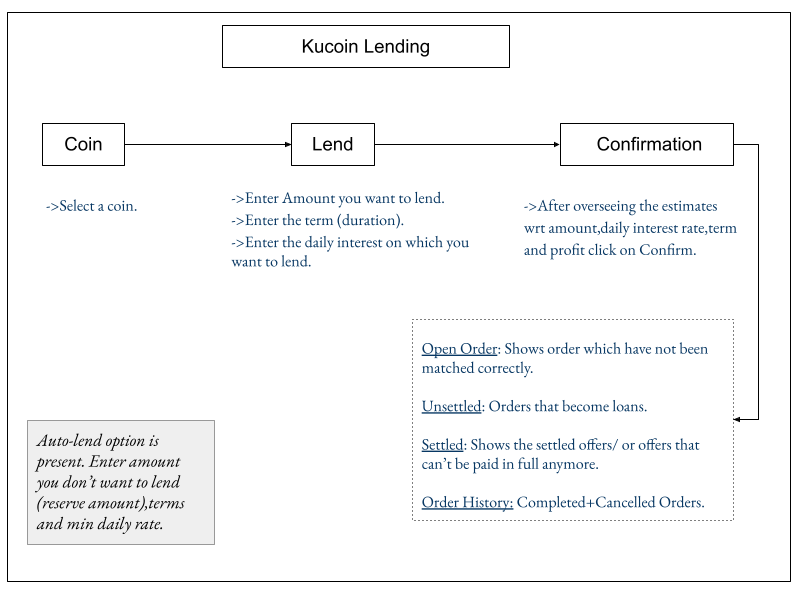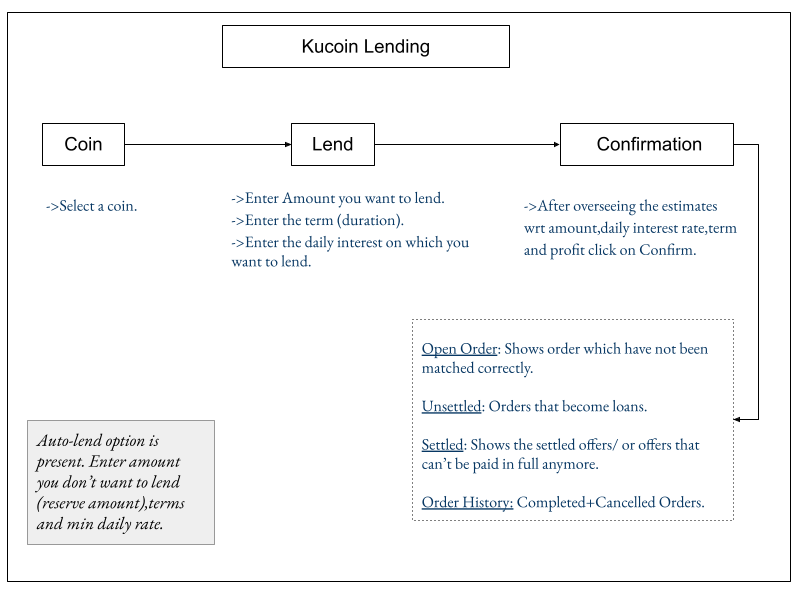 Also, read Best Crypto Lending Platforms.
KuCoin Pool
Pool-X is a next-generation POS platform that supports lockup crypto transactions backed by KuCoin. It provides an exchange for the liquidity of pledged assets. Users can get liquidity by trading the staked crypto assets. It helps lower the barrier of staking and helps increase the stake rate. Furthermore, it has a powerful and beginner-friendly exchange system.
Also, read Staking Crypto – An Ultimate Guide on Crypto Staking.
Peer-to-Peer Trading
KuCoin provides a P2P crypto marketplace allowing buying and selling using PayPal, among other convenient fiat payment methods. In addition, KuCoin has many cryptocurrencies options to trade.
OKX Products
Spot Trading
OKX provides spot trading catering to beginners and experienced traders. It gives extensive trading experience, where traders can choose from a wide variety of trading pairs. In addition, traders can choose to spot trade among various primary and many rare and local cryptocurrencies.
For more details, read our guide to OKX spot trading.
OKX Margin Trading
OKX also allows margin trading for more than 30+ crypto assets and trading types with a maximum leverage of up to 10X. Further, the total amount that a trader can borrow depends on three factors- margin account balance, primary account, and position margin ratio.
However, these limits vary upon many factors to reduce traders' risks. For more details, read our guide to OKX margin trading.
OKX Futures Trading
The platform provides futures trading with a duration period of a week, two weeks, a quarter, or two quarters. OKX provides to buy/ sell crypto-asset contracts for digital assets like BTC or LTC with up to 100x leverage. The platform has high liquidity and a variety of contracts. However, OKX does not support fiat currencies. Additionally, OKX gives a protection system against manipulation strategies in the market. To learn more, read OKX Futures Trading.
Perpetuals
OKX offers derivatives along with many other services. The OKX perpetual swap is a virtual derivative product settled in digital currencies. It supports both coin-margined and USDT-margined perpetual swaps for multiple cryptocurrencies with leverage up to 125 X depending on position tiers.
Loans
OKX offers a C2C Loan feature on the OKX Earn section of the platform. Here, Users can either take a loan or lend money to other users to earn a passive income. Lending and borrowing loans on OKX are easy. Moreover, the interest rates are competitive at which traders can draw or lend funds.
OKX Pool
OKX offers safe, stable, and efficient mining services for users. Furthermore, OKX Pool is a comprehensive cryptocurrency mining pool created by OKX. It is a one-stop mining and trading service for its users from across the world. It does not require any minimum pay-out or daily settlement. In addition, it has a flexible control of fluctuation risks and stable income flow.
OKXChain
OKX provides a trading option called DEX that is a decentralized exchange. Their native blockchain called OKXChain powers the exchange. Furthermore, OKX DEX is a borderless, decentralized trading platform with features like security, noncustodial asset and wallet, and a unique order matching mechanism. Here, traders enjoy additional benefits such as low fees and a seamless trading experience.
KuCoin vs OKX: Fees
Fees for any trader play a vital role while deciding the exchange to trade. Crypto exchanges can consume a lot of portions of the profit with a high trading fee. Now, we will overview the fee structure for KuCoin and OKX.
KuCoin Fees
KuCoin has the lowest trading fees in comparison to any other altcoin exchange. Moreover, KuCoin charges a flat fixed fee of 0.1% for spot trading. Additionally, it provides fee discounts based on users' 30-day trading volume and KuCoin Shares holdings. Apart from these, KuCoin offers adjustable USD/ USDT lending rates on futures.
Furthermore, KuCoin withdrawal fees are the lowest at 0.0004 BTC for BTC withdrawal. In Particular, deposit fees on KuCoin are zero. To learn more, read KuCoin Trading Fees, Deposit, & Withdrawal Fees.
OKX Fees
OKX offers multiple services and account types. Hence, the fee varies greatly depending upon the account type, the cryptocurrency trading, and the trading option. Moreover, the 30-day trading volume affects the price charged. Check the detailed OKX trading fee and interest rate fee here.
Moreover, OKX withdrawal fees and deposits are free. However, a network fee is chargeable for transactions.
KuCoin vs OKX: Mobile Apps
The crypto market is volatile and changes in seconds. It requires constant monitoring. Hence, Mobile applications are essential for crypto traders. Both KuCoin and OKX have mobile applications.
KuCoin App
KuCoin provides a fully functional mobile application. Furthermore, its interface is attractive and offers real-time quotes synced with the official website, KuCoin Bonus & KuCoin referral program module, and a 24/7 accessible help centre. Moreover, traders get real-time market trend views, constant information, and personal account information. In addition, traders get notifications regarding logins, KuCoin token price reaching your pre-set warning price, news & promotions, and asset change announcements. The KuCoin app is compatible with iOS and Android devices.
OKX Mobile App
OKX provides a mobile application for both Android and iOS devices. It is an all-in-one trading app for cryptocurrency trading. With the application, users can buy and sell digital assets in all forms regardless of the time and place. The application also displays real-time streaming quotes, enables deposit and withdrawal of funds, and storage for crypto coins in built-in digital wallets.
OKX vs KuCoin: User Interface
Traders spent a lot of time on the trading platform. Hence, the user interface is essential for exchanges and traders. Moreover, A simple UI makes trading easy for traders to trade on the portal.
KuCoin User Interface
The KuCoin interface comes with a quick guide and navigation. Furthermore, the overall interface is black and green which is simple and soothing to the eyes.
OKX User Interface
OKX has a simple and easy-to-navigate interface. The trading platform is simple and comes in a dark mode to provide a breeze to the eyes. The overall procedure for trading can be lengthy, but the exchange is user-friendly.
KuCoin vs OKX: Security
Security is essential to preserve user data and funds. Hence, traders need to consider if the exchange is secure.
Is KuCoin safe?
KuCoin takes various security measures. Firstly, it has bank-level asset security to ensure the safest environment possible for all transactions and KuCoin account holders. Secondly, it employs micro-withdrawal wallets to both splits.
Moreover, it secures withdrawals with dynamic multi-factor authentication, industry-level multilayer encryption, and a dedicated internal risk control department. Further, the KuCoin team regularly monitors the exchange to ensure strict security standards.
Is OKX safe?
OKX is the safest crypto exchange with many security actions. Firstly, it uses innovative technologies like the cold wallet and core private key encryption algorithm. Hence, these strategies make it an advanced platform with the best private encryption.
Moreover, OKX complies with the Virtual Financial Asset Act ("VFAA") and regulates under the authority of the Malta Financial Services Authority.
Further, there are a few other ways through which users can ensure security on their behalf.
Verification code on the email
Verification code on the phone
Two Factor Authentication
Customer Support
Every exchange needs to ensure responsive and quick customer support to ensure trader satisfaction and reliability. Solving customer queries and 24*7 responsive crew teams make up a strong customer support base.
OKX vs KuCoin: KuCoin Support
KuCoin has comprehensive customer support consisting of three building blocks.
Firstly, customer support is available 24*7. Secondly, an extensive FAQ section is available on the website. It readily answers all the possible questions of a trader regarding the exchange. Thirdly, it constantly monitors the platform to ensure security and provide support without any delay.
Moreover, the customer support base of KuCoin focuses on trade issues of traders. Further, they take immediate action, where help is available 24/7. Additionally, it supports the feature of live chatting on the website to solve queries.
OKX vs KuCoin: OKX Support
OKX offers 24*7 assistance over various modes. Firstly, OKX has a stable and reliable support team that traders can contact here. Secondly, it has an additional dedicated FAQ section. Thirdly, traders can enquire about their doubts by submitting a request here.
Additionally, traders can directly chat with their customer support team. Furthermore, Users can contact the members on their platform directly through their community section.
KuCoin vs OKX: Conclusion
KuCoin and OKX are comprehensive platforms with many trading pairs, cryptocurrencies, services, and high trading volume.
Both of them make it to the top 20 of the trading volumes of CoinMarketCap. Moreover, the fees, security, and customer support on both exchanges are competitive. Further, both the platforms have a tier-based fee structure and a native utility token. However, OKX seems beginner-friendly as well, with limited and calculated risk exposure.
Both the exchanges are similar in many aspects and comparable. Hence, traders should choose one wisely, depending upon their needs and work style.
Frequently Asked Questions
Is KYC necessary to trade on OKX?
No, KYC is not mandatory for trading on the OKX trading platform. However, traders with complete KYC get extra perks, like an increase in daily withdrawal limits.
Does OKX allow the US Traders?
No, OKX supports many countries except the US. However, it does not offer its services to US citizens due to strict regulations.
Where is KuCoin located?
KuCoin is a crypto exchange based in Seychelles.
Is KYC verification necessary on KuCoin?
Yes, all KuCoin users need to complete the KYC verification. The verified traders also enjoy a higher 24-hour KuCoin withdrawal limit. Moreover, KYC acts as a security strategy that helps to reduce money laundering, fraud, terrorist financing, and other malicious activities.

However, traders can still make small transactions without a verified account.
Does KuCoin support fiat currencies? Does it accept Credit Cards?
Yes, KuCoin accepts 20+ different fiat currencies for trading on the exchange. Moreover, KuCoin partners with Banxa to enable crypto purchase via VISA/ Mastercard, Apple Pay, and many other payment options.