Donations Pour in Cryptocurrency as Ukraine Border Tension Escalates
Hundreds of thousands of dollars in digital currency donations have been poured into Ukrainian non-governmental organizations (NGOs) and volunteer groups, according to a report released on February 8 by blockchain analytics firm Elliptic.
According to the report, crypto-asset funding to these organizations increased by over 900 percent in 2021 compared to the previous year. It went on to say that it had discovered several crypto wallets used by these volunteer groups and NGOs, which had received more than $570,000 in total.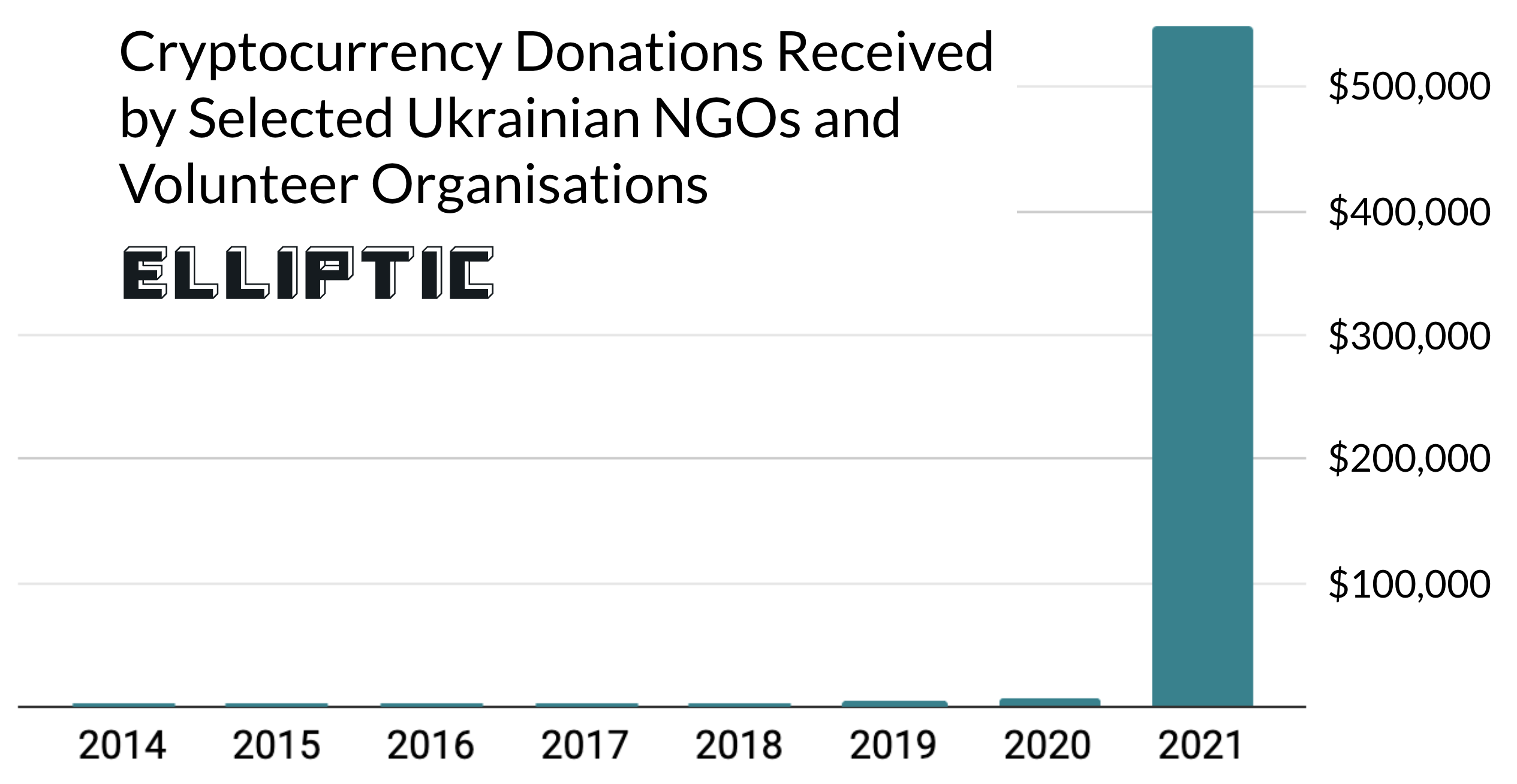 Because banks and financial institutions frequently block payments to these organizations, crypto has emerged as the preferred funding method, according to the report:
"BITCOIN HAS ALSO EMERGED AS AN IMPORTANT ALTERNATIVE FUNDING METHOD, ALLOWING INTERNATIONAL DONORS TO BYPASS FINANCIAL INSTITUTIONS THAT ARE BLOCKING PAYMENTS TO THESE GROUPS."

Funding for the fight against oppression
Some of the funds were used to provide military equipment, medical supplies, and drones to the Ukrainian army. A portion of the funds was also used to develop a facial recognition app that could be used to identify enemy mercenaries or spies.
Elliptic's chief scientist, Tom Robinson, had this to say:
"CRYPTOCURRENCY IS PARTICULARLY SUITED TO INTERNATIONAL FUNDRAISING BECAUSE IT DOESN'T RESPECT NATIONAL BOUNDARIES AND IT'S CENSORSHIP-RESISTANT — THERE IS NO CENTRAL AUTHORITY THAT CAN BLOCK TRANSACTIONS, FOR EXAMPLE IN RESPONSE TO SANCTIONS".
According to the report, some Ukrainian NGOs and volunteer groups have close ties to the government which contributes to a "trend of nation-states turning to cryptocurrency as a means of raising funds."
As tensions between the two countries rise, Russian troops have been massing on the Ukrainian border for several weeks. Diplomatic solutions have been advocated by world leaders, but they have yet to be implemented because the aggressors refuse to back down.
Bitcoin and cryptocurrency-based crowdfunding
Because centralized payment platforms frequently refuse to process payments, possibly due to state pressure, crypto is becoming a popular choice for crowdfunding movements and protests.
Following GoFundMe's refusal to process payments, the current "Freedom Convoy Campaign" in Canada has also turned to crypto funding. At the time of publication, the "HonkHonk Hodl" movement had switched to the Bitcoin Tallycoin funding platform and had raised 14.6 BTC worth an estimated $640,000.
Crypto donations have poured into a decentralized autonomous organization (DAO) set up to support WikiLeaks founder Julian Assange's fight for freedom. As of this writing, AssangeDAO had raised $54 million in ETH with a total of 17,422 ETH.