Crypto trading bots allow investors to automate their trades based on pre-set parameters and help them to gain rewards continuously. Therefore, here are the five best crypto trading bots in the Netherlands.
Feature
3Commas
CryptoHopper
Shrimpy
Pionex
Bitsgap
Exchanges
18+
16
30
–
15+
App
Yes both Android and iOS
Both Android and iOS are available
Not available
Available for both Android and iOS
No
Free Version
Available with limited functions
Available
No free mode.
Demo mode is available
10+ free bots
7 – day trial
Beginner-friendly
Yes
Pricing is high for beginners
Yes
Yes
Yes
[Sign Up]
[Sign Up]
[Sign Up]
[SignUp]
[Sign Up]
What are cryptocurrency trading bots?
Crypto trading bots are software programs that connect to exchange and execute trades on your behalf using pre-programmed techniques and indicators. Bots can be built to follow a set of criteria and automatically buy and sell cryptocurrencies, allowing you to earn while away from your computer or phone. This is especially advantageous in the crypto market since crypto exchanges are open 24 hours a day, seven days a week, unlike traditional stock markets.
Benefits of Cryptocurrency Trading Bots
The crypto bots keep checks on chart patterns frequently, so you don't have to be there at all times to trade. They will take care of the job while you are away.
A crypto trading bot entirely automates the trading process, removing delays in decision-making and allowing traders to trade faster and at better prices.
Manual traders also use Bitcoin price prediction software for analysis in order to execute profitable trades.
How can you earn more with a crypto trading bot?
Crypto trading bot automates the process of monitoring market movements and conditions and making trades based on the user's specific market conditions and algorithms.
Anyone can start earning with automated crypto trading by signing up on any one of the platforms we've listed below and starting earning passive income.
Netherlands: 5 Best Crypto Trading Bots
To choose a bitcoin trading bot that is right for you, you must first analyze your own requirements. The sections below outline some of the most significant factors to consider before determining which Crypto trading bot is most suited to your needs.
Best Crypto Trading Bots in the Netherlands: Pionex
Pionex is one of the best platforms that provide 16 free inbuilt Pionex trading bots. These bots include Grid trading bot, Margin trading bot, Leveraged Trading bot, DCA bot, Rebalancing bot, and other 11 bots that will work 24*7 for you.
Further, as of now, it completes 100 million+ daily trades. Also, it offers 346 coins/tokens with minimal trading fees of 0.005%.
It has also been regulated in Singapore and United States and provides excellent liquidity. Also, they're pretty simple to set up and don't require any prior coding knowledge or experience. Pionex might be an ideal choice for beginners, and to learn more, read out the Pionex review.
Pionex Fees
For Spot Trading; the maker and taker fee is 0.005%. However, the fees include 0.1% for both maker and tracker fees for leverage trading. These fees are further reduced for VIP users.
Pionex Bot Pros & Cons
| | |
| --- | --- |
| Pros | Cons |
| User friendly | Does not offer custom-built bots. |
| Offers 16 free trading bots for every user. | No availability for a demo account. |
| Minimal fees of 0.005% | |
| Offering trial funds of up to $12,888. | |
Best Crypto Trading Bots in the Netherlands: 3Commas
3Commas is a Miami-based trading platform developed in 2017. As of now, they have around $22.5 billion in average monthly trading volume, and the platform is available worldwide.
Further, the platforms have a wide range of features, including DCA Bots, Smart Trade, TradingView, Options Bots, Crypto-Signals, Trading Terminal, etc.
One should note that the 3Commas Dollar Cost Averaging is one of the most preferred trading bots on this platform. Beginners can also practice trading at 3Commas using the paper-trading option.
Moving ahead to security, 3Commas operates with minimum user data and avoids hackers who are primarily after personal data. The platform also allows users to set 2FA and has security tools Cloudflare.
You can further read our 3Commas review to know more about it.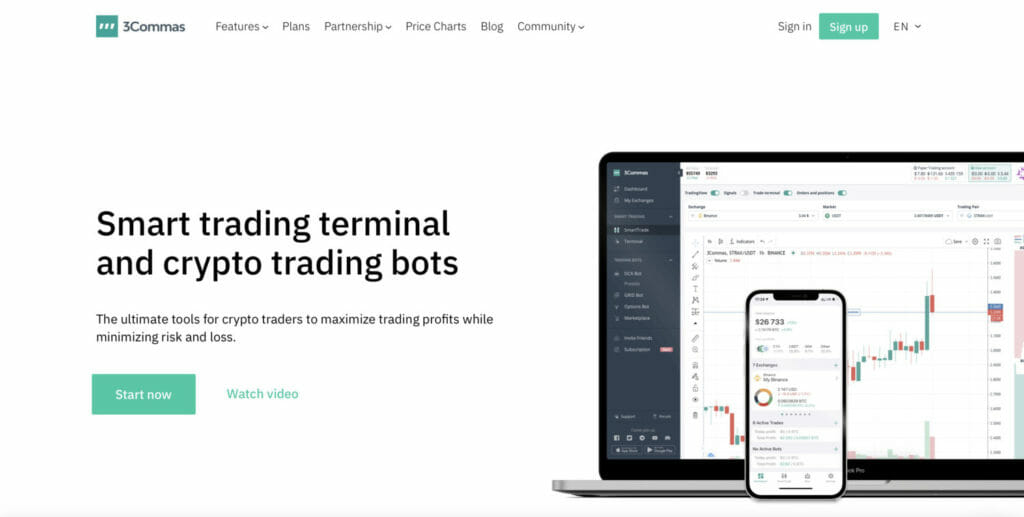 3Commas Pricing
3Commas Bots Pros & Cons
| | |
| --- | --- |
| Pros | Cons |
| It Supports more than 18 crypto exchanges. | The desktop application is not available. |
| Available worldwide. | Not much recommended for beginners. |
| Affordable plans are available. | |
| KYC is minimal. | |
Best Crypto Trading Bots in the Netherlands: CryptoHopper
This platform was founded in 2017 by two brothers, one of which was a web developer and the other one a day trader. Currently, CryptoHopper is compatible with 16 exchanges.
The platform offers unique features, including asset managers, Miners & PSPs, CryptoTweeter, Strategy designers, and others. The CryptoHopper trading bots implement data and use strategies to buy and sell cryptocurrencies.
They have also introduced a feature called Artificial Intelligence Bots. In this, users have to feed strategies, which bots automatically will learn and adapt to the changes.
Further, it offers free services too, but users can't use the features to full. Cryptohopper users can also earn revenue on a monthly basis through the Cryptohopper affiliate program.
To learn more about it, you can read our CryptoHopper review article.
CryptoHopper Pricing
Cryptohopper Bot pros & cons
| | |
| --- | --- |
| Pros | Cons |
| It offers 16 exchanges. | Offers minimal services in free mode. |
| Gives seven day free trials to explore the package. | |
| Provides vast services. | |
Best Crypto Trading Bots in the Netherlands: Shrimpy
Shrimpy is a competent cryptocurrency platform that was founded in 2018. Till now, they have around $8 billion+ trading volume and almost 500k+ trades per day.
Most of the features of this platform can be divided into three parts: Management, trading, and automation. Unlike many other services on the market, they carved out a position for themselves as the ideal long-term automation solution.
The Shrimpy trading bot provides a simplified way to engage in the market across more extended periods, rather than focusing on the short term.
Further, Shrimpy has tools that allow you to manage your money across many exchanges with precision. You can systematically categorize, track, and monitor your portfolio across a wide range of 30+ popular exchanges via a unified dashboard.
To learn more, you can read the Shrimpy Review | Crypto Trading Bots for Social Portfolio Management.
Shrimpy Pricing
Shrimpy Bot Pros & Cons
| | |
| --- | --- |
| Pros | Cons |
| One of the safest exchanges | No free mode is available |
| Provides demo for users to try out their services | No Mobile application is available |
| Recommended for beginners | |
Best Crypto Trading Bots in the Netherlands: Bitsgap
Bitsgap is another trading platform that lets users trade using the Bistgap bot for automatic trading. Users can select from Grid trading bots, DCA Trading bots, and Futures Trading bots.
All these bots also have features that include ready-made strategies, performance analytics, security, and others. Till now, it has launched 3.7 million bots over 15+ exchanges.
Further, Bitsgap also offers 7 days free trial for every user. When it comes to security, Bitsgap does not disappoint the users. According to them, Bitsgap does not have access to any of the user's funds, and every data is encrypted with 2048-bit standard protocols. Users can also earn up to 30% of revenue from their friends to whom they refer.
Also, read Bitsgap Review – DCA, GRID bots
Bitsgap Pricing
Bitsgap Bot Pros & Cons
| | |
| --- | --- |
| Pros | Cons |
| It provides 7-day free trial to every user | No mobile application is available, |
| Offers 15+ exchanges | |
| It offers high security. | |
| Bitsgap demo trading is one of the best in the market. | |
Conclusion
A trading bot can significantly reduce the headaches of crypto trading in the notoriously unpredictable crypto market. Therefore, we got you the top five crypto trading bots in the Netherlands. To select the best one from the above mentioned, you can compare your requirements. If you are a starter, then go for 3Commas. If you need a mobile application, you can select from 3Commas, Cryptohopper, and Pionex.
Frequently Asked Questions
Which is the most refined trading bot?
There are numerous trading bots to select from. The most okay trading bot is one that is tailored to your own trading preferences and style.
Is Bitsgap trustworthy?
Bitsgap goes above and beyond for the security of its site and traders by employing RSA 2048 encryption. Further, they use Hardware Security Keys /FIDO2 as a 2FA method.
Is it worth it to use the trading bot to invest in crypto?
Trading bots are both inventive and beneficial. It enables cryptocurrency traders to make large profits with less work and time. Further, users need not keep an eye on the market, as they work 24*7.
Also, read