According to analysts, the global crypto market will triple by 2030. The influx of cryptocurrencies into mainstream financial systems has enticed a lot of crypto investors to take advantage of its abundant opportunities. These best passive income investments and Ideas in 2022 will help you make rewards.
Summary
Cloud Mining – miners can diversify the risk and share the profits.
Crypto Lending – High Risk, earn up to 14% interest income.
Pionex Grid Trading Bot – Best for a low fee, easy investment process.
Interest Bearing Crypto – Good for long-term investment with low risk.
Dividend Earning Tokens – Flexible Option, earn income straight from the company's profits.
Dual Investment Plan – Best for High APY, fixed yield, and low risk.
What are the smartest ways to earn more from crypto?
The smartest way to earn more from cryptocurrencies is to put them to work so that they can generate income for you. If you are familiar with financial markets, earning passive income with cryptocurrency won't be a big deal for you.
As the crypto economy is still growing, there are several opportunities that can boost your income with little or minimal effort. Though crypto markets offer attractive returns, they are still highly volatile and risky, so invest carefully.
Here are some of the best passive income investments that you can explore to grow your savings and generate multiple revenue streams over time.
Top Ideas to Invest with Crypto
1. Pionex Dual Investment
Pionex Dual Investment is a structured product that allows you to buy low or sell high at your option with a high annualized rate of return. The APY of dual investment comes from a return swap.
While the yield of the product is clear and fixed at the time of purchase, the settlement currency is uncertain. Upon maturity, the settlement currency is determined by comparing the settlement price with the pegged price.
Pionex offers two dual investment products that are BTC-USDT Dual Investment and USDT-BTC Dual Investment.
Let's just quickly understand how this works with a short example:
Suppose you buy USDT-BTC to invest in USDT. Here, the settlement currency can be either BTC or USDT depending on the results after comparison. Each purchased product has a settlement date.
On the settlement day, if the target price is reached or the market price crosses the target price, you will receive returns (investment in USDT plus interest) in USDT, otherwise, you will receive a return in BTC.
Other features of dual investment tools are that they can be used to keep the funds to buy the dip while also allowing you to earn interest. Pionex's awesome investment product must have convinced you by now why you should consider it.
2. Crypto Lending
Investing in lending assets can be a profitable way to earn attractive returns if you're willing to take high risks. The crypto lending platforms work to bridge the gap between crypto-asset investors and borrowers.
You can earn a high rate of interest by depositing your crypto on a centralized or decentralized lending platform. However, lending involves a high level of risk as there are different types of borrowers.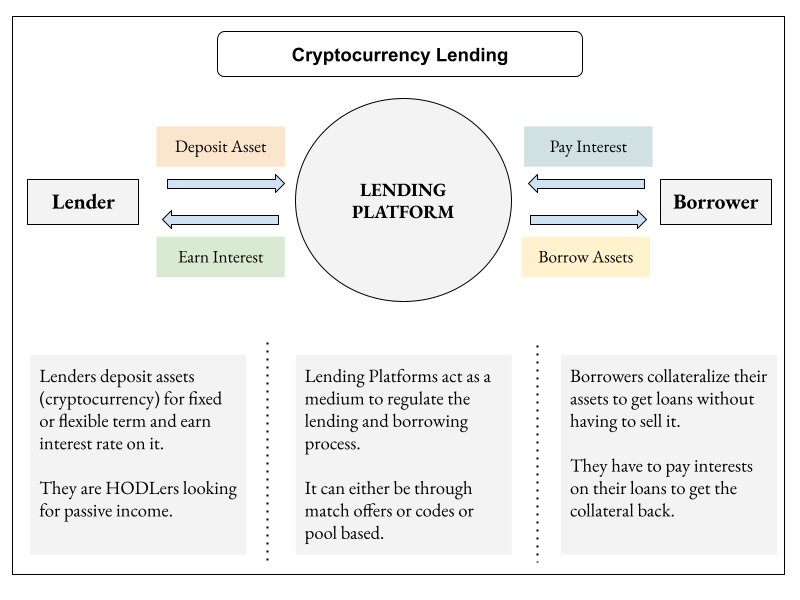 Pertaining to the needs of different investors, there are various lending strategies such as peer-to-peer lending, margin lending, or DeFi lending. With crypto platforms like AQRU, Crypto.com, BlockFi, investors are able to earn up to 14% on stablecoins and up to 8.5 % on BTC.
Again, lending your cryptocurrency could be a great way to generate extra income.
3. Pionex Grid Trading Bots
I would recommend the Pionex trading bot as it's a really great option with low fees for grid trading and lower risk and even offers insurance coverage against loss.
There are two types of Grid Trading Bots in Pionex: "Use AI Strategy" and "Set Myself". With these bots, you stand a chance to make profits, whenever the market goes up or down. The bots do all the work for you since this is a 24/7 swing trading system.
How do the Pionex Grid Trading Bot works?
First, you need to set some parameters such as price range, grid quantity, and the total investment that you want to use. When you're done, click "Create" and your bot will begin trading and generating passive income.
As long as a fluctuating price situation stays within the set price range, one can expect favorable outcomes. Further, bots execute buy orders whenever there is a dip in price and sell orders whenever the price goes up while the price stays within range so that you make a small profit for every set of buy and sell orders executed.
Not to forget that the crypto market still remains a volatile space, so make sure you set a Stop-loss Price so that the Grid Trading Bot can sell the base currency to the quoted currency once the price drops below it.
Moreover, if you are looking for an easy investment option that can give you stable yet passive profits with low risk, then you might surely like a bid on Pionex Grid Trading Bot.
4. Interest-Bearing Crypto Accounts
One of the safest and most reliable ways that can be considered to generate passive income is to open a savings account for your crypto. While cryptocurrency accounts bearing interest may be a relatively new concept, many crypto platforms allow investors to earn a fixed passive income from their crypto investments.
Further, you can anticipate favorable rates of interest on their holdings in a crypto savings plan and generate daily, weekly, monthly, or yearly earnings on the deposits.
Besides, it goes without saying that people who intend to hold onto their cryptocurrency investments for a long time can find it to be a great option. Crypto assets are volatile, hence considering stablecoins for better interest rates can turn out to be a smart choice for you.
Also, crypto platforms like BlockFi, Hodlnaut, and Nexo are some of the companies offering the best market yields on interest-bearing accounts.
5. Dividend-Earning Tokens
Out of the many types of passive income strategies, dividend income is arguably the best form as they offer a flexible method to earn on crypto assets.
A dividend token is a digital financial asset. While each of them serves a well-defined purpose, almost all cryptocurrencies, with the exception of currency tokens, promise the investor or trader some passive income.
Dividend-earning tokens allow crypto investors to receive a portion of profits based on the number of such tokens they hold. By holding dividend tokens, the holder gains passive income without necessarily becoming a stakeholder.
Further, the profits may flow in due to the value appreciation, investments, mining operations, or others. Like stocks, these tokens may or may not carry voting rights.
The dividend payout structure can differ from company to company, hence it's good to research well before making any investment decision. In addition, the Nexo Token Dividend pays out 30 percent of the company's profits to token holders each month. Payouts are made in ETH and distributed proportionately to Nexo investors.
Other platforms like Ontology, ZebPay, and Decred also have dividend-tokens.
6. Cloud Mining
Essentially, cloud mining involves outsourcing crypto mining tasks to third parties. There are crypto mining pools that allow individuals interested in mining to diversify their risks and share their rewards.
As a result, by sharing the profits among multiple participants, the overall reward share decreases, but the combined computing power of the mining pool stands a much better chance of actually solving a hashing problem and receiving a reward.
Besides, the concept of cloud mining has originated from the traditional method of crypto mining. However, unlike crypto mining, cloud mining is more economical as there is no need to install or run any software.
Moreover, all thanks to companies offering cloud mining services for allowing users around the world to participate in cryptocurrency mining remotely at affordable prices, thereby reducing the cost of setting up a cryptocurrency mining rig on an individual basis.
Best Passive Income Investments: Conclusion
Ultimately, you will only know which tools are suited to your risk profile and work best for you. In a nutshell, if you are smart enough to make good choices, you can grow your money real fast and effortlessly, and lucrative returns are assured. However, I would recommend you to use Pionex grid trading and Pionex dual investment as these are the smartest ways to earn passive income. Also, be careful while investing your money.
Frequently Asked Questions
Which are the best crypto investment options with low risk and high return? 
The best investment options are the Pionex Grid Trading bot and Pionex Dual Investment. In both cases, the yield is high and the risk is low.
What are dividend-earning tokens?
The dividend earning token is a form of crypto token that allows investors to receive income from the company's profits.
What are the features of Pionex Dual Investment?
Which is a better option to consider – crypto lending or crypto savings?
Even though both options offer passive income, crypto lending offers higher returns for high risk compared to crypto savings, which is a less risky option.
You may also read,