To venture into the constantly evolving world of crypto trading, an extensive knowledge about the spot markets and crypto exchanges providing the best offers and a safe environment is critical. This article will elaborate on features, fees, safety, and much more about the top 5 crypto exchanges in South Africa.
| Crypto Exchange | Rating | Fees | Cryptocurrencies | Ease of use |
| --- | --- | --- | --- | --- |
| Coinbase | 4.8/5 | 0.5% | 56 | 5/5 |
| Binance | 4.7/5 | 0.1% | 500+ | 5/5 |
| eToro | 4.6/5 | Spread only | 18 | 5/5 |
| CEX.io | 4.2/5 | Maker -0.25%Taker – 0.16% | 31 | 4.5/5 |
| Kraken | 4.6/5 | Maker -0.16%Taker – 0.26% | 56+ | 4.5/5 |
What is cryptocurrency?
A cryptocurrency or a 'crypto asset' is a digital currency used as payment for products and services. It is secured by cryptography and is based on blockchain technology which has impenetrable security.
What does cryptocurrency exchange mean?
A cryptocurrency exchange is an online platform where a person can buy or sell crypto assets. An exchange acts as a brokerage where a person can deposit their money or equivalent amount of cryptocurrency. Then, users can use the deposited amount to trade for whatever cryptocurrency they desire.
5 Top Crypto Exchanges In South Africa
A complete overview of 5 cryptocurrency exchanges popular in South Africa is described below.
1st Best Crypto Exchanges In South Africa: Coinbase
What is coinbase?
Coinbase is a fair and efficient cryptocurrency exchange platform. Traders can buy and sell cryptocurrencies without any hassle. In addition, the financial system is transparent, leaving no room for theft, mishandling, or errors. As a result, it is one of the most trusted and secure platforms that has been popular since 2012.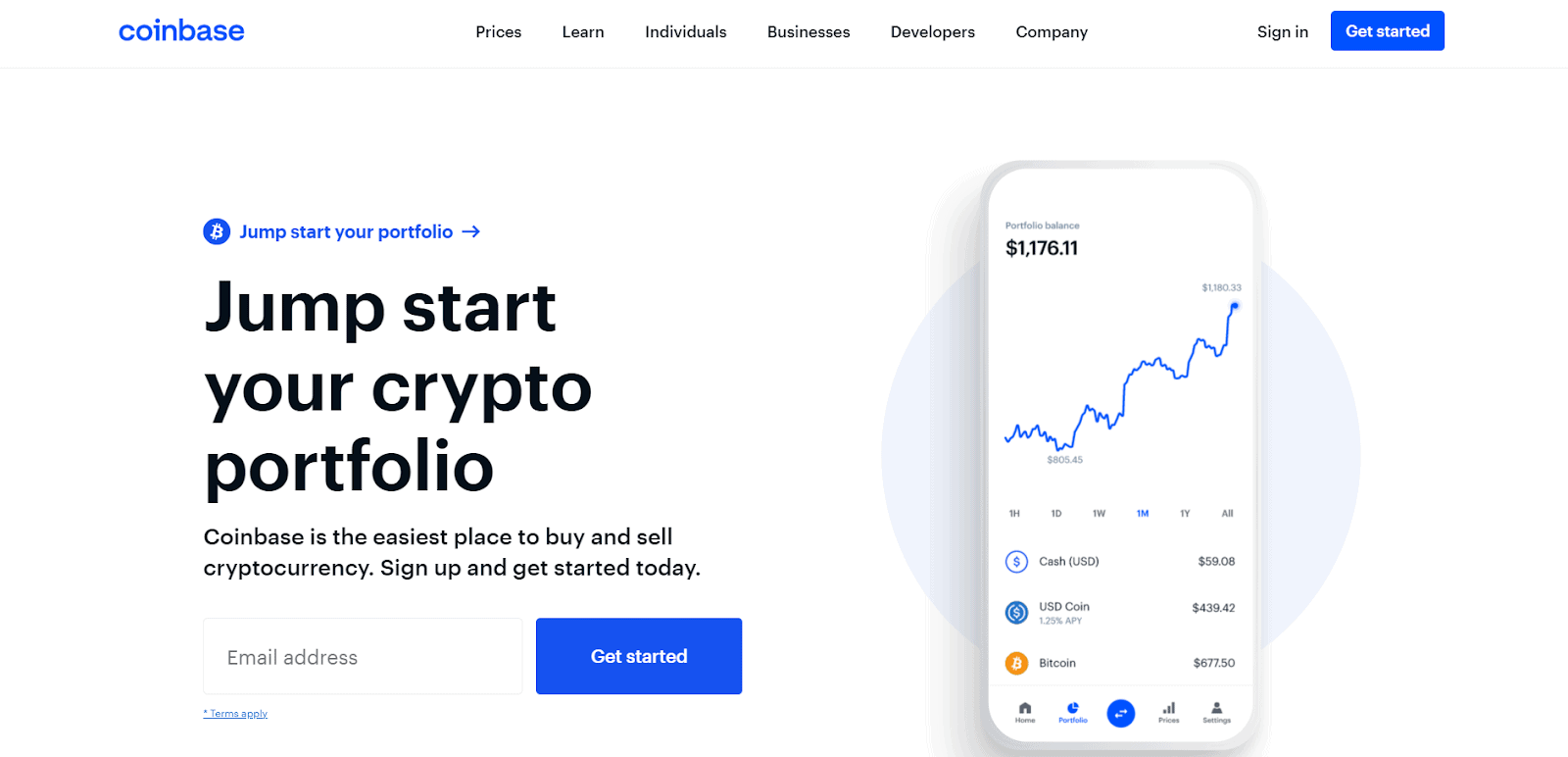 Coinbase is based in San Francisco. Approximately 68 million people over more than 100 countries invest, spend, earn, and use crypto on Coinbase. As a result, it always comes up first on the list regarding high liquidity, traffic, and trading volumes. Read our Coinbase review to know more details.
Coinbase Login
You can start trading on Coinbase in just a few steps.
Click on 'Get Started' and create a new Coinbase account.
Link your bank account to deposit money.
Start buying and selling cryptocurrencies.
Coinbase: Features
Coinbase allows every trader to keep track of their activities efficiently. They can buy and sell crypto assets and analyse their profits and loss through their portfolio.
Users can schedule buys daily, weekly, and monthly to invest in cryptocurrencies over a regular period.
Moreover, it provides two platforms, the Coinbase, and Coinbase pro. The latter offers many attractive features such as advanced charting options, placing market, stop, limit orders, spot transactions, Coinbase staking.
Coinbase also features a wallet for its users. To learn more, read an elaborated review of the Coinbase Wallet.
Coinbase also offers mobile applications with an intuitive and user-friendly interface for both android and iOS users.
Also, it only stores 2% of the total assets online, which are insured too. So, if an online breach happens, it will restore any funds lost to the customers.
It offers trading in more than 56 cryptocurrencies and features more than 60 crypto pairs.
Coinbase Earn gives a unique opportunity to the users to earn while they learn.
Users can use the Coinbase support in case of any queries.
Also, read Coinbase Card Review: Best Crypto Debit Card
Coinbase fees
The standard fee rate of Coinbase is comparatively high. However, the fee is reduced in the case of Coinbase Pro. It charges a spread of 0.5% for crypto purchases and sales. Additionally, it also sets a Coinbase fee, which is fixed. The below table shows fixed prices for different transaction amounts.
| | |
| --- | --- |
| Total transaction amount | Fixed-price |
| $10 or less | $0.99 |
| More than $10 and less than or equal to $25 | $1.49 |
| More than $25 and less than or equal to $50 | $1.99 |
| More than $50 and less than or equal to $200 | $2.99 |
How to deposit on coinbase?
To deposit funds in your coinbase account, first, you have to log in to your account.
Secondly, click on the profile icon at the top right corner of the webpage and select 'Settings.'
Thirdly, go to the payment methods tab and click on 'Add a payment method.'
Next, you can choose the back account and enter the required details.
Go to the portfolio section and select USD or any cryptocurrency you want to deposit and start trading.
How to withdraw from coinbase?
Go to the balances section and click on withdraw next to the relevant cryptocurrency. Next, enter the amount for withdrawal and Coinbase wallet address. Coinbase withdrawal allows only cryptocurrency service. Therefore, the user has to convert funds to USD or withdraw the funds in a Coinbase account.
Moreover, it also charges a 1% fee to convert and withdraw the cryptocurrency to fiat and network fees.
Is coinbase safe?
Coinbase has more than 40 licenses which showcase the trust of prominent organisations in it.
Coinbase verification is a must for every user.
Moreover, it adheres to KYC regulations so that only verified users can trade on the platform.
Furthermore, there is also an insurance fund available for hot storage if the platform is breached.
It features 2-factor authentication to give an extra layer of security.
The digital wallets are AES-256 encrypted.
Coinbase: Pros and Cons
| | |
| --- | --- |
| Pros | Cons |
| Several popular altcoins are available for trading. | Weak customer support. |
| Intuitive user interface and easy-to-use features. | Coinbase limits spending and withdrawal from the account. |
| Multiple payment options are available. | Users are forced to opt for coinbase pro for fewer fees. |
| It offers high liquidity. | |
2nd Best Crypto Exchanges in South Africa: Binance
What is Binance?
It is one of the most popular trading platforms where traders can buy and sell cryptocurrencies securely and have an excellent trading experience. Founded in 2017, it is a crypto exchange with one of the lowest fees and highest liquidity. However, it has been facing a very strict regulatory crackdown recently; hence we suggest you keep alternatives of Binance in place.
It is currently based in the Cayman Islands. It has a high processing speed. Consequently, it can process up to 1.4 million orders per second. Read Binance review to know about its products and services.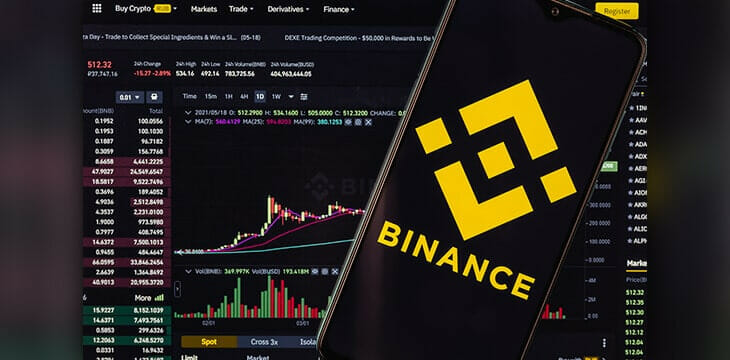 Binance Login
Users can get started on the platform by registering themselves on the platform first. Then, they can use their mobile number, email account, or QR code for login.
Binance: Features
Binance supports over 500 cryptocurrencies such as BTC, LTC, and ETH to trade globally.
Comprehensive charting options are available for the traders.
Binance margin trading, market order, limit order, stop-limit order, post-only order, trailing stop order, peer-to-peer trading,one-cancels-the-other order, and much more exciting features are present on this platform.
Also, Binance allows its users to store their funds in the crypto wallet.
Moreover, it also features its blockchain-based token, Binance Coin (BNB).
In addition, several modes of payment options are accessible to the users for their convenience.
Binance also provides an excellent app with all the features for both android and iOS users.
Users can earn interest through the Binance Earn by depositing cryptocurrencies.
It also offers several other services such as Binance Smart Pool, Binance Visa Card, Binance Labs, Binance Futures, and much more. Read the guide to Binance Futures to know more about the unique service.
Additionally, traders can also borrow different cryptocurrencies by giving up their crypto assets as collateral.
Binance fees
Binance trade fee is 0.1%. However, the users can get a 50% discount on this fee by using Binance Coins.
There are zero charges for deposits.
However, the Binance withdrawal fee is different for each cryptocurrency.
To know the detailed and well-structured fee format, read the complete guide on Binance fees.
How to deposit on Binance?
You can follow the steps below to deposit:
Firstly, log in to the respective Binance account.
Secondly, select 'Fiat and Spot' in the wallet section of the website.
Next, go to the deposit tab and select the cryptocurrency that is to be deposited.
Now, select the network on which they are issued.
Click on send and paste the deposit address.
Then, confirm the transaction.
How to withdraw on Binance?
Users have to log in to their Binance account.
Go to the wallet section on the website.
Next, select 'Fiat and Spot' and click on withdraw.
Then, select the option crypto and choose the cryptocurrency that has to be withdrawn.
Next, select the appropriate network on which the cryptocurrency is issued.
Paste the wallet address on the withdrawal page.
Finally, hit the submit button to initiate the process.
Enter the verification code and click on submit again.
The user will be able to see the process in the transaction history of the page.
Is Binance Safe?
The 'Whitelist Address Management' feature of Binance allows the users to list only the address they trust. Therefore, it reduces the risk of error.
The platform adheres to KYC regulations strictly and encourages the users to complete the Binance verification for their security.
It also enabled two-factor authentication to ensure only authentic logins.
Finally, it abides by CryptoCurrency Security Standard (CCSS) to ensure a maximum level of protection.
Binance: Pros and Cons
| | |
| --- | --- |
| Pros | Cons |
| Over 500 cryptocurrencies are available on this platform. | Binance support is weak. |
| Complete 1.4 million transactions in a single second. | Binance has been facing a global regulatory crackdown. |
| High liquidity and minimal fees | |
| Multiple trading options are available. | |
3rd Best Crypto Exchanges In South Africa: eToro
What is eToro?
eToro is a social trading platform and multi-asset brokerage company that offers financial and copy trading services. Users can invest in stocks, cryptocurrencies and can dive into CFD trading as well.
eToro enables the users to get involved with stocks, cryptocurrencies, forex trading, indices, commodities, and EFT trading. Traders can either opt for day-trade or go in for long-term investment. Furthermore, established in 2006 and based in the UK, it has gathered over 17 million users to date. This platform lets the users mimic successful traders with outstanding records step-by-step.
eToro login
eToro login is straightforward, but it may take several days for verification of the identity. After that, the traders can invest as they like.
eToro: Features
Traders can set a buy rate, take profit, and stop-loss orders on this platform.
eToro offers a highly rated app containing all the website features available on android and iOS devices.
eToro customer support is accessible through email and chat.
Besides this, it offers an innovative tool to mirror profitable traders with good trading history. With only $200, the users can copy the moves of a good trader in just a few clicks.
Moreover, it offers 18 cryptocurrencies, including Bitcoin, Ethereum, XRP, Litecoin, Dogecoin, and much more.
Furthermore, it provides a free wallet known as eToro wallet to store cryptocurrencies, also available in the app.
Apart from this, eToro offers two account options, original and demo account. An eToro demo account is used to test the trading environment with fake money.
eToro Fees
The trading and transaction fees on eToro vary between 0.75% and 5%, depending on the cryptocurrency.
It does not charge any commission and the financial process is entirely transparent.
Traders have to pay a 0.18% commission for short sales.
This table shows the spreads for various cryptocurrencies.
eToro Deposit
The minimum deposit on eToro is $1000. This amount varies with some countries. The users can deposit funds using credit cards, PayPal, Skrill, iDEAL, Rapid Transfer, and Sofort.
eToro Withdrawal
eToro withdrawal fee is $5.
A minimum of $30 has to be withdrawn to initiate the transaction.
The withdrawal time depends on the payment provider. The below table shows the time taken for withdrawal with each payment option.
Is eToro legit?
The platform is regulated by Cyprus Securities and Exchange Commission (CySEC), Financial Conduct Authority (FCA), and Australian Securities and Investment Commission (ASIC). It makes it safe and trustworthy.
Moreover, it uses SSL encryption to protect invaluable information.
eToro: Pros and Cons
| | |
| --- | --- |
| Pros | Cons |
| Traders can access 18 major cryptocurrencies on Etoro. | Traders have to pay a minimum of $25 to buy any cryptocurrency. |
| Only $50 is required to start trading. | Spreads are relatively high. |
| Etoro offers new users to mimic the strategic moves of successful traders. | |
4th Best Crypto Exchanges In South Africa: CEX.IO
What is CEX.IO?
Founded in 2013 and based in London, CEX.IO is one the leading multi-functional cryptocurrency exchanges that offers its services to 4 million traders worldwide. Users can access this platform through a website, app available on android and iOS devices, WebSocket, and REST API. Interested to know more, read our CEX.io review.
CEX.IO Features
It offers fiat-to-crypto transactions, spot trading, crypto-backed loans, staking rewards, margin trading, and numerous assets to trade with.
Besides instant buying and selling crypto options and trading, it also provides a CEX.IO Prime platform for businesses.
Furthermore, it enables the users to fund their accounts with cryptocurrency transfers.
More than 80 assets are accessible on the platform for trading.
Apart from all this, it also provides API tools for automated trading, order execution tools, and much more.
Moreover, CEX.IO verification ensures the safety of the platform.
Different payment services are present.
Also, read CEX.IO Staking – The Best Way to Earn Passive Income?
CEX.IO Fees
CEX.IO charges maker fees that range between 0.1% to 0.25%. Moreover, it also charges taker fees that vary from 0% to 0.16%. The users can learn about the limits and commissions of this platform here.
CEX.IO Deposit
The transaction fee for a deposit on CEX.IO is 2.99%. The minimum limit of the account is $20. So, the users have to deposit that much to get started with trading on this platform.
CEX.IO Withdrawal
CEX.IO offers instant withdrawal on cryptocurrencies.
Firstly, Go to the finance page and select withdrawal.
Secondly, enter the amount and paste the CEX.IO wallet address.
Next, confirm and complete the 2FA code.
The users will receive a confirmation email, and after confirmation, it will initiate the process.
Is CEX.IO legit?
CEX.IO has the support of many prominent organizations. It has been registered as Money Services Businesses (MSB) with the Financial Crimes Enforcement Network (FinCEN).
It also received a Distributed Ledger Technology (DLT) license issued by the Gibraltar Financial Services Commission (GFSC).
These trustworthy collaborations show that it can be trusted and is legit.
CEX.IO: Pros and Cons
| | |
| --- | --- |
| Pros | Cons |
| User-friendly interface with easy navigation. | A limited number of crypto assets. |
| The CEX.IO support section is excellent. | High transaction fees. |
| Verified users can enjoy advanced features with no limits. | |
| High trading volume. | |
5th Best Crypto Exchanges In South Africa: Kraken
What is Kraken?
Based in San Francisco, Kraken is a popular exchange platform where traders can buy or sell cryptocurrencies using several fiat currencies. Also, it features several account types for beginners, advanced traders, and investors.
Kraken login is straightforward that can be completed in a day, and the user can start using the features immediately. To learn more about this platform, read the Kraken review.
Kraken: Features
Traders can get started with Kraken for just $10.
It offers a broader range of investment options such as Futures.
Apart from this, the platform focuses on beginners, advanced traders, and futures traders separately.
Further, it offers to stop loss and profit-taking order types, leverage and margin-based trading, automated strategy trading, and many more trading tools.
Kraken supports more than 56 cryptocurrencies.
High liquidity exchange ensures fast execution of orders.
Users can exchange, buy, sell, send, receive, and stake on Kraken.
Global support 24 x 7 by a professional and highly qualified team through live chat.
Moreover, it offers margin trading with up to 5x leverage.
The maximum trading amount per day is $100,000.
The minimum amount to be invested in Kraken depends upon the cryptocurrency used.
Kraken Fees
The transaction fee on this platform is in the range of 0% – 0.26%. The below table can understand the entire fee structure.
| | | |
| --- | --- | --- |
| Transaction amount | Maker fee | Taker fee |
| $0 to $50,000 | 0.16% | 0.26% |
| $50,001 to $100,00 | 0.14% | 0.24% |
| $100,001 to $250,000 | 0.12% | 0.22% |
| $250,001 to $500,000 | 0.10% | 0.20% |
| $500,001 to $1,000,000 | 0.08% | 0.18% |
| $1,000,001 to $2,500,000 | 0.06% | 0.16% |
| $2,500,001 to $5,000,000 | 0.04% | 0.14% |
| $5,000,001 to $10,000,000 | 0.02% | 0.12% |
| Over $10,000,000 | 0.00% | 0.10% |
Also, read Coinbase vs Kraken | Which is the Best Crypto Exchange in USA?
Is Kraken Safe?
Kraken uses cold storage to store 95% of its traders' assets.
Further, it maintains strict surveillance throughout the platform and has fixed several security checkpoints in the signup process.
It has set up PGP encryption and enables physical keys to ensure extra security of the accounts.
Apart from this, two-factor authentication (2FA) is necessary to complete the process during withdrawals and transfers.
It has also enabled SSL encryption to create a secure trading environment.
Kraken: Pros and Cons
| | |
| --- | --- |
| Pros | Cons |
| Reliable trading platform. | Verification takes a longer time than expected. |
| Staking rewards | Navigation through the website is not easy. |
| Support some fiat currencies. | |
| The trading limit is high. | |
Best Crypto Exchanges In South Africa: Conclusion
These are some of the popular cryptocurrency exchanges in South Africa with their ingenious features. We have given an overview of every platform with the elements, fee structure, safety methods, pros and cons, and more. Of course, Coinbase is the first choice for most users. However, users can also try Binance and eToro to see what best fulfills their needs.
Frequently Asked Questions
How does eToro work?
It is a social trading broker company where traders can access real stocks, EFTs, and many cryptocurrencies. 
Is CEX.IO trustworthy?
CEX.IO is backed by multiple prominent organizations such as FinCEN and GFSC, which makes it trustworthy.
Can we get a discount on Binance fees?
Yes, if the trader uses BNB, they are eligible for 50% in trading fees.
Also, read