Coinbase vs WazirX | Who has the Lowest Fees?
Investing in cryptocurrencies is becoming increasingly popular. In April 2021, the cryptocurrency market exploded, and now it is worth more than 2 trillion dollars. The Bitcoin revolution raised public awareness of cryptocurrency and provided a glimpse into its potential and the future it holds. Following Bitcoin, came Ethereum, which eventually led to the emergence of many cryptocurrencies.
You may have heard that buying a cryptocurrency is a bit tricky. Therefore, in this WazirX vs Coinbase article, we're going to go through all of their features and cons, so you can choose better and invest easily.
| Company name | Coinbase | Wazirx |
| --- | --- | --- |
| Founding Date | 2012 | 2018 |
| Country | United States | India |
| Type | Centralized | Centralized |
| Language | Portuguese, German, French, Spanish, Italian, Dutch, Turkish, Polish | English |
| Mobile App | iOS, Android | iOS, Android |
| Full Address | 548 Market St #23008 San Francisco, CA 94104 | The exchange does not disclose its location |
Also Read: How did I start investing in crypto as a College undergrad?
What is Coinbase?
Coinbase is one of the leading mainstream exchanges for cryptocurrencies throughout the world. Coinbase has now become a limited-access highway for the new crypto investors. There are a wide variety of cryptocurrency investing products offered by Coinbase, including a trading platform, institutional custodial accounts, wallets for retail investors, and the company's stable dollar coin. In addition to being fully regulated and licensed, Coinbase is supported by most states in the U.S. except for Hawaii.
Brian Armstrong and Fred Ehrsam founded Coinbase in June of 2012. Bitcoin was the original currency supported by Coinbase but quickly they added more cryptocurrencies. In addition to offering customers a more transparent, efficient, and fair cryptocurrency-driven financial system, this exchange is also looking for ways to improve the overall customer experience. To learn more, read the Coinbase review.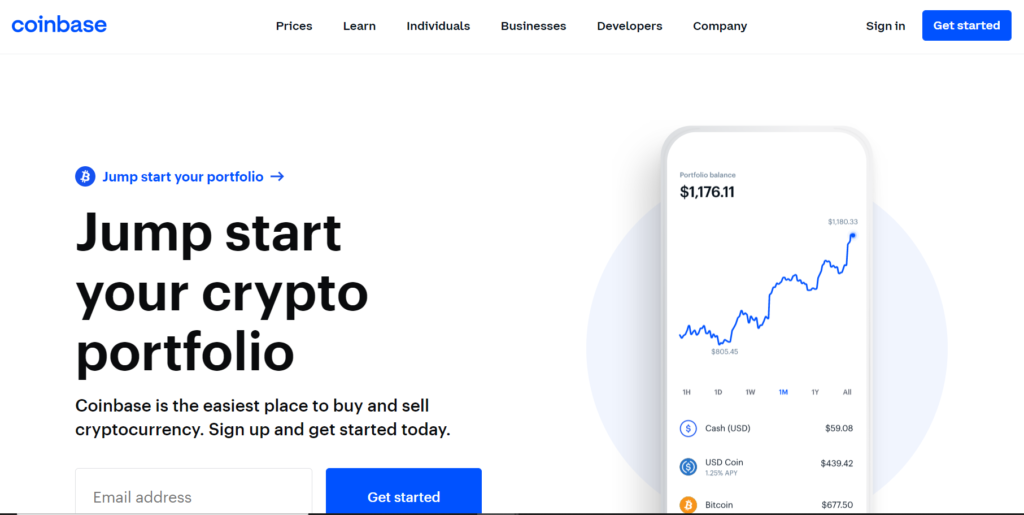 What is WazirX?
In addition to offering one of the most secure services, WazirX is one of India's top crypto exchanges. WRX, a token developed by the exchange based on Binance's blockchain, represents the exchange's cryptocurrency. Utilizing WRX on WazirX offers a variety of benefits, including a discount on the trading fee, and access to the NFT MarketPlace.
Founded in 2017, WazirX has capitalized on retail trading's rising tide in cryptocurrencies. Nischal Shetty, Sameer Mhatre, and Siddharth Menon founded the company. Towards the end of 2019, Binance acquired WazirX. They also allow you to transfer crypto to Binance without any trading fees. To learn more, read the WazirX review.
Also Read: How to Buy NFTs in India on WazirX?
Coinbase vs WazirX: Features
Coinbase
Coinbase offers a substantial range of altcoins for investment, trading, and staking, including over 50 cryptocurrencies.
Coinbase has perhaps the most straightforward user interface when it comes to investing in cryptocurrencies. In just a few minutes, one can create an account and purchase cryptocurrencies.
It consistently ranks among the top crypto exchanges. Investing in an already volatile market is therefore protected from severe price slippage.
Through their independent Coinbase wallets, traders can store and manage crypto assets. In addition, users can manage these wallets easily and securely.
Wazirx
A client of WazirX can access their trading platform through the web, smartphones, Windows, Apple iOS mobile phones, and Mac computers.
Wazirx can trade various cryptocurrencies on the forum. It supports over a hundred different coins paired with USDT and INR.
You can conduct millions of transactions efficiently and effectively with the platform.
Developed by hardcore blockchain professionals, WazirX is built by some of the best in the world. As a result, Trading View's charting tools are integrated with nearly every feature of the platform.
Also Read: WazirX vs CoinDCX vs Bitbns
Coinbase vs WazirX: Fees
Despite the importance of trading fees in crypto trading, many people are unaware of their significance. Thus, you must conduct your research and find a platform with minimal trading fees; if you win, you will receive less than you win; similarly, if you lose a trade, you will suffer a loss that exceeds your actual loss.
Coinbase
The Coinbase fee system is extraordinarily convoluted and expensive for those who do not use Coinbase Pro. Comparatively speaking, Coinbase's standard platform is costly compared to its competing platforms. However, a newbie who is looking for simplicity may overlook this if they are new to crypto.
For each payment method, there is a fee between 1.49% and 3.99%. Another service fee of about 0.50 percent is also charged. Furthermore, the fiat fee is dependent on the completed transaction and ranges from $0.99 to $2.99.
Also Read: Coinbase Fees: Cheapest Exchange in the USA?
Wazirx
On WazirX P2P, there is no fee. However, the makers and takers of spot trading charge 0.2% each. In addition, a transaction fee of INR 6.7 is charged for deposits made via bank transfer. Nevertheless, Mobikwik charges approximately 2% for depositing via this service. Moreover, 25% of all profits from STF go to the skilled trader.
Coinbase vs WazirX: Security
In terms of security, it is hard to pick between WazirX and Coinbase since both are outstanding. In addition, these exchanges are industry leaders and adhere to a high standard of safety.
Coinbase
In addition to complying with U.S. regulatory rules regarding security, the exchange is transparent about how all fund transfers are handled. A total of 95% of their users' funds are stored offline in cold storage wallets, and the rest are already insured and stored online. As a result, users, leading, have total control over their money.
Wazirx
Approximately 95% of WazirX's users' funds are stored offline in cold storage, ensuring security and preventing hacks. In addition to this, you should always enable two-factor authentication and use the official mobile app and website.
Coinbase vs WazirX: Support
Any crypto trading platform must provide customer support to ensure customer satisfaction. As a result of poor customer support, you are likely to experience many problems as a user.
Coinbase
The Coinbase support team is available 24/7 to answer all your questions through emails. In addition, if you need assistance, you can reach out to Coinbase's customer service through the 'Contact Us' button present on their website.
Wazirx
Write a support request to WazirX and include the necessary documents with it. A member of the WazirX team may contact you through email as soon as possible.
Coinbase vs WazirX: Mobile App
Many traders prefer trading at their convenience, and to do so, they typically lookout for an app that can make their job easier. Therefore, both platforms include mobile applications for their users. You can download apps from both Google Play and the Apple App Store.
Coinbase
With Coinbase, you can trade most of the crypto assets safely, efficiently, and with ease. In their application, you need a bank account or a debit card to buy cryptos. In addition, the intelligent tools and dashboards on this platform will allow you to keep tabs on prices and the value of your assets at all times.
Wazirx
The user interface of the WazirX app is simple. It contains nearly all the elements of its official website, so the app does not compromise its functionality. There are several features, such as spot trading and WazirX P2P. You can also earn a 50% commission by referring your friends to trading. You can also deposit funds through the WazirX app using Mobikwik; however, the app frequently changes its deposit methods due to problems with INR deposits.
Coinbase vs WazirX: Pros and Cons
Coinbase
| Pros | Cons |
| --- | --- |
| Several options for altcoins | If you don't use Coinbase Pro, you will pay high fees |
| A very user-friendly interface | Users' account data have been compromised in the past. |
| Great liquidity | The exchange may not offer as many altcoins as others |
WazirX
| Pros | Cons |
| --- | --- |
| Support for a wide range of crypto tokens. | This app lacks a crypto lending feature. |
| Simple and easy-to-use interface. | You cannot withdraw many coins. |
| There is no custody of fiat funds. | |
| Exchange fiat for cryptocurrencies for free. | |
| Portfolio building is simplified with Smart Token Funds. | |
Also Read: 7 Best Apps to Buy Bitcoin in India
Coinbase vs WazirX: Conclusion
Coinbase is a global company that operates in several countries. In addition, Coinbase offers some of the most expensive crypto services. Coinbase charges a transaction fee of 0.5 percent. To withdraw money from Coinbase, Coinbase charges a $0.55 flat fee plus up to 2.0 percent of the transaction value. While WazirX has the lowest maker and taker fees in the industry, the company does charge 0.2% per transaction.
WazirX also charges low withdrawal fees, ranging from Rs. 5 to 10. However, Coinbase is the best option for day traders and investors who want to make significant investments. Rather than relying on third-party services, this crypto exchange offers world-class service. Coinbase accepts international debit and credit cards for transfers and purchases.
Frequently Asked Questions
Can I buy Bitcoin from WazirX safely?
Founded in 2018, WazirX is the most trusted exchange in the Indian crypto market. The platform is a part of the Binance Group, the world's leading crypto exchange serving 180 countries. Ninety-five percent of WazirX's funds are kept offline, so they're safe from hackers.
Do Indians have access to Coinbase?
In India, Coinbase offers support. You can manage your coins with Coinbase easily and securely. Coinbase is available in more than 100 countries now, including India.
Does Coinbase allow bank accounts to be linked?
Coinbase takes excellent care to ensure the security of all of your sensitive information. For example, AES-256 encryption is used to store account numbers and routing numbers on their servers. Further, all traffic is encrypted using SSL to prevent eavesdropping by third parties.
Also read,