Do you want to earn some passive income on your crypto holdings without buying and selling them? Then, probably staking crypto might be of help to you. Learn the process of staking crypto with the help of the best crypto wallet for staking with our blog about the same that would present you with the complete information about the same.
Summary
| Wallet | Founder | Founded in | Mobile application | Interest on staking | Security |
| --- | --- | --- | --- | --- | --- |
| Atomic wallet | Konstantin Gladych | 2017 | Android and iOS mobile applications available | 2% interest | Pin code required to login |
| Binance wallet | Zhao Changpeng | 2017 | Android and iOS mobile applications available | No specified | Secured with 2 factor authentication |
| Trust wallet | Viktor Radchenko | 2017 | Android and iOS mobile applications available | Not specified | Protect client crypto holdings against hacking or theft |
| CoinDCX Wallet | Sumit Gupta | 2018 | Android and iOS mobile applications available | 1% to 3% charged annually | Geographically distributed cold wallets, DDoS and multi-signature authentications |
| Magnum Wallet | David Kogan | not available | Only Android mobile application available | 2% interest | Standard encryption |
| Guarda Wallet | Paul Sokolov | 2017 | Android and iOS mobile applications available | 1% to 40% interest offered | Encrypted backups |
| Coinbase Wallet | Brian Armstrong | 2012 | Android and iOS mobile applications available | 1% to 5% interest per year | Protected by Secure Enclave technology |
Atomic Wallet
Atomic Wallet is an open-source, non-custodial cryptocurrency wallet that supports many coins and tokens, including Bitcoin (BTC), Litecoin (LTC), Ethereum (ETH), Dash (DASH), Bitcoin Cash (BCH), and many more. It provides an opportunity for token holders to make money by investing in new projects by staking.
Further, they are rewarded for the time and money they have invested in the project. The company offers up to 2% interest per year on your coins when you stake them. For security purposes, atomic wallet staking has a PIN protection system with a long password to provide an additional layer of protection for your funds.
It provides a user-friendly interface that enables you to access the best prices in the market and manage your funds with ease. It is available on both iOS and Android devices.
Binance Wallet
Binance offers a staking service where token holders can secure the blockchain and get a percentage of the profits. The user needs to lock up their coins for some time, and it will generate coins proportional to the coins that are locked up.
Further, these wallets are available for mobile and desktop devices. Moreover, they offer a multi-level system of security to ensure that all their customers' Funds are kept safe and secure by two-factor authentication (2FA) and an IP safelist for added protection against unauthorized access.
You can send and receive cryptocurrency and fiat funds on the same interface and check the balance with current rates. It is available on both Android and iOS.
Also read, Binance ETH 2.0 Staking – Everything You need to Know
Trust Wallet
Trust Wallet is a wallet that allows users to stake coins to earn rewards on the network. Furthermore, you can download the Trust wallet for Android and iOS devices. Trust Wallet offers stake for Ethereum (ETH), Ethereum Classic (ETC), Binance Coin (BNB), and many others.
Trust Wallet is a cryptocurrency wallet that provides a secure and easy-to-use interface for staking coins, storing, sending, and receiving crypto. In addition, the Wallet has several features that make it stand out from the competition. Trust wallet support is available 24/4 to solve all the users' issues.
The Wallet has two-factor authentication, which provides increased security for your transactions. It also includes an option to set up Touch ID.
CoinDCX Wallet
CoinDCX Wallet is a digital asset wallet for cryptocurrencies such as Bitcoin, Ethereum, Litecoin, and more. The CoinDCX Wallet provides the ability to stake coins, which means you can earn interest. Interest is paid in more of the same currency that was staked.
CoinDCX Wallet uses encryption to ensure the safety of your Bitcoin wallet. Your information is encrypted using AES 256 encryption; the CoinDCX Wallet is available on Android and iOS devices. CoinDCX will give an interest of 1%-3% on your investment paid annually.
Magnum Wallet
Magnum Wallet is a staking wallet that provides a clean and user-friendly interface for staking. With Magnum Wallet staking, you can generate up to 2% interest on your tokens by leaving your Wallet open and unlocked. Magnum Wallet is open-source software, so anyone can download and use it free of charge.
Magnum Wallet is available for free on Android. Magnum Wallet allows users to stake more than 50 ETH and ERC-20 compliant tokens, with more being added as needed. Staking is done on the mobile device itself without any dependency on exchanges, the rewarded Tokens are immediately transferred into your crypto wallet, and you can withdraw them instantly.
Guarda Wallet
Guarda is a web and mobile-based decentralized Wallet that can stake crypto assets. It guarantees the protection of all purchases by leveraging technologies such as cold storage, fingerprint login, and multi-signature.
Further, it provides a convenient and easy way for users to manage their crypto-asset portfolio on their smart devices. They have to enter the amount of staking they want to do, and it will be done automatically. The reward earned as an interest range from 1%-40%. Guarda wallet app is available for both Android and iOS devices.
Coinbase Wallet
Coinbase Wallet Staking is a service that enables Coinbase customers to earn interest in their cryptocurrency holdings by locking them. They can receive anywhere from 1% -5% in interest per year. It also provides access to in-depth market data, places market orders, and a simple price chart.
The Coinbase Wallet is a secure, easy-to-use wallet for storing and using cryptocurrencies. The company uses asymmetric encryption. The private key for accessing the funds is stored on the device itself. It is available on both Android and iOS devices. You can also read the Coinbase wallet review.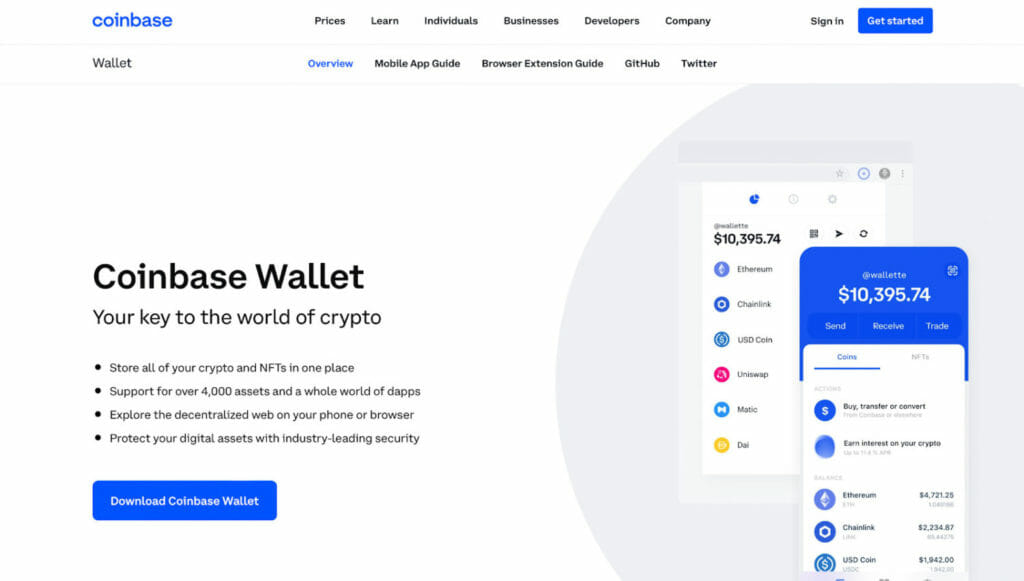 Conclusion
Binance wallet, Trust Wallet, Coinbase wallet, and the CoinDCX wallet form the group of the best platforms for a crypto wallet for staking, whereas the Magnum wallet and the Guarda wallet are also emerging as the best contenders in the market.
With reliable features such as optimal security, and mobile applications available for each platform, these applications make staking easier for its users. Economical interest rates make them more attractive for people. Plan your crypto staking with these and make your crypto holdings profitable and lucrative.
Frequently Asked Questions
Is Binance wallet safe to use?
Yes, using the Binance wallet is purely safe as we all know that Binance is one of the best platforms to trade in crypto; hence it is equally safe to stake cryptocurrency. 
Is staking crypto beneficial?
Yes, staking crypto can benefit you as it can provide you with much profits of up to 10% to 20% per year. 
Who can stake crypto?
Anyone can stake crypto who is holding cryptocurrency in their crypto wallets. Moreover, crypto staking is beneficial for users who want to keep their currency for a long time. 
Also read,