Advanced cash, also known as AdvCash, is a payment processor that lets you pay with both crypto and fiat currencies. Further, the platform has been top-rated in Russia from the beginning. It is gradually capturing the Western markets. After in-depth research, here, in this AdvCash review article, we will be knowing more about the platform.
Summary (TL;DR)
AdvCash is a payment processor that lets you pay online via crypto and fiat currencies.
They provide both virtual and plastic cards.
The platform has collaborated with Binance, so you can connect your Binance account and manage your portfolio.
AdvCash provides an e-wallet that can be used for buying and selling crypto with minimal fees.
Fees are low, and security is standard with a beginner-friendly interface.
24/7 live customer support via email and online chat.
Multiple national currencies are supported.
What is AdvCash?
AdvCash is a platform that provides plastic and virtual cards for payments. To make it a global payment card, they support various countries and their national currencies.
AdvCash is a unique platform developed keeping in view the needs of users. And so, they have created a stable ecosystem of payments. Targeting the pain point of the crypto industry. They are constantly expanding and building a name in the Fintech industry.
Earlier, the platform was mainly into payments. But now, they have collaborated with the world's biggest crypto exchange Binance. With this, they are providing services of overall crypto finance.
Also read, Binance Card Review: Is This the Best Crypto Card? [2021]
Why Choose AdvCash?
Now that you have options like cards directly associated with exchanges, Why AdvCash is a pretty natural question. Most of the cards are directly associated with exchanges. Which is dedicated to their official token. Or has high transaction costs. The next task is the conversion of currencies. Here, with Advcash, you are free from all of these miscellaneous activities.
Here is the following reason that you must consider:
Easy to fund: Funding your AdvCash card is the most straightforward task. Directly fund with e-currencies, crypto wallet, debit and credit bank cards and transfers via visa/ MC bank cards, and much more.
Built For you: Other than financial benefits, you get standard security. Multi-tier account security. The quick verification process and instant customer support is an eye-catcher for sure. Moreover, you can store multiple currencies in one single account. This leads to high accessibility.
Handy Withdrawals: You get both virtual and plastic cards in the currencies you wish. In addition, services like fast international visa/master cards payout are provided.
AdvCash Review: Features and Products
1. Virtual or Plastic Card
The platform AdvCash provides advanced cards that can be accessible in both plastic and virtual. Virtual cards can be very handy for distant countries or people highly concerned about their data protection. They can definitely go for virtual cards.
With these cards, you can pay and withdraw at any visa or UnionPay-enabled merchant or ATM card. Further, you can load your card with an instant ADV wallet transfer facility.
Finally, you can withdraw with low conversion charges in any currency you want.
In addition, you get free delivery of your ADV cards with regular mail or express shipping depending on the card. The low fees feature gets more enjoyable when you start spending more. That is, spend more, pay less.
Also read, 10 Best Crypto Exchange in Singapore
2. Card Fees
There are three kinds of cards available. The cards and their charges are as follows:
ADV Europe: This is available in EUR and USD in the countries EU, Turkey, and Israel. The card can be acquired by the free delivery by regular mail. Or paid delivery options are available. There are no maintenance fees.
Price: €/$19.95 plastic, €/$9.95 virtual
Load Per Day: €/$5,000
Valid For: 3 Years
ADV Global: This card is the plastic UnionPay available in all supported countries. You get free delivery, no fee POS payments in USD. In addition, you get an instant load from any ADV e-wallet.
Price: $95
Load Per Day: $10,000
Valid For: 3 years
ADV Crypto World: This is the card for the international crypto community. POS and ATM fee is just 0.75%. In addition, you get multiple funding options, no currency exchange fees, and significant limits.
Price: $95
Load Per Day: $30,000
Valid For: 4 years
Note that AdvCash does not support all the countries. The availability of the cards depends upon the location.
Also read, Best Paid And FREE Crypto Trading Bots
3. Multicurrency Adv Account
The platform AdvCash supports multi currencies. The currencies include fiat, token, and digital currency. Fiat currencies include USD, EUR, RUB, KZT, UAH, GBP, and BRL. In addition, note that RUB (Russian Ruble) is supported, which is an excellent advantage for Russian traders.
Digital currencies supported include BTC, ETH, LTC, and BCH. Moreover, they are also supporting a few digital tokens like XRP and ZEC.
4. Currency Exchange
The currency exchange rates will leave you in shock. Unbeatable currency exchange rates are available. A minimal exchange rate is charged with no waiting time.
Also read, 10 Best Crypto Exchange in Singapore
5. E-Wallet
Similar to payment wallets like PayPal, AdvCash also supports e-wallet. As soon as you fund your account, you can use your currency from the wallet for online payments. Since the platform supports multiple currencies, using the card becomes compatible.
What most visa and master cards lack is the involvement of digital currencies. AdvCash e-wallet supports digital currencies. Thus competing with the most used bank cards.
Also read, Metamask vs Coinbase Wallet: Lowest Fee Crypto Wallet
6. Buy/Sell Crypto
AdvCash did the ultimate crypto collab with Binance and created liquidity for cryptocurrency on its platform. You can now buy and sell crypto on AdvCash. In addition, you can directly link your Binance portfolio on AdvCash and manage it with minimum fees. You can also simply store your coins and earn interest up to 8% p.a. Presently, sixteen digital assets are supported, and daily payouts are given.
You can buy BTC, ETH, LTC, XRP, BCH, and ZEC coins. On the other hand, fiat currencies supported include USD, EUR, RUR, GBP, UAH, KZT, BRL, and TRY.
Also read, 5 Best Free Crypto Portfolio Trackers
AdvCash Review: Fees
There are no charges for account opening, and at the same time, there are no maintenance fees. There are some loading and withdrawing charges depending on the currency as follows:
| ACCOUNT LOAD | CURRENCY | FEES |
| --- | --- | --- |
| Transfer from ADV user | USD, EUR, RUB, UAH, KZT, BRL, and TRY | No fees |
| SEPA transfer | EUR | 1 EUR |
| visa/ master cards | USD, EUR, RUB, UAH, GBP | From 3.5% |
| Card Transfer(card2account) | UAH | 1% |
| Stablecoins | USDT, USDC, DAI, PAX | 1 USD |
| Cryptocurrencies | BTC, ETH, LTC, BCH, XRP, ZEC | Internal Exchange Rate |
| ACCOUNT WITHDRAWAL | CURRENCY | FEES |
| --- | --- | --- |
| Transfer to ADV user | USD, EUR, RUB, UAH, KZT, BRL, and TRY | No fees |
| SEPA transfer | EUR | 0.5% plus 5 EUR |
| Local Bank Transfers | ARS, AUD, BDT, BRL, COP, DOP, HKD, INR, IDR, JPY, MYR, NPR, NZD, PKR, PHP, SGD, ZAR, KRW, LKR, THB, TRY, VND | From 0.5% |
| Master cards | USD, EUR | 3.5%(MIN. 5 USD)2.5%(MIN. 5 EUR) |
| Visa/ MC cards in Russia | RUB | 2.5%(MIN. 50 RUB) |
| Visa/ MC cards in Kazakhstan | KZT | 1.5%(MIN. 500 KZT) |
| Visa/ MC cards in Ukraine | UAH | 0.5%(MIN. 5 UAH) |
| Tether | USDT ERC20USDT TRC20 | 0.5% plus network fees0.5% plus 1 USD |
| USDC | USDC ERC20USDC BSC BEP20 | 0.5% plus network fees0.5% plus 1 USD |
| Stablecoins | PAX DAI | 0.5% plus network fees |
| Cryptocurrencies | BTC, ETH, LTC, BCH, XRP, ZEC, TRX, DOGE, SHIB, BNB | Internal exchange rate |
How Does AdvCash Works?
There are two kinds of accounts that you can create on AdvCash. Personal and Business account.
Personal Account: In a personal account, you get an account and cards in the choice of your currency. You will get benefits like the free user-to-user transfer, crypto features, and payouts to visa and master cards. Note that, as the name suggests, it is a personal account for personal use.
Business Account: In the business account, you get unique features. You can receive payment from worldwide customers, crypto acquiring, mass payouts, merchant tools for crypto, and more.
Create an account of your choice if it's a personal account; fund your account with the currency you like. Once funded, you are in complete control of your funded amount.
If you are creating a business account, complete your KYB, apply for merchant tools, and use their developer manuals for integration. For a business account, you can also start for free. It can be like a demo account.
Is AdvCash Safe to Use?
AdvCash is a safe-to-use platform. It adheres to multiple security features to protect the security needs of the traders/users. In addition, the platform and wallet are protected in a standard way.
The platform is protected in the following ways:
Geo-distributed data backup system
Secure database encryption
Cloud web application firewall
Two-factor authentication in all key sites
The wallet is protected in the following ways:
Intelligent identification
Tied to IP or IP range
Payment Password
Code card
SMS Authorization
How to Create an Account on AdvCash
The first step is to go to the official web page of AdvCash and click on "sign up now."
Select what kind of account you want to create. A personal or business account. For a business account, you will have to give more information. While for personal accounts, the information being asked will be less.
Complete your KYC verification and get access to the advanced load, transfer options, full transaction limits, ADV cards, and more.
Once you have signed up, the dashboard looks like the following image.
AdvCash Review: Customer Support
The platform provides attentive customer support through various modes. You can avail of their customer support by any of the following:
Ticket System: The platform provides a ticket system where you get help from a professional. Your problem will be solved irrespective of the difficulty level within a quick span of time.
FAQ: A descriptive, frequently asked question is laid out on the platform. You can easily browse and check out your query. The FAQ also covers educative information. You can learn about it, and this, in turn, may help you solve your query.
Online Chat: You can simply ask for help in the online chat system.
Forum(Coming Soon): Soon, AdvCash will be launching a forum where you can talk and discuss questions pertaining to the platform and its features and services.
You also get live 24/7 agent support. While you can also mail them at [email protected]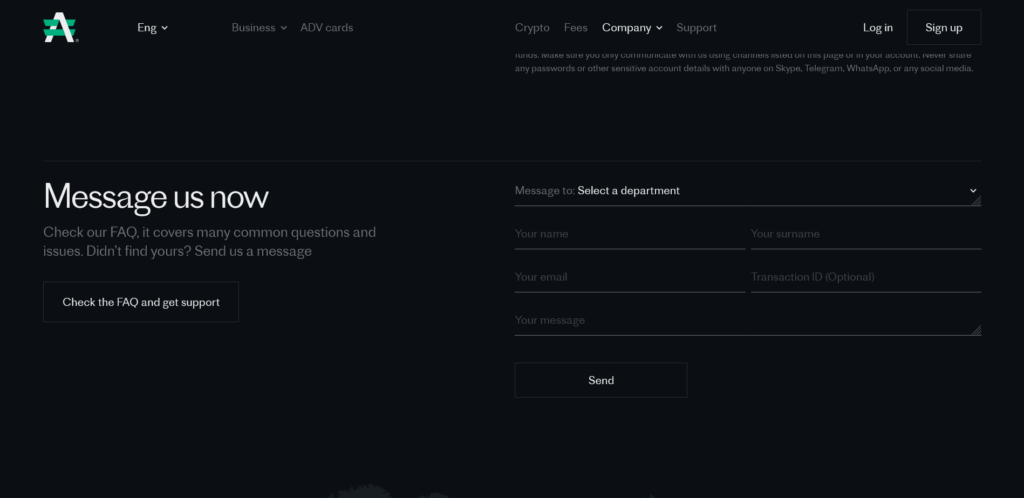 AdvCash Review: Pros and Cons
| PROS | CONS |
| --- | --- |
| The platform provides both virtual and physical cards. | Limited cryptocurrencies are allowed. |
| Low fees along with low conversion charges | Minimal academic content is provided. Moreover, no blog section is provided. |
| No maintenance fees or subscriptions or plans are supposed to be purchased. | Only a few products are offered. |
| High-security protocols. | No mobile application. |
| Live 24/7 customer support is provided. | |
| Easy-to-use interface. | |
| The platform has an e-wallet of its own. | |
| The platform lets you connect your Binance account. | |
Conclusion
Through a new platform, awareness about the platform is gradually increasing. Other features like minimum charges and no hidden costs make it worth trying. Moreover, a new product launched recently is the facility to connect your Binance account. You can manage your portfolio with minimal charges. AdvCash is clearly a safe platform to use. However, the platform is yet to come up with a mobile application.
How do I deposit money into my AdvCash account?
To deposit money into your AdvCash account you need to log in to your account. Once you come to your dashboard or opening page. Click on "Deposit Funds" you can find this on the top left corner of your screen. 
How do I withdraw from AdvCash?
To withdraw funds from your AdvCash account, go to "Send Funds." Verification is mandatory to withdraw. You can withdraw or transfer to ADV user, a bank, visa or master card, email, cash, and exchange. 
Is AdvCash legit? 
Yes, AdvCash is a legit platform. The platform is licensed in Belize by IFSC. In Europe, payments are processed via an agent of Nordpay Financial Limited, an FCA-regulated provider of financial services.
Can I use AdvCash in India?
Yes, you can use AdvCash in India. 
Also read,