You can also stay Cryptodated by Listening to Our Crypto News Podcast
Plugin on any of the platforms below and enjoy, or get access directly by clicking here!
Apple Podcasts | Stitcher | Spotify | Anchor | CastBox | Google Podcasts
CoinCodeCap Weekly brings you an entire week's news in one article. Got no time to stay updated during weekdays? No worries, we got your covered!
6th December 2021
Authorities in Russia and Ukraine shut down illegal mining centers allegedly powered by stolen electricity. Underground farms have been discovered in and around the Ukrainian and Russian capital cities of Kyiv, Moscow, and the Russian republic of Dagestan. In addition, a large amount of electricity was stolen from the Rosseti network in Moscow Oblast.
Music artist Sia Furler launched her NFT collection on Opensea. Bankman-Fried announced the collaboration on Twitter. Sia hopes to share NFT projects with her fanbase and let them vote on which songs she writes. In addition, she intends to use the platform to distribute gifts to her fans.
The future of CBDC adoption and China's influence over it in terms of the CBDC design trade-off for central banks is between fulfilling user privacy demands and enabling authorities to access user identities and transaction data to reduce the risk of illegal financial activity. Fears of spamming and identity theft, as well as being stalked or robbed, may influence privacy preferences. On the other hand, a completely open CBDC could also raise worries about digital surveillance, particularly in nations where public institutions are distrusted.
Huobi and the Shiba Inu community will support BitMart in overcoming a $200 million hack to improve security and track inflows of stolen assets. Huobi announced shortly after BitMart CEO Sheldon Xia confirmed the hack that it would assist BitMart in monitoring the inflow of assets on its exchange and reporting matches to the stolen funds. The Shiba Inu community also confirmed that it would assist the hacked crypto exchange, citing their ongoing work to assess potential security risks for ShibaSwap, a community-developed decentralized exchange.
Bilibili announced its full entry into the blockchain and meta-universe markets by testing its "UPowerchain" in connection with its Metaverse business. UPowerchain is a native digital community built for new applications, cultures, games, and digital assets, and it will eventually support community governance.
Bitwage processes the world's first bitcoin payroll using the lightning network by partnering with Voltage and ACINQ. The company used the Lightning Network, Bitcoin's layer 2 scaling solution for quick and cheap bitcoin payments, to process a salary payment.
7th December 2021
The Bank for International Settlements, or BIS, published a report on Monday examining the state of the decentralized finance, or DeFi, industry. "There's a "decentralization illusion" in DeFi since the lack of governance forces some degree of centralization, and structural elements of the system result in a focus of energy," the essay began. Furthermore, certain DeFi blockchains concentrate power in the hands of large coin holders or insiders in token sales.
The GameFi projects' play-to-earn structure is unprecedented, allowing players to add real-world value to their in-game purchases. In-game objects and products are stored on a blockchain, a distributed public ledger that runs on a crypto network. This blockchain technology lets players swap in-game tokens and products for cryptocurrencies and, eventually, real money.
More ransomware hackers have been apprehended, and the effectiveness of the authorities in their investigation into REvil today demonstrates that the fight against ransomware is not as hopeless as it appears. Hackers who use ransomware to extort money from their victims were once thought to be challenging to catch. The term "affiliates" is well defined in the network economy.
Colombians can now buy cryptocurrencies through Bancolombia, the country's largest bank, beginning December 14. As part of a one-year pilot program, a limited number of Bancolombia clients will be able to purchase Bitcoin, Ethereum, Litecoin, or Bitcoin Cash from their accounts.
Bancolombia will handle clients' fiat funds, while Gemini will provide cryptocurrency exchange and custody infrastructure, whether for withdrawals, deposits, or asset holding.
BJP MP Nishikant Dubey states 'crypto must be banned' as he believes crypto will be used for prostitution, terrorism, and other illegal activities. He compared the current scenario in the country concerning cryptocurrencies to the Tulip Mania in Holland in the 1600s, raising the subject during the Lok Sabha's Zero Hour.
According to research released by the World Bank, UNESCO, and UNICEF, COVID-19-related learning losses might cost this generation of students almost $17 trillion in lifetime earnings. Yet, fewer than 3% of government stimulus packages have been dedicated to education. For immediate learning recovery, much more money will be required. While nearly every country in the world provided students with remote learning options, in most cases, they offered only a partial substitute for in-person education.
The Financial Services Agency (FSA) of Japan has announced that stablecoins to face new restrictions in Japan. FSA has declared the updated restrictions on stablecoin issuance in the country. As a result, only banks and wire transfer services will issue stablecoins in the future.
Former Google CEO Eric Schmidt offers years of experience in the field of oracles. Schmidt can work with Chainlink Labs on several significant projects.
8th December 2021
8ight finance was hacked, and all funds in the treasury were withdrawn due to a leak of the private key as a consequence of a google doc. The private key was compromised, and the funds were removed from the treasury. The platform tweeted about the loss and put up the explanation leading to the losses of funds in their discord server. The platform further notified the community about the loss of the private key and assured them they were doing everything in their power to recover the losses.
Ubisoft is the first major video game publisher to make in-game NFTs available. The first digits to be tested on Ubisoft Quartz will be compatible with a computer game called Tom Clancy's Ghost Recon Breakpoint. Ubisoft Quartz will be used to organize and distribute its playable NFTs. Digits can be obtained through Ubisoft Quarts and then used in various ways in video games.
Visa announces the launch of a new crypto consulting service for its clients and partners through its Visa Consulting and Analytics (VCA) division. Visa is launching new consulting and advisory services to assist its clients in navigating the world of cryptocurrencies. Per Reuters, American financial services company UMB is Visa's crypto advisory services client.
Russian Strip Club joins NFT hype by recently debuting an NFT series on the Rarible marketplace. Four tokens have been auctioned off. Three tokens entitle holders to a service in any network club. By purchasing this NFT, the owner will receive copyright and, if desired, will prohibit the track from being played in any of the network's clubs. A token for a 3-hour limousine ride, for example, costs 0.45 ETH, and a club rental for 4 hours costs 0.54 ETH.
Jelurida and Accenture team up to develop mainstream blockchain integrated business models. The partnership of two giants is part of Senator, a blockchain project supported by the European Union. Senator is on a mission to create policy scenarios for urban planning and strategy development. Jelurida's participation is critical in developing blockchain solutions for high-level scalability.
Shiba Inu crypto is now accepted by Travala after the meme coin won a Twitter poll. Its adoption has increased steadily since Travala listed dogecoin in May 2021. Shiba Inu has been introduced to Travala's website as a payment mechanism, and it may now be used to book over 3 million travel products globally.
Sandy Carter has joined the Unstoppable Domains executive team as senior vice president of business development. The company, founded in 2018, sees itself as a portal to the decentralized web, providing Ethereum-linked NFT domain names as a more accessible alternative to alphanumeric wallet addresses.
9th December 2021
A couple got married in the Metaverse, demonstrating the potential of having a wedding free of the constraints of reality. Dave and Traci Gagnon had avatars built based on personal images and attire for their in-person ceremony for their metaverse wedding.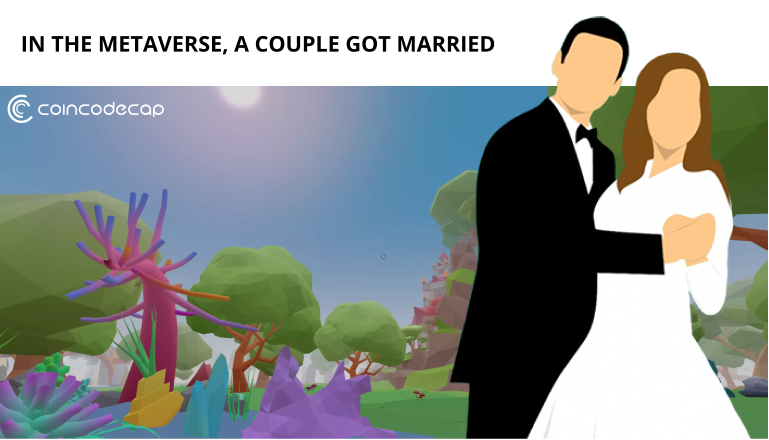 OrionsWarriers claims to be a network where the worlds of crypto and gaming are becoming increasingly intertwined with each passing day, as they bring together the best graphic designers, marketing agents, and token developers to kickstart the formation of OrionsWarriors. Detectors essentially prohibit websites that imitate well-known and established sites or utilize their interfaces to collect user signing keys (particularly cryptocurrency keys) and send them back to home servers.
Ledger launches crypto-linked debit cards for U.S. and E.U. customers issued by Baanx, an affiliate of Contis Financial Services. The Crypto Life card, which supports a variety of cryptocurrencies, can be tracked using Ledger Live, the software companion to Ledger's hardware wallets.
WhatsApp launches instant cryptocurrency payments in the U.S. The pilot program allows the encrypted messaging app users to send and receive money "instantly, securely, and without fees" by using the Paxos Dollar (USPD) stablecoin, pegged to the U.S. dollar. The small pilot program is available to some users in the U.S.
Fixed-term deposits are now available on Hodlnaut through the release of its long-awaited Android app. After a successful beta test in September 2021, the Singapore-based crypto lending and borrowing platform launched its Android application. The fixed-term deposit, unlike Hodlnaut's present open-term deposit, will allow retail customers to earn the best interest rates available. This function is designed to assist users in earning high-interest rates and growing their cryptocurrency holdings while using Hodlnaut.
10th December 2021
NFTs By Pepsi are on their way. On the Ethereum blockchain, the Pepsi Mic Drop genesis NFT is a generative-style collection of unique NFTs. With a massive drop featuring one-of-a-kind Generative-Style NFTs, the collection honors the brand's legacy in music.
Coinbase Global Inc. has launched its first yield product, allowing customers outside of the United States to receive interest on their stablecoin holdings via a third-party decentralized financial platform. Customers in over 70 countries will be able to access the "attractive yields" of decentralized finance by depositing their Dai, a stablecoin designed to be pegged to the U.S. dollar, into Compound Finance, a DeFi protocol.
A distributed denial of service (DDoS) attack has apparently hampered Solana's blockchain performance, but the network appears to have remained online the entire time. A DDoS attack is when many coordinated devices, such as network botnets, flood a network with bogus traffic to take it down.
A new proposal in the Brazilian Congress calls for a tax exemption on the importation of cryptocurrency mining equipment and mining done with renewable energy sources. As per a report published on December 4 by Brazilian news source Seudinheiro, a series of recent recommendations from Brazilian politicians may reduce the amount of criticism crypto would face in South America's largest country.
Ross Ulbricht, the claimed founder of dark web marketplace Silk Road, has sold his first non-fungible token (NFT) at auction for $6.2 million or 1,446 Ether (ETH) after announcing the opening of his "Genesis Collection " auction. FreeRossDAO intends to fractionalize the NFT into ROSS governance tokens and distribute them pro-rata in exchange for donor contributions. In addition, ROSS owners will be eligible to vote on initiatives and contribute to FreeRossDAO's governance.
Baidu, the Chinese search engine behemoth, has announced the launch of its metaverse product "Xirang" on December 27, along with the first Baidu A.I. Developer Conference. More than 100,000 people will be connecting simultaneously during the event.
People scammed with fake Michael Saylor live stream. There was a video of Michael Slayer from a show played as a live stream. Further, the video asked people to visit a website, BTCSLAYOR [.] I.O. The channel demanded users participate in the free giveaway of 15,000 ETH and 5,000 BTC. The live stream claimed to send double the value of ETH/ BTC you'd send them.