Key Takeaways:
A couple got married in the Metaverse, demonstrating the potential of having a wedding free of the constraints of reality.
Dave and Traci Gagnon had avatars built based on personal images and their attire to their in-person ceremony for their metaverse wedding.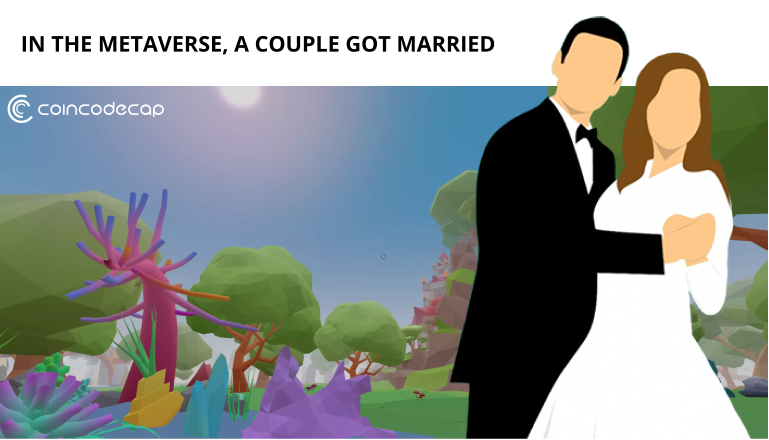 Traci and Dave Gagnon met on the cloud, so it was only natural that their wedding would be held there as well. The pair – or rather, their digital avatars – married on Labor Day weekend in a ceremony hosted by Virbela, a firm that creates virtual environments for work, learning, and events.
Ms. Gagnon's avatar was escorted down the aisle by her close friend's avatar. Mr. Gagnon's avatar stood there watching as his friend's avatar walked up to the platform and gave a toast. Finally, 7-year-old twin avatars (the ring bearer and flower girl) danced at the reception.
Technology is being utilized in ceremonies more than ever before due to the Covid-19 epidemic. There have been Zoom marriages, and some in-person ceremonies now include a broadcast component for those unable to attend. Last year, a couple whose wedding was postponed due to the epidemic held an (illegal) ceremony within the famous video game Animal Crossing.
Weddings held only in the Metaverse are currently illegal, like those held in video games. (Even virtual weddings via videoconference, which were permitted in many states during the pandemic shutdowns, have subsequently been forbidden in New York State and elsewhere.) However, experts predict that the Metaverse will take these virtual weddings to new heights, providing couples with nearly limitless possibilities.
"There are no boundaries," said Sandy Hammer, co-founder of Allseated, a company that develops digital wedding planning tools. The corporation is putting money into the Metaverse by producing virtual replicas of real-world event sites like New York's Plaza Hotel.
"In the metaverse, you might as well let your creativity run free if you really want to accomplish anything unusual."
"They're going to take their pals on a space rocket," Ms. Hammer added, imagining wedding parties digitally traveling around the world. For example, a bride can send her guests into the Metaverse by saying, 'I want my morning session in Italy and my evening session in Paris.'
Nathalie Cadet-James, a Miami-based wedding planner and designer, approaches the Metaverse with "a beginner's mind of joy," anticipating how her position will change.
"I believe my function will be more like that of a producer or a film director," Ms. Cadet-James explained. "I might be able to make a set that I've improved. As you move inside the place, flowers may emerge from the ground. Because we can, I'd add whimsy and fantasy to it."
Of course, this would necessitate the talents of a software engineer, a position that is currently not included in any regular wedding budget.
The Gagnons had a type of hybrid wedding. The pair married in person on September 4 at Atkinson Resort & Country Club in Atkinson, New Hampshire, where they live, in a ceremony officiated by David Oleary, a friend, and colleague ordained by the Universal Life Church, while also having a virtual marriage in Virbela.
They broadcasted their wedding to those who couldn't attend in person. Guests of the virtual ceremony were expected to use a computer and download software before creating an avatar.
At present, it's anyone's guess how the immersive virtual world known as the Metaverse will alter the traditional wedding. However, the prospects of having an event outside of reality's constraints are intriguing enough to contemplate.