There is a lot of hype in the crypto market about automated cryptocurrency trading bots. For people asking, "What is a Crypto Trading Bot?" Well, a bot is a software program that performs a specified set of tasks within some defined rules, and so, a crypto trading bot is a software program that conducts trading within the rules defined by traders. Moreover, since it's a software program, it runs automatically after the initial setup. Check out these 15 Best Paid and FREE Crypto Trading Bots.
Why do we need Crypto trading bots?
The answer is pretty simple; crypto bots overcome all physical and computational limitations of humans. In theory, these bots are supposed to generate profits by looking through the exchanges for even the smallest of changes in the market, monitoring prices 24/7, and high-speed decision-making.
There is a lot to be uncovered in this area. Therefore we bring you the best crypto trading bots in the market and their features to help you stay top on the subject.
A little heads up, a long but informative article ahead!!
Plus, if you plan to dive deep, we have provided valuable quick links to reviews in the segments below.
Best Crypto Trading Bots
We have gathered a list of what we feel are the best bots out there, and therefore the article is intended to be reasonably educational. Without further ado, let's briefly discuss these bots so you could find the best one suited for you.
1. Pionex
Pionex, being an exchange that provides in-built trading bots, is quite famous for being one of the lowest trading fees in the market.
Highlights
It is licensed by FinCEN (US Financial Intelligence Unit). This makes it easier for US citizens to use the services.
KYC is optional and it won't impact the services the users can use, apart from withdrawal limits and such.
An additional app Pionex Lite was launched that supports buying Bitcoin and Ethereum using USD. Furthermore, it is meant for users who are pretty new to trading bitcoin and ethereum using bots.
With their spot-futures crypto Arbitrage Bot, you can earn about 15%-50% APR with low risks. Moreover, you can use it as a Bitcoin Arbitrage bot since bitcoin has the largest market. To learn more about it click here.
A limit of 30 bots per pair is applicable on Pionex.
2. Coinrule
Coinrule is a platform that provides automated trading without having to understand code-based technicalities.
| Platforms Available | Web platform. |
| --- | --- |
| Tokens | All leading tokens are supported for trading. |
| Trading Bots | Rule-based trading bots |
| Subscription Fees/Price | Starter: Free Hobbyist: $29.99/month Trader: $59.99/month Pro: $449.99/month |
| Exchanges | 10+ including Binance, Coinbase Pro, Kraken, etc. |
Highlights
Coinrule connects to the exchanges via API and the funds stay on the exchange as a security measure.
Its working strategy is around the IFTTT (If This Then That) concept. Hence, no coding is required.
The Coinrule crypto trading strategies and indicators include: Relative Strength Index
, Moving Average, Contrarian, Trend Following, Accumulation.
It provides demo exchange and backtesting.
The technical analysis that it provides helps in making informed decisions while investing based on numbers.
3. 3Commas
3Commas, established in 2017, is a crypto trading platform with tools for automated bitcoin trading and altcoins, and portfolio management.
| Platforms Available | Web platform, Mobile Platform (Android, iOS) |
| --- | --- |
| Tokens | All leading tokens are supported for trading. |
| Trading Bots | 23 Bots available that follow famous algorithms and strategies. |
| Subscription Fees/Price | FreeStarter: $14.5/month Advanced: $24.5/month Pro: $49.5/month |
| Exchanges | 23 major exchanges, including Binance, Coinbase Pro, Kraken, FTX, Bittrex, etc. |
Highlights
3commas has SmartTrade combined with TradingView indicators to trade efficiently just by connecting API.
It accepts Credit cards, PayPal, and bitcoin as payment methods.
It deploys 2FA for security and does not hold your funds on its platform. Therefore it doesn't have the right to withdraw or manipulate your funds.
You can customize your 3commas bot which is susceptible to TradingView signals to receive notifications.
You can go through the academy and learn about setting up a 3commas bot.
For trial purposes, it provides a 3-day full access trial period.
It has a dynamic trading terminal, an interface that allows the management of multiple exchanges.
The bot services differ by platform. Check the limitations here.
Automated trading can be executed as one of the following:
Single-pair bot: Runs with a single trading pair.
Multiple-pair bot: Runs with multiple trading pairs.
Long algorithm: Buys a coin and sets the selling price higher than the bought one.
Short algorithm: Sells a coin and places an order for buy at a lower price.
Analyze and copy bots: Users can examine and copy the techniques of other bots on the platform.
Moreover, 3commas signals let you follow experienced traders.
3Commas Plan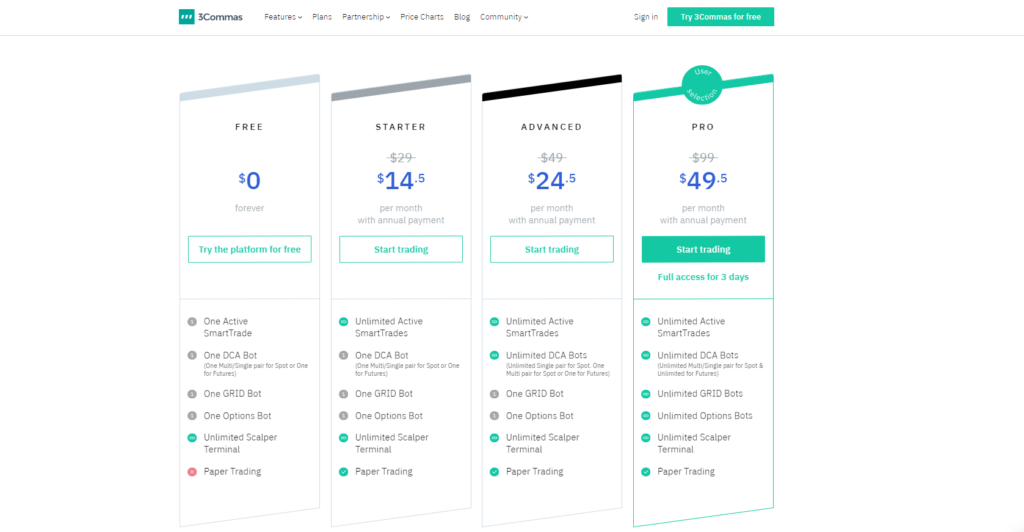 4. Bitsgap
Bitsgap is a multi-exchange trading and asset management tool for cryptocurrency. It provides services like Signals, Trading Bots, and Arbitrage in addition to trading.
| Platforms Available | Cloud-based Web Application with mobile compatibility. |
| --- | --- |
| Tokens | All leading tokens are supported for trading. |
| Trading Bots | Grid Trading Bots, Classic Bots, SBot Bots, and Combo Bots |
| Trading Fees | Basic: $19/month Advanced: $44/month Pro: $110/month |
| Exchanges | 25+ including Binance, OKEX, Kraken, KuCoin |
Highlights
Bitsgap works on subscription-based plans with a 14-day free trial, and its payment methods include Card, Paypal, Bitcoin, Litecoin, Ethereum, and altcoins.
With the Bitsgap signals tool, you can always stay updated on the best opportunities among the thousands of trading pairs.
It supports 10,000+ trading pairs.
It's a secure platform with RSA 2014-bit encryption. Moreover, it does not have access to your funds. The funds remain with the exchanges you use.
The Bitsgap strategies used for automated trading bots are:
The Grid Strategy: Buy when the price is below the current price and sell when the price is above the current price.
The Classic Bot Strategy: Buy and sell a fixed amount of base currency for each order. Use this for the market when it is in an uptrend.
Combo Bot for Futures Trading: Grid strategy along with DCA algorithms to always look out for movements and optimize the entry price. Although this generates high returns, it also comes with increased risks.
Spot Bot Strategy: Originating from a classic bot, you can buy/sell at a fixed price. It is most effective when applied to a sideways trend.
5. Cryptohopper
Cryptohopper is an automated crypto trading bot and a portfolio manager that aids the trading of coins 24/7. Data-driven and precise, its decision-making avoids emotional quotient while trading.
| Platforms Available | Cloud-based Web Application with mobile compatibility. |
| --- | --- |
| Tokens | All leading tokens are supported for trading. |
| Trading Bots | Bots, aka Hoppers, make use of in-house tools and in-built or self-designed strategies. |
| Trading Fees | Pioneer: Free Explorer: $19/month Adventurer: $49/month Hero: $99/month. |
| Exchanges | 15 Exchanges, including global exchanges like Huobi, Poloniex, Bittrex, Kucoin. |
Highlights
Cryptohopper provides an Arbitrage tool that functions without having users transfer funds between exchanges.
Market-Making bot for market makers who exploit the spread to tackle illiquidity.
Mirror trading as a service provides a mirroring strategy from expert users to lesser experienced ones by letting you buy templates, strategies, or signals.
Algorithm Intelligence(A.I.) is a feature that provides the best fit options for your strategies according to current market trends. Moreover, Hopper is an AI bot for your strategy, meaning you can add trends, and signal strategies to this algorithm, and it will get you the best result.
Now, correctly configuring Buy Setting, Coins, and the cryptohopper strategy can achieve the best Cryptohopper setting.
Moreover, it has Trailing tools to help maximize selling profit and buying cheaper with Trailing Stop Loss, Trailing Stop Buy, and Trailing Stop Short.
Paper trading is a demo trial to trade using accurate data to mock the real-life exchange.
Backtesting and Strategy Designer helps the user create and test strategies.
To keep up with today's trends, it has Cryptohopper signals as well.
Cryptohopper companion strategies help to complete the voids in other strategies to create a perfect one. They can be implemented together by AI.
Cryptohoppers Plan
6. Cornix
Cornix is an automated crypto trading platform using cutting-edge automation for novices and pros. Cornix empowers people everywhere to trade crypto successfully.
| | |
| --- | --- |
| Platforms Available | Web platform, Mobile Platform (Android, iOS) |
| Tokens | All leading tokens are supported for trading. |
| Trading Bots | Automated Signal following, DCA bots, and TradingView bots all are highly customizable. |
| Trading Fees | Free trial, Beginner: $19.9/month, Intermediate:$26.9,Pro:$38.4 |
| Exchanges | Supports all the major exchanges, including Binance, FTX, Kucoin, Bybit, and more. |
Highlights
Cornix has the largest marketplace of signal providers with millions of signals. Easily copy trades and generate a profit.
Cornix prioritizes safety as a core value. Every trader should be able to trade safely and have his funds protected.
Cornix lets you automatically trade with powerful bots, trade 24/7 – emotion-free.
Trade anytime, anywhere! With both advanced desktop and mobile apps.
Get complete visibility into your entire portfolio and individual accounts. Track your trades, signals, and bot activities in real time and over time.
No hidden fees, no commission fees, and no surprises.
24/7 World-class Support
Cornix trading bot helps you automate Telegram-based crypto signals by integrating your crypto exchange.
Moreover, Cornix has its mobile application and telegram bot to serve the purpose. All you have to do is download and connect Cornix to Telegram crypto signals channels, and its bot makes trade from your account.
It also offers TradingView alerts based on your trading strategy. In addition, It also launched a DCA bot recently.
Use code FREE to get a 10% discount on your Cornix subscription fee.
7. TradeSanta
TradeSanta is a powerful bot for crypto trading that lets you trade crypto like a pro without being one. Functional from the fall of 2018, it has achieved many feet and continues growing further.
TradeSanta provides a 3-day free trial after registering an account. During this free trial period, you can check all features of our Maximum plan, including virtual.
| Platforms Available | Web and mobile(Android and iOS) |
| --- | --- |
| Tokens | All leading tokens are supported for trading. |
| Trading Bots | Bots are strategies-based and execute daily, weekly, and hourly. |
| Subscription Fees/Price | $15/month Advanced: $27/month Maximum: $35/month (When purchased annually) |
| Exchanges | Binance, Binance Futures, HitBTC, Huobi Global, Upbit, OKX, Binance US, Coinbase Pro, ByBit , ByBit Futures, FTX, Kraken |
| Tools | Copy trading , Trailing Stop Loss, Stop Loss, and Trailing Take Profit, Technical indicators, including RSI, MACD or Bollinger signals, TradingView signals |
Highlights
Tradesanta has a very upbeat and creative UI.
It connects to exchanges via APIs and doesn't have access to users' funds.
It takes the exchange fee in the profit calculation.
Tradesanta Bot has Technical Indicators that can be chosen from Volume filter, Daily filter, and Bollinger signal or use these 3 filters at the same time:
MACD: Moving Average Convergence Divergence
RSI
Bollinger signal
Tradesanta Strategies: There are two at the moment, Long and Short. For both strategies, you need to have coins in balance.
It provides various tools that make up for good trading.
Martingale: Helps to recover the lost capital, best to be used by experts
Buying Coins for Commission: When enough money is not there to fulfill an order.
Stop Loss: Stop trading when the trade is making a negative impact.
Entering at Market Price: This allows to deal immediately without having to place at an optimal price.
It allows a 3-day free trial of the maximum package and a Minimum plan that is free of charge and covers two DCA bots.
Is Tradesanta free?
The package is as follows
8. CryptoHero
CryptoHero is a cloud-based crypto trading bot platform, which places trades 24/7 on crypto exchanges. Furthermore, CryptoHero bots are simple and intuitive for crypto beginners to set up and run.
| Platforms Available | Web and mobile (Android and iOS) |
| --- | --- |
| Tokens | All leading tokens are supported for trading. |
| Trading Bots | Bots operate with strategies and technical indicators. |
| Subscription Fees/Price | Basic: Free Premium: $13.99/month Professional: $29.99/month |
| Exchanges | 12 exchanges supported. |
Highlights
Users can connect to multiple exchanges.
It accepts cards for the web platform, Apple Pay can be used for the iOS platform and USDT.
Automation Strategies include:
Trade Parameters: Set parameters to perform trade 24/7.
Long Strategy
AI Optimized Bots: Run bot simulations and copy the best bots created.
Short Strategy
Entry and Exit Conditions: Set rules to enter/exit positions.
Since it has a visual interface, no coding is required.
Users can backtest strategies.
Technical Indicators present:
Bollinger Bands(BB)
Relative Strength Index(RSI)
Exponential Moving Average(EMA)
Stochastic RSI (SRSI)
Also provides paper trading to help understand technicalities without any loss.
Highlights
9. Botsfolio
Botsfolio is one of the simplest and easiest platforms for crypto trade automation, with one of the best risk management.
| Platforms Available | Web Platform |
| --- | --- |
| Tokens | All leading tokens are supported for trading. |
| Trading Bots | Automatically deployed with professional investment strategies. |
| Subscription Fees/Price | $1k-$3k: $5/month $3k-$10k: $10/month$1 0k-$50k: $15/month $50k-$100k: $20/month |
| Performance Fees | 15%, charged quarterly on profits added to the subscription fee. |
| Exchanges | Binance.com, Coinbase Pro |
Highlights
Botsfolio accepts ETH, BTC, BitcoinCash, and Litecoin as payment.
It doesn't have access to the user's funds.
Automatic segmentation of funds into a blend of long-term and short-term strategies. This is based on the user's profit demand.
There is no prerequisite for knowing to code, the process is automated in itself.
Botsfolio Strategies used by the platform:
Value Investment Strategy: Investing for the long term in 80-20 for large and small caps.
Hedged Trading Strategy: mix of spot and futures trading instruments to play hedged trades that reduce potential losses yet boost ROI by getting exposure to leveraged positions.
Futures Trading Strategy: Automated active trading of large-cap cryptos using a mix of trading strategies on futures instruments.
Fixed Income Savings Account: Grow your wealth at a fixed rate of 6 to 8% per year on dollar-pegged USDT.
Botsfolio Pricing
10. Botcrypto
Botcrypto is a platform for creating a trading bot to trade automatically in the simplest way possible.
| Platforms Available | Web Platform |
| --- | --- |
| Tokens | All leading tokens are supported for trading. |
| Trading Bots | Bots that function according to technical indicators. |
| Subscription Fees/Price | Discover: FREE Bronze:€12.49/month Silver: €37.49/month Gold: €74.99/month |
| Exchanges | Kraken and Binance. |
Highlights
Your funds are safe at the exchange as botcrypto doesn't have rights to withdrawal.
The visual editor creates the strategies and hence no need for coding knowledge.
Backtesting of strategies provided on more than 3 years of historic data.
Payments accepted on Botcrypto are cards, PayPal, BTC, ETH, and LTC.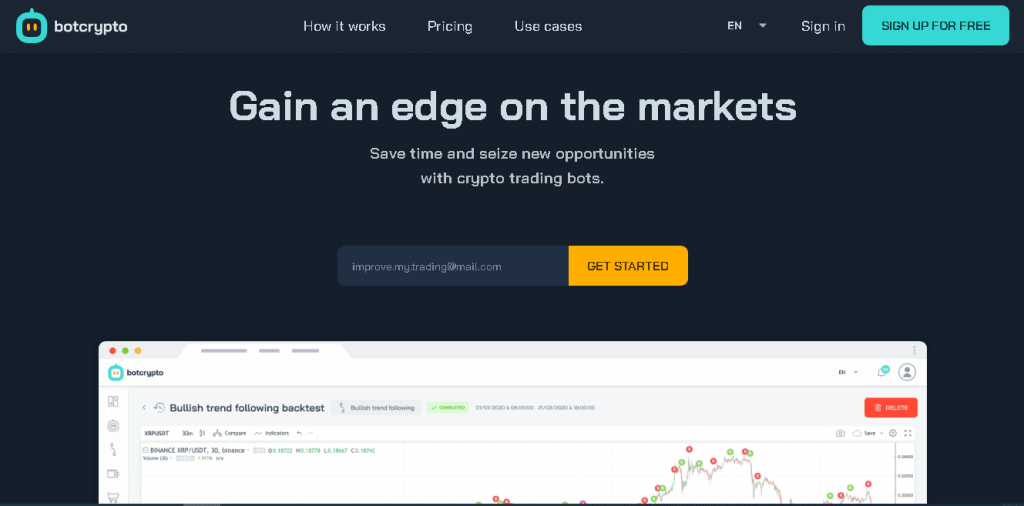 ~26 indicators are present on the platform including RSI, BB, and Exponential Moving Averages(EMA).
For yearly billing, users can save up to 20% on the total amount.
Botcrypto Pricing
11. Trality
Founded in 2019, Trality is a platform to profit from automated trading without spending too much time on it.
| Platforms Available | Web Platform |
| --- | --- |
| Tokens | All leading tokens are supported for trading. |
| Trading Bots | Automatically deployed with professional investment strategies. |
| Subscription Fees/Price | Pawn: Free Knight: €9.99/month Rook: €39.99/month Queen: €59.99/month |
| Exchanges | Binance, bitpanda, Kraken, coinbase pro |
Highlights
Trality accepts ETH, BTC, BitcoinCash, and Litecoin as payment.
The tick intervals supported at the platform are 1m, 5m, 15m, 30m, 1h, 6h, 12h, and 1d.
Ways to create a Trality trading bot :
The Code Editor: Users who are adept in Python can create their strategies with already existing and more-to-come python libraries.
The Rule Builder: Users can build their bots by using predefined strategies.
Use backtesting to test how efficient the Trality bot code and custom-built strategies are.
The platform is highly secure as it doesn't have access to any of the funds. Moreover, all trading strategies are end-to-end encrypted.
Paper trading at trality is done via virtual accounts.
Trality Pricing: Below image shows the pricing at Trality. They offer a 20% discount for yearly subscriptions.
12. WunderTrading
WunderTrading is a crypto exchange that has automated trading as one of the many services. It currently offers bitcoin and other cryptocurrency exchange services, social trading platforms, bitcoin payment processing services, and over-the-counter services.
| Platforms Available | Web Platform |
| --- | --- |
| Tokens | All leading tokens are supported for trading. |
| Trading Bots | Automate TradingView Scripts into bots. |
| Subscription Fees/Price | Free: $ 0.00/month Basic: $ 9.95/month Pro: $ 24.95/month Premium: $ 44.95/month. |
| Exchanges | Binance, BitMEX, FTX, Deribit, Kucoin, Kraken, Bittrex and more |
Highlights
Multiple account management is a service that WunderTrading provides that lets users manage multiple accounts.
Arbitrage Trading and Grid Trading are soon to be launched on the platform.
Crypto Portfolio Tracker tracks all balances automatically.
WunderTrading Automated trading here has the following features:
Crypto Signal Marketplace: Copy traders can select the best crypto trading signals and automatically follow them.
Smart Trading: Flexible way of creating orders for smart trading: adding and editing Take Profit, Stop Loss and Trailing stops to any order.
Spread Trading: Spread trading terminal let you select the assets you would prefer to use for creating a spread.
Crypto Trading Bot: Help you to automate any TradingView scripts into the fully functioning crypto trading bot.
Dollar-Cost Averaging (DCA): DCA is an investment method in which you buy a certain portion of the asset after the determined price deviation.
It provides a 7-day trial on the PRO plan for Free.
WunderTrading Pricing: This can be paid via Paypal and crypto. For opting for a monthly package of more than 1, the following discounts are applicable:
3 months plans: 10% discount
6 months plans: 15% discount
12 months plans: 30% discount
13. Superalgos
Superalgos Project is a token-incentivized open-source project building an open trading intelligence network; in short, it is an open-source crypto trading bot.
| Platforms Available | Cross-Platform: Windows, Linux, MAC OS, and for users mobile supported. |
| --- | --- |
| Trading Bots | Bots get created by experts and passed down to users to utilize. |
| Subscription Fees/Price | Open source trading bot project. Zero cost. |
| Exchanges | 120+ exchanges and counting. |
How does Superalgos work?
In layman's terms, it is an open-source environment accessible to all.
Algo Traders:
Superalgos Platform: Desktop or server. It consolidates all elements of the environment to make automation happen.
A visual scripting environment: Non-technical users and developers can visualize their automation process on this.
Broadcasting signals: For users to implement the automation and experts to profit from their automation.
Superalgos is a one-stop-shop for designing, building, testing, and deploying crypto trading bots.
Crypto Users:
Platform: The platform available to users are Mobile phone,desktop or servers.
Get Signals: Free of cost signals from professional traders.
Automated Trading: The apps present in the environment automatically process the signals or send notifications in case of manual confirmation.
Follow: Users only need to follow the traders they can trust, and all the research and strategies can be used after that.
How does Superalgos work?
For a free crypto trading bot, Superalgos has state of an art interface and a visually great website which adds to its feature.
It provides an AI crypto trading bot that keeps on enhancing with the continuous increase in expertise.
Superalgos (SA) Token is their platform token distributed to users/traders for their contribution.
It is a complete domain where one can mine for indicators, use analytics to make automated bots and then distribute them to reach the desired target audience.
You can work with any of the markets/pairs listed on supported crypto exchanges.
The functioning of the exchange is the same as the rest of the platforms.
Superalgos is a free bitcoin trading bot; hence you can trade Bitcoin. In addition, all altcoins listed by the exchange can also be traded.
Necessary documentation is available on the platform.
14. Altrady
Altrady's unique automated crypto trading tools have thousands of traders using it every day to maximize returns by automating their trades. The company offers several types of bots, including GRID and SIGNAL Bots that provide experienced traders with an easy way for them to take advantage in fast-paced markets without having any knowledge or skill set on hand.
Highlights
The Altrady GRID Bot is the perfect tool for traders who want to take advantage of both up and down market trends. With it, you can specify an upper price limit as well as lower one so your trades will always be safe even if there's a huge move in either direction! You also have Take Profit and Stop loss available which makes trading easier than ever before.
Signal bots are a great way to get in on the action with minimal effort. Simply configure your entry and exit settings, then let this bot do all of the work for you! In order to use the Signal bot with custom signals, you will have to configure a signal bot with webhook.
Altrady Features
Trade on multiple exchanges and exchange accounts
More than one account on a single exchange
Real time break-even calculation
Offline price and order alerts
Visual trade feedback on the chart
Unique integrated market scanners
Trade automation with take profit and stop loss
Signal bots with trading view webhook or Crypto Base Scanner signals
Grid bots with trailing up and down
Portfolio management with sub accounts
Trading analytics
Worth mentioning that they are continuously improving their set of features, and on their short roadmap Q3-Q4 of 2022, they will add:
New mobile app
Portfolio with external wallet support
Dex integration
Paper trading
How to choose a crypto trading bot?
Explore the following before opting for a Cryptocurrency Trading bot.
Paid or Unpaid Service
* Most of the cryptocurrency bot services in the market have layered subscription plans that add or subtract the level's features.
* For a beginner, it's important to note whether the zero-fee plans have a free trading bot in the features or not.
Trading Fees on the Exchange
* If the trading fee incurred negates the profit earned through the crypto profit bot, you need to reevaluate your game plan.
* Crypto Bot Platforms with subscriptions often do not have trading fees as such, although some might charge performance fees.
Coding Prerequisites
* Make sure to note whether the platform requires any knowledge concerning coding.
* There are three ways automated crypto bots can be created.
* One is the drag and drop system, where coding is not required
* Second is via the code editor.
* And, final is the preset strategies available.
Signals, Technical Indicators and Trading Bot Strategies
* These are the fundamentals that make a bot and its platform great.
* Signals: Experts in the industry signal the buy/sell of crypto and share their own techniques to profit.
* Technical Indicators: These are metrics based on mathematical analysis on detecting future patterns for the market.
* Strategies: The techniques which make sure the bot makes profits. These techniques vary by market conditions.
Security
* The most secure way to deal with automated crypto bots would be to have the funds on the exchange rather than with the service provider. Furthermore, your funds will be as safe as the security provided by the exchange.
* Most providers connect to the exchanges via encrypted API keys. This way, your money is secure both ways.
Apart from the above, you can also look out for things like backtesting strategies, paper trading, copy trading, and cloud-based or not (all terms explained in the article).
What are some of the Strategies used by trading bots?
The most heard names in strategies for algorithmic/ automated crypto trading are:
Trend-following: The easiest one of the lot, is based on trends in the market or pre-defined and analyzed technical indicators.
Arbitrage: Taking advantage of the slightest changes in the prices on multiple exchanges is known as Arbitrage. Buy cheap at one exchange and sell at a high price on another.
Mean-Reversion: High and low prices of any asset are temporary, eventually returning to the long-term average.
Time Weighted Average Price (TWAP): Take a large order and break it into smaller orders on the go and release it in the market using even intervals between the start and end time.
Grid Trading Strategy: Orders are placed above and below a set price which creates a grid-like structure.
Accumulator: Buying of a certain amount of assets over a period of time.
Market Making: The trading strategy seeks to profit by providing liquidity to other traders and gaining the ask/bid spread.
What are some common technical Indicators?
The following is what many of the automated bots implement for gaining profit.
Bollinger Bands: The purpose of Bollinger Bands is to provide a relative definition of the high and low prices of a market. Moreover, it measures a market's volatility and identifies "overbought" or "oversold" conditions.
Moving Average Convergence/Divergence (MACD): Designed to reveal changes in the strength, direction, momentum, and duration of a trend in a stock's price.
Relative Strength Index (RSI): Intended to chart a stock or market's current and historical strength or weakness based on the closing prices of a recent trading period.
Stochastic oscillator: Refers to the point of a current price to its price range over a period of time
What are the different types of crypto bots?
The strategy can identify the type of bot it is based on. For example, a bot following the Arbitrage Strategy for crypto becomes a Crypto Arbitrage Bot, and so on. So a mix of technical indicators and strategies helps create bots that can generate profits.
Crypto Arbitrage Bot
Copy Trading Bot: When you copy other traders' strategies.
Grid Bots
Market-Making Bots
Trend Following Bots
Best Binance Trading Bots
As a Beginner: CryptoHopper, Bitsgap, 3Commas, you may also explore some from the list in the article.
For complete control: Quadency or HaasOnline. You should have a basic idea of HaasScript though!
Best Kucoin Trading Bots
Kucoin provides an in-house service. It is free to use and does not incur any extra charges for the GRID bot. You can learn more from our article on Kucoin Trading Bot from here.
Best Platform for Coinbase Trading Bot
Bitsgap
Quadency
3commas
TradeSanta
Best Bittrex Trading Bot
Coinrule is the best Bittrex trading bot for bitcoin trading as well as trading other leading cryptocurrencies. Moreover, it provides a basic, free subscription, meaning the Bittrex bot is free to use. You get 2 live rules and 2 demo rules with it.
Best crypto arbitrage bots
Pionex provides the best cryptocurrency arbitrage bots, which exploit the volatile crypto market and profit the users. We have already pointed out that you can generate a whopping APR in the range of ~15%-50% with this crypto arbitrage bot at a meagre rate. What is more, is that you can avail yourself bitcoin arbitrage bot for free!
Best free crypto trading bots
Pionex
Quadency
3Commas
CryptoHero
Trality
Superalgos
Crypto Trading Bots Pros & Cons
Pros
Radical Decision Making over Emotional Decision Making: When trading, bots will never have emotional outbursts to buying or selling. The trade will comply entirely with the logical rules defined. In short, it will never feel FOMO!
Bots are in action 24/7: Market never sleeps, and neither does a bot. So with bots, it is always possible to be on the lookout and make profits 24/7.
Strategic Analysis helps make calculated profits: With the help of backtesting, it is easier to test your strategy and make it perfect to respond to the market only in a way that generates profit.
Ease of Use: You need not check the market all the time. You just need to monitor the progress and status of the bots.
Cons
So, finally, the question is whether or not to use automated crypto trading bots? You can definitely use a bot, but it will not give you decent results if you fail to configure it properly. Therefore, thorough research is required before this automation. There are still suggestions on when you should and when you shouldn't.
Frequently Asked Questions
Do bots really work?
There is a mixed response among the community to this question. Some people have traded with bots and earned a profit, while others have lost money. The correct answer is that bots really do work when you have backtested your strategies and made sure that the math adds up.
Are crypto trading bots profitable?
It ultimately depends on the strategies and technical indicators used. You need to also keep in mind that different strategies work for various movements in the markets. Therefore it is advisable to understand things before jumping right into them.
How can you create a crypto trading bot yourself?
The creation of bots is more or less the same around every platform, and you need to follow the steps below to achieve it. – Select the exchange and connect to it via APIs. – Choose a strategy and device rules for it either by drag/drop or with a code. – Always backtest your strategies. Observe the result of your newly created bot on historical data and mark the results. – Deploy and monitor: Once your bot gives satisfactory results, deploy the bot and monitor its performance.
How to select a Crypto Trading Bot Software?
While selecting a trading bot, make sure you keep the following in mind. – The exchange you want the bot for. – Coding skills required or not. – Your budget for deploying the bot. – Do check out the sites and links for bots providers. Unfortunately, there are many scammers who take advantage of people with not much knowledge about crypto bots.