Among the multitude of crypto trading bots, Stoic, 3Commas, and TradeSanta stand out as the most mentioned platforms. A quick search returns plenty of reviews of Stoic and other crypto bots, yet there are relatively few direct comparisons.
This post will review Stoic vs 3Commas vs TradeSanta, exploring available crypto trading strategies and performance.
| Features | 3Commas | TradeSanta | Stoic |
| --- | --- | --- | --- |
| Plans | Several plans, ranging from free to $99 a month | $14 to $30 a month if paid annually | 5% of the balance, minimum $50 for a $1k balance. Up to 50% discounts available for referrals |
| Features | Lots of rich features for the advanced users but might be complicated for a new user. | Lots of features might be complicated, but bot presets help beginners | No settings required, just connect to Binance via API keys — easy even for complete beginners |
| UI/ App | Web app with all features as well as mobile apps with some features | Web app, iOS, and Android | Straightforward apps for iOS, Android, and the web — only used to quickly connect to the exchange |
| Support | Fast, responsive support | 24/7 support by email or in Telegram | Speedy support via in-app chat, email, and Telegram |
| MarketPlace | Yes, lots of presets and tools for the advanced trader | No | No, but a strategy works right out of the box |
What is Stoic?
Stoic is a simple crypto trading app with AI. Stoic connects to a user account on Binance (global or the US version) and automatically executes a trading strategy via the exchange API.
Unlike most crypto trading bots, there is only one strategy, which works immediately after connecting to Binance.
The strategy is a long-only portfolio of cryptocurrency assets. The weights are selected algorithmically based on quant research, considering both capitalization and momentum. Stoic's portfolio contains several dozens or even hundreds of different coins at any time. This ensures diversification and casts a wide net to capture all the moonshots.
Unlike other cryptocurrency trading bots, there is no subscription fee. Instead, Stoic charges a management fee of 5% of the starting account balance. The fees are paid upfront for an entire year in USDT as ERC-20.
Stoic requires a minimum starting balance of just $1,000. This means that practically anyone can try Stoic.
Also, read our Stoic Trading bot review to know more.
1. Stoic Crypto Performance
Stoic's strategy went live in March 2020. Since then, it has delivered an outstanding performance, beating both Bitcoin and an equal-weighted portfolio of crypto assets.
As of September 2021, Stoic returned +2,189% while Bitcoin made +809% and Crypto20 (an equal-weighted portfolio) returned +1,316%.
The latest performance data for Stoic is immediately available after signing up for the demo mode.
There is no magic behind this performance. It is well-known that assets with smaller capitalizations tend to outperform more significant assets. Stoic uses that observation and further boosts the returns by increasing the weights of assets that are trending upwards. That's known as momentum trading.
Now let's compare Stoic vs 3Commas vs TradeSanta — two other popular crypto trading bots.
What is 3Commas?
3Commas is a crypto trading platform for brilliant automated execution. The platform can connect to several dozen exchanges via APIs. This enables 3Commas users to create advanced orders and execute trades across several exchanges.
The API connection lets 3Commas users set up and run crypto trading bots. There are several strategies users can choose from.
3Commas' tools are offered via a monthly subscription, which costs up to $99 a month. Although some features (including one crypto bot) are available even with a 'free' plan.
Read our 3Commas review to know more.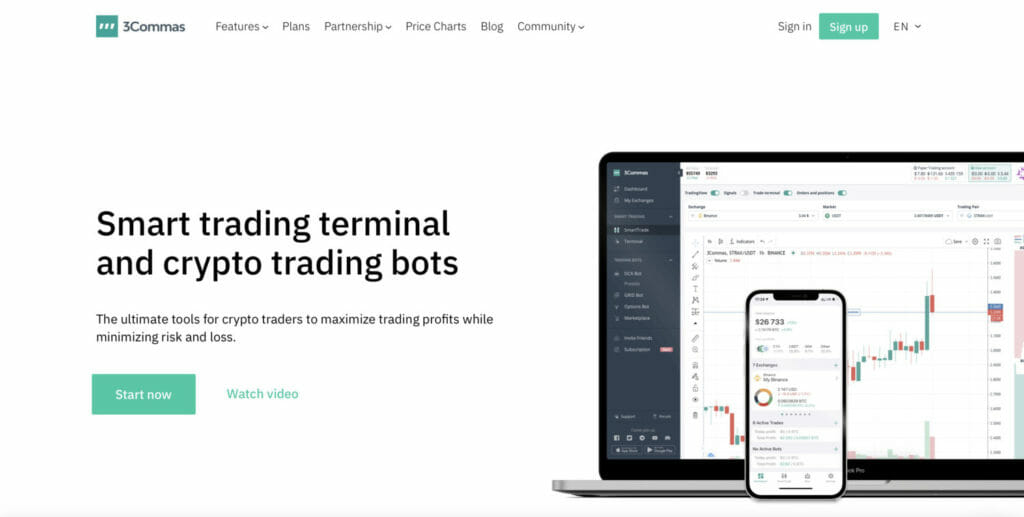 1. Dollar-cost-averaging Bots
This simple crypto bot lets users automatically buy crypto at regular intervals, such as every week or every month. In a volatile market, dollar-cost-averaging (DCA) bots help to avoid buying at the top. In theory, DCA bots help to get a better average price.
However, in a strongly bullish market, it's better to just invest the whole amount of money right away. If the price rises, DCA will only increase the average buying price.
2. Grid Bot
This type of crypto trading bot creates a grid of orders, and that's where the name comes from. The idea is simple: buy low, sell high.
The user defines the range for the grid. Then the bot creates buy orders below the current market price and the sell orders above the current price. The number of orders and the steps between them is up to the user to select.
Sounds complicated? 3Commas also offers an 'AI bot': just select the pair, and the bot will automatically select the range and steps. This is undoubtedly easier than selecting the range.
However, the hardest part is selecting the trading pair for the bot. The ideal pair should be volatile (the price moves a lot). That's because if the grid bot traded in the bullish trend, it would be left without a position when the price surges and would miss the gains. And if the price would crash, the bot would end up holding the bag.
Also, read 5 Best Crypto Grid Trading Bots | Grid Bot
3. 3Commas Options Bot
In addition to trading in the spot market, 3Commas helps users create bots for the options market. Currently, 3Commas options only work with Derebit exchange.
This crypto bot is quite different from DCA and Grid bots. Essentially, the options bots let users create advanced options trading strategies that simultaneously buy and/or sell several options. That would be useful for betting on the rise or fall of volatility.
Notably, the options bot visually represents the payoff for the strategy. Without a tool like that, it's pretty cumbersome to calculate desired strikes and expirations.
However, this options bot is not something that would run on autopilot. The user would need to constantly create new options strategies.
4. Marketplace Presets
Users who aren't sure how to set up their own crypto trading bot can grab a preset from 3Commas' Marketplace. Presets are crypto trading bot templates that were created by more experienced traders.
Also, read Cryptohopper vs 3Commas vs Shrimpy – Are you confused?
5. 3Commas Performance
Are 3Commas crypto trading bots profitable? some of them are! Yet like with manual trading, these crypto bots' performance heavily depends on the user's skills in reading the market. The bot helps automate execution, but it doesn't actually offer a strategy.
Crypto bot presets are an exception — they could be viewed as basic trading strategies. Yet the Marketplace only shows performance for the past month. And that's hardly enough to make a conclusion about each crypto bot's effectiveness.
Also, read Bitsgap vs 3Commas vs Quadency | Must Read
What is TradeSanta?
Looking at 3Commas vs TradeSanta, it's clear that both platforms offer similar software for automated crypto trading.
Like 3Commas, TradeSanta connects to crypto exchanges via API endpoints and lets the user execute manual and automated trades across all the exchanges from a single platform.
In addition to intelligent orders, TradeSanta offers three types of crypto trading bots: DCA bots, Grid bots, and Futures bots.
These features are available via monthly subscriptions: $14 (up to 49 crypto bots), $20, or $30 (an unlimited number of bots) a month when paid annually. The payments are made in crypto.
Read our TradeSanta Review to know more.
1. DCA Bots
On TradeSanta, DCA bots are different. There are two strategy choices: long and short. The long will buy crypto in several orders and sell it at a specified profit. The short will do the opposite: it will sell the base currency (e.g., ETH in ETH/BTC) in several orders and later aim to repurchase it at a lower price.
This differs from the regular dollar-cost-averaging strategy. Usually, DCA aims to offer a better entry price for a long-term position. Instead, TradeSanta's DCA bot tries to take advantage of short-term bullish (the extended version) or bearish (the short version) trends.
Also, read Dollar-Cost Averaging Trading Bot | DCA Bot with Pionex
2. Grid Bots
Like 3Commas, grid bots on TradeSanta create a grid of orders to buy low and sell high. To set up the bot, the user must select a trading pair and specify the volume for orders, the take profit percentage (how much profit the bot should take), and the step of extra order. There is also an option to use stop-loss orders.
On TradeSanta, the grid bot could use Bollinger bands, Moving average convergence divergence (MACD), or Relative Strength Index (RSI) technical analysis indicators to start each trade cycle. If these indicators aren't used, the crypto trading bot will start the next cycle once the last order in the previous grid is executed.
This type of crypto bot tends to work best in sideways markets.
3. Futures Bots
These bots are similar to TradeSanta's regular DCA bots, but they trade in the futures market.
This introduces another set of leverage. The use of leverage amplifies both risks and rewards. It's also essential to maintain an adequate margin balance. If the margin ratio reaches 100%, the entire position would be liquidated, and the bot will stop running.
Also, read 3 Best Futures Trading Bots | Future Bot
4. TradeSanta Performance
Like with 3Commas, it's hard to evaluate the performance of TradeSanta's crypto trading bots. The results depend on the user's skills and experience. TradeSanta's bots are tools, not ready-to-use strategies.
TradeSanta's community members occasionally share their top-performing bot settings, boasting 100-200% returns a week or even higher. However, it's not the result of the average user, and the winning crypto bot setup becomes apparent only in hindsight.
Conclusion
This post has reviewed different crypto trading bots, comparing Stoic vs 3Commas vs TradeSanta.
3Commas and TradeSanta offer powerful tools for automated crypto trading. In the hands of experienced traders, these services could become very profitable. The results of some users prove that.
Yet, for new traders, the process of setting up a crypto bot would likely prove to be too complicated. The user must correctly select an appropriate cryptocurrency pair and define dozens of parameters. Furthermore, even though the crypto bot automates trade execution, the user should still closely monitor the bot and update the settings if market conditions change.
Of the three crypto trading bots reviewed in this article, Stoic is the only product that offers a ready-to-use trading strategy. Right out of the box, the user can rely on a proven long-only strategy that consistently outperforms both Bitcoin and the broader crypto market. This makes Stoic an excellent choice for those new to crypto and for experienced traders.
Also read,