India has seen a surge in the number of crypto investors lately, and if you're one of the beginners who's looking for a crypto exchange to begin your trading journey; here's a brief CoinSwitch vs CoinDCX article:
CoinDCX
CoinSwitch Kuber
Platforms Supported: SaaS and Android
Platforms Supported: SaaS
Audience: Anyone in search of a cryptocurrency trading platform that is secure and safe.
Audience: Individuals seeking a safe and user-friendly platform when purchasing cryptocurrencies.
Support: 24/7 Live Assistance, Online platform
Support: 24/7 Live Assistance, Online platform
Price:
It is free for every user.
Price:
It is free for every user.
Training:
Documentations & Online with live sessions
Training:
Documentations & Online with live sessions
Company Info:
CoinDCXYear: Founded in 2017
Founding place: India
Website: coindcx.com
Company Info:
CoinSwitch KuberYear: Founded in 2020
Founding place: India
Website: coinswitch.co
What is CoinSwitch Kuber?
CoinSwitch Kuber is an Indian cryptocurrency exchange. CoinSwitch Kuber is a safe, user-friendly website for Indian consumers to buy 100+ cryptos including Bitcoin, Ethereum, Ripple, and others quickly and conveniently, with a number of payment alternatives.
Furthermore, upon finishing the KYC/AML requirements, customers may use the aggregated availability of India's most significant exchanges to receive the best value and trade instantly.
What is CoinDCX Exchange?
CoinDCX is an ISO-certified Singapore-based corporation that provides crypto-financial solutions. It is one of India's major cryptocurrency trading platforms, offering groundbreaking crypto-based goods and facilitating faster and easier purchases.
Further, CoinDCX is an exchange platform that uses the BitGo security protocols to allow users to exchange their crypto certificates with excellent security.
CoinSwitch vs CoinDCX: Fee structure
CoinDCX Fee
CoinDCX imposes a 0.1 per cent taker fee as well as a 0.1% maker fee. However, the CoinDCX withdrawal fees are substantially reduced, at 0.2% of the entire amount of Rs 10 flat charge, whichever is greater.
CoinSwitch Fees
In this regard, CoinSwitch Kuber does not charge any fees for depositing as well as withdrawing currency from this application. Nevertheless, they do impose undisclosed fees. When you buy a cryptocurrency on CoinSwitch, the firm reimburses 1-2% off the sales price.
Furthermore, CoinSwitch offers different prices for purchasing and selling cryptocurrencies, which is unusual.
CoinSwitch vs CoinDCX: Features
Let us see the different features of the two crypto exchange platforms:
CoinDCX Features
The simple crypto dashboard allows you to keep track of your cryptocurrency investments.
Designed for seasoned cryptocurrency traders.
CoinDCX employs a safe crypto wallet.
BitGo Fast guarantees unbreakable security for user-profiles and total financial security.
There are no CoinDCX deposit fee.
Deposit, as well as CoinDCX withdrawal, are almost instantaneous.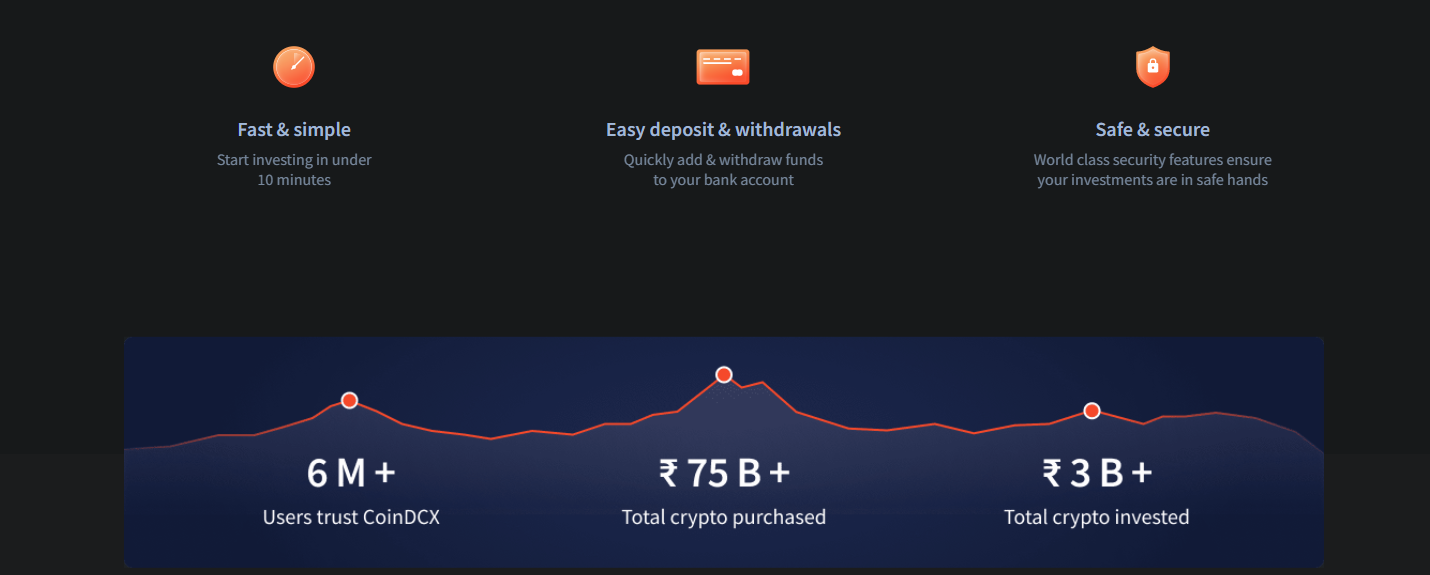 CoinSwitch Kuber Features
It allows users to start the crypto trade from lesser amounts that are as low as Rs.100.
Further, it even lets you purchase and sell more than 80 cryptocurrencies with a single click.
You can also withdraw the amount from your Coinswitch wallet at any time and do not have any lock-in period.
It allows the user with a multi-payment methods option, such as bank transfer, UPI transfer, as well as through NEFTs.

CoinSwitch vs CoinDCX: Security
Users are frequently apprehensive about the protection of their assets and the services provided by various cryptocurrency trading platforms. However, the reality that neither of these trading platforms is controlled also plays a significant part in determining which one is best.
Is CoinDCX Safe?
Yes, CoinDCX is safe and has stringent regulations on the transaction as well as user data protection. With CoinDCX, your money is completely secure since 95 per cent of it is kept in a cold wallet, and KYC information is used to verify users. Furthermore, the exchange enables consumers to use 2F Authentication. BitGo also ensures the funds.
CoinDCX provides a better experience by assuming the risk of holding your assets as well as securing and safeguarding them under their supervision.
Also Read: How to buy GRT on CoinDCX? [India]
Is CoinSwitch Kuber Safe?
Yes, CoinSwitch Kuber is safe and uses KYC to verify every eligible account. Furthermore, Kuber does not hold personal assets in the virtual wallet. Therefore you can rest confident that there will be no fund scams from the platform.
CoinSwitch vs CoinDCX: Customer service
CoinSwitch Support
The CoinSwitch Kuber website has a live chat feature that allows customers to get answers to their questions right away. Furthermore, its straightforward help ticket system quickly answers client complaints.
CoinDCX Support
The CoinDCX app also provides around-the-clock customer service. The service executive lets you talk with chatbots that have an answer to simple questions. At the same time, human representatives address more complex matters.
Conclusion
CoinSwitch offers a very clean UI and UX. However, CoinDCX has a little superior user experience. Nevertheless, beginners who are unfamiliar with cryptocurrency should use CoinSwitch since the software is simple to use. As of the writing of this post, CoinSwitch Kuber, as well as CoinDCX, have quite favourable Google Play Store ratings of 3.0 and 4.2, respectively.
Frequently Asked Questions
Which Indian App is best for trading cryptocurrency?
Several applications allow you to trade cryptocurrency in India. However, CoinDCX and CoinSwitch Kuber are among the best, safe, and secure crypto exchange apps in India.
Is CoinSwitch Kuber more trustworthy?
Yes, CoinSwitch Kuber is a trustworthy crypto exchange platform and allows users to invest in the crypto market easily. It started trading in India in June 2020, and ever since then, it has made Crypto investment as simple as purchasing lunch online. As a result, Crypto traders may simply identify the best rate of exchange, and it is pretty simple to buy or sell cryptocurrencies at their leisure.
Is CoinDCX Safe in India?
Yes, CoinDCXis safe in India and is regarded as one of the most secure cryptocurrencies tradings in India. However, it is critical to preserve cash security because the cryptocurrency market is volatile, and many thefts might occur due to lax protection.
Which is better, CoinDCX or CoinSwitch Kuber?
CoinSwitch Kuber is regarded as the best crypto platform for beginners. And CoinDCX is for every user.
Also read,