Hola Amigos! Have you been thinking of diving into the cryptocurrency world? Do you know more than 9,000 cryptocurrencies are operating in the world currently? Understanding blockchain and its uses can be a crazy task. Therefore, today we have brought for you a guide to buy Maps tokens.
Summary (TL;DR)
MAPS.me is a leading offline mapping application. The recently launched MAPS.me 2.0 platform monetized by DeFi infrastructure, which Solana and Serum power.
Maps token is the decentralized cryptocurrency of the MAPS.me ecosystem.
One can enjoy various benefits and privileges of holding Maps tokens. Moreover, it can be easily purchased over multiple platforms such as-
FTX, Serum DEx, Uniswap, AscendEX, Gate.io, Raydium.
One can purchase Maps tokens for free by the various methods-
Airdrop programs, Crypto lending, and Crypto Staking.
Various pros and cons are at play at every time in the cryptocurrency market. Furthermore, several merits and demerits are attached to every token; hence sufficient research should be conducted before investing.
What is MAPS.me?
With more than 140M users, MAPS.me has been the number one offline mapping application for over a decade now. Moreover, with the recent launch of Maps. Me 2.0, the platform is all set to be monetized by DeFi infrastructure powered by Solana and Serum. Furthermore, this could also result in Maps.me becoming the world's most extensive fintech application. Sounds interesting, no? The essential features of the platform are:-
Maps.me 2.0 is all set to be our passport to the new DeFi system and ultimate travel companion.
It is the mapping app of the future with revamped maps experience.
Furthermore, one of the most striking features is the embedded wallet facilitating inexpensive, rewarding travel.
What is Maps token and What are its potential uses?
The cryptocurrency industry is currently witnessing a never seen before buzz resulting in its growth and rise. Maps Token is one such decentralized currency that forms the backbone of the Maps.me ecosystem.
Holding the token will turbocharge your experience of the app. Moreover, Maps token holders will be 100% beneficiaries of all net revenue of the platform. Now that is huge! However, the topmost uses and benefits of owning the token are as follows:-
You'll be liable to benefit from 100% of the revenue generated by the platform.
As a Maps token holder you'll be eligible for all the premium services, loyalty programs, and personalized rewards rolled out by Maps.me.
Each token holder owns the power to vote to result in Governance and Ownership of Maps.me.
Where and How to buy Maps Token?
The next and most crucial step in buying Maps token is from where to buy Maps Token? We'll now list down the most highly recommended and reliable sources to purchase Maps tokens to ease your work.
How to buy Maps tokens on FTX?
FTX is a popular crypto derivatives exchange platform. Some of the most striking features of the platform include:-
Built by traders for traders
Offers leverage tokens
Offers industry-first derivatives
Follow the simple procedure given below to buy Maps token on FTX:-
Sign up to your FTX wallet using your email id and password.
Now fund your wallet after completing the verification and identification process.
You can trade crypto without margin under the spot tab in the market section.
In the search bar, input the 'MAPS/USD' pair and enter the USD amount.
Approve the transaction and earn MAPS tokens.
Also read, Binance vs FTX: Lowest Fee Crypto Exchange in 2021?
How to buy Maps tokens on Gate.io?
The procedure of buying Maps tokens is pretty the same for every centralized cryptocurrency exchange platform. Read our Gate.io review to know more.
Let's look at the steps to be followed for the same:-
Firstly, log in to your Gate.io account and complete the verification process.
Head over to the buy crypto section in the header and select your preferred payment meathod from Crdit card or bank transfer.
Thereafter, buy USDT using the selected payment method.
Now, search for the 'MAPS/USDT' pair under the trade page in the market section.
Input the amount you want to trade, click on the Buy MAPS option and confirm the transaction.
How to buy Maps token on a Dex (Uniswap)?
Uniswap is one of the leading decentralized exchange platforms in the world. The DeFi system supported by the Uniswap ecosystem allows the users to make quick and transparent transactions using an Ethereum based wallet. To learn more, read our guide to Uniswap.
Now, let's have a look at the procedure of buying Maps Token on Uniswap.
Firstly, download the Metamask wallet app and fund it with ETH tokens.
Secondly, copy the Ethereum address.
Thirdly, visit the Uniswap website on your laptop and click on the 'SWAP' option.
After clicking on the connect wallet option given above, select Metamask.
Enter 'ETH' in the first search bar and 'MAPS' in the other one.
After clicking on the SWAP button, a confirmation message will pop up on the Metamask wallet.
Approve the transaction for successful and easy purchase of Maps token.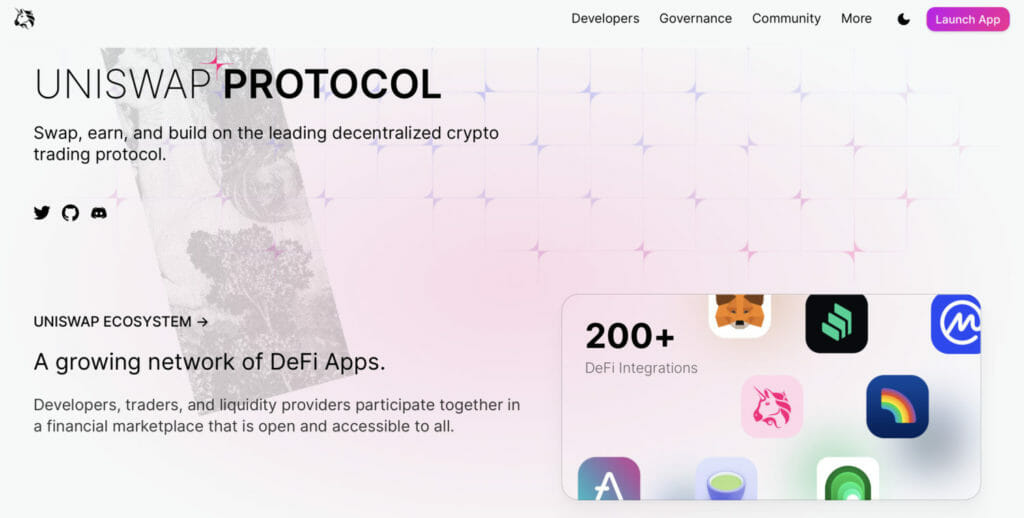 How to earn free MAPS token?
You don't always have to pay the price to get something. And much to your delight, you can now earn free MAPS tokens on various platforms. Earning free cryptocurrency can be a task, but we're here to help you out. Firstly, there are different methods via which you can own tokens without payments. Some of them are:-
Let's discuss the easiest and most reliable method, i.e. Staking Maps token.
Follow the process of staking MAPS tokens on any trustworthy platform like AscendEX and earn rewards:-
Firstly, download the AscendEX application and click on the Staking option.
Now, search for the 'MAPS/USDT' pair on the 'All Staking' page.
Note: Enable 'Compound mode' for auto-redelegation of the staking reward.
Fill in the amount you want to delegate and approve the agreement box.
Finally, select the 'delegate now' option. To find staking details, visit the 'My Stakings' section.
Pros and Cons
| Pros | Cons |
| --- | --- |
| You'll be liable to benefit from 100% revenue generated by the platform along with a share in Governance. | The primary areas of concern are low transactions and high gas fees. |
| As a Maps token holder, you'll be eligible for all the premium services, loyalty programs, and personalized rewards | The other prominent issue is the highly volatile nature of cryptocurrencies. |
Where and How to buy MAPS tokens? Conclusion:
Buying any cryptocurrency is no longer a task. Various platforms provide us with our desired coins at competitive fees. Platforms like FTX, Gate.io, Uniswap, AscendEX and many more allow you to acquire MAPS tokens quickly and sometimes free of cost too! Moreover, articles like these give you a clear picture of the complete procedure. However, although it is effortless to invest in cryptocurrency, it comes with a bag of risks. Therefore one should be mindful of the same and invest only after thorough independent research.
Frequently Asked Questions
What is MAPS token price prediction?
Only a fraud can claim to predict the price of any cryptocurrency, leave behind MAPS. However, proper research and planning become necessary for fruitful investment. To do so, refer to MAPS coinmarketcap. They have MAPS token price charts and other information like buying MAPS coins, MAPS Wallet, etc.
Is the MAPS token a good investment?
A well-planned and well-researched investment have fewer possibilities to take you in drains than a lazy, random decision. The volatility of the crypto market plays a crucial role in the potential success of the investment. Refer to more and more investment-related articles and blogs to understand the market better. Therefore, the only option for a successful investment is to stay updated with the latest MAPS updates.
How to store MAPS crypto?
Maps.me has an in-built Maps Wallet that can be used to store Maps tokens. It can be termed the most reliable wallet. However, you could also consider hardware crypto Wallets like TREZOR, Ledger Nano S, Ledger Nano X, etc., for the same. Then, refer to our article on the best crypto wallets to make a more informed decision.
Also read,