Choosing a crypto trading platform can be a challenging task. BingX is a safe trading platform that covers all vital features to be selected by you. Furthermore, BingX might be one of the best social trading platforms and this BingX review aims to weigh all the features that can justify this.
Summary
BingX is a crypto social trading network based in Singapore and came into the picture in 2018.
The BingX crypto trading platform provides you with over 30 crypto trading pairs using USDT or BTC as collateral.
The platform lets its users connect with elite traders and discover more innovative investing strategies.
The platform is among one of the few derivatives that also offers its traders automatic copy trading.
Traders can download the app directly from the website by scanning the QR code or through Playstore or App Store, as it is available for both Android and iOS.
There is no deposit fee that is charged by the platform to deposit cryptocurrencies.
The platform offers several payment methods, including cryptocurrencies, Apple Pay, MoonPay, Banxa, and Debit or Credit Card.
SIGN-UP through here, and get UPTO $100 Sign-up bonus.
What is BingX?
BingX – a social trading network is a crypto exchange that offers cryptocurrency spot and derivatives trading services. The platform made its way into the cryptocurrency market in the year 2018. Moreover, as a crypto social trading network, BingX exchange is committed to giving users access to cryptocurrency trading strategies and ensuring users invest in a simple, engaging, and transparent way. Furthermore, the platform also provides commodities, global indices, forex, automatic copy trading function, and other contract trading products.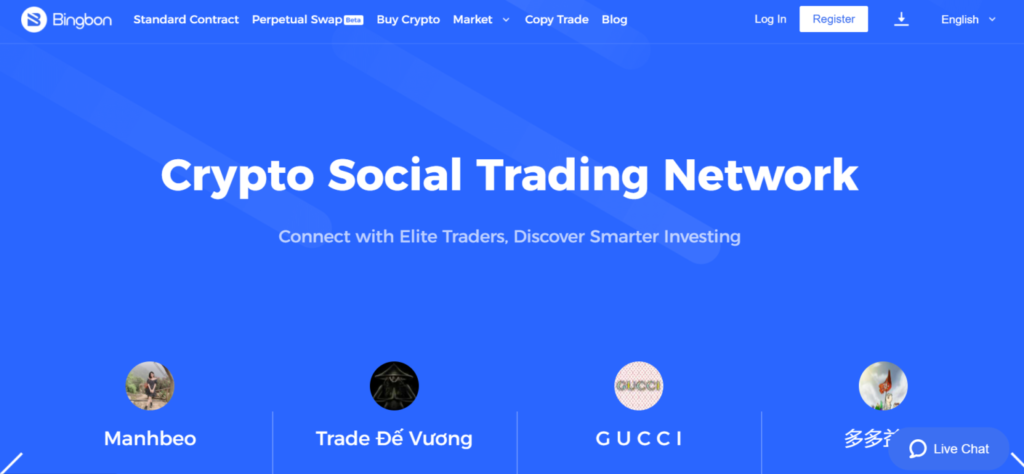 Is BingX Regulated?
BingX is a crypto social trading platform that is registered under the Republic of ESTONIA. In addition, the platform has an MSB or MoneyServices Business license under FinCen and the regulatory body AUSTRAC.
How to get started with BingX?
To initiate your trading journey with BingX, you first need to register yourself and get signed up for an account in BingX. Below is a stepwise tutorial on how the registration and login process takes place:
Create an account, visit the BingX website, and on the top right corner, select Log in/ Register.
To register, enter your mobile number or email address and an appropriate password. If you have any referral code enter it.
Follow the same procedure by entering your mobile number/ email address and a password to log in.
Click submit button and enter the verification code sent to your email/ mobile phone.
Finally, click on Register to move forward with the account registration.
The platform does not include any KYC process, so you can directly start depositing funds into the platform.
BingX Review: Features
BingX gets all the limelight because it is a basket of vital features that it promises to offer its traders. Following are the features of the platform:
Instant Crypto Trading: BingX traders can easily trade one cryptocurrency to another using only one click with the 'Exchange' option.
Advanced Trading Platform: Traders want accessibility to a more advanced trading platform, and keeping this in consideration, BingX fulfils this need. It provides its traders with a modern yet well-designed and easy-to-use interface that can work on both mobile and desktops. In addition to this, TradingView provides charts that include overlays, indicators, and multiple chatting tools.
Demo trading: Every new account created is credited with virtual-based coins issued by BingX ,i.e., 100,000 VSD tokens. These tokens, without making any actual deposit, can be traded on the platform. This demo trading helps traders get familiar with the trading platform and learn how to do leverage trading with the help of practice money.
Copy Trading: BingX offers its traders with copy trade option. With copy trade, you can follow the strategies of successful traders and copy them. For sharing their strategy, 8% of the profits generated are given to successful traders.
Traditional Markets: In addition to cryptocurrencies, BingX also offers exposure to traditional markets. As a result, price movements of markets such as commodities, forex, and indices can be speculated.
BingX Review: Supported Pairs
In comparison with other cryptocurrency exchanges, BingX provides its users with varied trading pairs. The derivative exchange also provides digital currencies and traditional markets that you can trade at high margins. Trade markets such as commodities, indices, and crypto pairs can be viewed by users using USDT or Bitcoin as collateral. 30+ crypto trading pairs are available for trading with leverage.
BingX Review: BingX Standard Contract
BingX's Standard Contract allows you to trade with UPTO 125x leverage on different markets. Further, you can trade on the crypto, NFT, DeFi, Forex, Commodities, and Indices market. On top of this, the platform also offers Take profit and Stop loss order, that help you properly implement your risk management strategies.
BingXReview: BingX Perpetual Swap
As of October 2021, the BingX perpetual Swap is still in Beta mode. The perpetual swap is almost similar to the futures market, except it does not have a delivery date. Since the futures market is very volatile and comes with huge uncertainties about the market and hence can lead to great losses. Therefore, the BingX perpetual swap uses the 'fund rate' system to ensure the perpetual contract will align with the marked price in the longer term.
Buy Crypto on BingX
This Buy crypto feature will let you purchase/sell crypto on the platform in the following way:
First, you need to enter the amount of crypto or fiat to be bought/ spent.
In order to proceed with the payment, select your preferred service provider.
At last, wait for your crypto to arrive.
BingX Review: BingX Spot Trading
Spot trading allows you to buy/ sell crypto assets such as BTC, STH, XRP, etc., for immediate delivery. The exchange charges a small trading fee, and the transactions take place between buyers and sellers directly. Furthermore, through staking/ lending, traders can even earn a passive income on their HODLings.
Spot transaction requires the actual holding of cash commodity, and profit and loss clearing need actual buying or selling of spots. Generally, the profits can only be generated when the price goes up.
BingX Review: BingX Copy Trade
Another feature BingX can boast about is its copy trading feature that allows you to observe and copy famous traders. There is a traders list in which traders are listed based on the number of followers, their trading style, and profit rates. Moreover, along with the recent trades, the platform also shows overall statistics for every trader. Users can set daily limits that they want to commit to a particular copy trade and set their maximum amount.
BingX Review: Fee Structure
Trading Fees
For opening and closing a position, BingX exchange charges the same trading fee of 0.075%. To calculate the trading fee, they need to multiply 0.075% with the trade volume.
Deposit Fees
There is no deposit fee to deposit cryptocurrency to BingX.
Withdrawal Fees
The withdrawal fee charged to transfer ETH and BTC off the exchange is 0.007 ETH and 0.0005 BTC, respectively. On BingX, the fee for a stable coin withdrawal is high as 28 USD per transaction.
Is BingX Safe?
Yes, BingX is entirely safe to use. Further, there hasn't been any case of a security breach in BingX since its inception. In addition, two-factor authentication can be used to secure users' trading accounts, which will further help increase the difficulty for hackers to access an account and carry malicious work. It is also recommended that you complete the settings of Google Authentication from the Account and Security/ Security centre for your BingX account to improve the security level of your account.
Task-based new user reward & Bonus
BingX offers its customers with task-based new user reward as soon as they register themselves for an account. These task-based rewards are provided to users to encourage them and make sure they use their services better. These rewards are based on the KYC process, trading or certain deposits, etc. The Bonus they will then get completing those tasks can be used for contract trading and sometimes for loss deduction.
Few points need to be noted with the Bonus:
For Bonus, there is an expiration date.
Traders should pay attention to the "Maximum Leverage" limit when placing orders with bonuses. Also, with exceeded leverage, bonuses cannot be used.
Users should not make multiple accounts to obtain bonuses. If detected, the account will be permanently closed.
BingX Review :Referral Program
BingX sets up reward rules for recommending traders in order to make excellent traders more widely available. In addition, it allows BingX users to share/recommend excellent traders to other BingX users. If the people they recommend an account successfully created, the user may obtain a particular profit share.
Users can get a 25% share of the profit if the referral is successful. This share is a reward generated by other users who successfully follow the trader and copy the trader's profitable orders.
BingX Review: Customer Support
BingX has excellent customer service as their 24*7 customer service representatives are always ready to help you. They willingly answer questions and resolves any issues you might encounter. If any trader faces any problem, they can feel free to contact their customer support at [email protected]. Furthermore, for prompt assistance, you can contact their customer support directly via their live chat option.
BingX Review: Pros and Cons
| Pros | Cons |
| --- | --- |
| The platform offers a demo trading platform and well-integrated copy trading. | There is not much information provided on the exchange's security. |
| It offers 150x of leverage limits. | Traders from the US are not allowed. |
| There are 30+ trading pairs against USDT or Bitcoin. | Customer service quality is below-par. |
| However, the mobile application provided by the platform is easy to use and intuitive. | |
BingX Review: Conclusion
For users who are searching for a leading crypto-powered leverage platform, BingX is an ideal and promising exchange for them. It comes under the list of top cryptocurrency exchanges and is for both beginners and experienced traders. Moreover, the platform allows you to copy professional traders with just a single click and entirely automate your crypto trading. You can use the button below to sign-up on BingX, and earn UPTO $100 as a welcome bonus.
Frequently Asked Questions
Can Australians access BingX copy trading?
Yes, users from Australia can get started with copy trading on BingX in just a few simple steps. Also, BingX is regulated by AUSTRAC so that the users can use the platform without any worries. 
Also read,