If you are a new user or plan to buy a new bitcoin card, then you are a right place. This article will review the different types of Bitcoin credit cards. compare their features, security, advantages, etc., of these top six Bitcoin credit cards.
Summary (TL;DR)
Like traditional Visa / Mastercard, Bitcoin crypto cards also allow us to make online, offline, and international purchases. 

Coinbase card is a Visa-supported debit card that converts multiple types of cryptocurrencies to local currency. 
Uphold Card functions similarly to regular debit cards, allowing active usage wherever MasterCard is accepted globally. In addition, a physical Uphold card is now available for users residing in the U.K.
The Binance card has been around since March 2020, but it was announced and started its shipping in European economic areas around 15th  December 2020.
The MCO Visa card is crypto powered Visa card. It supports Bitcoins and other wide varieties of cryptocurrencies.
To get an MCO Visa card, you have to start staking CRO tokens for 6 months compulsorily. Staking is a process of buying and keeping the CRO tokens. CRO Tokens are the Crypto.com Coins.
Nexo MasterCard also offers 2% of cashback on all the purchases you make despite its quantity.
Bitpay.com Card is a prepaid Mastercard. This Bitpay card is currently only available for the residents of the United States. 
We have compared some of the standard features of the top six Bitcoin cards.
| Name of the card | Type of card | Supported Crypto (including Bitcoin) | ATM Withdrawal fee | Cashback | Website |
| --- | --- | --- | --- | --- | --- |
| Coinbase card | Visa card | 9+ | 2.49% | Up to 4% | Link |
| Uphold Card | Mastercard | Every coin available on Uphold | In the UK, there is a £2.50 GBP fee for national ATM withdrawals and £3.50 GBP for foreign ones | Get 4% cashback if you spend crypto and 2% if national currencies in XRP | Link |
| Binance Card | Visa card | 4 | Up to 0.9% | Up to 8% | Link |
| MCO Cryto.com card | Visa Card | 90+ | 2% | Up to 8% | Link |
| Nexo card | Mastercard | 20 | N/A | 2% | Link |
| Bitpay card | Mastercard | 8 | $2.50 | None | Link |
Top 6 Bitcoin Credit Cards
In this blog, we have reviewed the top six Bitcoin credit cards. Here is the list of the six best Bitcoin cards.
Coinbase card
Uphold card
Binance card
MCO card
Nexo card
Bitpay card
1. Coinbase Card
Coinbase Card is a Visa-supported supported card from Coinbase, one of the world's largest crypto trading platforms. You can use this card at any shop that accepts visa cards. You can use it for PIN purchases and ATM withdrawals. It is available in all US states except Hawaii. You have to activate your Coinbase Card from the Coinbase Card app or call your local support number from the app by accessing Card Settings > Call Support.
Coinbase Card Features
Coinbase is a Visa-supported debit card that converts multiple types of cryptocurrencies to local currency.
Coinbase card allows you to spend as much depending on your bitcoin balance, just like any other traditional debit card.
Earn up to 4% cashback on every purchase
Coinbase card user must have a Coinbase account for card access
Using the Coinbase app, you can easily select from the wallet any crypto with which you want to buy.
Coinbase Card Fees
For purchases, the daily limit is ₤10,000 and ₤500 for ATM withdrawals for international users. For US users, the daily spending limit is $2,500, and the ATM withdrawal limit is $1,000. There is no card issuance or transaction fee for US users, although overseas users must pay ₤4.95 and 2.9%
Coinbase Card Security
They guard your Coinbase card's information and credentials by top-notch security, including a two-step authentication step. If the card gets stolen, you can instantly freeze your card via the website or app. It has bank-level AES-256 encryption. Additionally, all Coinbase employees are subjected to a background check.
Coinbase Card Customer Support
You can clear your doubts via the Help center on Coinbase's official website. The Help center is in the Support section.
There are lots of ready-made answers to various problems. You can write your doubts in the email textbox given.
Coinbase Card Mobile App
There is a Fully-functional, user-friendly mobile app to manage your card, track your spending and balances. It is available on both play store and app store.
Coinbase Card: Pros and Cons
We have tabulated some of the advantages and disadvantages of using the Coinbase card below.
| | |
| --- | --- |
| Pros | Cons |
| Ability to use your crypto account as easily as you use your bank account. | Substantial fees are applicable for non-U.S. users. |
| Extensive security features that keep your crypto fully protected while you spend. | 2.49% cryptocurrency liquidation fee applied to all transactions (except those using USDC). |
| Multiple reward offers, including the ability to earn BTC back on your purchases. | |
| Earn up to 4% cashback on every purchase. | |
| No annual fee | |
To know more about, read our Coinbase card review.
2. Uphold Card
The Uphold card is ideal for cryptocurrency investors who desire more control over how their funds are spent. After receiving the real card, you choose which funding source to utilize on the app. Moreover, unlike some other crypto debit cards, the card may be used to make purchases as well as withdraw cash from ATMs. You will, however, be charged a fee for each ATM withdrawal.
Uphold Card Features
You can keep a track of your spendings with real-time analytics.
You can also protect your account with a "Freeze your card" option
The Uphold Card charges 0% foreign transaction fees, unlike most banks
It offers you to spend crypto directly from your Uphold wallet.
Get 4% cashback if you spend crypto and 2% if national currencies.
The Uphold card offers convenience and security features. Users can add the card to their mobile wallets such as Apple Pay and Google Pay for faster and safer payments
Uphold Card Fees
Uphold Card Security
Compliance with regulations: Uphold is compliant with local, state, federal, and international laws to protect Personally Identifiable Information (PII) and any personal data collected from customers.
Payment Card Industry Data Security Standard (PCI/DSS): Uphold adheres to the PCI/DSS, which is a set of requirements created by major payment card brands to ensure that companies that process, store, or transmit credit card information maintain a secure environment.
Data privacy: Uphold is committed to securing customer accounts and protecting customers' privacy and data at all times
Uphold Card Customer Support
Uphold offers customer support through its Help Center, where users can submit a request for assistance. The Help Center provides answers to frequently asked questions and offers guidance on how to use Uphold's products and services. Regarding the Uphold Card, users can contact Uphold's customer support team for any queries or issues related to the card.
Uphold Card Mobile App
Uphold offers a mobile app that allows users to manage their Uphold Card. Users who are limited to the virtual card can add it to their Apple or Google Pay wallets and spend in-store or online. You can download the app on both Android and iOS.
Uphold Card Pros & Cons
| | |
| --- | --- |
| Pros | Cons |
| Accepted by more than 50 million merchants worldwide | Only Available for customers in the UK |
| Using your Uphold Card when traveling abroad will protect you from the punitive FX rates charged by banks | |
3. Binance card
Binance launched in September 2019 and quickly became the world's largest cryptocurrency exchange by trading volume. The Binance Card will use funds from your wallet (the balance on your Binance account).
Binance Card Features
According to its official website, with the Binance Visa Card, you can convert and spend your favorite cryptocurrencies at more than 60 million merchants worldwide.
The card has support for BNB (Binance Coin), BUSD (Binance USD), BTC (Bitcoin), ETH (Ethereum), and SXP (Swipe). It also supports the EUR fiat currency.
The cashback percentage varies from 1-8%, depending upon the BNB-tokens you hold.
The Binance Card is free to apply, and you need to link it with Binance Wallet.
Binance Card Fees
There are no monthly fees. There are no issuance fees. There are no minimum deposit limits. As long as you have a balance in the Binance-account, the card will remain connected, and you can use the card. There is also a daily maximum spending limit: EUR 8,700 per day.
Binance Card Security
With a catch line of "Sleep Tight," the website states that the highest security standards available at Binance protect all our Binance Card funds. Any funds received by you are held in a segregated account so that in the unlikely event that Contis Financial Services Ltd (the formal issuer of the card) becomes insolvent, they will protect your funds against claims made by creditors.
Binance Card Customer Support
You can contact the Binance support system in case of any queries. The support is available in the form of a message bubble that you can find in the right-hand side corner of the website.
Binance Card Mobile App
There is a mobile app available for Binance cards for both Android and iOS. Here you can view all your spending, card transactions, etc. The card also comes with transaction-push notifications. This means that each time you purchase with your Binance Card, you will receive a push notification on your Binance mobile app.
Binance Card: Pros and Cons
We have tabulated some of the advantages and disadvantages of using the Binance card below. You can take a quick look at them in the table below and decide further.
| | |
| --- | --- |
| Pros | Cons |
| It offers highest cashback offers ranging from 1%- 8%∙ | The card is not available in about seven US states. |
| It has more than 50 cryptocurrencies available. | It has fewer crypto-crypto currency pairs. |
| Low trading fees. | |
To know more read our Binance card review.
4. MCO Card (Crypto.Com Card)
The Crypto.com Visa card is a prepaid metal card by Crypto.com. Crypto.com (formerly Monaco) is a Hong Kong-based start-up launched in 2017. MCO Visa cards are available freely, and you don't need to pay any price for shipping or the setting up processes. But to avail the benefits of the MCO Visa (Crypto.com) card freely, you have to stake a certain amount of CRO token on Crypto.com App for 6 months. There are many types of wallets available inside the app; choose the one according to your currency transaction.
MCO Card Features
There are five different MCO Visa (Crypto.com) cards – Midnight Blue, Ruby Steel, Jade Green/Royal Indigo, Icy White/Frosted Rose Gold, and Obsidian Black: Each card offers a set of benefits for the users. Check them in the table given in the picture.
The features differ according to the type of card you have. If you have a primary or entry card, the free Midnight Blue will get only 1% cashback on all your spending.
Each card offers some percentage of rebates on accounts like Spotify, Netflix, and Amazon Prime. Most of the MCO Visa card offers travel rebates of about 10% on Expedia and Airbnb.
MCO gives Cashbacks ranging from 1- 8%. Although the rebates are great, you are still subjected to monthly pay.
Some benefits are available only if you stake continuously. But you will have free lounge access. But other rebates on accounts like Spotify, Netflix, Expedia, Amazon Prime, and Airbnb will be gone. To get most of the benefits from Visa cards, you have to stake.
MCO Card Fees
The MCO Visa (Crypto.com) is a very affordable card to use. It charges no insurance fee, and you don't need to pay a monthly fee. There is no commission for your spending. You don't need to make a maximum or minimum deposit also. Up to USD 200, you don't have to pay any ATM withdrawal fee. But above 200 USD, 0.2% you have to pay. It does not charge any foreign currency transaction fee.
MCO Card Security
Crypto.com provides FDIC insurance up to US$250,000. It follows strict safety measures and protocols and ensures that our funds, user data, and websites are safe. It has a 100% cold storage wallet for customer funds and Two Factor Authentication (2FA). Cryto.com has also partnered with one of the leading wallet providers, the Ledger.
MCO Card Customer Support
If you have any doubts or queries, you can clear them via the live chat option available in the 'Support' section of Crypto.com. On the same support page, there is a ray of articles. Read these articles to clear your doubts and get in-depth knowledge about the MCO card and the "Crypto.com" website.
MCO Card Mobile App
You need to install Crypto.com App to see your Crypto.com Account. You can download it on both Android and IOS devices.
MCO Card: Pros and Cons
We have tabulated some of the advantages and disadvantages of using the MCO card below. You can take a quick look at them in the table below and decide further.
| Pros | Cons |
| --- | --- |
| You can get cashback of Up to 1- 8% whenever you use your Crypto.com Visa Card. | You can unlock and access the highest rebates only if you stake a lot of CRO tokens. |
| 1% cashback is available even without investing in CRO tokens. | MCO Visa (Crypto.com) cards would lower interest rates if we did stake up cryptocurrency deposits for 3 months. |
| You can also get other benefits (like 100% cashback on Spotify, Netflix, and Amazon Prime). | If you already have high cashback in your traditional debit/bank card, this MCO card will not satisfy you. |
| No monthly fees and no withdrawal or transaction charges for international travel purchases. | |
| It is a user-friendly card for beginners stepping into the cryptocurrency world. | |
| Contactless Visa Debit cards (issued and delivered for FREE) | |
To know more read our MCO Visa card review. Crypto.com provides a lot of products such as NFT platform and a crypto exchange, to learn more, read our Crypto.com review.
5. Nexo Card
Nexo is a crypto-powered debit card that works on Mastercard. This is the only card that allows you to spend without selling your cryptocurrency holdings.
Nexo is a trusted automated loan platform launched in 2017. The Nexo card is directly linked to the Nexo account to access funds without banks for funds withdrawal easily. If you use a Nexo card for payments, you can get incentives worth 5% cashback.
Nexo Card Features
You can access all the features of the Nexo card via the Nexo app. The features are listed below.
If your card gets stolen or lost, you can freeze or unfreeze it with a single tap.
You can receive and manage all notifications of your Nexo card transactions.
There is an option for you to create virtual Nexo cards for a safer online shopping.
You can easily view your PIN and also change it at the nearest ATM anytime.
You can enjoy 2% cashback on all your purchases.
You can make payment in local currencies.
Nexo card Fees
You can freely withdraw cryptocurrencies at any time. Nexo doesn't charge any money for it. When you do transactions from an exchange wallet to your Nexo account, you only need to pay brokerage fees. They don't charge any transaction fees. Like a traditional savings account, Nexo card's crypto savings account also charges reasonably fewer fees. Also, there are no fees charged for account maintenance.
Nexo Card Security
According to the nexo.io website, the Nexo platform is powered with military-grade 256-bit encryption and fraud m 24/7 monitoring mechanisms throughout a year. Nexo took this step to ensure the safety of customers' funds and transactions.
Nexo Card Customer Support
There is a 24/7 support team ready to assist you. You can email your queries to [email protected].
On the Nexo card's official website, next. You can live chat in the blue speech bubble available in the right-side corner of the website. You can type your doubts in the 'Request' text box available in the 'Help section' of the nexo.io card website.
Nexo Card Mobile App
The Nexo Wallet app is available in the Google play store and Apple store. Then you have to create an account in the app and order the card. While creating an account, you have to answer a few questions accurately in the app. You can use the Nexo app via mobile or desktop platform.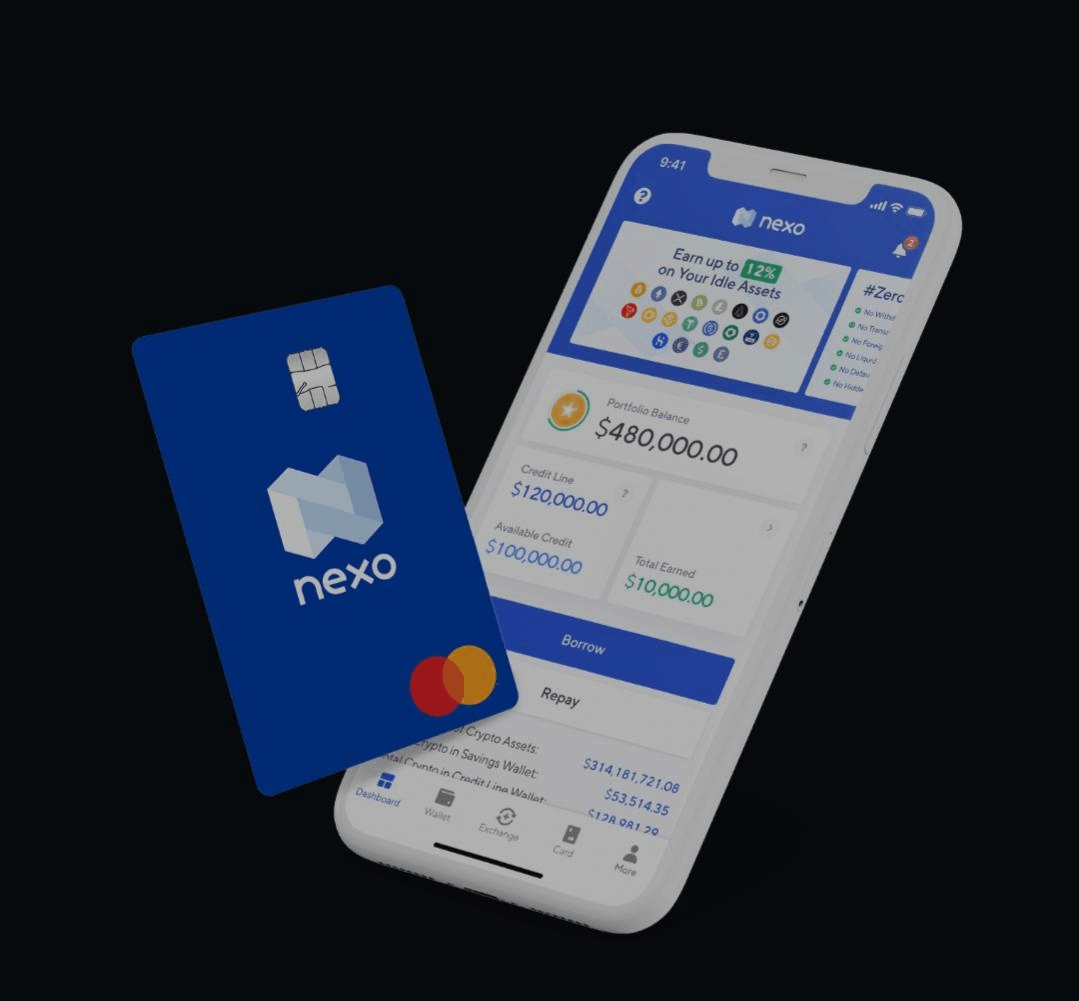 Nexo Card: Pros and Cons
We have tabulated some of the advantages and disadvantages of using the Nexo card below. You can take a quick look at them in the table below and decide further.
| Pros | Cons |
| --- | --- |
| You can use it like a standard card, and over 40 million merchants worldwide accept it. | This card is mainly helpful for people who are already users of the Nexo platform for various reasons. |
| The Nexo Mastercard allows us to spend while not selling our cryptocurrency holdings. | This card is only beneficial for those who are willing to borrow fiat currency against their crypto holdings. |
| The saving account of the Nexo Mastercard provides an interest ranging from 6% to 12% on crypto coins and fiat currency. | If you are not interested in this type of borrowing, then this card is not for you. |
| They will reward you with a 2% cashback for all the purchases. | Since it still is an early access phase, you can access and order the Nexo card via the Nexo app. |
| You can create Virtual card to have a safer online shopping experience. | |
To know more read our Nexo card review.
6. Bitpay Card
Bitpay is a crypto payment gateway platform founded in 2011. Bitpay card is a Master prepaid card according to the Bitpay platform. Its primary purpose is that aids us in bridging the gap between real and virtual currencies. We can use the Bitpay.com card to make both offline and online transactions and for ATM withdrawal. The Metropolitan Commercial Bank issues Bitpay card which was launched in June 2020. But you can use the Bitpay card only within the United States. When you provide the necessary personal details and documentation for verification, they will give you a wallet. And then, you can order a Bitpay Master card via the Bitpay App and start making crypto payments using that card.
Bitpay Card Features
Bitpay doesn't charge any conversion fees while reloading our card balance from bitcoin to fiat currency. Also, the exchange rates are at a competitive rate.
This card is for people who want to live and spend on crypto.
You can spend and pay your bills worldwide and anywhere using this Bitpay crypto debit card. Either through online or using a pin or simply do an ATM withdrawal.
In addition to Bitpay card, you can also use the Bitpay Wallet app to manage and spend bitcoin. You can also turn the Bitcoin into dollars there and pay it with the Bitpay card.
Bitpay Card Fees
There are no monthly maintenance fees. To get a Bitpay card, we have to pay $ 10. For card replacement also, you have to pay the same $ 10. When you withdraw money from the ATM using your Bitpay.com card, they will charge a fee of $ 2 from you. They will charge a 3% of currency conversion fee outside the United States. But no fees are applied for loading.
Bitpay card Security
This enhanced security feature of the Bitpay.com app has an EMV chip that helps you lock your card and control how you spend.
Bitpay Card Customer Support
In the 'Help' section of the bitpy.com website, there are many ready-made questionnaires and lots of Frequently Asked Questions list. You can refer to them.
Bitpay Card Mobile App
After you receive your Bitpay card via mail, it will be easier to activate the card. In the Bitpay app, go to the 'Card' section. Then, click the 'Activate' icon. It will be in the top right of the screen. Then you will have to enter some required information they ask in the Bitpay app. Lastly, you have to create a PIN for your card.
Bitpay Card: Pros and Cons
We have tabulated some of the advantages and disadvantages of using the Bitpay card below. You can take a quick look at them in the table below and decide further.
| Pros | Cons |
| --- | --- |
| They don't charge any fees for loading Bitcoins into the Bitpay card. | You cannot access the Bitpay card freely; you must pay a price of $10 to get the card. |
| Unlike other crypto prepaid cards, this Bitpay Master card is accessible throughout all the 50 states of the United States. | Another limitation is that Bitpay card is currently only availed in the United States. |
| Higher ATM withdrawal. We can withdraw coins up to $60000. | There is no cashback or rewards offered for purchasing in Bitpay Mastercard. |
| You can also opt for a virtual card option. | Also, the Bitpay.com card supports only Bitcoins. |
| This will also make our shopping experience safer. | |
To know more, read our Bitpay card review.
Best Bitcoin Cards: Conclusion
Everything has its pros and cons. However, Nexo card has a low-fee card in terms of the price range. It allows you to spend without you having to pay your crypto holdings. Further, Uphold Card is also an excellent options for the UK users. On the other hand, the Binance and the BlockFi cards provide the best cash backs and rewards that start from 1.5% to 3.5% per month. Also, the MCO card is another popular choice as it supports over 90 cryptocurrencies. And Coinbase card allows auto conversion of currencies when on demand. Bitpay card is the best-suited card among US citizens as it is useable across 50 states of the USA overall. Chose a card that's best suited for your Bitcoin needs and spending.
Frequently Asked Questions
How do I know if I'm on the BlockFi Credit Card waitlist?
You will know when you receive a confirmation link in your email after you sign up. Or you can also log in to app.blockfi.com and click on the promotional banner on top. If you see "You're on the list!" on the page, then you are all set. If not, you can apply for the list by clicking on the "Get on the list" option.
Is the Bitpay Card safe?
The Bitpay.com card is secure and a safe option. You can protect your Bitpay cards by your signature and also your PIN. The Google Authenticator also provides Two-factor authentication (2FA). The Bitpay card is also not linked to any personal bank information or other financial accounts.
Is MCO Visa card legit?
MCO is a Visa card service provided by Crypto.com. Crpto.com is a cryptocurrency and payment platform that provides FDIC insurance up to US$250,000. MCO has taken this step to assure the customers that their money is well protected.
Is the Nexo Mastercard anonymous?
No, the Nexo Mastercard is not anonymous. To access the services of the Nexo.io card, the users must compulsorily go through the entire identity verification process of the Nexo platform.
Where can I use the Coinbase card?
The Coinbase is a crypto Visa card. So, you can use it anywhere where Visa cards are accepted. You can use it for purchasing offline, online, and internally.
Can you trade fiat currencies on Binance?
No, you can't trade or deposit fiat currencies using a Binance card. You must already have some cryptocurrency that you can deposit into a Binance card to start trading.