In this article, we will be showing two different ways to stake or earn Shiba Inu, first on an exchange and then on a decentralized platform. In addition, we have written a small guide on how to buy Shiba Inu on ShibaSwap.
Summary
Staking is the process of holding your coins for a period of time and earning interest for the same.
For staking your coins on Binance you must have Shiba Inu coins in your wallet.
You can stake Shiba Inu on both Binance and on ShibSwap.
How to stake your crypto?
You can participate in the staking process if you own PoS currencies and use third-party wallets or exchanges that provide staking services. You do not need to run your node for the purposes of verification or coin minting. This is mostly for folks who lack the necessary technical skills or internet access to complete the process. In other words, you can earn rewards simply by keeping coins in your wallet.
Users can stake in various ways, like the flexible, locked, DeFi, Dual Investment, and Pool savings.
To learn more read: Staking Crypto An Ultimate Guide.
We will follow the "locked Staking" method, where you earn the coin you stake.
How To Stake or Earn Shiba Inu On Binance?
Now, here we wish to stake and earn Shiba Inu. As said above, staking can be done on a centralized exchange like Binance. Or on a decentralized platform like ShibaSwap.
To know more about Binance, Read our Binance review.
The first step is to do a checklist of a few things. Let's go:
1. Log In To Your Binance Account:
Log in to your Binance account. You can either do this on your mobile or web application. Both ways, you can log in. Note that using a web version for staking is convenient. You can directly scan the QR code from the mobile application on the web application for quick log-in, and you will be logged in instantly.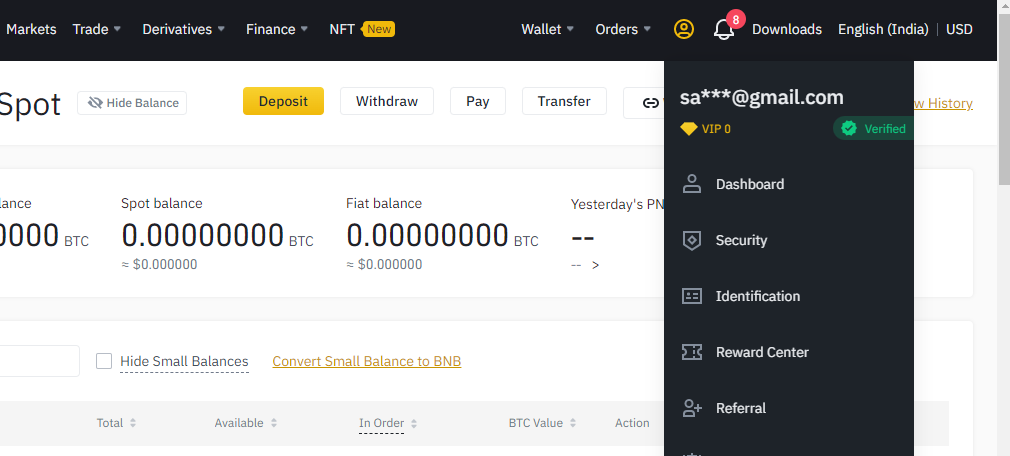 Also, read Staking at Binance: Is it safe to Stake on Binance?
2. Click On Wallet
Now go to the wallet on the header, place your cursor, and a drop-down menu of options comes up. Look for "Fiat and Spot". Click on it. And this will take you to the "fiat and Spot" page.
3. Fiat and Spot Page
You will see the list of coins and the number of coins you hold. Then there is an Action column, which provides options like buy, deposit, withdraw, trade, earn, and convert. However, our concern is with "Earn"; therefore, let's focus there. First, find the Shiba Inu coin, and click on Earn.
Note that you must have Shiba Inu in your Binance Wallet.
4. Click on Locked Staking
Now locked staking is the process of holding your coins for periods like thirty, sixty, or ninety days. After the duration period, the actual number of coins is transferred back to your wallet. Remember that the estimated total amount of interest earned increases with an increased duration period. Also, when staking, you must have a minimum number of coins to enter the process of staking.
Also, read Binance ETH 2.0 Staking – Everything You need to Know
5. Click on Stake
Once you click on stake, you have a complete summary of your transaction, depending upon the number of coins you are locking up. For illustration, I have taken 10000000 SHIBA coins for 90-days. Although I will be receiving interest daily, the estimated APY will be adjusted daily based on the on-chain staking rewards.
6. Confirm The Details
Once you go through all the details and summary of your interest earnings, click on confirm, and you will have your coins staked. Remember, once the coins are staked, you won't be able to see your Shiba Inu in your fiat and spot window. So, to see where did your coin go? Follow the next step.
7. Go To Earn
Take your cursor on the wallet, click on Earn, and then go to "Locked staking" and finally click on "Locked." You will see your coin here locked. Here on this page, you will have all the details of your staking, the subscription date, locked period, Interest end date, and so forth. Note that the interest earned is the number of Shiba Coins.
8. Early Redemption
Yes, if, for some reason, you wish to redeem your principal coins, you can do that by clicking on Redeem. You can find this option by following this: Go to earn > locked staking > locked > look on the footer, and you have the redeem button. However, you wouldn't receive the interests earned if you redeem earlier. Thus, your principal amount will be redeemed in your wallet.
How to Stake or Earn Shiba Inu on ShibaSwap?
To stake and earn Shiba Inu on ShibaSwap, you must have Shiba coins in your Metamask or any other Ethereum based wallet. In addition, to Shiba coins, you must also have some Ethereum in your wallet. You need some Ethereum due to gas fees.
1. Let's Get Started!
The first step is to go to the official webpage of ShibaSwap. Once you land on the webpage, you will see various options like DIG, NFTS, BURY, SWAP, etc. First, however, we will execute our staking procedure on the option "BURY."
2. Connect Your Wallet!
Here we will be using the Metamask wallet. As you can see in the image below, we have our Metamask wallet connected to the Ethereum network.
3. Click On Bury
Once the wallet is connected, take your cursor to Bury, and then you must click on stake. You will be taken to the Bury page immediately, where you will have three options like Bury Shib, Bury Leash, and Bury Bone. Since we have to bury our Shiba coins to earn Shiba Inu. So we will click on "Bury Shib."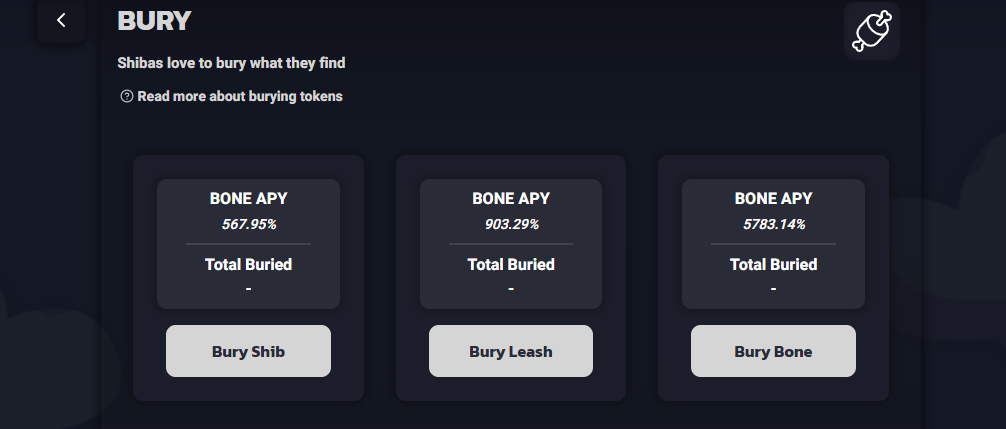 4. Click on Buy Shib
As soon as you click on "Buy Shib," the platform shows you the tokens you hold in your specific wallet and its current total value in dollars at the moment. However, the total buried shows its information once the procedure is complete. Here you will also see your estimated interest earned, which here in the image above shows it to be 566.68%.
5. Choose How Much You Wish To Stake!
Now there are four ways in which you can stake. You can either stake 25%, 50%, 75%, or 100% of your Shiba Coins.
6. Hit On Approve
Hit the "approve" button; once you decide how much you plan to stake. You have to confirm this again with your wallet, which will show you the gas fees in Ethereum. Note that the charges keep fluctuating. So do consider the charges, and you may wait for some time till the charges reduce if it is pretty high.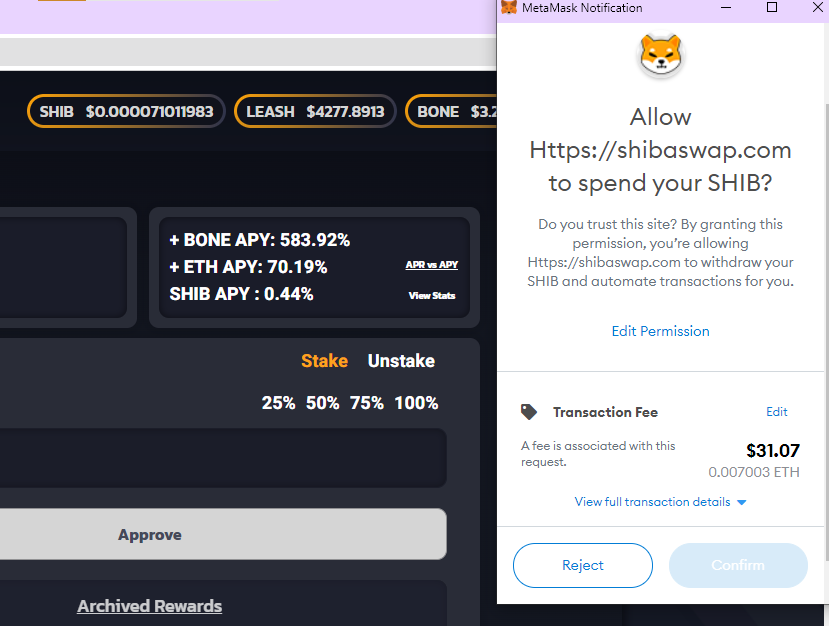 Disclaimer:
The platform does not really bury your coins the first time you hit the approve button. The Shiba coins remain in your wallet. However, the charges as a gas fee showed are charged.
To stake on ShibSwap for the first time, you will have to pay the charges twice. This is because the first charges are charged on the first transaction. This is made to simply approve you on the platform.
Once the first charges are charged, you must repeat the procedure mentioned above. This time, you won't have the option to "approve" Instead, it will show "stake." Note that you will again be charged in Ethereum as a gas fee. Note that the second transaction and gas fees will bury your coins and stake them.
7. You Have Your Coins Buried
The transaction may take a few minutes. Once the transaction is processed, ShibSwap shows your buried coins. So you have it there on the top.
Learn More About Burying Tokens on ShibaSwap!
The platform allows you to earn interest by burying tokens on its pool. Although the interest earned highly depends upon the contribution made to the pool.
Now when you stake your Shiba, you receive xShib. The xShib is nothing but a token representing your share in the pool which can be exchanged back to your Shib coin.
The returns are given out on a weekly basis.
Remember, frequent staking and unstacking impact the long term returns.
Additionally, note that you can claim your weekly returns up to 33%, while the 67% will be locked up for six months.
How to Buy Shiba Inu on ShibSwap?
Before we go onto the procedure, it is essential to understand that ShibSwap is decentralized. To buy any coin on a decentralized platform, you will have to swap coins to purchase the coins of your choice. Since here, we have been purchasing Shiba Inu, and the coin is on the Ethereum network. Therefore, you must ensure that you have some Ethereum in your trust wallet. In addition, you must also have the coin you wish to swap for.
Note that we will be swapping Ethereum from our Metamask wallet.
Follow the steps given below:
First, go to the official webpage of ShibaSwap.
Second, click on "Swap Tokens".
Click on Confirm swap. Make sure you see the charges and re-confirm them.
Confirm the transaction on your wallet. Note that we are using Metamask wallet.
Depending upon the gas fees, the transaction speed is. Wait for a few minutes, and you will have your swapping done.
Open your wallet and add the token by going to the custom token. To do this, you must go to Etherscan and copy the contract address and paste it there on the custom token column.
You now will have your Shiba Inu coins in your Meta mask wallet.
Conclusion
Staking and earning the Shiba Inu coin is no more a challenging task. This is because Shiba Inu has its own decentralized platform. However, if you do not wish for a decentralized platform, you can always go for centralized platforms like Binance. We have covered the how-to guideline for both of these platforms.
We hope the article has been helpful and detailed enough to help start your journey with the Shiba Inu coins.
Frequently Asked Questions
Can I stake Shiba Inu?
Yes, Shiba Inu can be staked on platforms like Binance and on the official decentralized exchange platform of Shiba Inu, which is ShibaSwap.
Can you stake Shiba Inu on Binance?
Yes, Shiba Inu can be staked on Binance for a locked stake. The duration can vary from 30, 60, to 90 days. 
What is Shiba Inu?
Shiba Inu is an Ethereum based altcoin. A coin inspired by the meme dogecoin is popularly known as the Dogecoin killer. In addition, the logo of the coin is inspired by the hunting dogs of Japanese breeds. Finally, traders can purchase these coins directly from exchange platforms like WazirX, Binance, and Coinbase. 
What is ShibaSwap?
ShibSwap is the newly launched official decentralized platform for the Shiba Inu. The platform currently has 6 functions: Swap, Bury, Dig, NFTs, Bonefolio and Woof. At the moment, the platform supports three different wallets: Metamask, Coinbase wallet, and Wallet Connect.
Is Shiba Inu a cryptocurrency?
Shiba Inu is an Ethereum based Altcoin. Yes, it is a cryptocurrency on the Ethereum blockchain and is currently trending these days. 
Also read,