Decentralized exchanges are the future, but one can't ignore the role of centralized exchanges now and in the near future. With its development roots since 2017, it is no wonder OKX (Previously OKEx) is another centralized exchange, but with more positives than negatives. This is so because the platform recently launched its own blockchain, OKXChain, with the OKB as its native token.
One Minute Summary
Launch Date: 2017
Own BlockChain: Yes, announced in Feb 2020- Ok Chain
Own DEX: Yes — Went Live in 2021
Transaction Fees: 0.1–0.15%
24/7 support: Yes
Trading Pairs: 400+
Supports Fiat: Yes
Mobile App: Yes
Based In: Malta
Demo Trading: Yes
KYC: Yes
What is OKX (Previously OKEx)?
OKX (Previously OKEx) is one of the most popular crypto exchange platforms. Furthermore, the platform offers various products such as below, and to learn more, you can read the OKX (Previously OKEx) review.
Perpetual swaps
Integrated storage wallet
Crypto-to-Crypto trading
Crypto-to-fiat trading
Trade via Mobile App
Supports several payment methods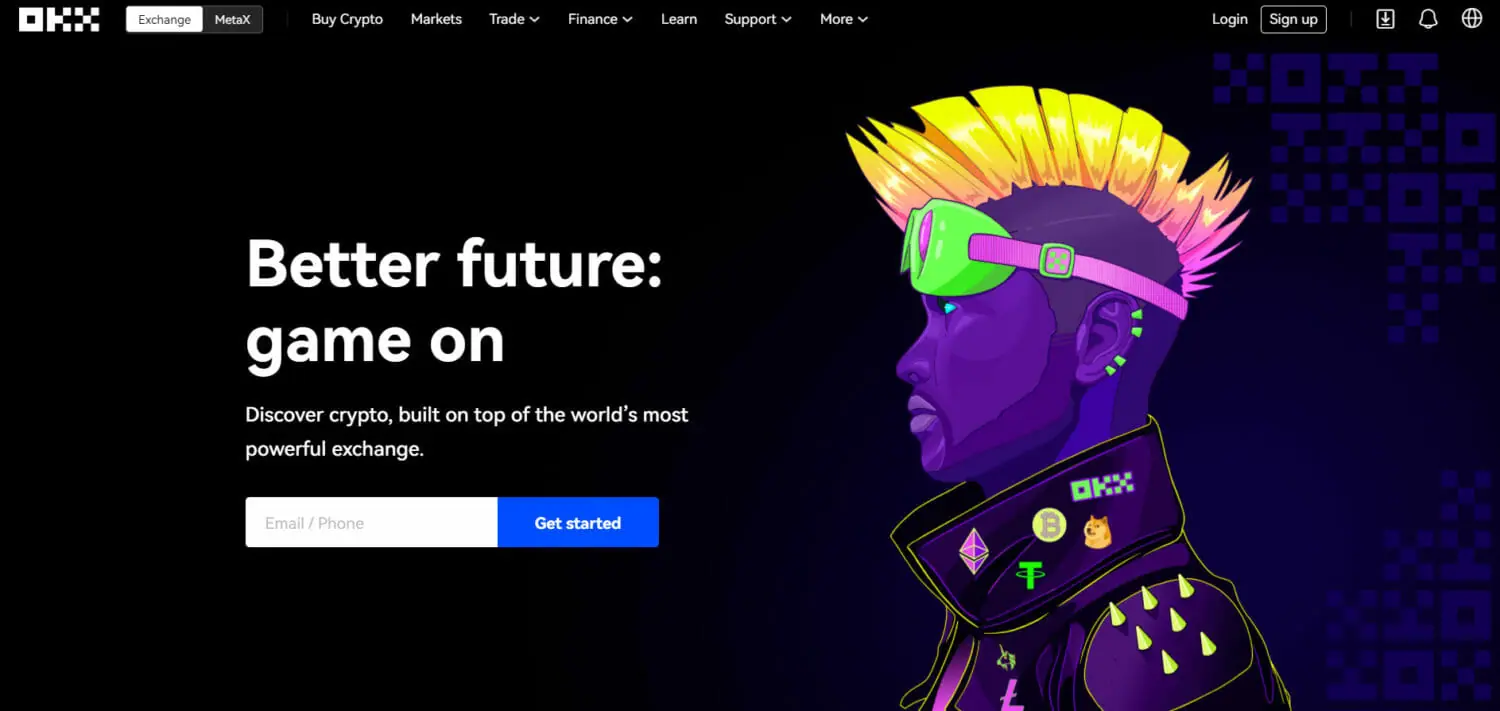 What are OKB tokens?
OKB is a worldwide utility token produced by OKX, the native coin of the OKChain blockchain and used to settle transaction fees or in Dapps built on OKChain. Furthermore, OKB has since switched from ERC-20 to OKChain following the establishment of the OKChain blockchain.
In addition, OKB token holders get to vote for prospective token listing.
1 OKB = 1 Vote
OKB Tokenomics
At the time of writing this article, OKB stood as below.

Below are the exchanges where you can buy the token
One thing to notice is that the token is deflationary. It buys back and burns. In other words, at regularly scheduled intervals, a certain number of tokens will be burnt and never come back. Below is the snippet.
OKB Token Buy Back and Burn
OKB token Buy Back and Burn initiative was introduced in May 2019. This feature has been designed to maintain the sustainable growth of the platform.
Between March 1, 2021, and May 31, 2021, the OKB team began the 12th round of its Buy-Back & Burn program. The total number of OKB tokens bought back and burnt from the secondary market in this round was 2,008,753.54 OKB — equivalent to $36,150,000 (calculated at 90-day average price) — which was moved to a specific burning address.
The OKB Purchase-Back & Burn program was first introduced on May 4, 2019, when 30% of spot-market transaction fees were used to buy back tokens from the original pool of 300,000,000 OKB, which were then transferred to a burning address that no one could access.
We have burned a total of 32,563,881.78 OKB as of now. The current total number of OKB in circulation is 267,436,118.22 OKB.

By OKX
The burning address for the token burn is as follows:
BURN ADDRESS — CLICK HERE
Diverse ecosystem applications
Currently, the OKB ecosystem includes 80 apps in development around the world, including payments, transactions, wallets, loans, and financial management, technological security, tourism, life services, entertainment, social networking, electronic contracts, and C2C services.
Through the use of OKB, OKB holders can also enjoy first-rate security services, mortgage loan services, various wallet services, online and offline shopping payment services, hotel reservation services, and other benefits.
As a prominent OKB holder, you have access to the following diverse OKB ecosystem:
Why OKX made its own Blockchain?
Bitcoin exchanges are leaning towards owning their own blockchain. For example, a paper published by Binance in 2017 gained traction, but many started working towards the goal only recently in the past couple of years.
Since Binance launched its native blockchain in April 2019, at least three other major centralized digital asset exchanges have revealed plans to build a blockchain network.
OKChain
OKX stated in February that its own blockchain, OKChain, was entering the testing phase. In March 2020, the Malta-based crypto exchange announced that it was constructing a blockchain and a decentralized exchange (DEX) on top of it.
OKChain is an independent commercial, public chain established by OKX that is already 100 percent open-source in order to provide an efficient, free, and limitless value-added ecosystem for all of our ecological partners. Furthermore, the cross-chain and 'OpenDEX' technology enable the OKX team to pursue the vision of the 'Commercial Chain Alliance' in order to facilitate the significant development of the blockchain sector.
OKXChain's Technical Advantages
OKXChain allows multi-chain parallel development, which can considerably speed up development and enable the deployment of large-scale applications. Furthermore, here multiple parties can work on a single application at the same time.
Expansion of on-chain data
The data on the chain is divided into three layers: block data, operations data, and off-chain data, all of which retain the benefits of blockchain technology, such as being irreversible and tamper-proof.
Only operating data is stored by on-chain calculation algorithms, reducing the amount of data delivered when a big amount of data is required to reach a consensus.
OKXChain — OKB Token — OKT Triangle
OKB and OKT are the native tokens of the OKXchain ecosystem. OKB will be available for trade on OKX DEX, using the chain's open and trustless environment to interact with the decentralized exchanges and trading pairs users have developed on the platform.
Furthermore, OKT, another native token generated on the OKXChain genesis and node blocks, will be mapped 100 percent to OKB holders based on their holdings. Thus, on OKXChain, OKT and OKB are inseparable.
OKXChain Explorer
The OKXChain block explorer lets you search, browse, and analyze OKXChain data like blocks, transactions, validators, and other important information.
Is OKX a reliable Exchange?
While it may not compare to certain cryptocurrency exchanges in terms of evaluations, OKX holds its own ground against the world's largest cryptocurrency exchanges when it comes to consumer feedback.
OKX received a 4-star rating from Trustpilot, the largest user review analyst, based on 236 reviews.
Interestingly, Binance has been rated 2 stars on the Trustpilot.
KYC Verification
Users must go through KYC verification to gain access to services like increased token withdrawal limits and C2C trading. What users will need for KYC verification is as follows:
Passport or other government-issued identifying documents.
Video Verification or/ and a Residential Address.
OKX Fees
Low costs might be crucial when trading higher position sizes with a margin and performing numerous transactions in a single day, which can reduce your potential gains.
To comprehend OKX's fees, we must first examine their customer levels. OKX (Previously OKEx) features a distinct maker and taker category. The maker and taker fees rate is determined by customer levels, trading markets, and asset types.
Trading Fees
Normal users can advance to VIP status if they maintain a monthly trading volume of at least $5 million. VIP members are currently classified into seven tiers based on their trading volume, which varies from $5 million to $1 billion.
OKX Withdrawal Fees
The platform has the lowest withdrawal costs of any notable exchange. For example, the withdrawal fee for BTC on OKX (Previously OKEx) is 0.0004 BTC.
Except for a few cryptocurrencies, OKX charges no withdrawal fees for other cryptocurrencies. Therefore, in terms of deposit costs, OKX does not charge anything to operate your crypto account.
Is OKX (Previously OKEx) Safe?
OKX, like every other cryptocurrency exchange on the market, places a premium on security. As a result, security measures such as 2FA, KYC, and MFA have become the norm in the crypto sector.
Wallets and exchanges that do not adhere to basic security procedures are frequently blacklisted or barred from use. As a result, OKX has implemented powerful security mechanisms that allow customers to secure their currencies without incurring additional risks.
OKX (Previously OKEx) users can secure their assets by using MFA or 2FA authentication. Furthermore, before opening an account on the platform, OKEx users must validate their personal details. It has no record of any hack, despite trade volumes reaching $10 billion.
Is there an OKX (Previously OKEx) app?
The OKX mobile trading app is available for download on all major platforms, including Android, iOS, Microsoft, and Mac. Users can instantaneously swap assets via their phones. In addition, the OKX (Previously OKEx) mobile app allows users to conduct technical analysis while on the go.
Setbacks of OKX (Previously OKEx)
They are always bound by specific limits when it comes to centralized exchanges. OKX (Previously OKEx) had banned all cryptocurrency withdrawals in October 2020.
One of the exchange's key holders has "gone silent" since they are "now cooperating with a public security office in investigations." OKX's CEO later stated that the investigation is being conducted due to a "personal issue" with the key holder.
The exchange said in a notice published that the key holder's absence prohibited withdrawal permission from being fulfilled.
As detected by on-chain transaction monitoring firm Whale, significant withdrawals of Ether, Tron, and bitcoin were completed from known OKX-affiliated addresses hours before the news.
OKX said in a tweet: "We are unable to disclose the nature of an ongoing investigation but would like to assure all OKX users that their funds are safe and that all other functions on OKX are unaffected."
After one month of uncertainty, OKX issued a press note that they are allowing the withdrawals.
OKX Token/ OKB: Pros and Cons
Pros
Advantages Over 400 distinct trading pairs
Buy or sell Cryptocurrencies using a variety of methods including Bank Transfer, Visa, MasterCard, ApplePay, Paypal, and others
Multi-layered Security System that is resistant
Apple and Android users will benefit from a well-designed mobile app
There are no deposit fees
Trading and financing fees are minimal when compared to other market options
Cons
It may take some time to reach Customer Service
Major countries are restricted geographically
Limitations on withdrawal and transfer
Not for the newbies
OKB Token/ OKX: Conclusion
Centralized exchanges for their competition always help consumers with competitive pricing. However, any centralized exchange is being hawk-eyed by the regulatory authorities. Therefore, it is often best practice to move the coins from centralized exchanges to cold wallets when not in use or if you are holding them long-term.
Please be very cautious about where your money is going.