Where and How to buy Monero?
Today, we will talk about a privacy coin, Monero, and discuss details such as where to buy Monero (XMR), the exchange platforms facilitating its easy purchase, and many other things.
Summary (TL;DR)
Monero is an open-source, privacy-oriented cryptocurrency.
It ensures complete privacy to its users, and all transactional details are hidden from anyone else.
One can buy Monero Crypto in three ways-

Firstly, with some other cryptocurrency such as BTC, USDT, etc.
Secondly, with USD.
Thirdly, without providing any identification proof, i.e, from a Swap service.

Monero has dynamic scalability and ensures complete privacy.
However, it is a highly layered and complex structure.
What is Monero?
Monero was launched in 2014. It is an open-source, privacy-oriented cryptocurrency that has an opaque blockchain system. It makes use of a proof-of-work consensus mechanism. Monero's privacy features make it easier to be used for illicit purposes, and it is also used on the dark web.
Monero's blockchain is intentionally opaque, and all the details, such as information about the sender, receiver, and amount of transaction, is hidden by the address used by participants.
Monero addresses privacy concerns by making use of ring signatures and stealth addresses. This enables privacy and anonymity to its users.
Where to buy Monero?
We can purchase Monero coins in the following ways-
Buying Monero with cryptocurrency
The following cryptocurrency exchange platforms facilitate buying monero-
Swap platforms to buy Monero(XMR) anonymously. Pro tip, use VPN while using a swap service to hide your IP.
How to buy Monero Coins (XMR)?
You can buy Monero coins with cryptocurrency, fiat currency, and anonymously as well, that means without providing your KYC information. Multiple cryptocurrency exchange platforms facilitate the easy buying, acquiring, and trading of Monero coins.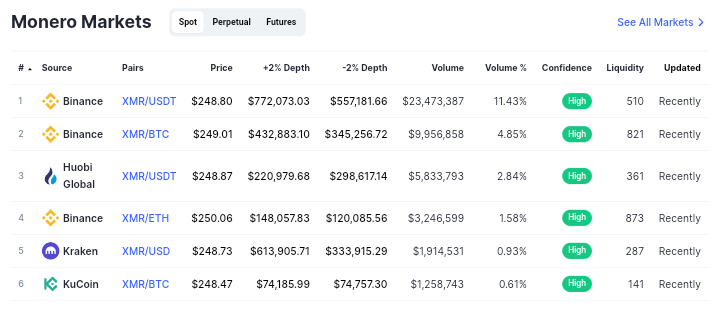 How to Buy Monero on Binance?
Binance is the biggest exchange platform in the world. To learn more about Binance, read our Binance review.
Sign up or sign in to your Binance account.
Go to Deposit and choose a cryptocurrency you wish to purchase, eg. ETH.
Transfer the purchased coins to the address you have received.
Select 'Funds' and confirm the transaction.
Move to 'Exchanges' and search for XMR/ (purchased cryptocurrency).
Now select 'Buy XMR,' and you will have Monero coins in your wallet.
Also, read Binance Card Review: Is This the Best Crypto Card?
Buy Monero with Credit Card/ USD
Sign up or sign in to your Bitfinex account.
Select the 'Buy Now' button. Then, enter the cryptocurrency you want to purchase and the fiat currency you will pay in for.
Mention the crypto amount you wish to buy. Fill in your Monero wallet address.
Make the payment with your card. Then, complete a few simple verification steps, and you will receive your Monero coins in your wallet safely.
Also, read Bitfinex Staking – Earn Passive Income.
How to buy Monero without verification?
One can buy Monero (XMR) without any KYC and anonymously by transacting over a peer-to-peer exchange platform called Local Monero. Follow the simple steps given below:
Register on the LocalMonero exchange platform with a username and with or without an email address. No KYC is required.
Click on 'Create New Ad ' on the dashboard if you have not created an ad earlier.
Enter whether you want to buy or sell Monero, either online or by cash. Now enter the payment method.
You have to set the price as either Fixed or Market. Then, select a maximum and minimum amount for purchase.
Provide your payment details; now review and publish this ad.
When you select an ad from the list, you can send a trading request after choosing the amount of trade.
After the request has been made, you can make payment to the payment information that has been provided to you or chat with the seller to receive their information if unavailable.
Click on 'I have paid.' The seller would then confirm and release the Monero coins purchased.
How to buy Monero on PayPal?
Register on a new account on Virwox platform.
Go to the deposit option given on the left side.
Add funds using PayPal.
Buy BTC with the funds available.
In the withdraw section of your Virwox account, add the Bitcoin deposit address and enter how much you want to send.
When Bitcoin arrives in the Exchange, purchase Monero with BTC/ XMR pairing.
Also, read Best Monero Wallets (XMR Wallet)
Buying Monero: Pros and Cons
Pros
You have complete control over your transaction and ensure privacy.
Monero has dynamic scalability and a free block size mechanism.
Transactions are neither linkable nor traceable.
Cons
No voting mechanism in place for project changes.
It is a highly complex structure.
Monero coin price prediction is difficult as monero price keeps fluctuating.
Buy Monero: Conclusion
Monero has been the most prominent privacy coin in terms of market capitalization. Its top position in the privacy coin market is attributable to its advanced features and privacy commitments. Privacy is becoming the top priority for investors, and thus this can be a massive advantage for Monero coins in the coming days.
You can buy Monero directly from an exchange platform such as Binance. Furthermore, you can buy XMR using a credit card on platforms such as Bitfinex.
Finally, you can even buy Monero on PayPal using Virvox, and then an exchange platform such as HitBTC.
Frequently Asked Questions
How is Monero's privacy structures different from other coins? 
Monero's privacy structure includes three privacy technologies- ring signatures, confidential ring transactions, and stealth addresses. These technological aspects enhance Monero's privacy standards. 
Is there a size limit for block size in  Monero? 
Monero does not have a block size limit, and its size increases and decreases depending upon current demands. 
What are the best wallet options for storing Monero coins? 
Some of the best wallets for storing Monero coins are- 
– Ledger Nano S
– Ledger Nano X
– Trezor T
To learn about more wallets, read our article on the Best crypto hardware wallets.
How is Monero different from Bitcoin? 
Monero and Bitcoin use different mining algorithms. Monero uses Cryptonight (GPU Mining) algorithm, whereas Bitcoin makes use of the SHA-256 mining algorithm. They have different privacy and security structures as well.