PancakeSwap is more than another DeFi protocol with a food theme. It is the leading DEX on Binance Smart Chain. Binance Smart Chain is run by the world's largest centralized cryptocurrency exchange, i.e., Binance. SushiSwap, Yam Finance, BakerySwap, Pasta Finance, BurgerSwap, Pizza Finance, and Kimchi Finance are food-themed cryptocurrency projects. We can trade right from the wallet app. Unlike centralized exchanges like Binance or Coinbase, PancakeSwap does not keep our crypto when we trade, and we have complete control of our funds.
Summary (TL;DR)
PancakeSwap is a DEX similar to Uniswap, with the exception that it operates on Binance Smart Chain rather than Ethereum.
It allows us to exchange tokens without the middlemen, earn liquidity pool and staking incentives, participate in a lottery, and other opportunities.
It is built on Binance Smart Chain rather than Ethereum, so it has considerably cheaper trading costs.
It was created by anonymous developers with a love for Pancakes.
AMM: It is based on an automated market maker that depends on liquidity pools to allow crypto exchanges. Users lock their tokens into a liquidity pool using smart contracts. This allows us to make the desired exchange, while users who leave their tokens in the pool can collect incentives.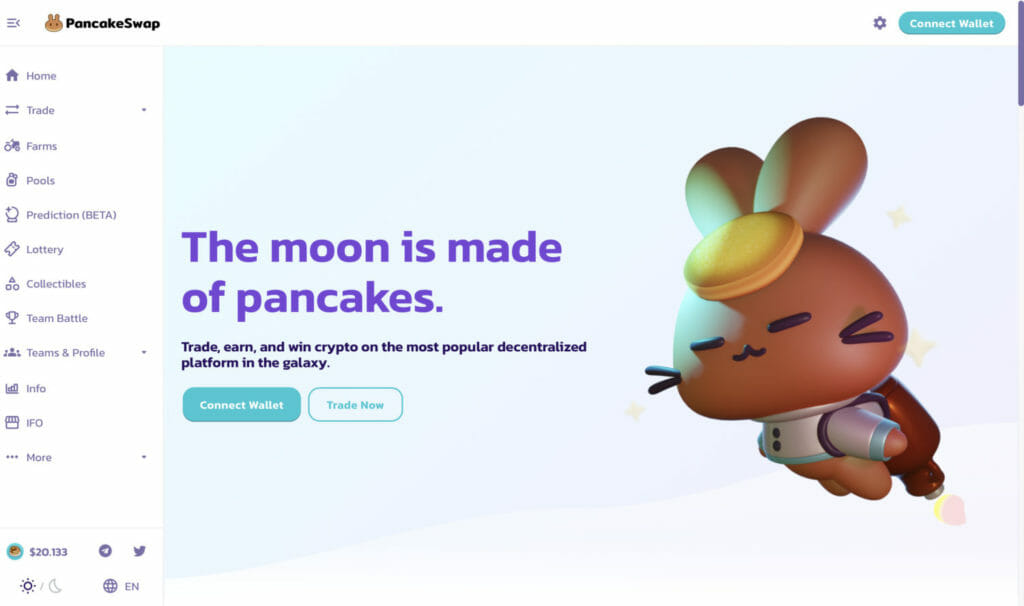 History
2020
September: It was launched in September 2020.
2021
February: PancakeSwap became the Binance Smart Chain's first billion-dollar project on February 17, 2021.
April: PancakeSwap V2 was released in April 2021.
Working
AMM:
It works on the concept of an automated market maker.
This implies there are no order books.
Users trading on the platform immediately draw liquidity from one or more liquidity pools, which then rebalance once the trade is completed.
Trades executed on an AMM remove liquidity from one side of the pool and provide liquidity to the other, therefore altering the weights and relative prices of the assets in that pool.
Liquidity Providers:
Liquidity is provided by users, which is known as liquidity providers (LPs).
They provide equal amounts of both sides of a liquidity pool to enhance the overall amount of liquidity available.
Users are given LP tokens, which represent their portion of the pool. These tokens must be returned to obtain their share of the pool.
LPs receive a portion of the transaction fees earned by any pools they contribute in exchange for providing liquidity.
There is a 0.25 percent transaction charge for makers and takers, with the majority of the fee shared among the liquidity providers.
How to use PancakeSwap?
In this section, we will understand how to use PancakeSwap.
Step 1: Wallet
To get started with PancakeSwap, we will need first to set up a wallet that supports Binance Smart Chain (BSC). Next, we must select the wallet that best meets our requirements.
Step 2: BEP20 Tokens
BEP20 tokens are native tokens to Binance Smart Chain (BSC). To do activities on BSC, we will need to pay for gas, which comes in the form of BEP20 BNB. We will also need the BEP20 version of any token we intend to trade, stake, or otherwise use on BSC.
We can convert our tokens to BEP20 with a variety of methods. First, click on any one of the links below to do so; SafePal, Binance Bridge.
Step 3: Connecting the Wallet to PancakeSwap
In this guide, we will use the Metamask wallet to connect to PancakeSwap.
Open MetaMask and pick a network from the network selection at the top. It will display Ethereum Mainnet by default.
Scroll to the bottom and choose Custom RPC.
Metamask will open a window. Fill up the blanks with the information as given below.
Check that everything is written accurately, then click Save.
Binance Smart Chain is now available as a network option.
Go to PancakeSwap's website. The connect button is located in the upper right corner. Click on it.
A popup will open asking us to select a wallet to which we want to connect. MetaMask should be chosen.
Step 4: Exchange Page
Step 5: Unlocking Wallet
Unlock your Binance Smart Chain-compatible wallet by clicking Unlock Wallet.
Step 6: Choosing Tokens
Select the token we wish to exchange from the dropdown menu in the from column.
The default option is BNB.
Whichever token we select, be sure we have enough amount to trade with.
Our balance is displayed above the token dropdown option.
In the To column, select the token we wish to exchange to.
Then, by clicking within the input box, enter a value for our to currency.
Step 8: Conclusion
Check the details, and click the Swap button.
More information will be displayed in a new window.
Check that all of the information is correct. When we are finished, click the Confirm Swap button.
Our wallet will request to confirm the activity.
To view our transaction information on the explorer, click View on BscScan.
Initial Farm Offerings
Initial Farm Offerings are a method of getting a newly released token by users using the power of yield farming.
On PancakeSwap, We can view the presently active IFOs on the IFO page.
During an IFO, customers swap their CAKE-BNB liquidity provider tokens for new project tokens.
Examples of projects launched using an IFO are Ditto, Soteria, and Hot Cross.
Basic Sale v/s Unlimited Sale:
Introduction: During the Basic Sale, everyone can only commit a certain amount, but they can expect a larger return per token committed. On the other hand, During the Unlimited Sale, there are no restrictions on the amount you can contribute.
Amount: During the Basic Sale, any user can contribute up to 100 USD worth of CAKE-BNB LP Tokens. There is no limit to the number of CAKE-BNB LP Tokens you may commit to during the Unlimited Sale.
Participation Fee: There is no participation fee for the Basic Sale but a participation fee for the Unlimited Sale.
Which sale to choose: We can select either one or both at the same time. But If only investing a small amount, then we should start with the Basic Sale.
Participation:
Step 1: Go to PancakeSwap.
Step 2: To participate in an IFO, we must have an active PancakeSwap Account.
Step 3: Buy CAKE and BNB tokens. To obtain LP tokens, stake CAKE and BNB in the liquidity pool.
Step 4: We will use them to purchase IFO sale tokens.
Step 5: When the IFO sales go live, we will be able to commit our LP tokens to purchase the tokens being offered.
Step 6: We can claim any IFO tokens we have purchased once the IFO sales end, and any unspent CAKE-BNB LP tokens will be refunded to your wallet.
Lottery
It provides us with the opportunity to win massive CAKE rewards.
Price: The cost of a lottery ticket is $5 in CAKE. Paying for one ticket yields a random 6-digit combination with each digit ranging from 0 to 9, such as 0-1-4-9-7-2.
Rewards: Matching the numbers on the ticket's left side to the winning numbers drawn at the end of a Lottery round. Even matching only the first number will get us a small reward. More numbers must be matched to earn a portion of a greater prize pool.
No. Of Tickets: There is no overall restriction; however, only 100 tickets may be purchased at a time. Purchasing numerous Lottery tickets at once results in a bulk discount. You may buy up to 100 tickets in one transaction, with the discount starting at 2 tickets and increasing to 4.95 percent at 100 tickets.
If we hold a single ticket that matched three numbers in order, and the predetermined share of the prize pool for our bracket was 2000 CAKE, we will earn the entire 2000 CAKE. If three other people and we match three numbers in order, the 2000 CAKE would be split between the four winning tickets, meaning we would receive 500 CAKE.
Playing:
Step 1: Go to PancakeSwap.
Step 2: Click the Buy Tickets button.
Step 3: A window will appear, allowing us to select the number of tickets we want to purchase. Enter the number of tickets.
Step 4: Click Confirm and confirm our action in the wallet.
Step 5: To Check for Prizes, click "View Your Tickets" on the Lottery website under "Finished Rounds". A window will appear, displaying the winning numbers and all of our tickets and their respective numbers.
NFT Profile System
Introduction:
It allows users to select an NFT profile image after purchasing one of the various Bunny NFTs.
Users who complete their profiles will also join a team and participate in special team activities to win prizes.
Most famous teams are Syrup Storm, Fearsome Flippers, and Chaotic Cakers.
Setting up:
Step 1: Go to your profile under Teams & Profiles.
Step 2: Select one of the various bunny NFTs for your profile photo under Choose your Starter. The NFT will cost us at least 1 CAKE.
Step 3: Select Approve and then confirm the activity in our wallet. When it has been approved, click Confirm.
Step 4: A new page will load with the Choose collectible. If we have already had numerous NFTs, we can select one from a list of NFTs. Otherwise, please choose the one purchased by us in Step 2.
Step 5: Click OK, then confirm the activity in your wallet. Once it has been approved, proceed by clicking Next Step.
Step 6: Now, we will be prompted to join a team. Under Join a Team, select a team. Then, select the Next Step option.
Step 7: Next, we'll choose a name for our profile. Fill in the Enter your name. Select the I understand checkbox.
Step 8: After clicking the Confirm button, confirm the activity in the wallet. After confirming it, click the Complete Profile button.
Step 9: We will receive a message informing us that our profile contract will cost us 0.5 CAKE. Approve the activity in our wallet by clicking Approve. When it has been approved, click the Confirm button.
Step 10: After a short time, our new profile will appear.
Voting
CAKE holders can vote on governance ideas using PancakeSwap's native voting platform.
Some of these will be proposed by the PancakeSwap core team, while the community will propose others.
Core Proposals: Proposals posted by the PancakeSwap team.
Community Proposals: Proposals posted by the PancakeSwap community. T
PancakeSwap team reviews every community vote and often moves any with strong community support up to the CORE proposal level.
Syrup Pools
Introduction:
It helps us to earn free tokens on PancakeSwap.
Users can stake a variety of BEP-20 tokens in the platform's Syrup pools to receive a return either in the form of CAKE or another reward token.
Staking:
Step 1: Go to PancakeSwap.
Step 2: Click the Connect button to connect to our Binance Smart Chain-compatible wallet.
Step 3: Select Unlock Wallet from the dropdown menu. Select the Syrup Pool in which we want to invest. Auto CAKE: It automatically compounds our rewards. Any CAKE we earn will be harvested and re-invested in the same pool for us. Manual CAKE: It doesn't automatically compound. We need to harvest and compound our earnings manually. Other Syrup Pools allow us to stake our CAKE to earn many other cool tokens.
Step 4: After selecting a pool, click the Enable button. Our wallet will request that we confirm.
Step 5: Enable button will now be replaced with Stake. Click the button to bring up the staking menu.
Step 6: Type in the amount or slide the rabbit to choose how much CAKE we want to stake. Click Confirm. Our wallet will ask us to confirm the action.
Step 7: Confirm button will change to Confirming, and once the transaction is complete, Our staked amount will change, and the button will change again. We should now be able to view information about our Syrup Pool. Auto CAKE will display a countdown timer until the unstaking fee expires. The other pools will display a Collect button where we can deposit our staking earnings into your wallet.
Yield Farming
Introduction:
Definition: Activity of staking or lending crypto assets to produce large returns or rewards in the form of extra crypto.
It is a method to earn CAKE rewards on PancakeSwap.
Farms require us to stake two tokens to get LP Tokens, which we then stake in the Farm to receive rewards.
It allows us to earn CAKE while maintaining our position in our other tokens.
Prerequisite:
To enter a Farm, we need LP Tokens.
Farms will only take LP Tokens that are identical to their own. For example, the CAKE-BNB Farm will only accept CAKE-BNB LP Tokens.
To obtain the specific LP Token, we must offer liquidity for that trading pair. For example, to get CAKE-BNB LP Tokens, we must first create liquidity for the CAKE-BNB pair. It may appear scary, but it is not too difficult.
We should select the Farm that is most suited to our needs.
If we go to the Farms page, we will find a list of available Farms.
With the default Hot sorting, CAKE-BNB and BUSD-BNB are pinned to the top of the list. Following the pinned Farms, Hot will display more Farms in the order in which they were added.
If we want, we may sort the Farms by APR, which sorts the greatest reward rate.
We need to provide liquidity to receive our LP Tokens.
Click on the row of the Farm from the list that which we want to use.
Click on details. It gives us additional information.
Click on Get (our pair) LP like Get CAKE-BNB LP in the image. This will take us to the Add Liquidity page for our Farm's pair.
Procedure:
Step 1: Now that we have obtained our LP tokens. It's time to stake them to earn CAKE.
Step 2: Go to the Farms tab and choose the option that corresponds to our LP tokens.
Step 3: BEP-20 tokens require our approval. This is what permits the contract to withdraw them on our behalf.
Step 4: When we click Approve Contract, a popup window will appear asking us to approve the transaction, and it will also be displaying a fee.
Step 5: Once the transaction has been confirmed, choose and confirm the amount we wish to stake.
Step 6: We can now leave the website and return at any time to see how much CAKE we have earned.
Rewards:
Farming will reward us with CAKE over time.
Use: We may gather these rewards and use them to earn more LP Tokens, stake them in Syrup Pools, play Lottery, or do anything we want with them.
Claiming: To claim the prizes, go to the selected Farm and take the CAKE. Find the Farm where we staked our LP Tokens. Under Cake earned, we should see an approximation of our rewards. After a short time, the CAKE will be claimed and added to our wallet.
CAKE
Introduction:
PancakeSwap token CAKE is a BEP20 token on Binance Smart Chain.
It is a utility token on it.
Goal: To promote liquidity provision to the PancakeSwap platform.
Farming: Users can receive incentives by staking their tokens by depositing and locking up Liquidity Provider tokens. The system rewards it with CAKE tokens.
Lottery: It is used to enter a lottery on PancakeSwap.
Tokenomics:
Supply:
The token presently has no hard cap on its production, making it an inflationary token.
This is frequently cited as a source of concern by people of the community.
Reason: The role of the token is to incentivize the provision of liquidity to the exchange. There would be far less motivation to offer liquidity if block incentives were not present.
Reducing Supply: The aim is for more CAKE to exit the market than is produced. This is done by;
By Reducing block emissions: Inflation is curbed by decreasing the quantity of CAKE produced every block. The initial cut in block emissions essentially lowered the number of CAKE created per block from 40 to 25. However, this is not done too frequently or too early.
Deflationary mechanisms: Many of PancakeSwap's products have regular token burns like a 10 percent burn of CAKE spent on lottery tickets.
Upgrades
Since its first release in 2020, the platform has undergone many updates, each of which has included additional products and features.
PancakeSwap V2:
It was released in April 2021.
It allows developers more freedom to improve the future functionality of the platform, such as auto-compounding in syrup pools and the addition of a referral program.
There was a modification in the fee schedule (from 0.2 percent to 0.25 percent), with 0.05 percent of this utilized to purchase CAKE from the public market before burning it.
PancakeSwap's chefs do not yet have a definite plan, although there is a public to-do list without specific dates.
Conclusion: PancakeSwap
PancakeSwap is the largest AMM project on Binance Smart Chain, and it has several unique characteristics. Firstly, Ethereum may have initiated the DeFi movement, but projects like PancakeSwap indicate that the wave of innovation will extend to other chains. Secondly, Binance Smart Chain is rapidly expanding as developers take advantage of its lower costs and faster transaction times than Ethereum. PancakeSwap may not have the same amount of average daily volume as Uniswap or SushiSwap. Suppose Binance's decentralized app (dapp) platform continues to expand and attract more developers and users, and Ethereum's skyrocketing gas prices and network congestion persist. In that case, PancakeSwap may compete with competing exchanges even more effectively in the future.
Freqently Asked Questions

Is CAKE an ERC-20 Token?
No, CAKE is not an ERC-20 Token. It is a BEP20 token on Binance Smart Chain.
Is there any Roadmap for PancakeSwap?
PancakeSwap does not have any Roadmap, but there is a public to-do list without specific dates.
What is the main difference between PancakeSwap and Uniswap?
PancakeSwap is a DEX similar to Uniswap, except that it operates on Binance Smart Chain rather than Ethereum Blockchain.
What is the difference between Staking and Farming?
In Staking, users can stake a variety of BEP-20 tokens in the platform's Syrup pools to receive a return either in the form of CAKE or another reward token. In Farming, Farms require us to stake two tokens to get LP Tokens, which we then stake in the Farm to receive rewards.
What is the maximum supply of CAKE?
The token presently has no hard cap on its production, making it an inflationary token. Built-in burning and regular burning events are used to control the circulating supply.
Also Read,