In this Coinswitch Kuber review, we will be going through all the steps involved while trading digital assets. Moreover, we will also glance at the platform's fees, security, and, most importantly, pros and cons. The platform is stable and keeps your money safe. However, it is always advised to go through the platform's work and attain knowledge before investing your hard-earned money.
| | |
| --- | --- |
| Feature | Description |
| Founded in | 2017 |
| Headquarters | India |
| Deposit Fees | Free |
| Transaction Fees | 0% to 0.5% |
| Customer Support | Mail, FAQs and Submit Form Support |
Summary Coinwitch KUber
Summary (TL;DR)
Coinswitch Kuber has a vast user base of over 4 million Indians and supports more than 100 cryptocurrencies.
Users can start investing with only INR 100.
No deposit and withdrawal fee.
The KYC and registration process is fast and straightforward.
The platform does not even charge for buying and selling cryptos.
It is a Beginner-friendly and secure application.
They support UPI payments along with NEFT and IMPS bank deposits.
Coinswitch also has a dedicated and simplified support system with Support Tickets and a live chat option to submit queries.
Coinswitch is one the most famous crypto exchange in India.
Use code Rd8P to get a discount on the trading fees.
What is Coinswitch Kuber?
Coinswitch Kuber is an Indian cryptocurrency exchange. The platform Coinswitch was founded by Ashish Singhal, Govind Soni, and Vimal Sagar Tiwari in 2017. Furthermore, the platform launched its India-specific version, now known as Coinswitch Kuber, in June 2020. As of June 2021, the platform caters to more than 5 million users.
Coinswitch is one of the most secure and user-friendly platforms with 100+ cryptocurrencies that are available for users. Moreover, unlike other traditional exchanges, which generate their liquidity, Coinswitch does not. Instead, this platform connects to multiple exchanges to find the best exchange rates for the users. The platform also announced its medium blog to launch Coinswitch Pro, but it doesn't seem to be available any time sooner.
Coinswitch Kuber Review: Impact on Indian Cryptomarket
The platform successfully brings and offers a simple and easy experience to its Indian users of the crypto market. We know the importance of a user-friendly platform, and Coinswitch Kuber is standing still to offer you the same. All the complexities are eliminated under the Coinswitch.
All it renders is a user-friendly experience for beginners in cryptomarket. With the emergence of crypto in India, this app-based platform is the most efficient and accessible.
If you're new to crypto trading, go through our ultimate guide to invest in cryptocurrency to better understand crypto trading in India.
Coinswitch App
The trading exchange is entirely centred on mobile users and is aiming at making trading a remote process. However, the platform only offers the Coinswitch app to its traders, and there is no desktop version of the platform.
Use code Rd8P to get a discount on the trading fees.
How to trade on Coinswitch Kuber?
To start trading on Coinswitch Kuber, you first have to register yourself, complete your KYC, deposit either money or cryptocurrency, and then you can proceed towards trading.
1. Registration at Coinswitch Kuber
The CoinSwitch Kuber app is available for both Android and iOS users. To register yourself, first, download the Coinswitch application. Furthermore, CoinSwitch only asks for your phone number to register on their application. After entering your number, please wait for the OTP, verify it, and set a pin for your application.
2. How to Complete your KYC?
To deposit any amount or to buy or sell crypto assets, users have to complete their KYC. Furthermore, the KYC process is relatively straightforward, and with the correct documents, it only takes 10-15 minutes for completion and verification. Moreover, you will need the following documents to complete the process:
PAN Card
Aadhar Card, Passport, and Voter ID (Anyone).
The Coinswitch Kuber KYC process is divided into primary verification, Pan Card Verification, and Identity Card Verification.
To enter into the verification process, open the app, go to settings, click on "User Verification," and click on "Basic Verification."
3. Basic Verification
You have to fill in the basic details about yourself at this level, including full name, Date of Birth, and your email-id. Then, you will receive an OTP on your email-id, copy and paste it. Once this is done, you will complete your first level.
4. Pan Card Verification
Click on the "Pan Card Verification" to start your next level. Allow the application access to your camera, and click the photo of your Pan Card. Then, click on submit. After 4-5 minutes, it will get verified.
5. Identity Card Verification
To complete this part of KYC, you must submit either your Aadhar Card image, Passport image, or Voter Id:
Select the one for which you have documents.
Click the image and submit it.
Wait for a few minutes, and it will be verified.
How to Deposit INR at Coinswitch Kuber?
Coinswitch Kuber Review: Limit for transfers
Coinswitch Kuber does not limit its users with any max or min transactions. However, the amount should not be meagre, and the user should keep in mind that the amount covers the entire network fees.
Steps to deposit funds at coinswitch Kuber
Follow the steps given below to deposit INR to your Coinswitch Kuber account:
Open the app, and click on "Deposit INR."
Enter the amount you want to deposit. Please note that the minimum amount that you can deposit is Rs. 100.
Click on "Deposit."
Users can deposit their funds through UPI or Direct bank deposit (via NEFT, IMPS, or RTGS).
If you want to deposit through UPI, click on the "UPI" option.
Select the UPI app, which you prefer. After this, you will be redirected to the UPI application, where you need to fill in the funds.
However, you need to send the funds to the account whose details will be provided if you select Direct bank deposit.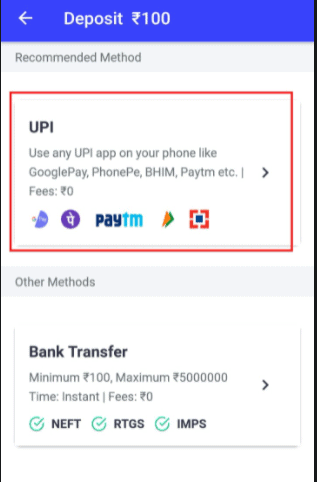 Please note that you first need to fill in your bank details in the Coinswitch Kuber app. This is to deposit INR using the Direct Bank deposit method (if you have not done it earlier).
Use code Rd8P to get a discount on the trading fees.
How to Buy Cryptocurrencies using Coinswitch?
Coinswitch Kuber Review: Limit Orders
Coinswitch Kuber limit orders let you place a limit order on your trade. To place a Limit order, users can fill in the price and quantity they prefer to buy or sell the crypto. Therefore, the platform will execute the trade if the market price reaches your limit price.
Steps to buy crypto at Coinswitch Kuber
Click on the "market" section from the bottom navigation menu in the Coinswitch Kuber mobile app.
You will find all the available cryptocurrencies there.
Search the name of your preferred cryptocurrency and click on it.
You will see the "Buy" button on the bottom left side. Click on it.
Enter the amount you want to buy, and click on "Preview Buy."
Check the amount of coin you will receive and finally click on "Buy."
The assets will be purchased, and they will be available in your portfolio.
Coinswitch Fees
Coinswitch Kuber neither has a deposit fee or a withdrawal fee. The platform also claims that there are no Coinswitch charges for the first 100 days. After that, however, the platform charges a trading fee of 0% to 0.5% once this period ends based on the exchange you select.
Supported Cryptocurrencies
Coinswitch Kuber offers its users cryptocurrencies more than 500 which they can buy or sell. Some of these cryptocurrencies are:-
Dash
NEO
Ripple
Bitcoin
Verge
Coinswitch Kuber Review: Referral System
The Coinswitch Kuber Referral program is one of the few features that users prefer. Under this program, users get a chance to earn BTC worth 50 INR on every successful referral. Every registered user is eligible to win this reward. However, do keep the following points in mind to receive the compensation:
The referee should download the application using the referral link and complete their KYC.
KYC is mandatory for the referee so that you can win the reward.
Also, ensure that the referee must download it before the links expire.
Reward System at Coinswitch Kuber
The reward system of Coinswitch Kuber is coupon-based. To earn them, users have to complete a few milestones. For instance, Coinswitch gives reward coupons when a user verifies their account. You can access the reward coupons from the Gift section, which is present as a floating button.
Coinswitch Kuber Review: Customer Support
The Coinswitch Kuber customer support has brief and dedicated FAQ sections for users to clarify their doubts. Furthermore, they even support Tickets for the users who still have any queries. You can also prefer their live chat option, which is available between 7:00 Am – 10:00 Pm. Another option to get in touch with the support team is to email [email protected]. Typically, they reply within 12 hours.
Coinswitch Kuber Review: Security
Coinswitch Kuber is one of the most stable and reputed crypto exchanges, which is well-funded to secure users' assets. They make users complete their KYC to maintain transparency. Moreover, Coinswitch services are ISO 27001 compliant and SOC2 Type II certified. Also, they claim that they take the security of users very seriously and thus maintain the app accordingly.
Why is Coinswitch Kuber the best trading platform in India?
CoinSwitch Kuber can be called the best bitcoin exchange as it maintains over 1 million accounts with keeping the integrity of every user in mind and offering them the best features. In addition, instant money transfers have built trust among the users as money is the priority for everyone.
The Coinswitch Kuber app is most suitable for beginners who lack experience. In India, the number of people interested in investing in cryptocurrencies is increasing rapidly. So they could get no better platform than Coinswitch Kuber.
Coinswitch Kuber Review: Pros and Cons
Pros
Cons
Coinswitch Kuber

provides a beginner-friendly and intuitive interface.

You can't use this app-based platform without getting done with your KYC.
It offers instant INR deposits and withdrawals.
Only for Indian residents.
No deposit and withdrawal fee.
Fiat deposits not allowed (Only INR)
KYC is quick and short.
Does not support credit and debit cards.
No Transaction limits (except for the ones that individual exchanges impose).
It is not suitable for day trading as the platforms lack tools
Supports UPI, NEFT, and IMPS bank deposits.
Good support system.
It has got a satisfactory rating on Playstore.
Coinswitch Kuber Pros and Cons
Coinswitch Kuber Review: Conclusion
Coinswitch Kuber is an emerging name among the Indian people. It is a secured platform and is the best crypto app in India. It offers more than 100+ cryptocurrencies. At the same time, users can start trading with only INR 100. The way it keeps adding new cryptocurrencies to its list and enhancing its security will become one of the most reliable platforms.
The platform also comes with few setbacks, like it is not operational without KYC. Furthermore, you can't manage transfers between cryptos. The platform does not even charge a single penny from its users as trading fees. My only suggestion is to utilize a hardware wallet to store your large amount of crypto assets.
Frequently Asked Questions
How to buy bitcoins on Coinswitch?
Firstly, you need to visit the official Coinswitch Kuber website. Then select "INR" and" BTC" from the dropdowns. Next, you can view all the offers from the "View all offers" section. Second, select the desired option. Third, fill in the BTC wallet details. Lastly, make the payment in INR.
Is Coinswitch safe?
Yes, Coinswitch Kuber is both legit and safe. Till now, it has never been hacked. Moreover, it is a non-custodial exchange, and therefore does not custody user funds. The platform takes users' data and assets seriously and thus always tries to adopt the latest security practices.
How reliable is Coinswitch?
After looking at all the features which users can implement without any hectic processes, we can conclude that it is genuinely well grounded. Also, more than 50 lakhs people use this application, which shows their trust in Coinswitch Kuber.
What is the Coinswitch Kuber customer care number?
According to Coinswitch, they do not offer any customer care number. The only way for users to contact them is through tickets and live chat.
Where is Coinswitch Kuber located?