What if you could use programs that could buy and sell on behalf of you and generate profit? These programs already exist and they are called cryptocurrency trading bots. They continuously monitor the market and act according to the predefined rules. This article will compare the top 3 crypto trading bots, Bitsgap vs 3commas vs Quadency.
Summary
| | | |
| --- | --- | --- |
| Category | Winner | Reason |
| Trading Bots | Quadency | They have various trading bot options. |
| Security | Draw | All three exchanges have deployed several measures to ensure that the platform is secure. |
| Exchange Platforms | Bitsgap | They support the highest number of crypto exchanges. |
| Price | 3Commas | It is cheaper compared to other crypto exchanges. |
| Customer Support | Draw | All three platforms offer extensive customer support. |
Bitsgap vs 3Commas vs Quadency
Bitsgap vs 3Commas vs Quadency: Overview
What is Bitsgap?
Bitsgap is an all in one trading platform launched in early 2018. They offer management of crypto assets from one platform – trading bots, arbitrage, portfolio, and signals. You can connect to all your favorite exchanges from one interface.
What is 3Commas?
3commas is a cryptocurrency trading platform that offers smart trading terminal and auto trading bots. They help you maximize profit and limit losses with minimum risks.
What is Quadency?
Quadency offers a smarter way of trading and managing your cryptocurrencies. They help you automate your strategies and monitor your holdings even in offline wallets. They manage 100M+ USD.
Bitsgap vs 3Commas vs Quadency: Features
Bitsgap
Fully automated bot that works 24/7.
You can check the performance of the bots in demo mode or backtest before making actual investment decisions. They demonstrate how your bot will respond to profit and loss.
Bitsgap provides predefined strategies based on successful backtest results.
It is easy to create trading bot strategies.
TradingView charts help you assess your bot performance.
The bot becomes ineffective if the prices increase or decrease rapidly. It works best in a swing or neutral market.
If the price moves above the bot's range, all the BTC will be sold automatically, and you are left with realized USDT. If the prices cross the lower border, all buy orders are fully executed.
If you remove the bot, all attached open orders are canceled.
3Commas
3Commas offers mainly three types of ready to use trading bots – DCA, Grid, and Options bot.
DCA ( Dollar Cost Averaging ) Bots – It allows you to invest at the preset intervals in a crypto asset or currency to reduce a position's entry price over time. It reduces the risks and provides you a better average price for your positions.
Grid Bot – Grid bot allows you to earn profit by choosing a coin and investment amount for a start. The bot will buy when the price drops and sell when it increases. You can adjust your strategy to maximize efficiency.
Options Bot – They are difficult financial instruments but can be extremely profitable. You can buy a call option, put option, a straddle (Long Straddle ), and sell a straddle ( Short Straddle).
You can use the "Panic sell" button if you wish to cancel a deal urgently. You can view a visual report of all your deals under the "Trader Diary" section.
Quadency
It offers ready-made and custom bots.
The parameters are customizable.
Backtest before going live.
You can search and copy successful configurations using 'Smart Suggest'. The configurations are generated by Quadency's Hyper-Parameter Optimization Engine and assign for bots.
You can also code a custom strategy, and the Quadency team will make it available in your account.
Bitsgap vs 3Commas vs Quadency: Supported Crypto Exchanges
| | | | |
| --- | --- | --- | --- |
| Exchange | Bitsgap | 3commas | Quadency |
| Coinbase Pro | ✓ | ✓ | ✓ |
| Binance | ✓ | ✓ | ✓ |
| FTX | ✓ | ✓ | |
| ByBit | | ✓ | |
| Bitmex | | ✓ | |
| Deribit | | ✓ | |
| Bittrex | ✓ | ✓ | ✓ |
| Binance DEX | | ✓ | |
| Binance US | | ✓ | ✓ |
| Bitfinex | ✓ | ✓ | ✓ |
| Bitstamp | ✓ | ✓ | |
| Cex | ✓ | ✓ | |
| Exmo | ✓ | ✓ | |
| Gate IO | ✓ | ✓ | |
| Huobi | ✓ | ✓ | |
| HitBTC | ✓ | ✓ | ✓ |
| AAX | | | ✓ |
| Kraken | ✓ | ✓ | ✓ |
| Kucoin | ✓ | ✓ | ✓ |
| Okex | ✓ | ✓ | ✓ |
| Yobit | | ✓ | |
| Gemini | ✓ | | ✓ |
| Poloniex | ✓ | ✓ | ✓ |
| Liquid | ✓ | | ✓ |
| Coinbene | ✓ | | |
| Livecoin | ✓ | | |
| ZB com | ✓ | | |
| LBANK info | ✓ | | |
| Bibox | ✓ | | |
| DDEX | ✓ | | |
| BigONE | ✓ | | |
| bithumb | ✓ | | |
| The Rock Trading | ✓ | | |
Supported Crypto Exchanges
Bitsgap vs 3Commas vs Quadency: Security
Is Bitsgap safe?
Yes, BItsgap is safe to use as all the funds in Bitsgap are stored securely in your crypto exchanges and connected by encrypted API keys. All information is encrypted with 2048-bit standard algorithms and protected by a strong firewall.
Further, sensitive account information is never shared with any third party sources.
Bitsgap recommends using two-factor authentication, adding a layer of security. If there are multiple failed login attempts, it will result in a temporary lockout of the account and API.
Besides, you can limit the access of your API key according to your need. The API keys are always hidden and in an encrypted format.
Is 3Commas safe?
Yes, 3commas is a safe and secure platform that connects trading bots to your exchange accounts via API.
They offer two-factor authentication at every login and fund withdrawals. You are also advised to enable notifications so that you are alerted of every login on their account. The exchange uses IP detection and sends out verification emails whenever a new user logs in from a new destination.
They protect the data using integrated security safeguards and technical measures such as secure servers and encryption.
Is Quadency safe?
Yes, Quadency is safe and it uses various security measures such as encryption of API keys, unauthorized access, passwords, and other sensitive information. All information is encrypted both in transit and rest. Passwords are encrypted using the Bcrypt encryption algorithm. They leverage content security policy (CSP) and HTTP strict transport security (HSTS) features in modern browsers. You can disable withdrawal permissions from exchange API's and use two-factor authentication.
Additionally, Quadency conducts regular pen-testing of infrastructure and applications as per OWASP standard and compliance before every code is deployed to ensure that the production code is free of vulnerability.
They have collaborated with AWS to remove Denial of service (DDoS) attacks and use AWS WAF to reduce any attacks in the application for defense in depth.
Bitsgap vs 3Commas vs Quadency: Additional Features
Bitsgap
Trading Terminal
Bitsgap provides a user-friendly interface that supports spot and futures trading on multiple exchanges. You can trade with leverage to take a position on rising or falling markets and apply hedging strategies if you've got open positions to protect.
They offer both desktop and mobile versions.
You can switch between day and night mode.
TradingView charts are fully supported. You can change or cancel orders from the chart.
They offer 100+ popular indicators, 50+ drawing tools, twelve customizable chart types.
They provide trading tools like smart, shadow, stop-limit, and market orders.
Arbitrage
The Bitsgap cryptocurrency arbitrage tool allows you to track opportunities to take advantage of price differentials between the exchanges. You buy a currency from an exchange where the price is lower and sell it on an exchange where the price is higher. You can choose between crypto and fiat. Your profit includes the fees charged by the platform.
To make profits, you have to buy and sell at the correct time since these opportunities don't last long. If you watch the markets manually, it takes a lot of time. Therefore Bitsgap offers an automated and AI-powered bot.
Signals
Bitsgap provides a signal tool that analyses trading signals over 10,000 crypto pairs every second. The list shows coins with the highest growth potential. You can set a smart order to minimize your risks. It allows you to filter opportunities based on signal strength, raise percentage, signal strength, detection time, and exchange.
Portfolio
Bitsgap allows you to track information from crypto exchanges. They provide a dashboard that is automatic and free. You can check your funds and earnings in a live-generated portfolio. Additionally, you can filter your portfolio for any specific exchange.
Quadency
Trading Terminal
Quadency offers a simple and easy to use interface.
You can switch between day and night mode.
The windows are customizable.
They offer trading tools such as advanced trading charts and order management.
There are 100+ technical indicators and drawing tools.
Features like cancel all, trade visualizations, and click-to-fill from charts are available.
Quadency dashboard allows you to track your overall holdings and performance, analyze statistics, display balances by account, chart crypto coin allocations, view recent trades, and many others.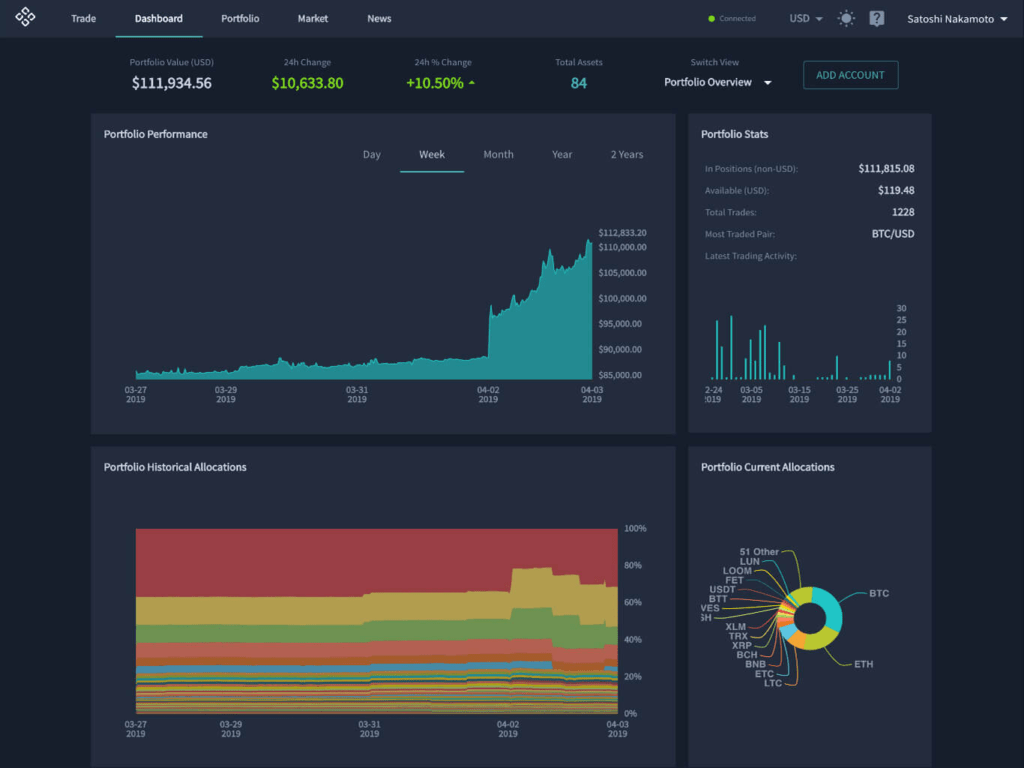 Portfolio
If you've got your exchange accounts connected to Quadency, your balances, transactions, and orders are all available on the 'Portfolio' page. You can track all of your crypto assets ( offline hardware wallets and connected exchanges). The visual representation of your entire crypto portfolio within the one screen allows you to manage trades, risk, and balance changes properly.
3Commas
Trading Terminal
3commas offers a smart terminal where you can simultaneously view exchange rate charts and TradingView signals. They provide additional features compared to regular exchange terminals such as –
Simultaneous take profit and stop loss
Trailing mechanism for stop loss and take profit
Provides smart cover by making a profit in unplanned markets conditions
Stepwise profit-making with step sell
Copy Trading Bots
3commas allows you to view and copy trading bots. They offer simple, short, composite, and composite short bots. Additionally, you can check the configuration of the bots by pressing "View config." All the settings are automatically copied from the original bot. You can also adjust the settings before using it. Before blocking the bot, you should check if you have enough money to run this bot.
Bitsgap vs 3Commas vs Quadency: Pricing
3commas Pricing
| | | | |
| --- | --- | --- | --- |
| Category | Price(USD) annually | Price(USD) per month | Characteristics |
| Starter | 174 | 14.5 | – Supports spot and futures.- Short and Long algorithms.- Concurrent Take Profit and Loss |
| Advanced | 294 | 24.5 | – Starter Pack Features- Trading View Custom Signals- Single Pair DCA bots- View and copy bots |
| Pro | 594 | 49.5 | – Advanced Pack Features- Free access for three days- Composite bots- GRID bots- Options bots- Multi/Single pair DCA bot- Bitmex, ByBit, FTX and Binance Futures bot |
3commas Pricing
Bitsgap Pricing
| | | |
| --- | --- | --- |
| Category | Price (USD) monthly | Characteristics |
| Basic | 19 | -$25 monthly trading limit-Two active trading bots |
| Pro | 44 | -$100000 monthly trading limit- Five active trading bots- Arbitrage |
| Advanced | 110 | -Unlimited monthly trading Limit.- Fifteen active trading bots.- Arbitrage- Take Profit for bots. |
Bitsgap Pricing
All three packages provide – Trading signals, Portfolio, Extended order types, and demo trading. Additional Pro package offers priority support.
Quadency Pricing
| | | | |
| --- | --- | --- | --- |
| Category | Price (USD) annually | Price (USD) monthly | Characteristics |
| Lite | Free | Free | -Email- 10 backtests per day- One running live bot- Monthly trading limit is USD 50,000 |
| Pro | 39 | 49 | -100 backtests per day-Twenty running live bots- Monthly trading limit is USD 500,000- Email and Live chat |
| Unlimited | 79 | 99 | – Unified rest and streaming API-Unlimited backtests- Unlimited live running bots-Unlimited monthly trading limit.- Email and Live chat-Strategy Coder |
Bitsgap vs 3Commas vs Quadency: Customer Support
Bitsgap Customer Support
You can write to them at [email protected]. Bitsgap also runs a Telegram channel for answering your queries. You can also connect with them on Twitter.
3commas Customer Support
You can write to them at the following email ids :
Support: [email protected]
Payment Information: [email protected]
Legal issues: [email protected]
Affiliates: [email protected]
3commas runs a Telegram channel where regular updates are shared. They also have a Youtube channel where there are many videos on how we can use the platform. You can also connect with them on Twitter.
Quadency Customer Support
You can get in touch with the support them by writing at [email protected]. They also have a live chat option, but it is available only for PRO subscription users.
Quadency runs a Youtube Channel where they have videos on how to use the platform.
Their support team members are also active in the Telegram channel. You can also connect with them on Twitter.
Bitsgap vs 3Commas vs Quadency: Conclusion
In conclusion, Bitsagap, 3Commas, and Quadency, all these three trading bots are the three best crypto trading bots in the crypto market. If you are looking for more bots try Quadency, If you are looking for more exchange platforms and futures trading try Bitsgap. And if you are a cheap, easy to start trading bot solution, try 3Commas.
Frequently Asked Questions
Does Bitsgap has an mobile app?
No, Bitsgap has no mobile application. You can use the platform in the web version on their official website. 
How quickly can I make money on 3Commas?
How quickly you can make money on 3Commas depends on the strategy you are using and also the parameter settings of your bot.
Also Read