Warren Buffett famously said, 'It's good to learn from your mistakes. It's better to learn from other people's mistakes.' This statement holds true in the world of cryptocurrency, where one wrong trade can cost you heavily if you are a beginner.
That's why copy trading has become popular for those looking to profit from crypto without the risk of trial and error. By replicating the trades of successful investors, you can minimize your losses and maximize your gains.
In this article, we'll explore the power of crypto copy trading and uncover the strategies of top trader for copy trading on Bybit.
What is Copy Trading?
If you haven't heard of copy trading before, let me break it down for you. In layman's terms, it's exactly what it sounds like – copying the trading strategies of successful traders to earn a profit. In exchange, the copied trader who provides you with the strategies receives a commission from your profit.
Also, read CoinCodeCap Launches Copy Trading Service for Investors
How does Copy Trading work on Bybit?
Bybit Copy Trading is a user-friendly platform that lets you follow the trading strategies of successful traders. It's a win-win situation for everyone involved, whether you're an experienced trader or just starting out. With Bybit Copy Trading, beginners can easily sync their trades with Principal Traders to earn profits similar to theirs.
The best part? You only need to pay a commission of 10%-15% of your profits to the Principal Trader. Bybit ensures that both Principal Traders and followers have a fair and transparent trading experience.
If you're looking for an easy way to get into trading, Bybit Copy Trading offers several benefits that can help you achieve your financial goals. Moreover, you can also copy traders on the Bybit mobile app which is available both on Playstore and iOs.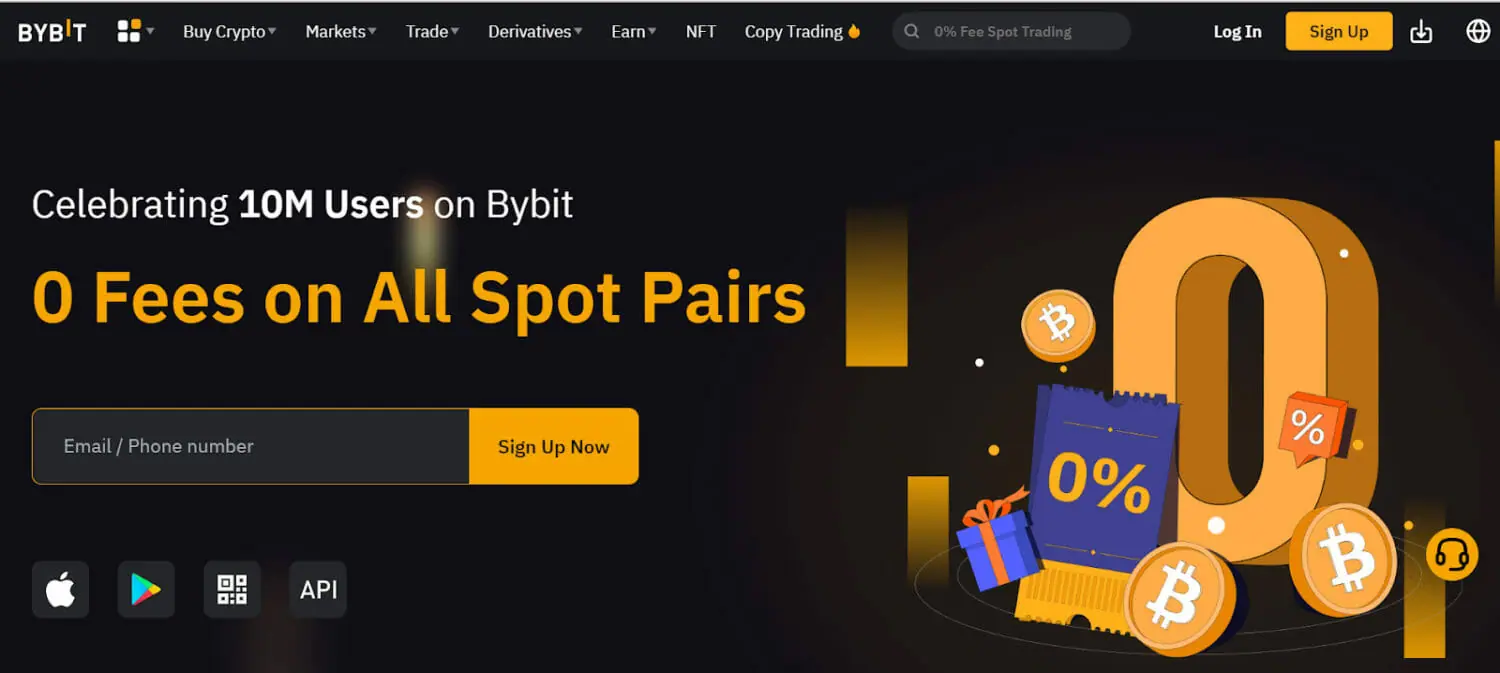 Also, read How to use Bybit in the USA (Is it Legal)?
Top Trader for Copy Trading on Bybit
Now we are going to check out the top 5 traders for copy trading who have generated maximum profits for their followers in 30 days.
Real World: 1st Top Trader for Copy Trading on Bybit
Real World, a popular trader on Bybit Exchange, has been able to generate impressive returns over the last 30 days, with an ROI of +25.99% and a Master's P&L of +9,230.31 USDT. Despite experiencing a Max.
Drawdown of 5.88%, Real World's followers have been able to generate a significant profit of +72,105.57 USDT. With over 2,000 followers, Real World has been able to maintain an impressive 30-day win rate of +86.68%, executing a total of 1,642 trades with 1,524 being profitable.
This success can be attributed to the trader's average P&L of +6.19 USDT per trade and a 7DP&L ratio of 6.1795: 1. Real World also trades frequently, with an average holding time of 16.98 hours and a trading frequency of 112.25 trades per week.
Real World's success can be an attractive opportunity for those looking to generate profits in the cryptocurrency market, with Real World's total assets currently at 15,138.44 USDT. The trader also offers a profit-sharing ratio of 15%, which is a great incentive for followers to join in on their trading strategy.
Andrew Carnegie: 2nd Top Trader for Copy Trading on Bybit
Andrew Carnegie is a trader on the Bybit exchange with over 1000 followers. With a profit-sharing ratio of 12%, Andrew's 30-day ROI stands at an impressive +14.38%. His total assets are valued at 10,246.01 USDT, while his master's P&L is at +4,875.67 USDT.
Andrew's trading statistics show an incredible 30-day win rate of +100.00%, with a total of 454 trades and zero losses. Andrew's followers' P&L has been a staggering +64,658.87 USDT, with cumulative followers totaling 3,223. These numbers serve as a testament to Andrew's successful trading strategies on Bybit.
Andrew's average P&L per trade stands at +10.73 USDT, and his 7DP&L ratio is an impressive 2623.4094:1. Furthermore, Andrew's average holding time is 21.18 hours, indicating his ability to make quick and accurate trading decisions.
With his successful track record, Andrew's trading strategies and insights can be beneficial to other traders on Bybit who seek to improve their trading skills.
The Holy Grail: 3rd Top Trader for Copy Trading on Bybit
Holy Grail is a trader on the Bybit exchange with over more than 600 followers. As of the latest data, Holy Grail has total assets worth 41,432.81 USDT, with a profit-sharing ratio of 12%. Their 30-day ROI stands at an impressive +90.00%, with a master's P&L of +19,625.81.
This trader has had a maximum drawdown of 41.93%, but their followers' P&L stands at +58,163.73. Holy Grail has accumulated 992 followers on the Bybit exchange, with a 30-day win rate of +86.31%.
Looking at the trading statistics, Holy Grail has executed a total of 168 trades on the platform, with 145 win trades and 23 lose trades. The average P&L per trade stands at +116.82 USDT, and the 7DP&L ratio is 28.3177:1.
The average holding time per trade is 11.33 hours. With a high win rate and a solid track record, it is clear that this trader has a successful strategy that works.
Skdxb: 4th Top Trader for Copy Trading on Bybit
With over 250 followers, SKDXD has demonstrated an exceptional ability to generate returns on investments. Their total assets currently stand at 224,007.62 USDT, with a profit-sharing ratio of 10%.
Over the past 30 days, SKDXB has achieved an impressive 30-day ROI of +53.56% with a Master's P&L of +273,592.94. These figures have attracted a following of 804 users who have cumulatively gained a P&L of +50,603.61.
This is a testament to SKDXB's trading prowess and the profit-sharing ratio they have set. SKDXB's approach to trading involves managing risk effectively while generating healthy returns. Their 30-day win rate is an impressive +73.27%, with a total of 346 trades, 234 of which were profitable.
The trader's average P&L per trade is +837.91 USDT, with a 7DP&L ratio of 4.5405:1. This suggests that SKDXB is generating significant returns while managing risk effectively. Of course, trading is not without its risks, and SKDXB has had a maximum drawdown of 56.46%.
However, their followers' P&L has remained positive, which is a testament to their skill and expertise. Overall, SKDXB's track record on the Bybit exchange is impressive and traders can copy his strategies to generate a good profit but can bear losses too.
Mase: 5th Top Trader for Copy Trading on Bybit
With over 1000 followers, MASE has shown his ability to generate profit from the volatile cryptocurrency market. According to Bybit's data, MASE'S 30-day ROI is currently at +79.84%, which is an impressive feat by any standard.
Moreover, Mase has a 30-day win rate of +97.76%, which means that almost all of its trades have been profitable. The trader's cumulative followers are at 2,308, and they have generated a total profit of +26,932.57 USDT for their followers.
The value of MASE's total assets currently stands at 5,842.79 USDT, and their profit-sharing ratio is at 10%. With a total of 191 trades executed and a 7DP&L ratio of 1312.4265:1, The Mase has shown remarkable consistency in their trading performance.
It is worth noting that The Mase's max drawdown is relatively high at 40.98%, which means that they have experienced significant losses at some point. However, this is not uncommon in trading, and it is important to remember that past performance is not indicative of future results.
In terms of trading style, The Mase seems to hold their positions for an average of 17.38 hours. This suggests that they are a day trader who does not hold positions for long periods. Overall, The Mase seems to be an excellent master trader to follow on Bybit, given their impressive ROI, win rate, and consistent trading performance.
Top Trader for Copy Trading on Bybit: Conclusion
In conclusion, these master traders on Bybit have demonstrated remarkable consistency, and profitability, and take out the maximum possible returns for their followers in the volatile market of cryptocurrency trading.
Whether you are new to trading or an experienced trader, following the strategies of these traders could be an excellent way to enhance your own trading skills and maximize your returns. We hope this article has been informative and useful in your journey as a trader on Bybit. Thank you for reading!
Also, read