In this article, we have come up with the best crypto trading bots in the US. Furthermore, we have covered their definition, features, safety, fees, and pros and cons to give the reader a precise yet clear idea of what to expect from the bot they choose.
Each bot has distinct and significant worth. To know more about Best Crypto Trading Bots in the US, read further.
Summary: Best Crypto Trading Bots in the USA
| Features | Pionex | 3Commas | Cryptohopper | Quadency | Bitsgap |
| --- | --- | --- | --- | --- | --- |
| App | Yes | Yes | Yes | No | No |
| Exchanges | In-built | Twenty-three-plus exchanges are supported | Fourteen exchanges are supported | Thirty-five plus exchanges are supported | Twenty exchanges are supported. |
| Fees | Low | Affordable | Low | High | High. |
| Ease of use | Easy | Easy | Moderate | Easy. | Easy. |
| Security | High | Standard | Standard. | High | Standard. |
| Free Version | Yes, available | Yes, available | Yes, available | Yes, available | A 14-day free trial/ Demo mode |
1st Best Crypto Trading Bots in the USA: Pionex
What is Pionex?
Pionex is a free auto-trading platform that has 16 trading bots. With such a wide range of trading bots, Pionex certainly comes out to be the best choice among all kinds of traders. Free bots for beginners, while experienced and advanced traders can go for paid bots as well. In addition, Pionex certainly stands out by offering more than 16 one-of-a-kind trading bots. To know more, read Pionex Review.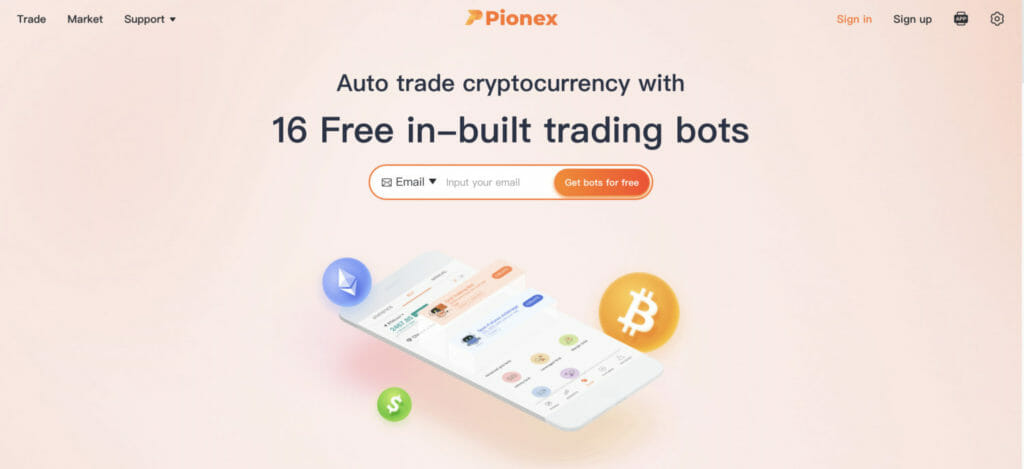 Pionex Features
Trading Bots:
The platform offers twelve free trading bots. At the same time, some bots require charges. The bots that the platform offers are as follows:
BTC Moon
ETH Moon
Reverse Grid
Leveraged Reversed Grid
Infinity Grids
Smart Trade: This bot helps traders stop loss, make a profit, and trailing in one trade.
Smart Trade
Trailing Sell
Trailing Buy
DCA
TWAP
Stop Limit
Rebalancing Bot
Pionex Fees
Withdrawal Fees: Withdrawal fees depend on coins and tokens.
Deposit Fees: Deposit fees are free for certain coins and tokens.
Trading Fees: Maker and Taker charges are 0.05%.
Trade With USD
Pionex allows the users to trade with USD. However, to use this feature, the user must download the Pionex Lite app. Remember, this feature is yet to get access to specific regions.
Is Pionex Safe?
The safety of any platform highly depends on the licensing and insurance factors. Pionex is a licensed MSB by FinCEN and provides insurance for up to seven days for trial.
Is Pionex Legit?
Yes, Pionex is legit. The platform has an app accessible to both android and iOS. The users can confirm the legitimacy of the platform by going through its security policies and its license for MSB by FinCEN.
Pros and Cons of Pionex
| PROS | CONS |
| --- | --- |
| Offers free trading bots | No fiat deposits |
| Low fees. | |
2nd Best Crypto Trading Bots in the US: 3Commas
What is 3Commas?
3Commas is a crypto trading bot provider that is simple and easy to use. The platform is dedicated and aims to reduce risks and maximize the profit of the traders.
3Commas has a system and algorithm that is transparent and straightforward. In addition, the platform offers various exciting features and ready-to-use strategies to its users. To know more read out 3Commas Review.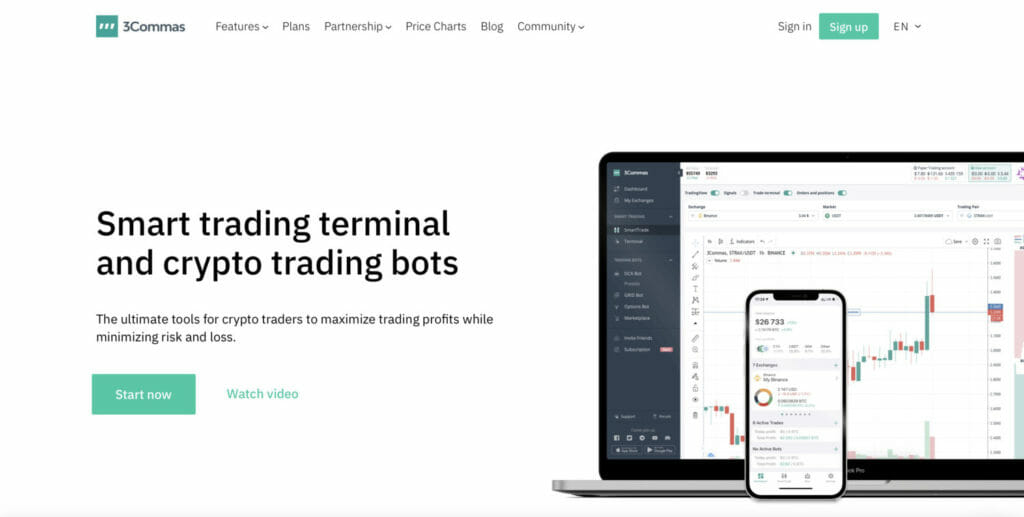 3Commas Features
DCA Bots: Dollar Cost Averaging is a bot strategised for purchasing the same asset at different portions and prices. The traders get a better average price and save themselves from the high volatility of the market.
Intelligent Trades: Smart trades are the platform's exclusive feature to pro and beginner traders who wish to level up their trading scale. They give charts for multiple cryptocurrencies in one place.
Grid Bot: A very straightforward bot, especially for anyone who wants to be on the safest side. The user must initiate investment, and the bot will run automatically when the price rises and falls.
Trading View: As a trading platform, 3Commas offers a trading view service with over a hundred chart patterns to understand the market's price behaviour better. Pro traders or experienced traders can even customise their indicators and signals.
Options Bot: As the name suggests, this bot has several strategies and based on those strategies, the bots are designed. The user must be experienced and knowledgeable regarding these options and plans to choose.
Trading Terminal: This bot is helpful for users who trade on multiple exchanging platforms.
Crypto-Signals: The platform offers crypto signals from experienced traders tradings. One of the best features for any beginner. Furthermore, you can get our free crypto signals from here.
Exchanges: The platform is supported by more than twenty exchanging platforms.
3Commas offers several other features like Dashboard, Rebalancer, Paper trading, smart cover, and few others.
3Commas Fees
There are no hidden charges except the plan the trader chooses. There is three kinds of plans that the platform offers:
Starter: $14.5
Advanced: $24.5
Pro: $49.5
Can You Use 3Commas For Free?
Yes, the platform also offers a free version.
Is 3Commas safe?
The platform is safe to use. The fact that it has so many features makes it convenient for all kinds of users to pick them. In addition, the platform offers detailed information regarding its refund policies.
Pros and Cons of 3Commas
| PROS | CONS |
| --- | --- |
| Offers multiple bots and features. | Users are lured into purchasing the pro version of the bot. |
| The pricing of the plans is affordable. | The FAQ section has very little information. |
3rd Best Crypto Trading Bots in the US: Cryptohopper
What is Cryptohopper?
Cryptohopper is a world-class crypto trading bot that allows users to trade with comfort on various exchanging platforms. The platform automates trades for more than a hundred cryptocurrencies. In addition, Cryptohopper improves your trading with advanced tools. Furthermore, they are trustable as they look at exchanges and regulators. They even practice the leading security protocols. To know more, read our Cryptohopper Review.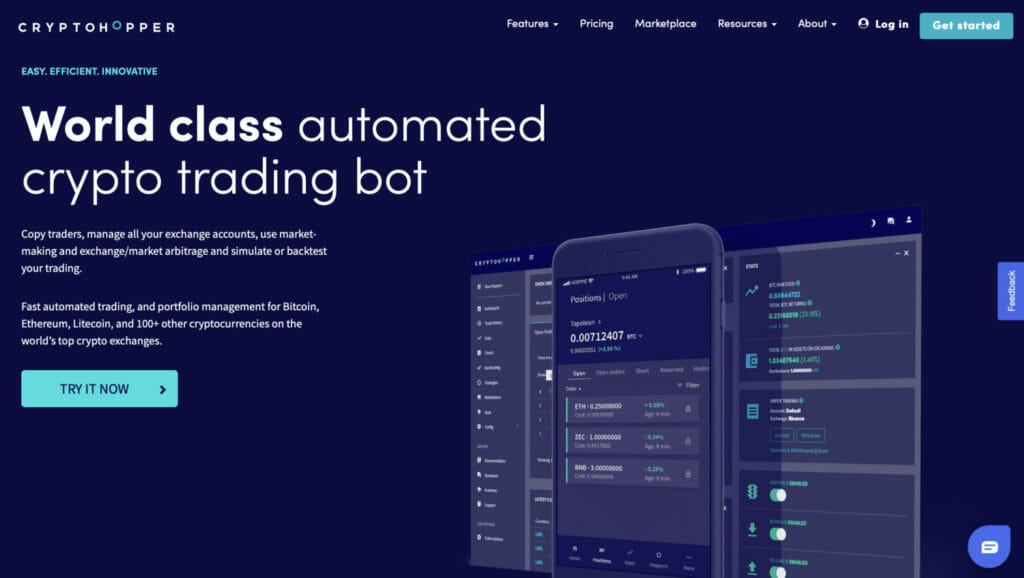 Cryptohopper Features
Automatic Trading: The traders can apply their strategies and make the bot run it on behalf of them 24/7.
Exchange Arbitrage: This bot helps in making profits with price differences. The usual function of arbitrage trading.
Market-Making Bot: The platform offers several market spreads and its strategies. To know more, read here.
Mirror Trading: A free bot that helps traders with templates, strategies, and signals.
Algorithm Intelligence: This helps traders in understanding their strategy in a better way. The AI backtests them and gives the best suggestion to traders.
Telegram bot: CryptoHopper provides its in-house Telegram trading bot for crypto signals.
Trailing Stops: This offers several tools to traders like trailing stop buy, stop loss, and stop short.
Paper Trading: Free to use with real-life exchanges data.
Strategy Designer: The user can design multiple strategies and apply them to the bot. Easy to access, in addition, the traders can backtest their approach as well.
Backtesting: Users can easily backtest their settings for free and look at insights from the past.
Exchanges: The platform is officially supported by fourteen exchanging media.
Also, read Top 5 Free Cryptohopper Apps for Every User
Cryptohopper Fees
The platform offers yearly and monthly subscription plans to its users. There are four kinds of packages available: Pioneer, Explorer, Adventurer, and Hero pro trader package. The pricing structure goes as follows:
| PACKAGES | MONTHLY $ | YEARLY $ |
| --- | --- | --- |
| Pioneer | Free | Free |
| Explorer | $19 | $16.58 |
| Adventurer | $49 | $41.58 |
| Hero Pro Trader | $99 | $83.25 |
Is Cryptohopper Free to Use?
Cryptohopper offers a package 'Pioneer' for free. However, for other packages, the platform charges fees.
Is Cryptohopper Safe?
The platform does not have the authority to withdraw your funds. In addition, the platform does offer two-factor authentication services. Cloudflare protects Cryptohopper, and Amazon Web Services secure the servers.
Pros and Cons of Cryptohopper
| PROS | CONS |
| --- | --- |
| Fees is low. | Customer support is available only via emails. |
| Offers free services as well. | Different features and bots can get overwhelming for beginners. |
Also, read 3Commas vs Pionex vs Cryptohopper.
4th Best Crypto Trading Bots in the US: Quadency
What is Quadency?
Quadency talks about how easy they have made trading for all kinds of traders and at whichever level they are in their journey. With few clicks, everyone can access this platform and work on standard strategies on their digital assets. The forum even provides high-frequency services to hedge funds. Quadency plans to include and improve its services in the future. To know more, read our Quadency Review.
Quadency Features
Unified Experience Upgrade: This feature helps connect the trader's and investors' digital asset to global exchanges.
Premium Bot Powers & Much More: The platform has pre-built strategies for traders to choose and run.
Portfolio Analytics: Quadency monitors the trader's portfolio and keeps an eye on offline wallets and exchanges. This ensures the performance of the users.
More Valuable Charts to Work From Home: With this, the users can easily place their orders directly from their charts and access their saved charts with indicators.
Functional Asset Research: This feature gives the traders market insights from reputed industries.
Yours to Personalize For Your Needs: Quadency allows the traders to customize their portfolio, trading screen, and currencies.
Quadency Fees
The platform offers three kinds of monthly plans to its traders. There are three kinds of plans available: lite, pro, and unlimited. The pricing structure goes as follows:
Is Quadency Safe?
Quadency offers several security practices to ensure the safety of its users. Practices like 2FA, usage of AWS, passwords are encrypted by bcrypt, multi-layers of encryption are used to protect the users' data, and many such standards are maintained. For more security information, you can read here.
Pros and Cons of Quadency
| PROS | CONS |
| --- | --- |
| The platform has several significant features. | The fees is high. |
| Standard security. | No app facility is available. |
5th Best Crypto Trading Bots in the US: Bitsgap
What is Bitsgap?
Bitsgap is a trading platform that offers almost everything to its users. From a trading platform to bot services. More than twenty-five crypto exchanges trust Bitsgap. The platform offers a 14-day free trial to the traders for better exposure to the site. The tools provided by them are simplified and made it easy to use for everyone. To know more, read out Bitsgap Review.
Bitsgap Features
Bitsgap offers several standard features and products to its users. Here we have given a brief on the products and features they provide:
Trading Terminal: Like any trading platform, Bitsgap offers a trading platform where traders can trade cryptocurrencies.
Trading Bot: A bot dedicated to doing automated trading with the help of algorithms assigned to it.
Signals: The platform provides signals for the coins with an uptrend potential to purchase at low prices.
Arbitrage: Like any other arbitrage service, users can make a profit from the price differences.
Portfolio: Traders can view the real-time performance of their digital assets on their portfolios at a glance.
Demo: The platform offers an exciting feature like a demo where the traders can try the platform with free stimulators, free of any risk.
Bitsgap Fees
The platform offers three kinds of plans to the users that is basic, advance, and pro. In addition, they even offer a 14-day free trial, where a credit card is not required. The pricing structure goes as follows:
Is Bitsgap Safe?
The platform does have a standard security policy. The API keys encrypt the funds of the traders. The server is encrypted with 2048-bit standard protocol and protected by firewall. In addition, the platform even has 2FA for extra protection.
Pros and Cons of Bitsgap
| PROS | CONS |
| --- | --- |
| The platform is beginner-friendly. | No app facility is offered. |
| A free trial where a credit card is not required. | The fees is high. |
5th Best Crypto Trading Bots in the US: Cleo.finance
What is cleo.finance?
Cleo Finance is a financial technology provider that took complex and fragmented financial tools, simplified them dramatically, and made them available in one powerful trading platform to all individual traders.
Cleo.finance allows crypto traders to automate their trading process instantly with no code via simple typing along with the most innovative trading tools in the market. The crypto trading platform offers fully flexible, fast, and data-rich trading tools where users can backtest, analyze, execute, and automate their trading ideas with full customization.
Cleo.finance Features
Cleo.finance has 5 main features which are built to meet the need of crypto traders in a way of research, execute, and analyze.
Smart Trade tool allows you to create your own custom trading conditions through simple typing over 55+ technical indicators. And each condition can be further customized on its own. As a simple example:
Buy when Price is crossing down BB_LOWER (20,2)

Close when Price is crossing up BB_UPPER (20,2)
With the Smart Trade you can automate your trading setup to be triggered only for once or you can simply switch it on the Loop mode to be automated perpetually as a trading bot.
The Asset Management tool lets you manage your trading risk efficiently with its advanced risk management options. You can:
Set position size can be set in quote or base currency, or you can set the margin size in USDT or as a % of available balance and you can use dynamic slider to set your position and leverage.

Set up to 4 stop losses and 4 take profits and you can define them in many angles.
You can view and define your protections in market price, % of price, % of balance, and Gross PnL. You can set any of them as targets and give weight to each of those protections.
All target and protection levels are automatically synced into the integrated TradingView chart. You can easily see how your trade fits into the current market structure and all levels can be adjusted directly in the chart.
The Automated Loop allows you to automate your trading strategies and view the detailed statistics about your custom automated trading strategies so that you can constantly monitor your trading bot's performance and configure it. The Automated Loop feature allows you to:
Detailed statistics – in-depth look into your strategy performance

Duplicate your favorite conditions, add/delete conditions, improve parameters, and more.
55+ technical indicators, price actions, candlestick patterns
Backtesting feature is in the Automated Loop. You can create your trading strategies via using Automated Loop and backtest them instantly. The backtesting feature on cleo.finance:
7 trading timeframes: from 1-minute to 1-day

Transaction costs and funding fees included for more realistic testing results
Comprehensive statistics – Total gross profit, average win and loss, profit factor, max PnL, max drawdown, trade expectancy, and more.
The Position Replay is a unique analysis tool that allows you to replay your every position of your automated trading strategies and your backtested strategies in detail and lets you improve your trading strategy constantly by providing valuable information. With the Position Replay:
Gathering valuable insights by replaying your positions' progress candle by candle.

Watch the risk to reward ratio evolve during the trade
View which conditions are fulfilled and how
Examine your every entry and exit in context and analyze the market behavior
Preview all the detailed data about your positions
Breakdown your transaction costs
All of these 5 features act as puzzle pieces that are designed to remove the complexity from trading and make consistent long-term profitability more attainable to crypto traders.
Cleo.finance Pricing
Cleo.finance has 3 pricing plans in place: Free, Trader, and Trader Pro. Once you sign up, you have a 7-day trial.
Is cleo.finance safe?
Yes. Cleo.finance is a trading platform – you don't deposit any money into it. It doesn't have access to users' funds on their exchanges for anything else but trading. The connection to exchanges is via API key and cleo.finance does not accept API keys with withdrawal rights, only trading rights.
The API connection can also be revoked at any time – either from cleo or from the exchange directly.
Pros and Cons
Pros
Cons
Ease of use and user-friendly interface
Ever-expanding data
The flexibility of conditions you can create
Offers Free templates
Integrated Tradingview chart
Customizable parameters and timeframes


Limited list of supported exchanges
Fast execution speed around 300ms
No Mobile app
Competitive Pricing
No demo trading
Extensive range of tools that lets you research, execute, and analyze
No desktop app
Competitive pricing
No social trading
Detailed analysis tools via position replay and comprehensive statistics
No copy trading
Excellent backtesting – including the costs and fees
Multiple stop and take profits
Conclusion: Best Crypto Trading Bots in the US
We have covered the five best crypto Bots in the U.S. However, there are many other bots that you can choose from. With these five, we have covered a good set of features and pricing factors with which you can quickly analyze these bots and pick a bot that perfectly suits your needs. If you still find yourself confused, we suggest you take up the free trial period and check for yourself. We believe any bot that perfectly fits your budget and fulfills your need is the best bot for you. Explore the Best Crypto Trading Bots in the US with all the right information.
Frequently Asked Questions
Which bot is the best for automating crypto trading?
A bot is nothing but software that helps you trade your cryptocurrencies automatically with the assigned algorithm and strategies set by the user. Since the crypto market is so volatile and, human beings can't monitor it 24/7. Hence we use bots. So any bot is an automating crypto trading bot. Pionex is one of the best crypto trading bots.  
What are the best trading bots?
A few of the best trading Bots are:
1. Pionex
2. 3Commas
3. Quadency
Which is the best crypto trading platform in the U.S.?
Any bot that comes under your budget and fulfills your need ideally is the best crypto trading bot. You must do your research and analyze yourself before choosing a bot. If you are a beginner or money is your constraint, you must try Pionex it is the best crypto trading platform in the U.S. for both beginners and low budgetary needs. 
Which is the best trading bot for Binance?
There are many bots available that is supported by the crypto exchanging platform Binance. Here is the list of Bots that is the best bot for Binance:
1. Pionex
2. 3Commas
3. Cryptohopper
4. Quadency
Which is the best free trading bot?
Pionex is the best free trading bot. 
Are trading Bots legal?
Yes, trading Bots are legal. However, not all exchanging platforms permit connecting a bot with their platform. 
Can you make money with crypto bots?
The volatility of the crypto market is not a secret. It is highly volatile with high risks involved. You can make money with bots or without bots. The only difference is that bots make it a bit easy and runs your trade without any human emotions involved. A bot is a practical approach, and no human errors are involved. However, remember using a bot does not guarantee you money.  
Also, read