2021 has been a great year for cryptocurrencies, bitcoin, NFTs or non-fungible tokens, Metaverse and what not. The year started with a bull Run with bitcoin's price around $40K in the January 2021. Then as the summer got closer, Bitcoin hit an all-time high of around $64,000, and many other altcoins started going 5x or even 10x.
Then by the summer of 2021, we saw the Bitcoin crash; some call it China's Crypto mining ban crash others give it a name of a typical market pullback. However, it doesn't matter has bitten continued to be bold and, in September and October, hit another all-time high of around $69,000.
Bitcoin did another pullback by the end of the year and was back to the $40,000 range again. So now we're back where we started, and it would be interesting to see where Bitcoin goes after this, since we have broken out of the four year Bitcoin cycle. Unfortunately, this also led to the failure of many models proposed by PlanB.
Anyways let's move ahead and see what 2022 has in store for us. Here are some of the projects we believe have good potential and might help you gain significant returns in 2022.
GRT or The Graph Token Price Prediction 2022
GRT or The Graph Token is a native ERC-20 based Crypto primarily used to reward indexers, curators, and delegators in the graph community. The graph is an indexing protocol for querying data from various blockchains. Anyone can create and publish subgraphs on public networks. Therefore, the graph network will work as a baseline in web3 infrastructure.
The present market scenario for the graph token is lying above the horizontal and trend line support. Moreover, a broken out symmetrical triangle can expect a bullish rally in its price. As per the chart below, the graph hit an all-time high in February 2021 and hasn't been able to break it after that. Therefore, looking at the fundamentals of the project, we can say that the graph token might perform very well this year.
MATIC Price Prediction: Crypto to Buy in 2022
Ethereum was great as a base layer to build something on top of it. However, different blockchains weren't capable of interacting with each other. This is where Polygon Technology (previously Matic) comes in: Polygon – A protocol and a framework for building and connecting Ethereum-compatible Blockchain networks.
In a comparatively shorter time span, Polygon has been able to get through a significant number of partnerships, eventually increasing its use case. Furthermore, Matic has been in a strong bullish rally recently and has been making new all-time highs.
Check out our PolygonMonk here.
Matic/USDT is currently coming for a retest of previously broken resistance. We can expect a continuation of a bullish trend in it soon. Looking at the fundamentals of the project, it has been involved in many partnerships lately, which eventually has increased its use cases. Recent data shows that sunflower farmers have more than 318,000 users, which is currently the highest. Once, its gas consumption accounted for more than 40% of the polygon network. More projects like this one are driving the price of matic even higher. It would be interesting to see how high can Matic goes in 2022.
DYDX Price Prediction for 2022
dYdX is a decentralised crypto exchange platform that recently launched its dYdX governance token. As soon as the token was listed on binance, it kept hitting all-time highs for three consecutive days. On holding the dYdX token you get additional discounts on your trading fees.
Looking at the chart below, the dYdX token broke out the falling wedge pattern and is currently at solid support. Moreover, the technicals are showing good bullish potential, and we can expect a strong rally in 2022.
COTI Price Prediction 2022
COTI, or the currency of the internet Is the native token of the COTI blockchain platform that lets organisations build their own payment solution. For example, you can create your own branded stable coin to boost customer check-out options. You can primarily think of COTI as the PayPal of Crypto.
The chart below COTI/USDT just broke out a falling wedge pattern. It also successfully retested and is currently rejected from the Marked resistance. Further, once it moves above the Marked resistance, it will confirm its bullish momentum. Looking at the fundamentals, we believe it is a good project and can be one of the best crypto to Buy in 2022.
FTM Price Prediction 2022
FTM is the native token of the Fantom blockchain that is a decentralised and open-source layer one solution powered by the Lachesis consensus mechanism.
Looking at the charts below, FTM/USDT is presently rejecting the Marked resistance, which is also the target of the falling wedge pattern. That is, a Breakout above the resistance will confirm a bullish trend. We can have decent hopes of getting Returns from FTM in 2022.
ALGO Price Prediction 2022
Algorand is a decentralised public ledger blockchain platform that is utilised in various business applications. It was founded in 2019 by Sean Lee. Algorand's mission is to provide secure, dependable, and low-cost financial transactions to people all around the world. ALGO is Algorand's native coin.
Having a look at the chart below, ALGO/USDT is currently above good support, and we can expect an upward trend from here.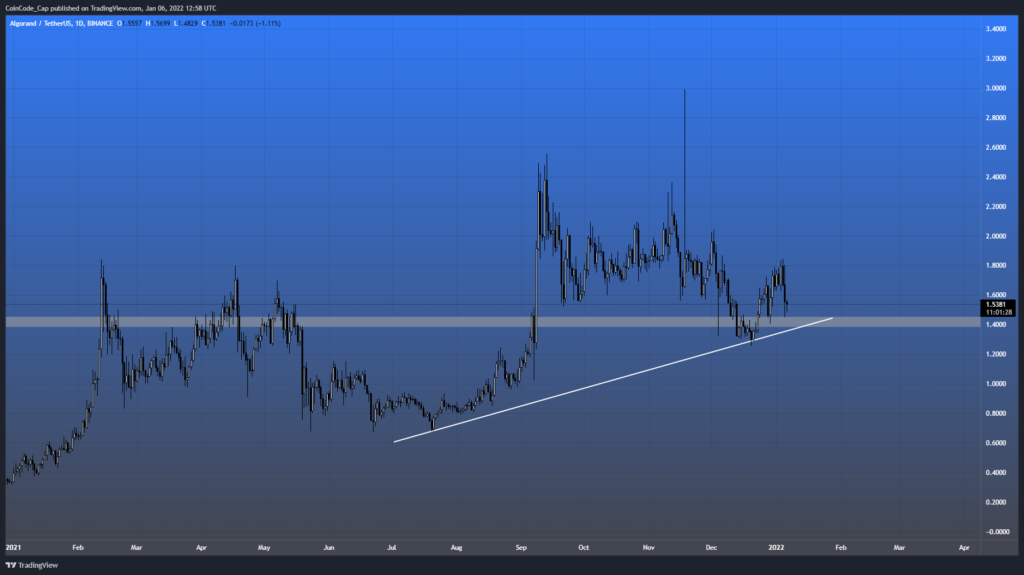 SOL Price Prediction 2022
Solana is a blockchain platform for hosting decentralised apps. Solana's design fulfils all three desirable blockchain characteristics: scalability, security, and decentralisation. According to Solana's Whitepaper, the theoretical top limit on a standard Gigabit network is 710,000 transactions per second (tps) and 28.4 million tps on a 40-Gigabit network.
Check out our SOLMonk here.
Solana's blockchain employs both the Proof of History (PoH) and the Proof of Stake (PoS) consensus models. PoS allows validators to verify transactions; PoH allows those transactions to be timestamped and validated rapidly. As a result, Solana can execute up to 50,000 transactions per second (tps), with an average cost of $0.00025 per transaction.
The chart below shows that the market is currently above good support, and we can expect an upward move from here.
DOT Price Prediction 2022
Polkadot is a blockchain protocol that links multiple blockchains into a unified network. It is designed to run on two types of blockchains. The main network is a relay chain, in which transactions are permanent, and user-created networks are known as parachains.
Parachains can be customised for various purposes and feed into the main blockchain, ensuring that parachain transactions are secure in the same way that main chain transactions are. Finally, it can process numerous transactions on several chains concurrently, avoiding constraints on older networks that handle transactions one at a time. This parallel processing capability boosts scalability and offers the ideal circumstances for further acceptance and growth.
Check out our PolkaDOTMonk here.
DOT/USDT is forming a bullish Gartley pattern and above strong support; we can expect an upward move from here.
AVAX Price Prediction 2022
Avalanche (AVAX) is an intelligent contract-based blockchain network that prioritises transaction speed, low pricing, and environmental friendliness. The ultimate goal of Avalanche is to produce a highly scalable blockchain that maintains decentralisation and security.
AVAX/USDT is currently above a solid horizontal and trendline support, showing good bullish momentum.
Closing Thoughts
The most important part of trading is discipline and patience. So, according to the above analysis, the coins we just spoke about might see some decent gains. Again, it's your hard-earned money you'll be investing, so Do Your Own Research before investing.
Also, read