CoinSpot Review | Safe? Here's What You Need to Know
In this article, we will review CoinSpot exchange, a leading Cryptocurrency exchange in Australia. We will talk about how to use CoinSpot, its features, security, pros and cons, and all the aspects that will help you in deciding whether to try it or not.
Summary
More than 250 cryptocurrencies are available
Australia's governed financial sector regulates CoinSpot exchange
Various deposit options are available in AUD through POLi, BPAY, PayID, cash via BlueShyft locations around Australia.
No withdrawal or deposit limit for any cryptocurrency
Instant 'Buy/Sell' and swap are available
Diversify your portfolio with Bundle without paying multiple fees
Offers a Multicoin wallet
CoinSpot has a mobile app on both Andriod and iOS
Easy to understand user interface
What is CoinSpot?
CoinSpot is one of the safest Australian crypto exchange platforms, with more than 250 cryptocurrencies. It has been available since 2013 and has earned its millions of users' trust.
Further, CoinSpot exchange has achieved ISO certification for information security and provides an effortless and comfortable experience.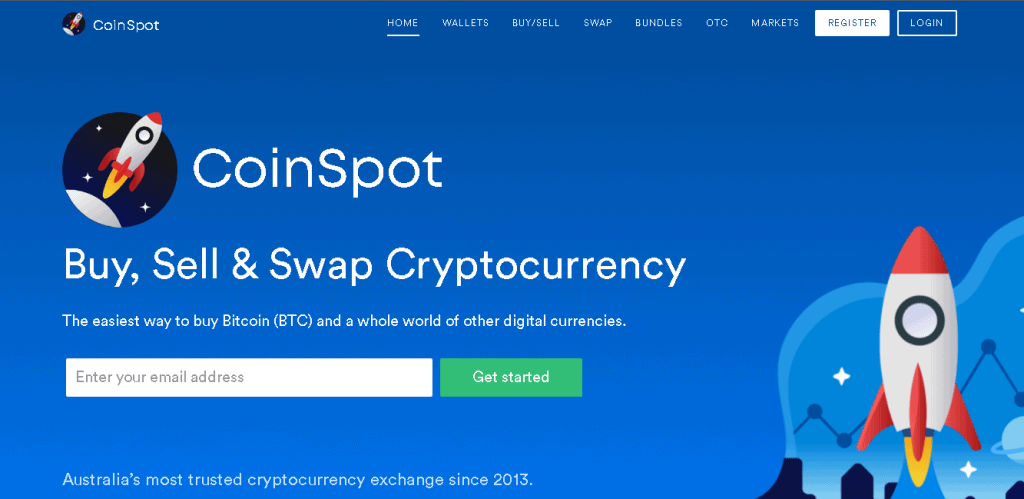 How to use CoinSpot?
Here are the steps to get started with CoinSpot.
Step 1: Create an account and login
Visit CoinSpot and click 'Register' at the top. Then, enter all your details and click 'Create Account.' When you receive the verification link on your email address, click it. Your CoinSpot account gets created after the verification of your email address. Later, you can log in to CoinSpot for the first time.
Step 2: CoinSpot Verification
The basic CoinSpot account that you just created will only let you explore the platform. You need CoinSpot verification to deposit and withdraw funds. You must prove your identification documents for the completion of the verification process. After this step, you can deposit up to AUD 2,000 a day and withdraw funds as well. These are the documents that you will require:
Full name
Date of birth
Phone number
Residential address
Copy of a valid identification card or passport with proof of address
Selfie photograph holding up an ID document
Step 3: Deposit Funds on CoinSpot
There are numerous payment methods to deposit funds in the account. The most common choice is through bank transfer, using a direct deposit, POLi, PayID. Not every payment method incurs a trading fee. BPAY and Cash deposits are not generally preferred as there is a fee.
Trading on CoinSpot
CoinSpot is a highly interactive trading platform, which is suitable for both beginner and advanced users.
Placing an order on Coinspot
You can click any coin market to access the current prices and other data points. After that, you can avail this information to speculate and earn from short-term price movements of a coin.
There is an order textbox to sell or buy cryptocurrencies against AUD. Fill in the order manually. The interface is easy to understand and essential.
CoinSpot Review: Buy and sell cryptocurrency instantly
You can buy and sell Bitcoin and other cryptocurrencies instantly on CoinSpot. Just click the 'Buy/Sell' link at the top. You can choose from over 200 coins and buy or sell them against AUD.
How to buy Bitcoin on CoinSpot
CoinSpot provides an easy and hassle-free method to buy Bitcoin. To buy Bitcoin on CoinSpot, follow the steps:
You will see an entry box, where you need to fill in the amount of AUD for buying Bitcoin.
An equal amount of Bitcoin will appear at the current market rate.
Click on "Buy" to buy it.
Though this option is convenient, it has a transaction fee of 1% for convenience. The fee is relatively higher than other cryptocurrency exchanges in Australia.
CoinSpot Review: Swap cryptocurrency
Swap existing cryptocurrency with over 200 available cryptocurrencies on CoinSpot. You can use this option without KYC and swap currencies without giving any identity information.
CoinSpot Bundles
This feature provides you with an opportunity to buy a basket of different cryptocurrencies at the same time. As a result, you can diversify your portfolio quickly without paying multiple fees. Moreover, buying coins in bundles saves a lot of time and fees as well.
Is CoinSpot safe?
Yes, CoinSpot is a safe and secure platform, as it stores most of the assets in highly secured offline wallets. Besides, CoinSpot has never gotten hacked, even once in its lifetime.
Moreover, CoinSpot is one of those few crypto exchanges that has received internationally acknowledged ISO 27001 certification for superior information security. The official website of CoinSpot states,
"these stringent policies are designed to eliminate unauthorised access, use, destruction, modification or closure of the organisations information management systems."

CoinSpot Website
Additionally, this platform also offers a set of customizable security settings for your account. For example, custom withdrawal restrictions, Two-Factor Authentication, and session timeout limit settings can secure an account.
Is CoinSpot Regulated?
Yes, CoinSpot is regulated. Australia's governed financial sector regulates CoinSpot exchange. Australian Government Financial Agency, known as AUSTRAC, keeps tabs on all the financial transactions. This agency identifies money laundering, terrorism, tax evasion, welfare fraud, organized crime. 
CoinSpot Review: Supported Cryptocurrencies
You can choose to buy, swap, or sell from over 250 cryptocurrencies. Ethereum, Bitcoin, Litecoin, Ripple, NEO, EOS, Stellar, Tron, and others. In addition, CoinSpot supports well-known DeFi coins and tokens as well. Uniswap, Compound, Aave are a few of the examples. Furthermore, you can store all the available cryptocurrencies in CoinSpot Wallet.
CoinSpot Deposit and Withdrawal Methods
CoinSpot exchange allows wire transfers for deposits, but you cannot deposit funds via credit card. Moreover, the other available payment methods include POLi payments, AUD deposits or PAYID payments. Further, no fee is charged from you for making deposits using these payment methods, but a flat fee of 0.90% is charged for payments made via BPAY and a 2% fee on cash deposits.
CoinSpot Fees
CoinSpot has mainly 3 types of Fees.
Deposit and Withdrawal Fee
Trading Fee
CoinSpot Depost and Withdrawal Fee
CoinSpot Trading Fee
CoinSpot will charge you a standard transaction fee when you send coins to external wallets. The fee will be different per coin as the fee is dependent on the particular blockchain. The wallet page always shows the current fee.
CoinSpot Wallet Review
CoinSpot exchange includes a Multicoin Wallet. You can deposit any available cryptocurrency on Coinspot Wallet. Further, no additional fee gets incurred for the withdrawal of any token and coin. You will still have to pay the standard transaction/mining fees. Moreover, it lets you keep track of all your recent transactions and your individual coin balances.
Besides that, it also provides account-wide withdrawal bans and Two-Factor Authentication for the security of your assets. Therefore, we can say that CoinSpot Wallet is an efficient and safe solution for beginners and intermediate traders.
CoinSpot Review: User Interface
CoinSpot's interface is very straightforward and clear. Trading features on the dashboard let you check multiple wallets in one location. Every asset has a button beside itself. You can use these buttons for quick sell-and-buy orders or check the price chart. You can see the portfolio's visual chart with the distribution of coin holdings as well as its percentages. Likewise, you can track overall performance.
Intermediate and advanced traders have trading tools such as indicators, trendlines, and technical patterns at their disposal.
Coinspot's layout is integrated with TradingView. This presents traders with a smooth experience.
CoinSpot Mobile App
Coinspot also has mobile apps on Android and iOS. You can check price graphs, sell, trade, buy, transfer from the wallet, track your cryptocurrency portfolio in one place.
CoinSpot Review: Affiliate Program
CoinSpot charges a transaction fee on the fiat currency deposits and generates revenue. Therefore, if more users buy and sell, the platform generates more revenue. In addition, the CoinSpot affiliate program as users to earn a commission of up to 30% on the trading fees whenever the people use their referral link to get registered on CoinSpot.
CoinSpot Referral Program
Share the referral code with a friend. After your friend has made the first AUD deposit, you both will receive $10 worth of Bitcoin.
CoinSpot Customer Support
Contact CoinSpot's Support team 24/7 via their Help Desk! You can also speak to them instantly throughout the live chat operating hours! Moreover, the platform also has a dedicated FAQ section to help beginners with various issues like verification and login, trading and exchange, fund withdrawals etc.
Coinspot Review: Pros and Cons
| Pros | Cons |
| --- | --- |
| Has over 250 cryptocurrencies to choose from | Comparatively higher fees on features like instant buying and selling |
| Basic and easily understandable interface | Limited to only cryptocurrencies |
| Referral Program with handsome benefits | Can trade cryptocurrencies only with AUD |
| Information security is taken extremely seriously | Only Australian residents can access the platform |
| 24/7 contact through email or chat | |
Coinspot Pros and Cons
CoinSpot Review: Conclusion
CoinSpot is a safe crypto exchange with bank-like security that also has received internationally acknowledged ISO 27001 certification. It provides around 250+ cryptocurrencies, which users can store in CoinSpot Wallet. Further, this exchange offers high liquidity and a simple user interface. In addition, it has no withdrawal and deposit limits and provides different methods to deposit AUD, that is, through POLi, BPAY, PayID, cash via BlueShyft. Lastly, it is suitable for both new and intermediate traders.
Frequently Asked Questions (FAQs)
How long will CoinSpot verification take?
You have to complete three after that, your. After that, your CoinSpot account verification will occur instantly, and you will be able to deposit up to $2000 per day. 
1. Start by verifying your phone number and email address.
2. Fill in your personal details.
3. The final step is uploading a photo of your passport or driver's license.

How would I go about selling a CoinSpot Bundle?
You have complete flexibility as you can sell the coins in a Bundle separately or individually. For example, you bought a Bundle that has five coins. If you only want to sell one of the coins from the Bundle, you can go ahead witHowever, you. However, you will have to sell the coins individually if you're going to sell all of the coins. 
From which banks does CoinSpot accept POLi deposits?
A list displaying all supported banks will appear when you begin the process of a POLi deposit.
Who owns CoinSpot?
CoinSpot is an Australian crypto exchange that is owned and controlled by Casey Block Services Pty Ltd.
Is CoinSpot trustworthy?
Yes, CoinSpot is trustworthy and among the few exchanges that have never been hacked since it was founded in 2013.
Also, read