Crypto.com and Coinbase are among some of the popular cryptocurrency exchanges. Hence, offer their traders a wide variety of features and a situation where they cannot decide between them. In this comparison guide of Crypto.com vs. Coinbase, you will find out what these platforms offer and how they differ to make you choose a better one.
| | | |
| --- | --- | --- |
| | Crypto.com | Coinbase |
| Registered Year | 2016 | 2012 |
| Cryptocurrencies | 100+ cryptocurrencies | 60+ cryptocurrencies |
| Fiat Currencies | USD, GBP, EUR | Over 20 |
| Fees | Maker fees- 0.4% to 0.10%Taker Fees- 0.10% to 0.16% | Deposit fee- 1.49% to 3.99% |
| Supported Countries | Worldwide in 100+ markets. | Over 100 |
| Beginners Friendly | Suitable for Advanced Traders | Suitable for beginners |
| Security | 2FA, FDIC insured, Cold storage, Platform insurance against theft, Bug Bounty Program. | 2FA, FDIC insured, Cold storage, Platform insurance against theft, Bug Bounty Program. |
| Mobile App | Available | Available |
| Cards | Earn up to 8% in rewards. | Earn up to 4% back in rewards. |
| Payment Gateways | Bank transfer, Credit/Debit cards, PayPal, Skrill, Bank wire and more. | Bank Transfer, Coinbase USD wallet, Debit/credit cards, ACH Transfer, Wire Transfer, Crypto Conversion. |
| Referral Program | Available with 25 USD for both the referred person and you. | Not Available, instead there's an Affiliate Program with 50% of the joiner's fee for the first three months. |
| Review | Crypto.com | Coinbase Review |
What is Crypto.com?
Crypto.com is a cryptocurrency exchange platform that lets you stake and invests funds. Crypto.com exchange is a perfect match for experienced traders or someone who is searching for more advanced services. However, the platform is only accessible through its mobile application and not through the desktop version.
The primary mission of crypto.com is to accelerate the world's transition to cryptocurrency. Furthermore, the exchange feels that it's their fundamental right to control your money, identity, and data. To learn more, read Crypto.com review.
What is Coinbase?
Coinbase was established in the year 2012 by Fred Ehrsam and Brian Armstrong. It is a secure and regulated cryptocurrency exchange used to purchase, transfer, sell and store digital currency. The platform initially offered Bitcoin brokerage services. However, the crypto exchange has constantly improved the platform with the evolution of crypto assets and trading options.
Moreover, the crypto exchange aims to provide its traders with a more transparent, efficient, fair financial system powered by cryptocurrency. Therefore, even if the crypto exchange charges high fees, it is easy to buy crypto assets. To learn more, read the Coinbase review.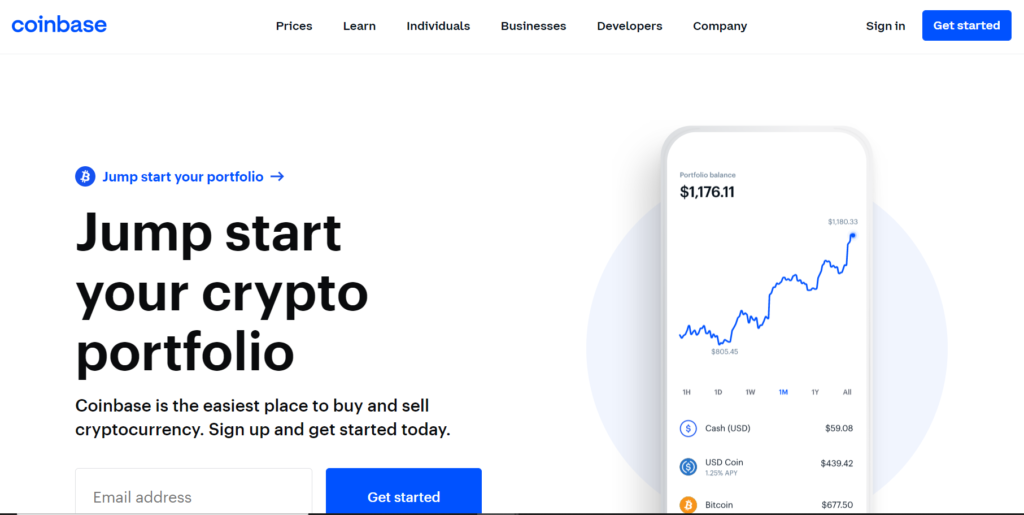 Crypto.com vs Coinbase: Features
Crypto.com
With crypto.com Visa Card, we can save up to 8% while spending on cryptocurrencies.
Crypto.com app helps traders buy over 100 currencies. These currencies are at their actual cost and can be managed via Crypto.com Visa Card, allowing daily crypto purchases.
Crypto Earn is a feature of crypto.com which allows traders to deposit crypto and simultaneously earn up to 8% and 14% for stablecoins.
You can get a secure crypto loan via Crypto Credit with up to 50% LTV.
The crypto exchange lets their traders trade in top cryptocurrencies, providing the best execution prices, the lowest maker and taker fees, and deep liquidity.
DeFi Earn lets traders receive good returns by depositing their tokens.
The platform also offers NFT collections to be accessible by their traders.
Coinbase
Traders can manage and store their crypto assets through their independent Coinbase wallets. These wallets are easy to use and secure.
E-commerce merchants are allowed to accept cryptos in their businesses.
Coinbase provides its traders with news updates on cryptocurrency and also valuable educational content.
Coinbase Custody supports all the crypto assets and offers reliable and advanced custody-related solutions all over the world.
Traders at Coinbase can hold USDC and also earn exciting awards at the same time.
The platform stores the vast majority of the digital assets in secure offline storage.
Crypto.com vs Coinbase: Cryptocurrencies
Both platforms support many cryptocurrencies. Talking of crypto.com, it supports 100+ cryptocurrencies, but only 60 are available in the U.S., and some are not available throughout the country. Their coins are LTC, BITC, ETH, CRO, USDC, OMG, DOT, etc. Through its DeFi wallet, crypto.com also supports 223 additional tokens.
Coinbase is still expanding its collection/selection of cryptocurrencies and is continuing to do so. At present, it has 60+ cryptocurrencies. Most of the currencies in both platforms are similar, like BTC, ETH, LTC, XRP, etc., but some of the currencies are offered by Coinbase but not by Crypto.com.
Crypto.com vs Coinbase: Ease of Use
Crypto.com offers its traders basics as well as advanced features. Beginners can be a part of the platform and use essential elements, but more advanced features are more likely to be used by advanced traders, and novice traders will not be very interested. Hence, the crypto.com platform should have been much more straightforward for novice traders.
Coinbase, on the other hand, is mainly designed for novice traders. Buying and selling are the main activities that take place on this exchange, and also, the interface is much easier to understand and use. Furthermore, by placing their cryptos into cold storage, traders can achieve extra security.
Crypto.com vs Coinbase: Fee Structure
When it comes to the fees, there is a big difference between both platforms. On one side, where Crypto.com keeps it low and straightforward using the maker-taker model, Coinbase is on a bit of a heavy side.
Crypto.com
Crypto.com app lets you deposit currencies free of cost. However, for withdrawals to an external address, you need to pay a fee. Depending upon the trading volume trading fee for Crypto.com is divided into five tiers. You can get additional discounts if you pay your fees in CRO or you stake CRO. In addition to this, you can also receive 10% p.a. on the CRO stake.
Furthermore, exclusive incentives are offered to VIP clients. To be a VIP client, you need to mail them your application to [email protected], and if the criteria is met, you will be a VIP client.
Coinbase
The fees that Coinbase charges are pretty high. The exchange charges' deposit fee ranges from 1.49% to 3.99%, which further depends on your payment method. There is also an approximate fee that is around 0.50%. Moreover, the fiat fee ranges from $0.99 to $2.99 and depends on the completed transactions.
Crypto.com vs Coinbase: Security
It's hard to pick when it comes to the security of Crypto.com and Coinbase, as both are the winners here. Both the exchanges follow industry best practices and have high standards. Two-factor Authentication is provided by both the platforms and also insurance against any theft or damage. Both the platforms also support digital wallets with many great features, including address whitelisting and multi-factor authentication.
Some other features that are offered by these platforms are mentioned below:
Crypto.com
They screen all the deposits for compliance, and for that, they have a separate team to monitor all transactions.
Most of their user's cryptocurrencies are stored in offline cold storage.
User's fiat currencies are held in regulated custodian bank accounts.
They have strict control on access rights to funds in both cold and hot wallets.
Coinbase
The exchange satisfies US regulatory security standards and is transparent about all the funds it stores for its users.
95% of funds of their users are stored in offline cold storage wallets, and the remaining are stored online and are already insured.
Complete control of the funds is given to you.
Crypto.com vs Coinbase: Support
The customer service of both the exchange platforms is quite impressive. They have their own set of FAQs to get answered for all your questions related to the platforms. You can reach Crypto.com support service by mailing them or can connect with them on Twitter. All the demo videos and tutorial videos are uploaded on their very own YouTube channel. Moreover, they have a Telegram community of which you can be a part.
On the other hand, Coinbase support is offered through emails, and you can mail them 24*7 to clear all your doubts. The 'Contact Us' button present on the website will also help you out.
Crypto.com vs Coinbase: Mobile App
Most of the traders usually want to trade at their convenience, and for that, they mostly lookout for an app that can make their work easy. Keeping this in mind, both platforms provide their users with Mobile applications. The mobile apps are available on the Play Store as well as App Store.
Traders can buy and sell cryptocurrencies via these mobile apps, and the procedure they follow is also hassle-free. Crypto.com app supports 20 fiat currencies and more than 100 cryptocurrencies. Moreover, they provide you with the privilege of depositing and sending the cryptos to other apps without any cost. Also, provides you with price alerts so that you can monitor the market movements very well.
The Coinbase app is also safe, easy, and user-friendly, supporting most of the crypto assets. It just takes a bank account or a debit card for you to buy cryptos in the application they provide.
You can also stay informed with their smart tools and dashboards, which help you see prices and the value of your assets at any time of the day.
Crypto.com vs Coinbase: Referral Program
Crypto.com
You can earn Crypto.com referral rewards through Crypto.com's BG25 program. This allows users to refer to their known ones and give them 25 USD, and in return, they will receive 25 USD. Furthermore, your referred person should sign up and stake CRO for a Crypto.com Visa Card to receive your signup bonus. Upon completion, you both will receive 25 USD of CRO in your wallets.
Coinbase
Coinbase is a bit different from this platform; there is no Coinbase referral program; instead, there is an affiliate program. With this affiliate program, you can promote coinbase and earn a commission whenever a new customer joins. So for every new customer to Coinbase, you will earn 50% of their fees for the first three months.
Crypto.com vs Coinbase: Pros and Cons
Crypto.com
Coinbase
Pros:
Charges lesser fees than other known platforms. Providing additional benefits for staking CRO. Offers multiple ways to earn interest or cryptos.
Pros:
Beginner-friendly platform.
Cryptos can be earned by learning about trading.
The platform offers high liquidity.
Free cryptos through Coinbase Earn.
Cons:
Response of customer service is not good. Educational content is very limited.
In-app live support is a bit slow.
Cons:
Coinbase fee charges are high.
Does not have desired customer service.
There are fewer altcoins as compared to Crypto.com.
Crypto.com vs Coinbase: Conclusion
After reviewing everything about the two platforms, it's hard to give a final verdict of which one should be considered a better exchange. Coinbase catches beginners' eye because of its user-friendly appearance, but Crypto.com will also be a go-to exchange for advanced traders. Both the platforms provide features crossing one another and are equally good.
Frequently Asked Questions
What are Crypto.com and Coinbase?
These are the cryptocurrency exchange platforms that let traders purchase and sell popular or less known cryptocurrencies. Both options are excellent for people who want to invest in cryptos or earn while learning from the platform.
Can I move cryptos from Crypto.com to Coinbase?
Yes, traders can transfer between the two accounts by linking both of these exchange platforms to one another.
How long does it take to transfer from Coinbase to Crypto.com?

To transfer from Coinbase to Crypto.com, you will usually use the ACH bank transfer system. It will probably take 3-5 working days to complete the transfer.
Also read,