Estimated reading time: 11 minutes
Ever wondered where you would trade Bitcoin if the government bans all the private trading platforms? Or where would you sell them to gain a profit? Many private cryptocurrencies, including Bitcoin, can be banned. Almost all the countries are formulating new laws, including India.
So you need a platform that offers you features to buy or sell cryptocurrency in your country. What do you think about a platform widely used around the globe? LocalBitcoins provides its services in more than 248 countries. In this article, we will review LocalBitcoins.
LocalBitcoins Review: Summary
LocalBitcoin provides a platform for sellers and buyers to interact and trade.
They provide a list of sellers and buyers.
The payment method depends on your and the seller's choice.
They charge a nominal fee of 1% on a successful trade.
Offers a wallet to store Bitcoins.
They use Escrow to store Bitcoins during an exchange.
They have had some trouble in the past.
Offer an extensive FAQ.
LocalBitcoins offers a mobile app to carry on the exchanges remotely.
What is LocalBitcoins?
LocalBitcoins is a platform where you can buy and sell Bitcoin and other cryptocurrencies in your local currency. The platform allows you to choose the exchange rate and payment method while making an exchange.
LocalBitcoins offers you peer to peer trading and stores your Bitcoin until the trade is complete. They provide you with a wallet to send and receive your bitcoins.
They are widely spread worldwide and are expanding, intending to make Bitcoin available to every corner of the world.
LocalBitcoins does not act as an intermediator in a transaction like every other platform. They only connect the seller and the buyer.
History of LocalBitcoins
LocalBitcoins came into existence in the year 2012 and started generating revenue by February of 2013. Jeremias Kangas was the founder and CEO of LocalBitcoins, and the platform operates from Helsinki, Finland.
How to use LocalBitcoins?
LocalBitcoins gives you an option to make exchanges by directly interacting with a buyer or seller. They make this process simple by providing opportunities for sellers and buyers on the home screen.
The platform offers you many options to perform a trade, but you need to set up your account before knowing those.
How to create LocalBitcoins account?
You can follow these steps to create your LocalBitcoins account:
Visit localbitcoins.com and click on the sign up free button on the home screen.
Enter your details like user name, email, and password.
Then verify yourself as a human by clicking on the 'I'm not a robot checkbox.'
After clicking on the submit button, carefully read the 'terms of service' and 'Privacy Policy,' and if you agree, click on 'I agree.'
Now, confirm your account by the link in your mail.
After confirming, you'll have to fill in details like user name, contact number, estimated trade volume, etc.
Very your contact number, and you're all set.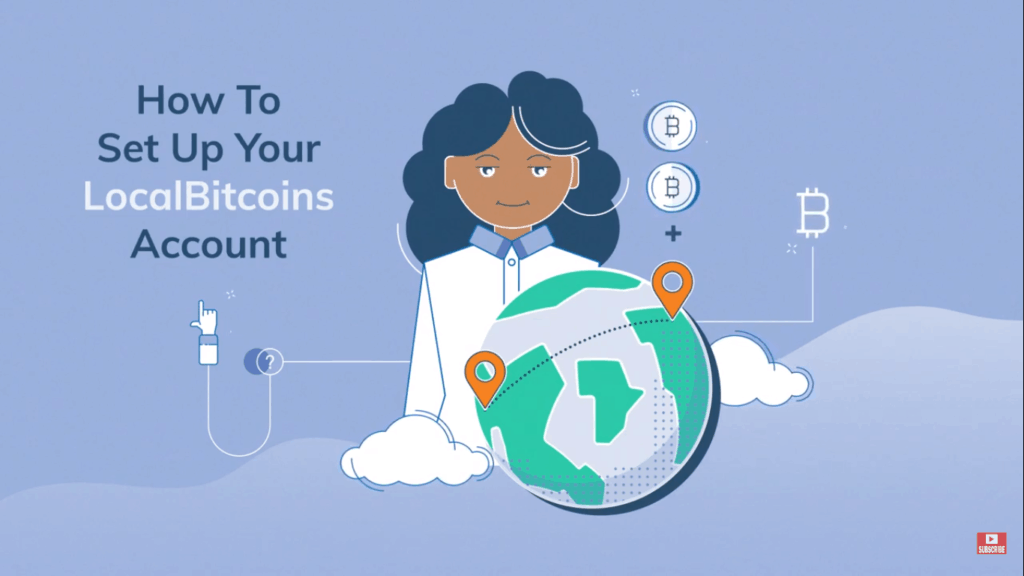 After you've registered successfully, you have two options. Either selling your Bitcoin or buying one from a seller.
How to sell on LocalBitcoins?
LocalBitcoins offers you a simple user interface to sell your Bitcoin and find the perfect buyer for you. To get started selling your Bitcoin, you can follow these steps:
Steps to sell Bitcoin
You can easily make out the 'Quick Sell' tab on the home screen and click on it.
Fill in the details that suit you best and hit the search button.
A list of potential buyers will be in front of you. Sort through them and select the buyer that suits you.
Press the sell button.
On the next page, enter the number of Bitcoins you wish to sell and type the buyer a message.
Click on the 'Send Trade Request' button and initiate the trade.
How to create an order on LocalBitcoins?
To sell a Bitcoin, you need to create a sell order. Although to create an order, you need to be a tier-one or higher verified user. You also need to have Bitcoin in your LocalBitcoins wallet. The steps to create the order are as follows:
Head to the create an order page from the home screen.
Now choose the option to buy or sell.
Enter all the required details and click on the preview to check how a buyer will see your order.
When you've cross-checked all the details, click on publish to go live.
How to buy on LocalBitcoins?
If you're a buyer at LocalBitcoins, they make it easy for you to reach your desired seller. The very first option you get to search for a seller is directly on the home page. You can follow these steps:
Steps to Buy Bitcoin
Fill in the details according to your requirements.
When you click on the search button, a list of sellers prompts on your screen.
Note the min and max trading amount and the preferred mode of payment.
Click on the trade you're interested in to get more details.
Now, if you're okay with the seller's offer, enter the details and click on 'Open the trade.'
Do not forget to pay before the payment window expires, as it will lead to the cancellation of trade.
Also, do not forget to click on the 'I have paid button.'
Verification for purchase
After the trade has been initiated and the seller has received the payment, he'll release the bitcoin. When the seller releases the Bitcoin, you'll receive it in your LocalBitcoins wallet.
Deposit on LocalBitcoins
You need to deposit the amount to the seller's preferred mode of payment after deciding to move forward with their offer. The steps to make a deposit are as follows:
Steps to deposit
You can follow the below steps to deposit while making a trade:
After you are done finding a seller who fits your needs, place an order.
You can receive the account number of the seller and transfer the amount.
Payment options at LocalBitcoins
LocalBitcoins offers various payment methods such as:
Paypal
Debit/Credit cards
Wire transfer
The payment method depends on your seller. You can use any payment method that is comfortable with both of you, except cash.
LocalBitcoins Review: Withdraw Bitcoin
After you've completed the process of transferring the funds to a seller, you can withdraw the Bitcoins from the LocalBitcoins wallet.
However, since the process is entirely peer-to-peer, there are no withdrawal options available after the transaction is complete and the seller releases Bitcoins. Yet, you can always talk it out with the seller and figure out something.
LocalBitcoin App
LocalBitcoins offer their services from the desktop as well as a mobile application. It helps you complete your deals on the go.
LocalBitcoins Fee
The platform doesn't charge you anything for buying, selling, or just registering. LocalBitcoins charges a 1% fee for every trade that completes.
The withdrawal to wallets outside the LocalBitcoins wallet would cost you a fee as Bitcoin transaction fee.
LocalBitcoins Review: Security
While posting an order, a seller has to deposit the Bitcoin. This bitcoin is stored in escrow, which prevents the seller from scamming you.
LocalBitcoins provides other features such as Two-factor authentication, which increases the security of your wallet.
LocalBitcoins Review: Reputation
LocalBitcoins has a reputation similar to those companies that have suffered some severe issues in their past. We can list some of them:
People using LocalBitcoins came into the limelight in 2014, 2016, and 2018 for money laundering and similar crimes.
Hackers made around $28,000 from the wallets of users in January 2019.
Customer support
The only option LocalBitcoins provides to contact their customer support is by email. On top of that, they can even take a week to respond to your grievances. However, they have an exclusive FAQ, which might have the answer to your problems.
You can write them a message and attach some files if necessary, for them to have more information about your situation.
LocalBitcoins Review: Beware of scammers
Since it is a peer to peer platform, people have often suffered scams in the past. So it is highly recommended to consider the seller's rating and not go outside the platform to make any transactions.
How to avoid scammers at LocalBitcoins?
Apart from taking care of the security from your side, you can also trust on LocalBitcoins. The platform stores the Bitcoins in Escrow and only releases them when a trade is complete. Here are a few ways you can prevent yourself from scams:
Always ask for government-approved IDs before transferring the funds, and crosscheck these IDs.
The scammers can also transfer the funds to an account with no connection to you and then blame you for scamming them. Be careful!
Even though you go to the administration, make sure you have authentic proof because the scammers can easily create fake digital proofs.
Beware of Spoofing.
Remember this, never trust anyone while trading online.
LocalBitcoins Review: Pros and Cons
| Pros | Cons |
| --- | --- |
| They allow you to trade locally. | No other coins are supported other than Bitcoin. |
| You can use your local currency to buy bitcoin. | LocalBitcoins has a bad reputation due to mishappenings in the past. |
| They offer an Escrow service. | The cash option has been disabled. |
| Simple User interface. | |
LocalBitcoins Review: Conclusion
LocalBitcoins has been offering its services since 2012 and is the most popular website to trade Bitcoins locally. Even though they have a troubling past, they are indeed your best option while dealing locally. Escrow service provided by them is still highly protective. The hacking incident in history has done nothing but made them stronger to tackle these problems.
Frequently Asked Questions (FAQs)
How am I assured that I will not be scammed?
LocalBitcoins asks the seller to deposit the Bitcoin into Escrow while making a trade. This protects the seller from running away with your money. Hence you are prevented from a scam. However, some scammers use this to scam the sellers. Therefore even the sellers should be aware while making a trade.
How should I get my money back after making a transaction?
The transactions at LocalBitcoins are irreversible, and hence it is impossible to get your money back from LocalBitcoins. So you must make sure the account number you entered is correct.
However, you can always contact your bank and talk to the beneficiary to sort it out.
I have not received my Bitcoins even after paying the seller. Is it normal?
Completing a transaction may take time, as it depends on when the seller releases the funds. If there is an issue with the seller, then you can contact LocalBitcoins support.