In this article, we will show you where and how to buy Tron tokens and everything else you need to know to get started. So without further ado, let us dive in.
Summary
Tron token is a token known for its fast transactions.
There are 3 types of TRX in the Tron Ecosystem: TRC-10,TRC-20, TRC-721.
You can buy it from FTX, PancakeSwap, etc.
What is Tron?
Tron is a blockchain-based ecosystem that has built its technology optimized for daily usage. It is known for its exceptional speed. Where blockchains like Bitcoin offer 6 transactions per second and Ethereum offers 25 transactions per second, Tron has claimed that it can go up to 2000 transactions per second. This project can be described as a decentralized platform focusing on content sharing and entertainment.
Also read, The Ultimate Guide to DeFi (Decentralized Finance)
What is a Tron token?
Tron token or TRX is the native token of the Tron ecosystem. If you have TRX in your wallet, you will obtain TRON Power which will eventually help you vote for super representatives. There are three types of tokens in the Tron Ecosystem.
TRC-10 Token is a technical token standard supported by the Tron blockchain itself.
TRC-20 Token: it is a technical standard compatible with the ERC-20 Token.
TRC-721 Token: it is a set of standard interfaces used to issue NFTs.
Also read, ERC-721 Definition | NFT Explained
What makes Tron token unique?
Some reasons make Tron even more desirable and unique:
Tron has positioned itself where content creators and consumers can directly interact.
Tron eliminates centralised platforms so that a middleman won't cut down the commission on the content creators.
It helps the creators to make content less expensive for the consumers.
How safe is Tron Token?
It uses a consensus mechanism called delegated proof of stake. Just like proof of stake consensus, users can stake coins here but they don't need to take the responsibility to validate the transactions. These validations are done by delegates. Users can vote for delegates by pooling their tokens into a staking pool and linking those to a particular delegate.
Where can I buy Tron Token?
You can buy Tron tokens on crypto exchanges such as Binance, KuCoin, FTX, etc.
How to Buy Tron Token on FTX?
FTX is a centralized exchange so you need to register on FTX and transfer USDT to your account.
Go to markets.
You will find a search bar on top. Search for TRX/USDT.
You will land on a page with various information about the coin.
Scroll down and you will find a tab for trading.
Enter your desired amount and click on trade.
How to buy Tron token on PancakeSwap?
Before you start buying TRX on PancakeSwap you must have BUSD in your wallet. In this case, we will be using the Metamask wallet.
Click on connect wallet and select metamask.
Now in the swap section select BUSD instead of BNB.
Now select TRX from the options.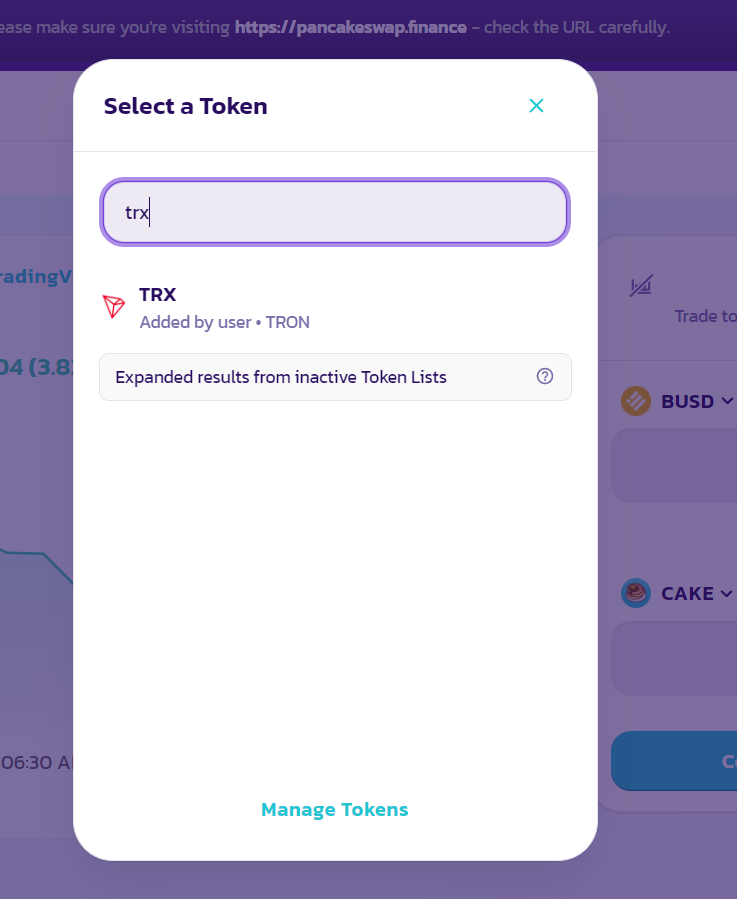 Enter your desired amount and click on the swap button.
Also read, Where and How to Buy PancakeSwap (CAKE) Token?
Conclusion
Now you must be wondering whether it is a good investment or not. TRX can be an excellent investment for a while, although patience is the key. You must do your research and consult someone experienced before you start investing.
Frequently Asked Questions
What is the contract address of Tron Token?
The contract address of Tron Token is 0x85eac5ac2f758618dfa09bdbe0cf174e7d574d5b.
Is Tron Token secured?
Tron token is secured by Delegated proof of stake consensus, so it is pretty safe.
Where can I buy a Tron token?
You can buy TRX from FTX, Binance, PancakeSwap, etc.
Also read,