Today we have come up with a guide on how to buy PancakeSwap (CAKE) tokens. PancakeSwap token was launched on Binance smart chain as a BEP20 token. This article will cover ways of acquiring this cryptocurrency and the points to keep in mind while investing in the same.
Summary (TL;DR)
PancakeSwap is a decentralized exchange platform built on Binance Smart Chain.
CAKE is a BSC native BEP-20 token that was launched in September 2020.
The platform aims to facilitate BEP-20 token swapping.
Decentralized exchange platforms that facilitate buy Pancakeswap (CAKE) token are – PancakeSwap, Uniswap, and Simpleswap.
One can also purchase it on cryptocurrency exchange platforms such as Binance, CoinDCX, Gate.io, KuCoin.
Swap platforms such as SwapZone and SwapSpace also offer CAKE tokens.
There are various methods and ways of earning free CAKE Crypto.
However, the CAKE token is subject to various pros and cons; therefore, any investment decision shall be taken after complete research.
What is PancakeSwap?
To begin with, PancakeSwap is a decentralized exchange platform (DEX) built on Binance Smart Chain (BSC). Furthermore, it is a decentralized application (DApp) that uses an automated market maker (AMM) and does not maintain traditional order books. Its liquidity pool feature allows users to earn fees by yield farming, lending, and staking.
The primary aim of PancakeSwap is to facilitate BEP-20 tokens swapping. The functions and working of PancakeSwap are similar to Uniswap. Therefore, it is a major competitor of the same.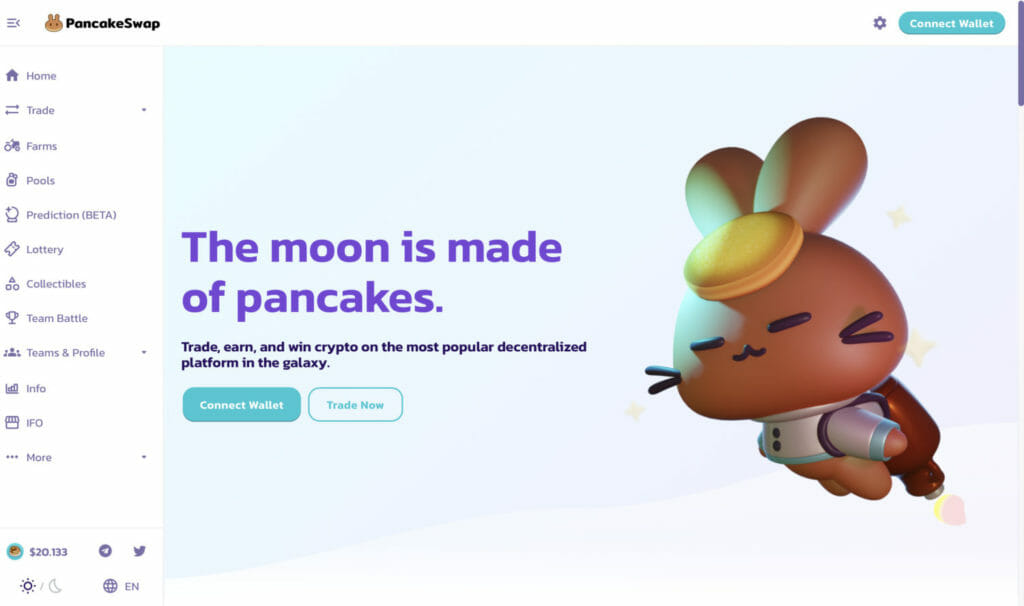 What is the PancakeSwap (CAKE) token?
PancakeSwap token, CAKE is a BSC native BEP-20 token launched in September 2020. The CAKE token is primarily used to incentivize the liquidity provision to the PancakeSwap platform.
The PancakeSwap token (CAKE) has been performing well in 2021 with a market cap of $2,093,017,177,002 and a selling price of around $26.03 at the time of writing the article. The current circulating supply is 213,565,559 CAKE, according to Coinmarketcap. Moreover, it has no maximum supply making it a deflationary token.
Where to buy Pancake (CAKE) token?
CAKE token is a native BSC token of the PancakeSwap platform. It has become viral in very little time. As a result, many prominent platforms extend their services to include CAKE tokens.
Best DeX to buy Pancakeswap (CAKE) token
Top Centralized platforms to buy Pancakeswap (CAKE) token
To learn more about the leading cryptocurrency exchange platforms, read our blog Best crypto exchange platforms.
How to buy Pancake (CAKE) token on Swapzone?
There are dozens of instant crypto exchange services across the Internet and numerous factors to consider when choosing the best PancakeSwap exchange, such as CAKE price, fees, speed, ratings, and KYC policies. The process might seem daunting but Swapzone's here to help. This platform displays all the information needed to exchange PancakeSwap at the best rate, fast and through a reliable exchange platform so that you could make a swap with no custody and no registration. The list of steps is as follows:
Go to swapzone.io.
Select PancakeSwap (CAKE) in the Send section.
Enter the amount you wish to swap.
Choose crypto to get in the Get Up To section.
Review available offers and their providers.
Select an offer to proceed with.
Enter your wallet address to receive crypto.
Send your PancakeSwap deposit to a generated address.
Rate your exchange provider.
How to buy Pancakeswap (CAKE) token on DEX?
If you are looking to buy Pancake (CAKE) tokens in a decentralized manner, PancakeSwap will be the most reliable platform. PancakeSwap is a decentralized exchange platform, and CAKE is the heart of its ecosystem. Furthermore, the process of buying CAKE is similar for all decentralized exchange platforms, and here we will be taking the help of the PancakeSwap platform to guide you.
The first step involves setting up the Metamask wallet account and connecting it to Binance Smart Chain.
Now, buy BNB coins on the Binance cryptocurrency exchange platform and send them over from Binance to your Metamask wallet.
To add CAKE to Metamask, click on Assets, go to 'Add Tokens,' and select 'Custom Token.'
Fill the 'Token Address' field with CAKE token address.
After filling up all the required details click on the 'Next' button.
Now, connect the Metamask wallet with Pancakeswap.
The next step involves pasting the CAKE token ad3dress in the 'select a currency' option. Now, add it to the exchange.
Put in the amount of BNB you wish to swap for CAKE and click on 'Swap.' In the pop-up message, confirm the transaction.
How to buy Pancakeswap (CAKE) token on Binance?
Binance is an international cryptocurrency exchange platform that facilitates the easy buying, selling, and trading of decentralized currencies at competitive fees. Moreover, it is the most trusted cryptocurrency exchange platform in the world.
To learn more about the platform, read our Binance review. Follow the simple and easy steps given below to buy PancakeSwap (CAKE) tokens in your wallet.
Buy Pancake (CAKE) token from a credit/ debit card
You can buy Pancake (CAKE) token tokens directly from fiat currencies like USD, EUR on the Binance platform.
Firstly, Sign in or Sign up to your Binance account using your email id and complete the verification process.
Click on the 'Buy Crypto' option in the top left corner.
Select the 'Credit/debit card' option from the drop-down list.
In the payment box, fill in the amount you want to spend in the fiat currency bar.
In the second drop-down list, select 'CAKE' and click on the Continue option.
Fill in the details and confirm the transaction.
Buy PancakeSwap (CAKE) token on Binance
If you cannot Buy PancakeSwap (CAKE) tokens directly from your fiat currency, you can use the trading platform of Binance to do the same.
Login to your Binance account using your email id and password.
Head to the market section and search for the 'CAKE/USDT' pair.
In the price chart box, fill in the amount of USDT you want to trade for CAKE in the first bar.
The estimated amount of CAKE will be shown in the second bar.
Click on the Buy CAKE option and confirm the transaction.
How to earn free Pancake tokens (CAKE)?
Who doesn't like getting things without paying for them? You can now earn free CAKE tokens by following simple steps. The most prominent ways of making free CAKE tokens are lending, staking, or participating in airdrop programs. However, the easiest and fastest way to start earning free PancakeSwap tokens is by staking them on the PancakeSwap platform itself. Let's see how!
Firstly, transfer some CAKE and BNB tokens to your Metamask wallet and connect it with PancakeSwap.
Secondly, send some BNB tokens to the Binance Smart Chain address to pay the transaction fees.
Thirdly, go to the PancakeSwap platform and head to the 'Pools' section.
Now select the CAKE pool option and click on the 'approve CAKE' button.
Now simply stake as many CAKE tokens as you want and start earning free CAKE tokens as a reward.
Pros and Cons
| PROS | CONS |
| --- | --- |
| CAKE holders get to enjoy exclusive PancakeSwap features such as liquidity pool, staking in SYRUP pools, farms, lottery, etc. | The primary disadvantage is the volatility associated with every cryptocurrency. Even the most minor change in the economy or political atmosphere can dramatically impact the value of CAKE tokens. |
| Since PancakeSwap is a Dex and we are seeing the shift of traders from CeX to Dex, it can prove to be a good investment. | |
| CAKE holders enjoy lower trading fees on the PancakeSwap platform. | |
Furthermore, PancakeSwap will be launching its NFT platform on 22nd September, which will take it ahead in the race of DeXs. To learn more, about it you can watch the video below, and to stay updated with daily crypto news, you can subscribe to our YouTube channel.
Buy Pancakeswap Token: Conclusion
Owing to increasing demands, PancakeSwap token has been made available on various platforms, including decentralized exchange platforms like Pancakeswap and Simpleswap. Furthermore, centralized cryptocurrency exchange platforms like Binance, KuCoin, and Swap platforms like SwapSpace also offer CAKE tokens. Moreover, you can also earn free CAKE tokens by staking and lending the same.
However, one cannot neglect the risks involved in cryptocurrencies. Therefore you should only rely on independent research while deciding upon any such investments.
Frequently Asked Questions
How to store PancakeSwap token?
The most trusted wallets to store PancakeSwap tokens are the Ledger and Trezor hardware wallets. However, you can also use desktop/ mobile wallets such as Metamask wallet and Coinbase wallet. You can download their apps from google play store or apple store and use them to store your CAKE tokens. They are also required to perform basic tasks on the Pancakeswap platform.
What is PancakeSwap token price prediction?
Predicting cryptocurrency prices is an impossible task. However, to stay updated with the latest CAKE Token news for better understanding, refer to CAKE coinmarketcap. They have PancakeSwap token price charts, CAKE crypto price, and other information like where to buy CAKE coins, CAKE Wallet, etc.
Is PancakeSwap a good investment?
PancakeSwap is a decentralized exchange and since we are seeing a shift in the number of transactions from centralized exchanges it might have a good future. However, one must also keep in mind that the same investment can also lead to heavy losses if not done right. Therefore independent research and decent knowledge will result in a good and successful investment.
Also, read