In recent times trading has evolved to become a field that is dominated by Automated trading bots. Currently, over 90% of trades on the stock market are executed by these trading bots. In the tech-savvy world of crypto, this trend has been adopted as well. For this purpose, we are going to review two of the most popular trading bots, Coinrule and 3Commas.
We will be comparing the two tradings bots, across different criteria to determine which is the best trading bot for beginners.
The criteria that we will compare are
Pricing
Ease of use
Availability of Exchanges
Trading Strategies
Operating Systems
Customer Support
The ultimate goal is to identify which platform is best for beginners, different levels of traders will always have different needs and requirements. Each category will be judged from the perspective of a novice user that is entering the crypto space as a beginner.
Coinrule and 3Commas Overall Review
3Commas
3Commas was founded in 2017 and is a Canadian-based company with a representative office also in Europe. 3Commas is a well-known trading bot platform, which offers third-party API integration with most of the top exchanges. It allows you to automate your trading, using pre-designed bots that have been created, or using bots that you design according to your specifications.
Coinrule
Coinrule introduced an innovative approach to automated trading and has grown to become an outstanding option for crypto traders. The UK-based company is currently expanding its offer of services, launching a crowdfunding campaign that will further boost features.
Coinrule developed a trading strategy editor specifically for non-professional traders. Users can pick 'building blocks' via a simple interface to create trading strategies. These rules are then executed automatically via crypto exchanges such as Binance whenever a certain condition as per the rule is triggered. It is safe, easy, and makes a trader's life ten times easier – no coding skills are required!
3Commas vs Coinrule: Pricing Comparison
3Commas offers three different tiers of subscription. All plans allow the trader to use the smart terminal, with no cap on the amount that can be traded. The three plans differ in the tools that are available to use.
3Commas Pricing
Coinrule Pricing
Free plan
This plan is great for someone looking to get to know the platform. You can add up to one exchange with 2 live rules and 2 demo rules. There is no expiry on the account and you can keep using it forever, but there is a monthly trading volume limit of $3,000. All the basic features are available, except for technical indicators and Leverage Trading.
Hobbyist Plan From $29.99/month
With the Hobbyist plan, you can truly experience all that Coinrule has to offer. With access to up to 2 exchanges, the capability to run 7 live and 7 demo rules, as well as technical indicators make it a perfect package for someone looking to start trading algorithmically as a beginner. The package also grants access to 30 template strategies that have been designed by expert traders. The Hobbyist plan grants you a large trading volume of up to $50K, which should be more than enough for a beginner.
Trader Plan From $59.99/month
Tailor-made for novice traders that are looking to get serious, the Trader's package comes with all the benefits of the Hobbyist plan, but adds perks on top. The number of active live rules increases to 15, with 15 Demo rules to test and unlimited access to Template strategies. For an extra push, one-to-one training sessions are available to familiarize the user with the platform. The monthly trading limit is $300K and you can connect up to 3 Exchanges. All Trader Plan users are on a separate server which allows for faster execution times compared to the Free and Hobbyist plans.
Pro Plan From 449.99/month
To meet all your expert trading needs, the Pro Plan comes equipped with 50 live rules and 50 demo rules. With unlimited template strategies, unlimited exchanges, and a vast trading volume of $3m as well as training sessions, the Pro Plan gives you access to all the tools needed to beat the market. In terms of execution speed, as part of the plan, you receive a dedicated server that ensures Ultra-fast execution and adds privacy protection for your data.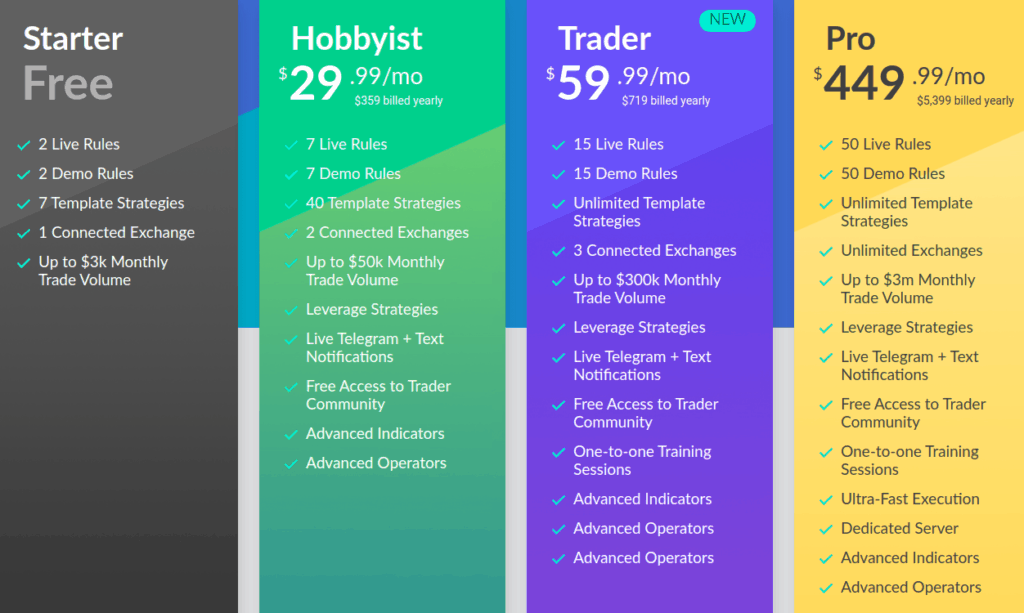 Result
The plans at 3Commas appear to be cheaper, the trials allow you to test which subscription is good for you but it expires after 14 days. That means that you will need to pay while you are still getting used to the platform. On the other hand, Coinrule has slightly higher prices, but this is compensated by a life long free plan that allows the user to get familiar with the platform at their own pace. This is especially beneficial for beginner users that are taking crypto as a hobby and are looking to trade in their downtime or during the weekend.
Winner: Coinrule
3Commas vs Coinrule: Ease of Use
3Commas interface – Intermediate/Advanced Trader
3Commas' layout is efficient and from the dashboard, you can access several features including placing smart trades. The layout is done in such a way that it is easy to visualize all aspects of the trade, with all features displayed clearly. However, loads of features make the system over-complex and tricky to use for a novice since it requires a basic understanding of the markets and process.
Coinrule interface – Ease of Use – Beginner Trader
Coinrule has created a unique value proposition by creating a platform that has been made for beginners. The IFTTT methodology is easily understandable by anyone, especially a novice trader. The Coinrule bot does not require any trading experience, and in the event that someone would like to learn more, there is a knowledge base that is packed with educational material regarding trading and the platform.
Result
Both systems have created dashboards that are easy to use, however, Coinrule's IFTTT logic makes it very easy for a beginner to get started with the interface without any trading experience. The use of a logic that is easy to understand breaks down the barriers to entry and allows new users to dive right in.
Winner: Coinrule
3Commas vs Coinrule: Exchanges supported
3Commas Exchanges
3Commas offers 23 exchanges, including Binance, Coinbase Pro, Bitmex, Kucoin, and others. Exchanges can be connected through the dashboard and linked using API keys.
Coinrule Exchanges
Coinrule offers 11 of the top tier exchanges, including Binance, Coinbase Pro, Kraken, Binance US, and many more. Coinrule continuously adds new exchanges depending on user requests. The ease of connecting exchanges with Coinrule is what makes the platform very beginner-friendly. The exchanges provided are sufficient for novices getting started with crypto trading.
Result
Both platforms offer the common top tier exchanges, however, 3Commas offers a range of additional exchanges on top, making it more suitable for those looking to trade on less popular exchanges. More exchanges mean more users from different parts of the world can trade with the platform.
Winner: 3Commas
3Commas vs Coinrule: Trading Strategies
3Commas Trading Strategies
3Commas traders can fully customize their trading bots using short or composite bots. Simple 3Commas trading bots can be simple to set up, but only allow trading of one currency pair at a time. The composite bots support several currency pairs, however, they do not use technical indicators and their actions are based on Trading Views analysis.
Coinrule Trading Strategies
Coinrule's interface allows anyone to build a trading system. There is no need to understand technical trading terms, as everything is explained in plain English. The trading systems are based on an intuitive and user-friendly If-This-Then-That logic.
On top of that, Coinrule offers its Hobbyist plan with 30 template strategies that are selected based on a user's level of experience. The trader & pro plan offer over 150 templates that are suitable to be run in several market conditions, with little to no changes that are needed to be made in the structure of the rule. 
Result
3Commas trading bots are easy to use but there is a learning curve that is needed before the user can fully understand how to set up the bot.
On the other hand, Coinrule's template strategies are very simple to use and the only inputs that are needed are the dollar value that the bot would trade. This makes it easier for beginners to use Coinrule's template strategies instead of 3Commas.
Winner: Coinrule
3Commas vs Coinrule: Mobile Features
3Commas Mobile Features
3Commas does not require you to download the interface, you can access it via the website and connect exchanges using API keys. The 3Commas app can be of assistance to track transactions, however you cannot execute trades using it.
Coinrule Mobile Features
Coinrule is a web app, meaning that you do not need to download it on your device. You can access the app through any web browser. The website can be accessed on the go from any smartphone for traders that always want to keep an eye on their portfolio.
Result
Both websites have similar operating systems that are easily accessible, the 3Commas app would prove as an edge if the users could use it to trade and not just monitor. Coinrule's web app is compatible with IOS and Android devices and can be used easily from a smartphone.
Winner: Coinrule
3Commas vs Coinrule: Notifications
3Commas Notifications
3Commas offers notifications through various methods: browser, mobile device, or email. Telegram notifications are also available and allow you to track orders and adjust them when necessary.
Coinrule Notifications
Using the Coinrule interface you can enable telegram notifications that will notify you once a trade has been executed and at what price it has been executed. This is a very helpful feature as it allows the trader to seamlessly keep an eye on the market.
Result
Both platforms have various ways of notifying the user about changes and actions that the trading bot has taken. However, 3Commas does have more available notification channels that it offers to users which makes it more convenient
Winner: 3Commas
3Commas vs Coinrule: Customer Support
3Commas Support
3Commas provides tech support through their portal after a user submits a request in the Help Center in either English or Russian. In addition, they have an FAQ page to address commonly asked questions.
Coinrule Support
Coinrule has 24/7 support through the chat interface, this is not limited to technical issues but includes assistance to traders that need help using the interface. The team is diverse and can accommodate several languages including English, German, Russian, Spanish, Italian, and Arabic.
In addition, you can submit a request on the website using a form or email the team. Coinrule allows users to arrange periodic calls to help them improve their understanding of the platform and optimize their strategies. That's a useful option, especially for beginner traders.
Result
Both platforms have been created in a way that customers are able to find solutions to their problems directly on the website through the Help Center and articles. However, the presence of a 24/7 chat makes Coinrule easier to use.
Winner: Coinrule
| | | |
| --- | --- | --- |
| Score Card | 3Commas | Coinrule |
| Pricing | | X |
| Ease Of Use | | X |
| Availability of Exchanges | X | |
| Trading Strategies | | X |
| Operating System | | X |
| Notifications | X | |
| Customer Support | | X |
3Commas vs Coinrule
3Commas vs Coinrule: Conclusion
To conclude, based on our metrics of scoring the platforms based on their convenience of use for beginners, Coinrule ranks higher than 3Commas in 5 of the 7 categories. While 3Commas offers a powerful platform, based on the needs and level of understanding of a Beginner trader, Coinrule performed better and was easier to use.
Also Read