Confused about which platform is best for social trading or copy trading? This article will walk you through various features, services, products, and exciting rewards offered by the best cryptocurrency exchanges of 2021. The comparison table given below portrays a summary for each platform.
Summary at a glance
Features
eToro
BYDFI
Bitget
BingX
ZuluTrade
Founded in
2006
2019
2018
2018
2007
Trading fee
0.75% to 5%
0.05%
Maker fee: 0.2%
Taker fee: 0.2%
0.20%
Max 20% profit sharing
Conditions
Minimum trade size $25
Minimum Copy margin of 5 USDT
Minimum 10 USDT
Max leverage: 20x
Max Up to 500x
Customer support
Great
Great
Good
Good
Good
Also Read: What is an Example of Social Trading?
eToro: 1st Best Social Trading Platforms
What is eToro?
eToro is one the most popular platforms in copy trading services, with over 17 million users. It is mainly known for stock investing, forex trading, CFD trading, ETF trading, commodities, and indices.
Learn more about this platform in our eToro Copy Trading review.
Getting started with eToro
Signup on eToro takes a few minutes, but verification of the user's identity may take time. eToro login will only be available after you successfully register on this platform. After that, log in to your account and make a deposit to start trading.
Read our eToro review to know the complete process step-by-step.
eToro Features
It is a multi-asset platform. Along with cryptocurrencies, users can invest in multiple assets such as stocks, indices, commodities.
Moreover, eToro also offers a spectacular insurance fund that guarantees free insurance up to 1 million euros.
Take profit and stop-loss orders are available on this platform too.
This platform supports 18 cryptocurrencies, including Bitcoin, Dogecoin, XRP, Ethereum, Litecoin, and much more.
Additionally, it also features a free wallet known as eToro wallet, in which users can store their crypto assets safely.
The eToro app is available on both Android and iOS devices, and it contains all the features of the website.
In case of any help or support, the users can contact the eToro customer support through email or online chat.
It is one of the few platforms that offer a demo account along with an original version. eToro demo mode enables its users to test the trading strategies without actually losing anything.
Also Read: 3Commas vs Mudrex vs eToro
eToro Fees
Unlike most platforms, eToro charges zero commission on stocks, EFTs, and trading fees.
Apart from this, users have to pay $200 to use their copy trading services and copy the moves of experienced traders step-by-step.
Also, eToro charges trading fees that range from 0.75% to 5%.
It also does not charge any commission fees. However, traders are required to pay a 0.18% commission for short sales.
eToro Deposit
Deposit on eToro is straightforward. After making an account on this platform, the user has to enter the amount to be deposited. The minimum amount that can be deposited is $1000. Moreover, eToro supports several payment options for the ease of their customers.
Also Read: eToro vs Coinbase
eToro Withdrawal
The minimum withdrawal amount to validate the transaction is $30.
The minimum eToro withdrawal fee charged is $5.
Is eToro legit?
Each transaction process on this platform is completely transparent, which leaves no room for any discrepancy.
Furthermore, eToro is firmly regulated by several regulatory authorities like Financial Conduct Authority (FCA), Cyprus Securities and Exchange Commission (CySEC), Investment Commission (ASIC), and Australian Securities.
It constantly upgrades the website security to remove online threats and keep the website and the crypto assets safe.
eToro: Pros and Cons
| Pros | Cons |
| --- | --- |
| Users have the option to invest in more than one type of asset. | Trading fees are relatively higher than platforms. |
| Users can start trading with just $18. | |
| eToro constantly upgrades its features and offers updated services to its users. | |
BYDFI: USA Focused Social Trading Platforms
What is BYDFI?
BYDFI is a renowned exchange that offers users a path to crypto markets through copy trading, spot trading, and much more. It was founded in 2019, and it has managed to spread its presence over more than 150 countries. Before checking out the platform, don't forget to read our exclusive BYDFI review or watch the video below:
Getting started with BYDFI
Users can complete registration on BYDFI using their mobile number or their email.
The user is granted a bonus for every step in registration.
The registered user can access the demo account and test out their moves with fake assets.
BYDFI: Features
BYDFI strives to give a seamless and fast trading experience through its ultra-fast processing speed and easy-to-use interface.
Moreover, it offers vast leverage up to 125x on the available cryptocurrencies on its platform.
It has established an advanced crypto trading platform that allows new traders to copy tested strategies of experienced traders.
Apart from this, it also hosts a wide array of trading tools to plot trend lines, view time frames, and analyse trading charts.
Furthermore, BYDFI has also introduced BYDFI Coin (BYD), which can get more discounts on trading fees and earn more cryptocurrencies.
Also, to give its users full-time access and make trading much more manageable.
It has also introduced the BYDFI App, which is available on Android and iOS devices.
Users can access the platform in several languages.
Also Read: BYDFI Copy Trading
BYDFI: Fees
BYDFI charges zero spread fees and has maintained constant liquidity. For Contract for Difference(CFD), the fee is as described below.
A transaction fee of 0.5% whenever any user places an order.
In the case of opening and closing fee, the amount is calculated as per the given formula
margin*leverage*0.05%
Additionally, an overnight fee is also charged if the position is held for more than 12 hours.
For Spot:
The maker's fee and the taker's fee is 0.1%.
It does not charge any fee for deposits. However, users have to pay withdrawal fees, as elaborated in the below table.
| | |
| --- | --- |
| BSC | 1 USDT |
| TRC-20 | 1 USDT |
| ERC-20 | 10 USDT |
Also Read: BYDFI Margin Trading
BYDFI: Deposit and Withdrawal
For deposits, cryptocurrencies such as ETH, EOS, USDT, BTC, TRX, XRP, and HT are available on BYDFI. Also, only users from Vietnam, Indonesia, and mainland China can make fiat deposits. Multiple payment options are present for deposits.
As for withdrawal, users can only withdraw USD Tether on BYDFI. The minimum withdrawal amount is 15 USDT.
Is BYDFI safe?
BYDFI is kept in check by regulating authorities such as the Australian Transaction Reporting and Analysis Center (AUSTRAC), the American Money Services Business ("MSB"), and the Business Administration of Singapore ("ACRA").
Moreover, it also requires email and SMS authentication to filter out the fraudsters.
KYC verification is mandatory for the safety of the exchange and its user's assets.
Apart from this, users have to go through multiple security checks like entering their pin and multiple signatures to initiate any transaction.
BYDFI: Pros and Cons
| | |
| --- | --- |
| Pros | Cons |
| Excellent customer support. | Withdrawal is only possible in USD Tether. |
| BYDFI supports fiat currencies. | Less number of cryptocurrencies are available. |
| BYDFI has taken strong security measures. | |
| It holds multiple licenses. | |
Bitget: 3rd Best Social Trading Platforms
What is Bitget?
Bitget is one of the popular cryptocurrency derivatives exchanges that offer both spot and derivatives trading. Since 2018, it has secured multiple licenses in Canada, Singapore, the USA, and Australia, giving its citizens unprecedented access to trade on the crypto exchange. Learn more about the platform through our Bitget review.
Getting started with Bitget
Signup to create an account is necessary before you start trading on Bitget. Users can use their email for registration and set up their passwords. After successful signup, they can log in to their account and start trading immediately.
Bitget: Features
Leveraged trading is available on Bitget, and the maximum leverage allowed on this platform is 100x. Although leveraged trading promises high returns, users should also be aware of the risks that come with it.
Copy trading is available with just one click.
Moreover, users can only access contract trading, quantitative trading, spot trading, and many more exclusive products on Bitget.
It features simulation, similar to demo mode, where users can practice their strategies without suffering any actual losses.
Furthermore, it is one of the rare platforms that allows users to buy cryptocurrencies with fiat currencies.
Also, the Quanto Swap feature of Bitget enables the users to put down several crypto assets as collateral at once while trading with multiple crypto pairs.
The Bitget mobile application incorporates most of the website's features in Android and iOS devices.
Bitget: Fees
Bitget charges taker and maker fees from its users. Taker fees are applied to those to 'take' the orders from the order book and maker fees are applied to those who add orders to the order book.
For spot trading:
The maker's fee and the taker's fee is 0.2%.
Note that if the user uses the Bitget Defi Token(BFT), the fee gets lowered to 0.14%.
In the case of withdrawal fee, Bitget charges 0.0006BTC per BTC withdrawal.
Bitget: Deposit and Withdrawal
Bitget not only allows its users to deposit cryptocurrencies but also in fiat currencies. However, only wire transfer is supported for fiat deposits.
Users can withdraw funds easily just by entering their wallet address and amount to be drawn. The withdrawal limit and fee for each cryptocurrency vary and can be understood by the image below.
Is Bitget safe?
It has enabled a risk-control mechanism that ensures safe transactions.
Bitget has set up bank-level protection to guarantee the safety of users' assets.
Moreover, a built-in active DPI defence system secures the platform firmly.
Also, the wallet has a built-in trigger to alert the user in case of any breach.
Bitget: Pros and Cons
| | |
| --- | --- |
| Pros | Cons |
| Customer support is available round the clock. | High risk with leveraged trading. |
| Multiple licenses show that the exchange is legit. | |
| Competitive fees. | |
| Exclusive products like Unified Contract feature. | |
BingX: Top Social Trading Platform
What is BingX?
BingX is a crypto exchange with various features such as standard contract trading, perpetual swap, and their most popular product Crypto Social trading network or Copy trading. The BingX copy trading feature allows you to copy professional traders. Further, you can get UPTO $100 sign-up bonus on BingX. To learn more, read BingX review.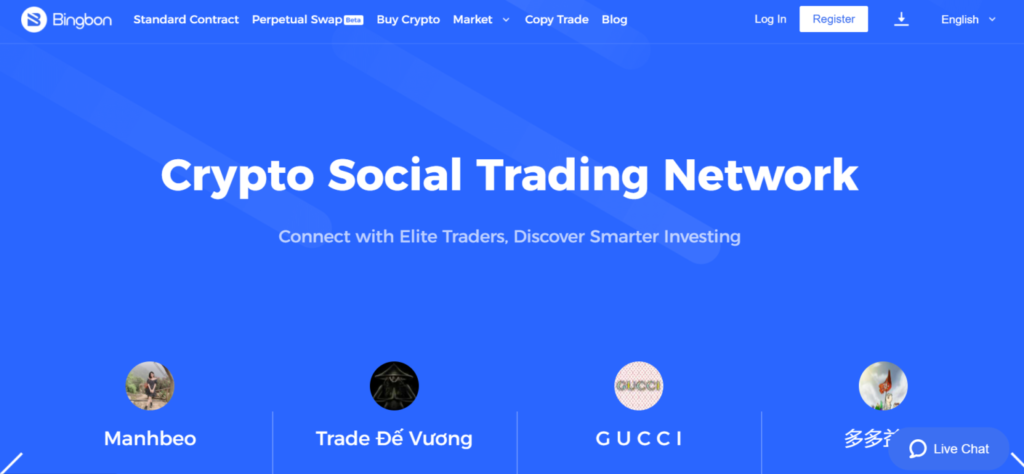 Getting started with BingX
BingX has a simple sign-up process that allows you to create an account, deposit funds, and start copy professional traders in few simple steps.
Visit the official BingX website and click on the regiester button.
Enter your email and password and click on the sign-up button.
Once you're all set-up, deposit funds and start copying professional traders.
BingX Trading Fees
The copy trading fees at BingX is Copy Trading Fee Rate: 0.075%.
Is BingX safe for social trading?
Yes, BingX is entirely safe to use crypto exchange as it was launched in 2018 and offers its copy trading feature in more than 100 countries. Further, you do not need to complete any type of verification to deposit funds and copy traders. Once you gained significant profits you can even withdraw your funds after completing mobile verification.
BingX: Pros and Cons
| Pros | Cons |
| --- | --- |
| Intensely simple and easy to use platform | Professional traders can use up to 20x leverage. |
| Minimal trading fees. | |
| No verification needed for depositing or withdrawing crypto. | |
Zulu Trade
ZuluTrade is a Greek financial company that prominently features its copy trading service. A unique feature of this website is its Demo Account, which lets users access its platform before registering for an existing account.
Ease of Navigation: The website is probably the easiest for navigating. The copy trading feature is available in the investing tab. In addition, there is a learn tab for those who are new. Overall, the website has been designed keeping in mind the needs of a new trader.
Leverage Trading: ZuluTrade offers the highest leverage in our list with up to 500x for Bitcoin and USD pair.
Supported Cryptocurrencies: It supports 13 cryptocurrency pairs with the US Dollar and other cryptocurrencies.
Fees: The fees vary as per your trade.
Conclusion: Best Social Trading Platforms
Social trading platforms like eToro, BYDFI, Bitget, and BingX are pretty famous too for their exclusive benefits, offers, and products. However, traders must bear in mind the risks that come with trading and trade smartly.
Frequently Asked Questions
Is BYDFI available in the United States?
BYDFI is one of the few exchanges that are available for the citizens of the United States.
Can you use Bitget in America?
Bitget has acquired licenses from many prominent countries and the USA is one of them. So, the citizens of the USA can use Bitget freely.
Also read,