Key Takeaways:
Turks are flocking to bitcoin and tether to avoid Lira's fall.
Cryptocurrencies are popular in Turkey and other underdeveloped countries where government economic policies are viewed with suspicion.
The Turkish lira has grown so volatile that Turks have abandoned it in favour of assets with an even higher risk profile: cryptocurrency.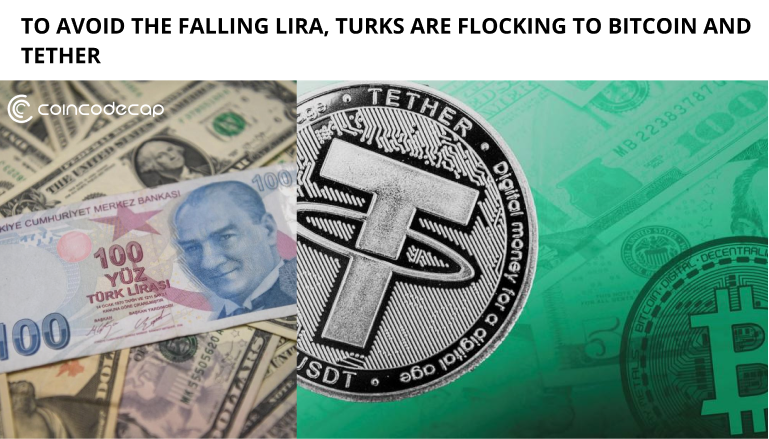 According to blockchain analytics firm Chainalysis, although the lira depreciated against the dollar in the fourth quarter of 2021, bitcoin trading volumes utilising the lira increased to an average of $1.8 billion per day across three exchanges.
The stablecoin tether, whose value is tethered to the dollar, is particularly popular among Turks. According to data provider CryptoCompare, the lira has surpassed the dollar and the euro as the most traded government-issued currency versus tether this fall.
The Central Bank of the Republic of Turkey (CBRT) announced that it will offer gold depositors and participants who wish to convert their holdings into lira time deposits.
Last October, President Recep Tayyip Erdogan threw Turkey's financial system into disarray by insisting on multiple interest rate cuts in the face of rising inflation. After a government rescue of savers, the currency has stabilised significantly in recent weeks, but local Turks are still sceptical.
Also, read:
"Even though cryptos are dangerous and unpredictable financial assets, the illogical policies surrounding rates, losing faith in official data about inflation and political decisions…made cryptos a safe haven," said Kağan Şenay, a 27-year-old trader in Bursa, northwest Turkey.
Cryptocurrencies have gained popularity in Turkey and other developing countries where there is a high level of scepticism of government economic policy. For example, Nigerians have turned to bitcoin for payment following currency devaluations and stringent controls on access to foreign currencies. After two decades of being reliant on the US dollar, El Salvador became the first country to recognise bitcoin as legal cash last year.
Despite an official ban on using cryptocurrencies as a means of payment in Turkey enacted last year, Turks have welcomed them. According to Turan Sert, an adviser to the Turkish cryptocurrency exchange Paribu, the ban, which came without warning, "caused a terrible experience in the Turkish cryptocurrency community."
According to Mr Sert, the government has pledged that a new cryptocurrency law will be introduced to the country's parliament soon, but there are few details on its influence.
"The instability of the Turkish lira and growing inflation seen in recent months has encouraged our investors to regard cryptocurrency as a beneficial long-term investment and a short-term inflation hedge," she said.
According to Esra Alpay, the firm's chief marketing officer, the number of new traders on the Turkish crypto exchange Bitlo increased last quarter as the lira's value plummeted. In addition, tether and other stablecoins are also utilised for trading in and out of positions in more volatile coins like bitcoin and ether.