The concept of Perpetual contract trading is a state of the art that is yet to be offered by the numerous exchanges present today. Therefore, this article has articulated the best and most trusted crypto exchanges offering perpetual contract trading.
| | | | | | |
| --- | --- | --- | --- | --- | --- |
| | BYDFI | Binance | BitMEX | Bybit | OKX |
| No. of perpetual contracts | 55 | 137 | 17 | 18 | 139 |
| No. of Futures contracts | – | 43 | 84 | 4 | 1336 |
| Founded in | 2014 | 2017 | 2017 | 2018 | 2018 |
| Fees(taker and maker fee) | 0.06% and 0.02% | 0.01% to 0.05% | 0.05% and 0.25% | 0.075% and 0.025% | 0.05% and 0.02% |
5 best perpetual contract exchanges
What are Perpetual contracts?
To understand what perpetual contracts are, we must first understand what futures contracts are, so let us get to it.
Futures contracts are agreements to trade (buy or sell) an asset at a predetermined price at a specific time in the future.
With perpetual trading, you can speculate on the future prices of cryptocurrencies. Hence, perpetual contract trading is an agreement to let you buy or sell an asset at a set price without any expiry date.
Therefore, it allows you to get rid of re-establishing long or short positions and carry on in your positions for as long as you wish to.
The missing expiration date gives rise to a price anchoring system called the funding rate mechanism in exchanges that offer perpetual contracts which balance the long and short positions by incentivizing or disincentivizing trades.
6 Best Perpetual Contract Exchanges
Here are five of the best perpetual contract trading exchanges:
What is BYDFI?
BYDFI is an excellent platform that aims to be a one-stop trading platform for all digital assets.
BYDFI gives you access to the crypto market via spot trading, Contracts for Differences (CFD), perpetual contract trading services, a grid trading system, and copy trading services.
BYDFI Features
BYDFI Perpetual contracts are available for the following cryptocurrencies: Bitcoin, Ethereum, XRP, and Polkadot.
Further, the maximum leverage offered by the platform for each trading pair is different.
To understand the calculation of Profit and loss, the traders should be aware of the following variable terms: Average Entry Price of position, Unrealized P&L and unrealized P&L% of position, and Closed P&L. To learn more, read BYDFI review.
Besides, other passive income sources offered by the platform include the BYDFI affiliate program, Mystery boxes, and daily mining.
BYDFI fees: BYDFI charges a taker fee of 0.06% and a maker fee of 0.02%.
You can download the BYDFI app, which is available for iOS and Android devices.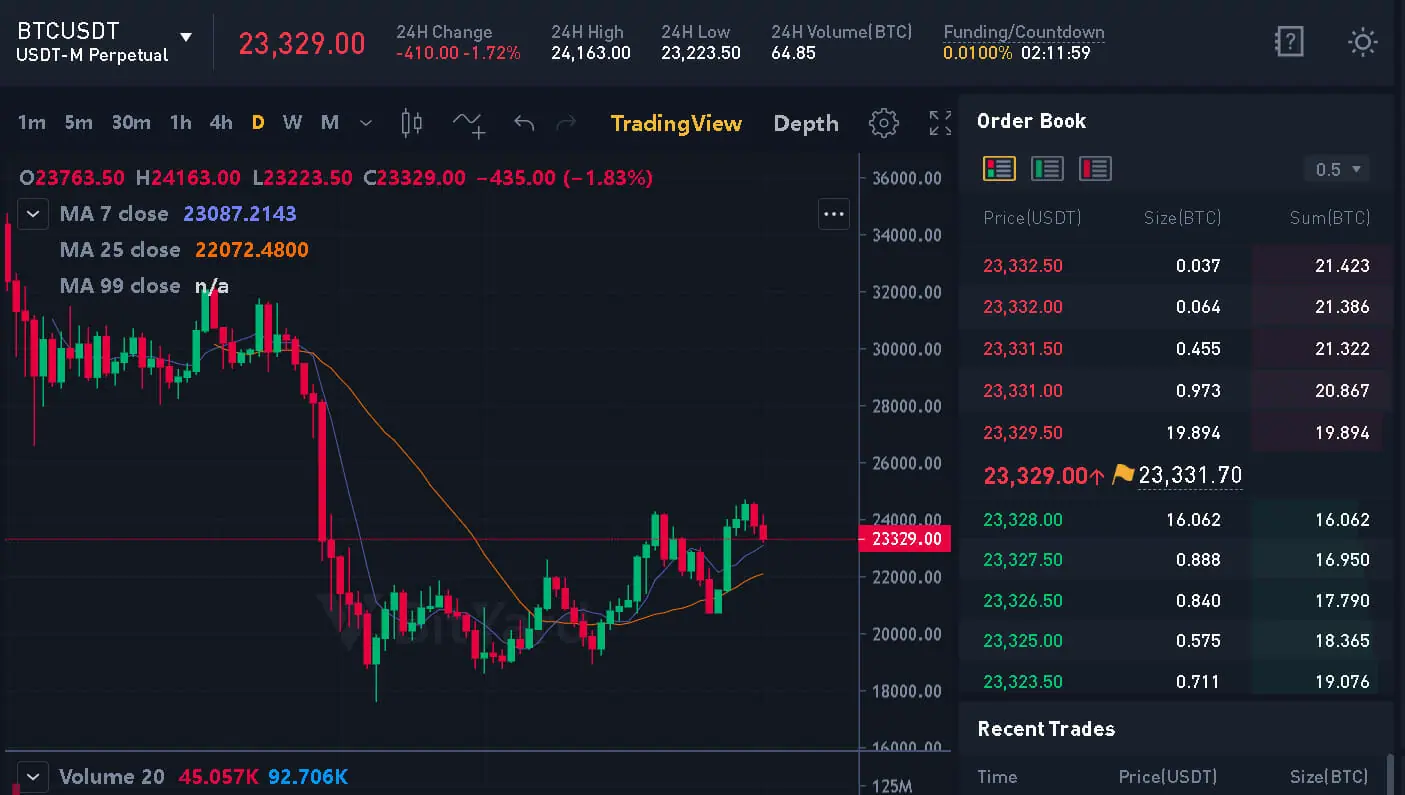 What is Binance?
Binance is the most prominent and top cryptocurrency exchange, with the highest trading volume of any other exchange.
Presently, Binance gives you access to all the high cap coins and some more obscure ones such as ONT, BAT, QTUM, and IOST.
Binance Features
You can find the highest leverage on the BTC contract at 125x, along with other contracts at a leverage of 75x or 50x.
Each asset has limited maximum and minimum contract quantities, subject to liquidation fees and margin rates. To learn more, read the Binance review.
Moreover, your account must hold enough balance to cover liquidation.
Based on your selection of leverage, you can calculate initial margin deposits.
Additionally, with Binance, you are entitled to several bonuses and gifts for referring Crypto derivatives to other clients.
Binance fees: Binance offers a reasonable trading fee ranging from 0.01% to 0.05% of your transaction value.
The only issue with Binance is that it is not available to traders residing in the US, which can be resolved using a VPN.
What is BitMEX?
Founded in 2017, BitMEX is among the leading platforms that provide P2P Crypto products and trading.
BitMEX offers derivatives products that include Futures Contracts and Perpetual contracts.
BitMEX Features
If you want to perform traditional futures, there are contracts for Bitcoin, Ethereum, XRP, Litecoin, Bitcoin Cash, EOS, Cardano, and Tron.

However, perpetual swap contracts are available for Bitcoin, Ethereum, and XRP, with BTC being the highest leveraged up to 100x and the rest 50x.
Furthermore, the funding occurs every 8 hours, and if there is an open position in a perpetual swap, will receive and pay to fund.
In addition, this platform employs Auto Deleveraging, which implies that in cases where leveraged positions in Profit may shrink during specific time periods if a liquidated order cannot be executed in the market. To learn more, read BitMEX margin trading.
Moreover, BitMEX provides you with guides for both perpetual contracts guides and Futures guides to simplify the process for you to participate.
Bitmex exchange offers you the following under the perpetual contracts that distinguish this platform from its competitors: Quanto Contract, Inverse contracts, and Linear contracts.
What is Bybit?
Bybit claims to be a "One-Stop Platform for all things derivatives" and started in 2018.
Bybit offers a wide range of derivatives products, including USD Margined Perpetual, Coin Margined Inverse Perpetual, copy trading, Coin Margined Inverse Futures, etc.
Bybit Features
The maximum and minimum order size ranges from 0.001 BTC to 100 BTC. The platform guarantees that it can hold up to 100,000 transactions per second.
Like BitMEX, the funding intervals on Bybit also last for 8 hours.
Bybit fees: The trading fee on Bybit is 0.075% of the transaction from the market taker but, in return, grants 0.025% of the trade to the market maker.
Besides, You can also get your hands on excellent educational resources for beginners to learn to trade on the platform.
You can install the Bybit application on Android and iOS devices and enjoy the bonus of joining the platform as a new user.
What is OKX?
OKX is among one of the most trusted cryptocurrency platforms worldwide for buying Bitcoin (BTC), Ethereum (ETH), USDT, and many more.
Derivatives products offered by the platforms include Futures contracts, Perpetual contracts, and Options.
OKX Features
Furthermore, OKX holds the largest selection of altcoins and cryptocurrencies for future contracts.
Moreover, the funding rate mechanism imposes price convergence at a regular interval of 8 hours.
Besides, there is a contract size of 100 USD. You can trade at a long/short position on cryptocurrencies that offer up to 125x leverage and claim the Profit based on the price movement.
OKX fees: The maker and taker fee for perpetual contracts on OKX is 0.02% and 0.05%, respectively. This fee will be further reduced when you attain VIP status on this platform.
The feature that distinguishes it from all other contenders is that it allows you to pair derivatives trade with fiat currencies. This resolves the issue of exchanging from one currency to another while withdrawing your funds.
This platform ensures you understand the concept of perpetual contracts and provides various educational resources.
What is GMX?
GMX is a user-friendly exchange that provides detailed information on trading, fees, and liquidity. The platform provides precise information on its managed assets, trading volumes, fees, and trader positions. It also includes documentation and instructions on how to bridge to Avalanche or Arbitrum, as well as obtain GMX and GLP tokens.
The exchange provides a straightforward method for comprehending its mechanics. Some of the features provided by the exchange are:
Staking
Swaping
Perpetual Trading
GMX Features
GMX.io is a DEX that is built on Arbitrum and Avalanche.
Users can trade their BTC, ETH, AVAX, and other top cryptocurrencies with up to 30x leverage directly from their wallet.
GMX is the utility and governance token accrues 30% of the platform's generated fees.
GLP is the liquidity provider token that accrues 70% of the platform's generated fees.
According to the GMX.io Official Documentation, the forecasted maximum supply is 13.25 million GMX tokens.
GMX.io team can also increase its maximum supply.
GMX.io is only audited once by ABDK Consulting.
GMX.io Team has also created a bug bounty on Immunefi, which has been live since January 2021.
GMX is currently listed on CoinW, Bybit, BingX, MEXC, and BKEX.
Users can get fee discounts and earn rebates through the GMX referral program.
Conclusion
In this article, we have narrowed down some of the most trusted and prominent platforms where you can practice using crypto derivatives products. Among all the platforms mentioned above, the ideal platform for perpetual contracts is BYDFI, a one-stop trading platform for all digital assets, which is simple yet powerful. Furthermore, its low trading fees and beginner-friendly nature make it one of the most preferred platforms.
Frequently Asked Questions
Q. Is BitMEX legit?
Yes, BitMEX is legit. BitMEX offers you several trading features with advanced data protection measures. While conducting a trade, this platform imposes multiple layers for encrypting data which is used in multi-sig withdrawals. Further, it is validated with the Two Factor Authentication (2FA) process, which makes this platform safe and reliable. 
Q. Is OKX safe?
So far, there have been no rumors of OKX (Previously OKX) being hacked. Furthermore, regarding safety and reliability, OKX is one of the leading platforms.
Q. How to withdraw from BYDFI?
Firstly, on the top right-hand corner of your page, click on "Assets" and select withdraw. Next, enter your pin and click on confirm. 
Also, read