Every public blockchain is an economy in itself. Blockchain analytics softwares (or Chain analytics) helps us to measure different metrics to analyze the economic activity of these blockchain networks.
Different softwares provide various metrics for multiple assets. Let's look at some of these softwares.
Check out the complete list of Blockchain analytics softwares
Bloxy
Bloxy is Ethereum focused blockchain analytics tool. It provides analytics on ERC tokens, Dapps, Defi, wallets, and decentralized exchanges.
Bloxy analytics report center provides real-time Ethereum blockchain data and showcases some valuable metrics. Some example reports are:
Ethereum Network Stats
Token Dynamics
ICO Analysis and Trends
DEX Trades Analysis
DeFi Value Analysis
Decentralization Index Analysis
You can use Bloxy to analyze Ethereum network growth in a meaningful way.
Read Bloxy reviews on CoinCodeCap

Dune Analytics is a DIY analytics software that provides Ethereum analysis.
It organizes Ethereum network data in application-based metrics in SQL tables. You can query these tables to create your own analytics, visualize it, and share it.
In addition, you can organize multiple query visualizations into a Dashboard form, which helps you to track essential metrics based on your needs.
Some of the popular dashboard, created by the Dune Analytics users.
Read Dune Analytics reviews on CoinCodeCap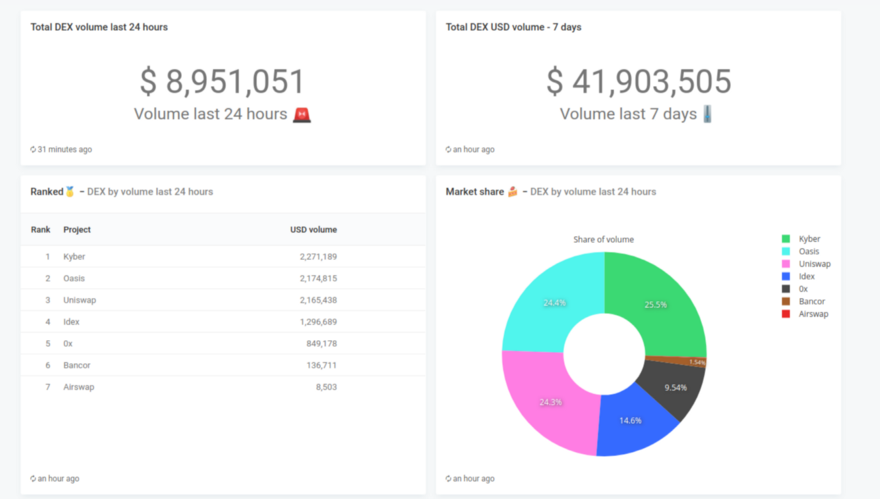 The team offers analytics for more than 70 different types of metrics for 50+ assets. These metrics are designed to provide you a better understanding of the Crypto market.
Other than analytics, the team also provides historical data, research, insights, and APIs to access their data.
It also has a tool to compare different metrics such as volume, transaction count, and fee for different crypto assets.
Example of metrics provided by Token Analytics:
Exchange Flows, Miner Flows
Stablecoin Mints & Burns, S&D
Smart Contract & DeFi Metrics
Read Token Analytics reviews on CoinCodeCap
Coinmetrics offers market and blockchain analysis for more than 200 metrics for 60+ assets including Bitcoin and Ethereum.
Other than that, Coinmetrics also acquired Bletchley Indexes to provide benchmarks for the financial performance of cryptocurrencies.
Popular metrics by Coinmetrics:
In addition to analysis, Coinmetrics provide research, APIs, Data files, and various tools.
Alethio
Alethio offers multiple products based on Ethereum data. The team has built many different products to provide various types of Ethereum blockchain network analytics.
It provides different types of downloadable reports based on Ethereum network data, and you can also add Ethereum accounts for which you want to generate reports.
Popular analytics by Alethio:
Ethereum network stats
Dex Analytics
In addition, the team also provides Ethereum APIs.
Wrapping up…
In our view, every investor should have an understanding of there blockchain network metrics. They provide real growth and activity signal.
If you are investing in a company, you will need different data points, such as balance sheets, quarterly reports, market reports to understand the company better. Similarly, you can use these blockchain analytics softwares to understand blockchains better.
If you want to learn more about the Crypto ecosystem, sign up for the weekly newsletter.