Key Takeaways:
$87 billion Italian bank to allow customers to buy bitcoin.
In a native connection with Conio, Banca Generali is expected to enable its over 300,000 customers to buy and sell bitcoin early this year.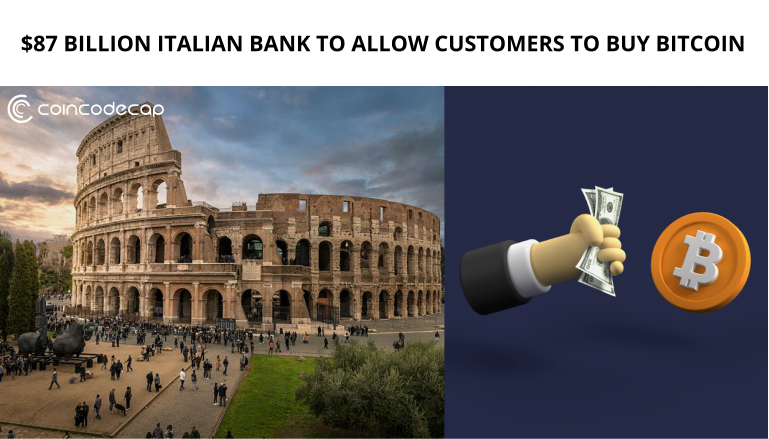 Early this year, an Italian bank with a market capitalization of $87 billion will allow customers to purchase bitcoin.
Through cooperation with Bitcoin company Conio, Banca Generali, an Italian bank with $87 billion in assets, reportedly integrated Bitcoin services into its platform early this year.
Conio, a fintech formed in San Francisco by two Italians and Banca Generali is a crucial investor, will soon allow Banca Generali's over 300,000 customers to open a bitcoin wallet directly in their bank account. The two companies began working together in December 2020, and the new function will be available soon.
As citizens of the country have begun to imagine what life will be like after the Coronavirus. The use of currency is one habit that is unlikely to be revived shortly; the pandemic has virtually put an end to the handling of banknotes and coins.
Earlier, Hype, a challenger bank, was well-positioned to profit from the shift from physical to digital payments. Instead, this has hastened the transformation. 
The challenger bank appealed to long-term investors (hodlers) and individuals looking to spend bitcoin while purchasing online by making bitcoin purchases quicker, faster, and more cost-effective (and thereby avoiding cash). Users could also send bitcoin to friends and family via the Hype banking app.
Demand for bitcoin may be driven by runaway inflation as central bank printing presses swing into overdrive rather than by aversion to cash.
According to recent research, Bitcoin is the country's third most popular payment option for online transactions, beating even American Express. So it's fair to say that digital currency has captivated Italians for some time.