Soon the NFT Craze is Coming to Kraken, as it Plans to Launch an NFT Platform
Key Takeaways:
Kraken to build an NFT platform.
Kraken would assist in moving some NFT activities "off-chain" to reduce minting and transaction fees to a minimum.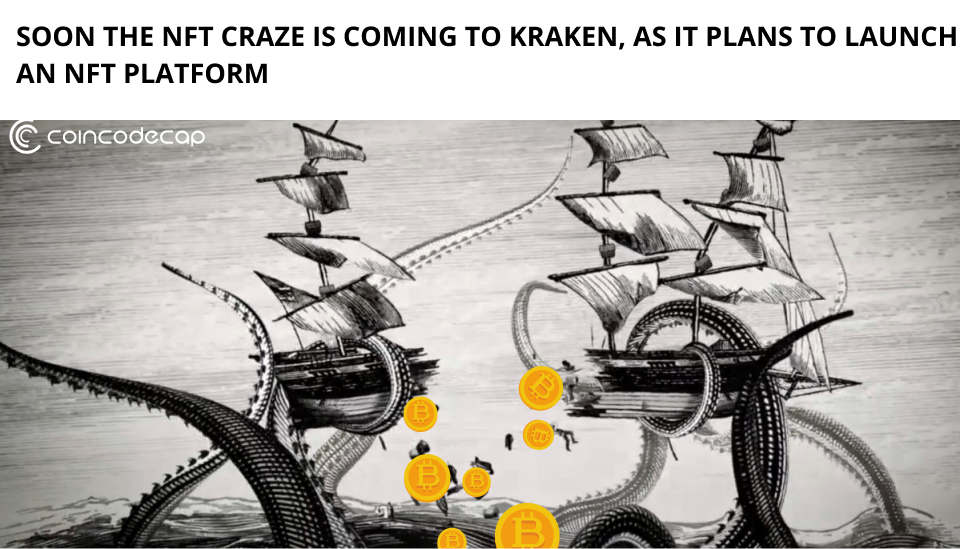 A cryptocurrency exchange called Kraken is working on a platform that will allow non-fungible tokens (NFTs).
"NFTs are a fast-moving market," a Kraken representative told The Block. "We are delighted to begin delivering services in this field in the very near future."
Although it is unclear which specific NFT services Kraken would provide, a representative for the exchange stated that the exchange would assist in moving some NFT activities "off-chain," which will help reduce minting and transaction fees minimum.
Earlier this week, Kraken CEO Jesse Powell told Bloomberg that the exchange is, "currently working on an NFT platform to give investors exposure to the expanding NFT sector."
Powell predicted that the NFT sector would grow in the coming year, owing to increased activity in the metaverse, which includes virtual land, digital apparel, and participation in virtual clubs. you
Kraken is following in the footsteps of competing for crypto exchanges Coinbase, FTX, and Binance, who have all launched or are planning to create NFT platforms.
Coinbase has entered the market for non-fungible tokens, launching a waitlist for Coinbase NFT on Tuesday, making it the latest crypto company to join the speculative frenzy. FTX.US is the first and only NFT exchange to support Ethereum and Solana NFTs. In addition, Binance is launching its non-fungible token marketplace on Thursday with a premium auction that will include NFTs of two Andy Warhol and Salvador Dali artworks.
These exchanges' NFT trading volumes aren't publicly available because APIs aren't currently available. However, trade volumes on different NFT markets increased dramatically in August. According to The Block's Data Dashboard, OpenSea is still the market leader.