Key Takeaways:
The SEC has rejected a second Bitcoin spot ETF application.
SEC said that the exchange lacked enough safeguards "to prevent fraudulent and manipulative acts and practices" in any future listing.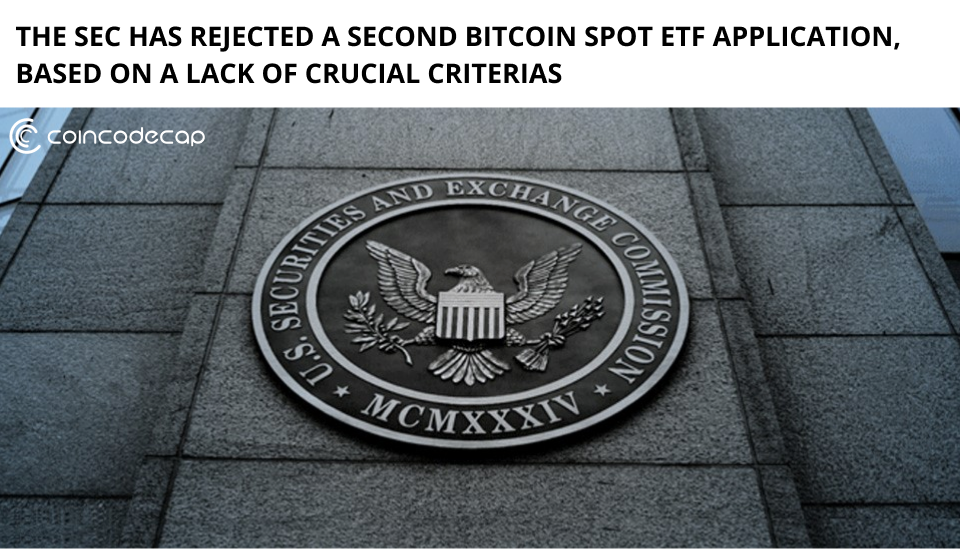 The Securities and Exchange Commission (SEC) of the United States has rejected yet another spot-based Bitcoin exchange-traded fund (ETF). The Cboe BZX Exchange's proposed change to list and trade shares of WisdomTree's Bitcoin Trust was denied by the regulator.
WisdomTree's application was denied on Thursday for the identical reasons as the VanEck Bitcoin Trust's, namely that Cboe Global Markets had not signed into a surveillance-sharing arrangement or other fraud-prevention measures.
Proponents of bitcoin ETFs have suggested that a surveillance-sharing agreement is unnecessary because the CME bitcoin futures market's expansion and significant liquidity in the spot markets will operate as a price-rigging buffer. So far, the SEC has refused to accept it as a viable substitute to a regular surveillance arrangement.
The regulator's decision on WisdomTree's spot Bitcoin ETF in 2021 has already been delayed multiple times. The company submitted its application to the SEC for the first time on March 26 of this year. The regulator announced in April that the application would be open to the public for comment and that it would take longer to decide on the proposed rule change.
WisdomTree's BTCW Exchange Traded Fund (ETF) exposes investors to commodities. By purchasing the BTCW ETF, users are gaining physical exposure to all of the underlying holdings.
It's designed to track the CME CF Bitcoin Reference Rate Index – USD index. By owning shares in this ETF, users can have actual exposure to the securities that make up the index (as the ETF holds them directly).
BZX also failed to give sufficient information to address concerns about potential sources of fraud, manipulation, wash trading, and other risk factors, according to the government.
Since the Winklevoss twins filed the first application for a spot bitcoin ETF in 2013, the SEC has declined every effort to launch one. It has instead enabled ETFs based on bitcoin futures to be approved, resulting in the recent launches of the ProShares Bitcoin Strategy ETF (BITO), the Valkyrie Bitcoin Strategy ETF (BTF), and the VanEck Bitcoin Strategy ETF (XBTF).
"The Commission cannot conclude, based on BZX's statements alone and absent any evidence or analysis in support of BZX's assertions, that it is unlikely that trading in the ETP would be the predominant influence on prices in the CME bitcoin futures market," said the report.
Although the government is hesitant to allow spot-based crypto ETFs, ETFs linked to Bitcoin futures contracts have been approved since October. In recent months, SEC Chairman Gary Gensler has openly stated his support for futures-based Bitcoin ETFs.