Here, in this Remitano review, we're going to talk about all of its products. Founded in 2016, this online platform allows an escrowed peer-to-peer cryptocurrency marketplace that supports the trading of cryptocurrency with fiat cryptocurrencies and eliminates the need for a middleman.
Founded In
2015
Products
P2P Exchange, Swap, Forum,
Invest, Mining RENEC, inbuilt Wallet
Supported Cryptocurrencies
6
Available in Countries
30
Transaction Fee
1%
Mobile application
Both Android and iOS
Payment options
20
Security
Escrow System, CCSS by C4, BitGo, etc.,
KYC, two-factor authentication.
Customer Care
Available 24*7
Summary (TL;DR)
Remitano was launched by Babylon Solutions Limited and is incorporated in Seychelles. This platform is an escrowed peer-to-peer cryptocurrency marketplace that allows trade between various crypto and fiat currencies in more than 30 countries worldwide.
This particular platform supports 6 cryptocurrencies.
Moreover, the forum section of this platform keeps you updated with the news of the cryptocurrency world and educates you about this marketplace.
Its attractive product, the Mining RENEC, allows its users to earn with Mining on the Remitano Exchange.
It has a very active and responsive customer support team which is available 24/7.
You can access Remitano on both – website and mobile application.
Furthermore, it is a multilingual platform.
Remitano offers you to pay from any of its 20 payment options as well as buy other altcoins.
What is Remitano?
Babylon Solutions Limited launched a product in 2016 known as Remitano incorporated in Seychelles and is available for traders in more than 30 countries. Due to its escrow nature, it develops a secure environment for investors to trade and swap crypto and fiat currencies in a peer-to-peer manner available on both the mobile application and online.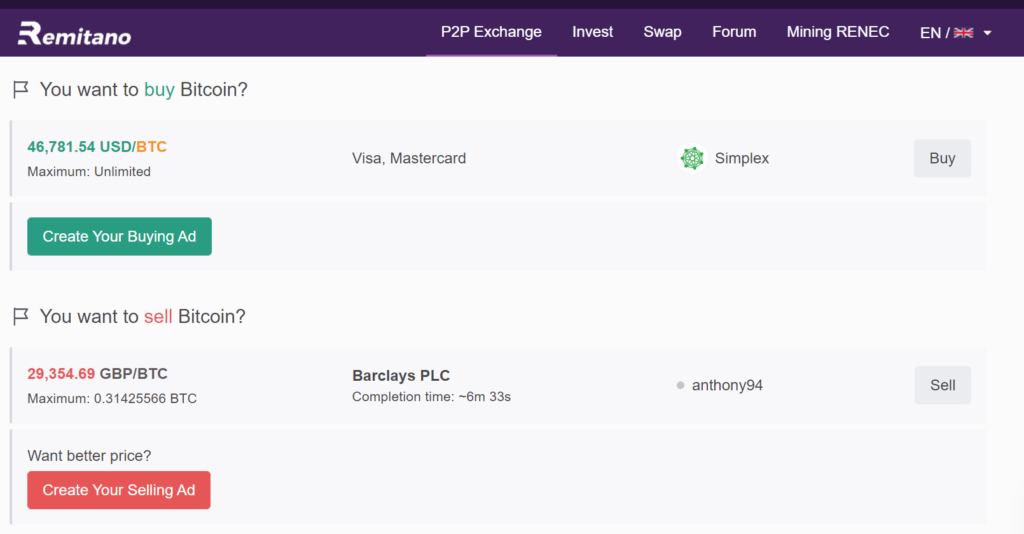 Products by Remitano
Let us go through the products offered by Remitano and know how they help us.
P2P Exchange: It provides a peer to peer exchange marketplace; cryptocurrency exchange takes place with the help of its intermediary escrow platform and adds another layer of security. It also allows the investors to buy cryptocurrency through a local bank transfer and a credit/ debit card.
Invest: The investors are also provided with an investment platform that allows traders to invest in supported cryptocurrencies with a 2x margin. This particular platform supports the deposit and withdrawal of 6 of the most popular cryptocurrencies and other fiat currencies.
Swap: With Remitano, you can instantly swap crypto for other supported cryptocurrencies. This particular feature is available in the wallet section.
Forum: Remitano also has a forum that has affiliate programs and shares with its users the revenue it produces from those you invited to use the platform. There are two affiliate packages. It keeps you updated about cryptocurrency news, provides cryptocurrency knowledge, join in-game to earn free coins every day and is a knowledge-sharing platform.
Mining RENEC: RENEC stands for Remitano Network Coin – the official token of the Remitano Network. This blockchain was designed for instant transactions with cheaper fees, secure escrow, and deal with complex smart contracts using the RENEC token. It allows users to earn RENEC through mining on the Remitano exchange.
Remitano Review: Mobile Application
The mobile app of Remitano is available for both Android and iOS operating systems. This platform has a very interactive interface that allows both beginners and experienced cryptocurrency investors to trade their coins and digital assets efficiently.

Although all the features and options of this platform that are available on the website can be accessed by the app as well, the mobile application is preferred over the website because of the mining feature.
Remitano Review: Features
To determine the best platform for yourself, you must know what suits you the best. Remitano is pretty easy to work with, especially if you are a beginner.
Firstly, Remitano interacts with a competitively priced market that is available in about 30 jurisdictions. This particular platform supports 6 cryptocurrencies, over 20 payment options as well as altcoins.
In certain jurisdictions, it allows users to deposit and withdraw fiat money.
Moreover, it is a multilingual platform. To invest in the Remitano market, you don't necessarily need to be a resident of a particular country, but you just need to have a bank account in that country.
Further, for the 6 cryptocurrencies, this platform provides a wallet where you can receive, send, store and swap the supported cryptocurrencies.
This particular platform allows you to use cryptocurrency to send money internationally and sidestep transfer fees as well as exchange and further convert it back to spendable local currency anywhere in the world.
How to use Remitano?
To get started on this platform, here is a list of steps you'll need to follow.
To open an account, you need to open the Remitano homepage. Then, you need to log in/ register where you'll have to enter the email address and click on "send link", which will be mailed to you and valid for 15 minutes only.
Visit and click on the P2P Exchange section. Next, select the cryptocurrency you want to buy and click on the green "Buy now" button on the right-hand side.
Based on the amount of cryptocurrency you want to buy, Remitano will offer you the best trade offers based on your location and your entered amount. All the trade offers that would be listed would be attached with a preferred payment method and a price at which you can buy that specific cryptocurrency from the seller.
Choose a suitable trade offer for yourself in the drop-down menu and click on "Buy" next to that offer which would further present the payment details of the seller.
After you complete the payment part, you need to click on the "I have paid seller" button and wait for the seller to confirm it. If you don't press it, you're likely to lose your money.
Remitano Review: Verification Process
Furthermore, To make your cryptocurrency trading more secure and use the Remitano platform with its full functionality, it is important for you to verify your account. There are several levels of verification that you will need to follow.
Firstly, your phone number needs to be verified by entering the verification code that would be sent to you after you enter your phone number, which allows the users to buy up to $500 daily and, along with that withdrawal of up to $250 in cryptocurrency daily.
Secondly, ID verification of a valid document like your passport or driver's license would allow you to make a bigger transaction. You can make a daily purchase of up to $50,000 daily and Up to $1,000 in cryptocurrency withdrawals daily.
Furthermore, the third level requires you to provide the Remitano platform with a bank account verification that is interlinked with the ID verification documents. This verification unlocks the level where you can purchase up to $100,000 daily, and up to $2,500 in cryptocurrency can be withdrawn daily.
Suppose you want to withdraw more than the previous level. In that case, you will have to trade for a longer time duration, that is for more than 6 months which will complete level four of verification that offers you to purchase up to $3,000 daily and withdraw up to $7,500 in cryptocurrency daily.
Lastly, Remitano's support team necessitates a manual check for purchasing up to $1,000,000 daily, deposit up to $31,211,770 daily deposit and withdraw up to $500,000 in cryptocurrency daily.
Remitano Review : Fees
Remitano charges a fee of 1% transaction fee on both the seller and the buyer. The fees differ depending on the activity.
Further, there is an investment fee of 1% when you close an investment in profit but nothing when you close at a loss.
There is a withdrawal charge of 0.0005 BTC per BTC-withdrawal.
The exchange fee is 0.25%, which will be deducted from the estimated value when you open a SWAP order.
Free deposit and withdrwal of NGN.
Remitano Review: Customer Support
Remitano has a very active customer care support service. Not only does Remitano have 24 hours customer support via live chat, but you can also email at [email protected] or through Twitter, Facebook and Telegram.
Is Remitano Safe?
Yes, Remitano is safe and has taken many security measures to make it safe and secure for users participating in trade. 
First of all, Remitano implements a service known as escrow which ensures proof of payment being uploaded for confirmation before the escrow security service then releases the cryptocurrency to the buyer by the seller who has put it up for sale.
Remitano's bitcoin storage policy is attached to the CryptoCurrency Security Standard (CCSS), established by C4, BitGo Inc.
Moreover, this platform is secured by two-factor authentication.
This platform demands to Know your customer(KYC) process to complete the verification process.
Furthermore, Remitano has partnered with top-class security firms that offer high levels of security and protect the platforms from DDoS attacks and application-layer attacks.
Remitano Review: Pros and Cons
| | |
| --- | --- |
| Pros | Cons |
| Remitano has a global network of 1.5 million customers in more than 30 countries. | Remitano allows trade between a limited number of cryptocurrencies. |
| The fees which are charged to the users are detailed clearly at every step therefore it offers high transparency. | Remitano is an unregulated platform. |
| Further, It allows certain countries to deposit or withdraw fiat currencies | Further, this particular platform has limited funding options. |
| Live customer care support is available all the time. | As an investor, you'll come across both good and bad deals on this platform and you will have to determine which deal benefits you the most. |
| The mobile application of Remitano is available on both Google Play and Apple Store. | Lastly, its competitive fees make users reconsider using Remitano. |
Remitano Review : Conclusion
Remitano is an interactive platform that tries to give users a secure environment to carry out cryptocurrency trading even after being unregulated because of its escrow service. Moreover, it is a progressing platform that offers a 2x margin to enhance the yield of its users. However, Remitano being an unregulated platform still makes it prone to risks. Therefore to determine the best-suited option for you, you must do your research.
Frequently Asked Questions
Where is the swap feature in Remitano? 
The Swap feature of Remitano is available in its wallet section and can be accessed to its full functionality. 
Where is Remitano based? 
Remitano platform is based in Seychelles and was established in 2015. 
Does Remitano use two-factor authentication? 
Yes, Remitano platforms use two-factor authentication to initiate the transaction so that the risk is reduced. 
Also, read