China top planning body marked crypto mining as 'obsolete'. The National Development and Reform Commission made the designation on Monday to update the 2019 policy that reinforces government effort to stamp out industry entirely.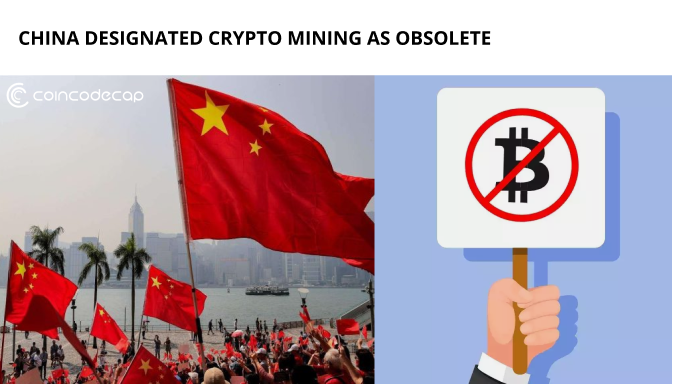 The obsolete label refers to technologies that would be banned from seeking investments and would need to be phased out in China within a certain period, referred to the business consultancy Dezan Shira.
China was home to bitcoin mining than anywhere else in the world until last year. China was once the bitcoin trading and mining capital of the world. However, the country's leadership struggled for several years to find ways to control cryptocurrency's spreading popularity and keep it from devaluing and replacing its fiat currency. As a result, cryptocurrency trading has been illegal in China since 2019 to curb money laundering. But people can still trade in currencies such as Bitcoin online, which has concerned Beijing. As a result, China's government finally banned non-government-approved cryptocurrencies in September 2021. In November 2021, the U.S. Library of Congress officially recognized an absolute cryptocurrency ban in China in its November cryptocurrency update.
However, China's complete cryptocurrency ban hasn't spelt its end in the country—instead, the ban has opened the door for an official digital currency backed and recognized by the government. In its fourteenth 5-year plan, the government discussed financial sector reforms, including developing a digital currency.
In the working paper, the central bank states that it considers anonymity necessary for small transactions; however, it will retain the ability to conduct anti-money laundering operations and counter the financing of terrorism through monitoring, reporting, and investigating. "Bitcoin withstood a nation-state attack of China actually banning mining, and the network shrugged it off," said Kevin Zhang of digital currency company Foundry, which helped bring over $400 million of mining equipment into North America.
Neil Wilson of Markets.com said: "China has for some time been putting pressure on the crypto space, but this marks an intensification – other countries might follow now as central banks make strides towards their own digital currencies.
It is the latest in China's national crackdown on what it sees as a volatile, speculative investment at best – and a way to launder money at worst.
However, the commission did not provide a deadline for crypto mining to be officially eliminated in China. Notably, China has banned cryptocurrencies altogether and plans to issue its own sovereign digital currency.