LCX is a token of the platform LCX. Its current price is around $0.0392 at the time of writing, with a low of $0.03862, and it has a market cap of 30 million dollars.
What is LCX?
LCX is the coin of the LCX platform, which is around $0.0392 at the time of writing, with a low of $0.03862. It reached a high of $0.03971, and its current ranking is #449, according to CoinMarketCap, with a market cap of 30 million dollars. The Liechtenstein Cryptoassets Exchange (LCX) allows you to trade many coins and tokens.
LCX is a premium digital asset and security token exchange. They provide all the products and services that one might need by covering both traditional and blockchain markets. LCX is focused on facilitating movement in these markets, helping those who participate to benefit from the opportunities arising from them. LCX will burn 100% of all tokens it receives in utility Token payments on its platform.
LCX Coin Market Analysis
LCX has a total supply of 950,000,000 coins worth around $0.0392 with a market volume of 109,738 dollars, whereas its's market capitalization stands at 30 million dollars at the time of writing. 
LCX Coin Price Prediction
Experts predict the LCX token price to appreciate over the year. Before a turnaround, it may be trading for $0.083 by the end of 2022. The LCX price is expected to be $0.24 in 2025 before rising to $1.44 in 2030, making it a profitable investment for 20 years to come
In the 1w timeframe, the price action of $LCX/USDT consolidates inside the falling wedge. We must wait for a successful breakout or breakdown to confirm its next direction.
For any time, on-demand analysis on $LCX or any other coin can join our Telegram channel.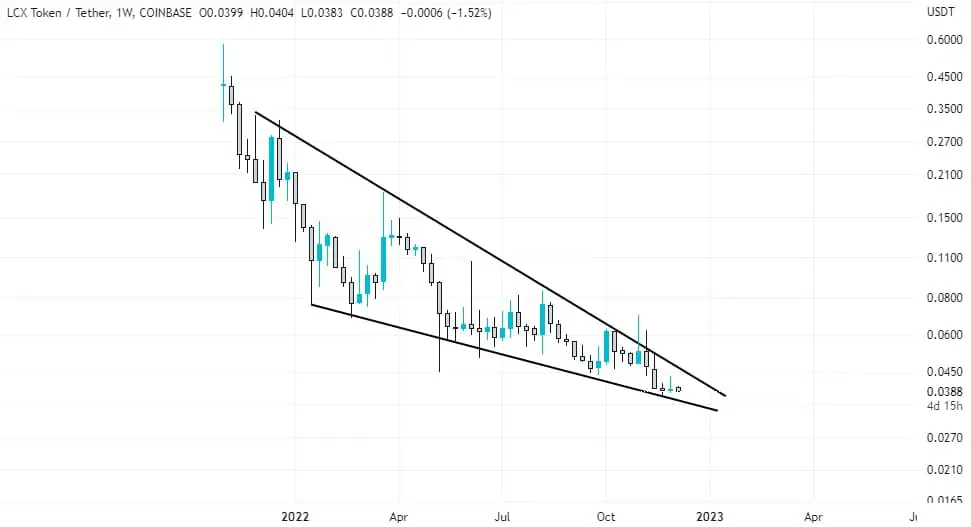 Closing Thoughts
Discipline and Patience are the most critical components of a successful trade. According to the above analysis, the coins we discussed might prove to be profitable if other market conditions prevail favorably. Since it is your hard-earned money that you'll be using, we advise you to do adequate research before investing.